My art is the way I reestablish the bonds that tie me to the universe. – Ana Mendieta

When Ana Mendieta first came to America, she was only 12 years old. Born in 1948 in Havana, as a second daughter of an upper-class family, she was sent from Cuba with her older sister as part of an Operation Peter Pan, a clandestine US government asylum program for adolescents that was organized after the Cuban revolution. Mendieta would not see her mother and brother again until 1966, and her father, who was imprisoned for disloyalty to Castro, until 1979. Unfortunately, he died soon afterward. She and her sister ended up in Iowa, where Ana finished her schooling, completing her undergraduate degree, and starting her graduate studies in art. However, she quickly became dissatisfied with the traditional art mediums and, following the advice of her then-lover and an art professor at the University of Iowa, a German-American artist, Hans Breder. 
The Shaping Of A Rebel Artist
During their 10-year romantic relationship, Mendieta has developed her arresting style, which she called body performances, and took part in Breder's 'Ventosa' series of photographs he took on their travels to Mexico. As a graduate student, Mendieta created her first dramatic performances in 1973, influenced by the violent sexual assault on campus, when a female student was found raped and murdered in her dorm. This prompted Ana to start creating works that explored violence, particularly done on women. The way she did this particular performance was that she sent invitations to her artistic mentors and friends, inviting them to come to her apartment. They would arrive at a slightly open door, the same way that murdered university student's body was discovered, to find Mendieta tied to the table, naked and covered with blood dripping down her back.
Prior to this performance, which started a seminal theme in her work, Mendieta was experimenting with gendered forms, like her facial transplant series where she would create varying shapes of facial hair on her face out of her classmate's shaved beard, and another where she used a sheet of plastic to mold her body into alien, unfeminine forms. But, her dealing with blood and violence would begin her work with the female form, which lead to the earth-body art by which she is most remembered.
For some of her work, barely any documentation exists, like her performance where she laid on a city street, pretended to be dead as people walked by. The violence and disposability of women's bodies remained a powerful theme through her work, and the female body as part of the natural landscape. All of this led to the creation of her famous Siluetas — an artistic body of work from a series of performance, sculpture, film, and drawing, where the shape of a woman's body poignantly forming part of the surrounding landscape or shines brightly against its background.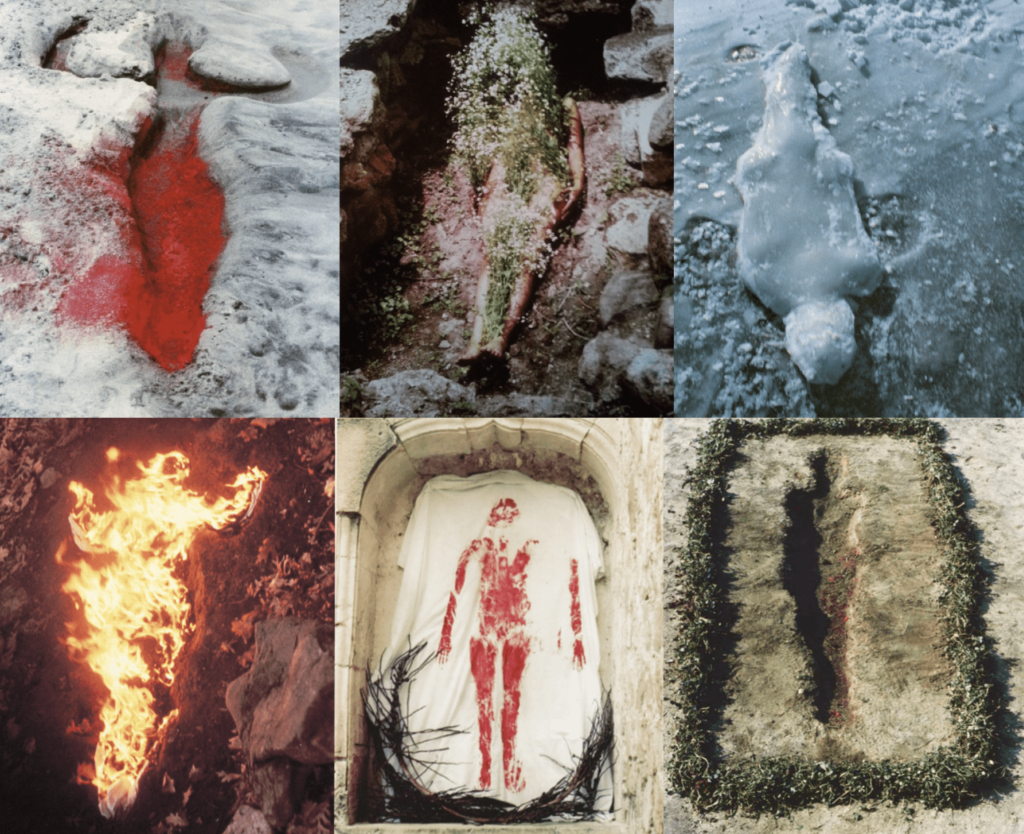 Earth-body
Her Silueta series lasted from 1973 to 1980 and recalled Mendieta's experience as an exile who was separated from her family and homeland at a young age. In her Silueta performances, Ana would lie down in natural landscapes or would cover her body in various organic materials and document the resulting silhouettes. She would mark the land, leaving the trace of her absent body as a metaphor for her absence from her birthplace. As she would explain it: 'I have been carrying out a dialogue between the landscape and the female body (based on my own silhouette). I believe this has been a direct result of my having been torn from my homeland during my adolescence. I am overwhelmed by the feeling of having been cast from the womb (nature)."She continued, 'My art is the way I re-establish the bonds that unite me to the universe. It is a return to the maternal source.' The intimate settings of the abstract shape of her body and the surrounding landscape in her work tributes to a spiritual renewal in nature, a sacred source of femininity.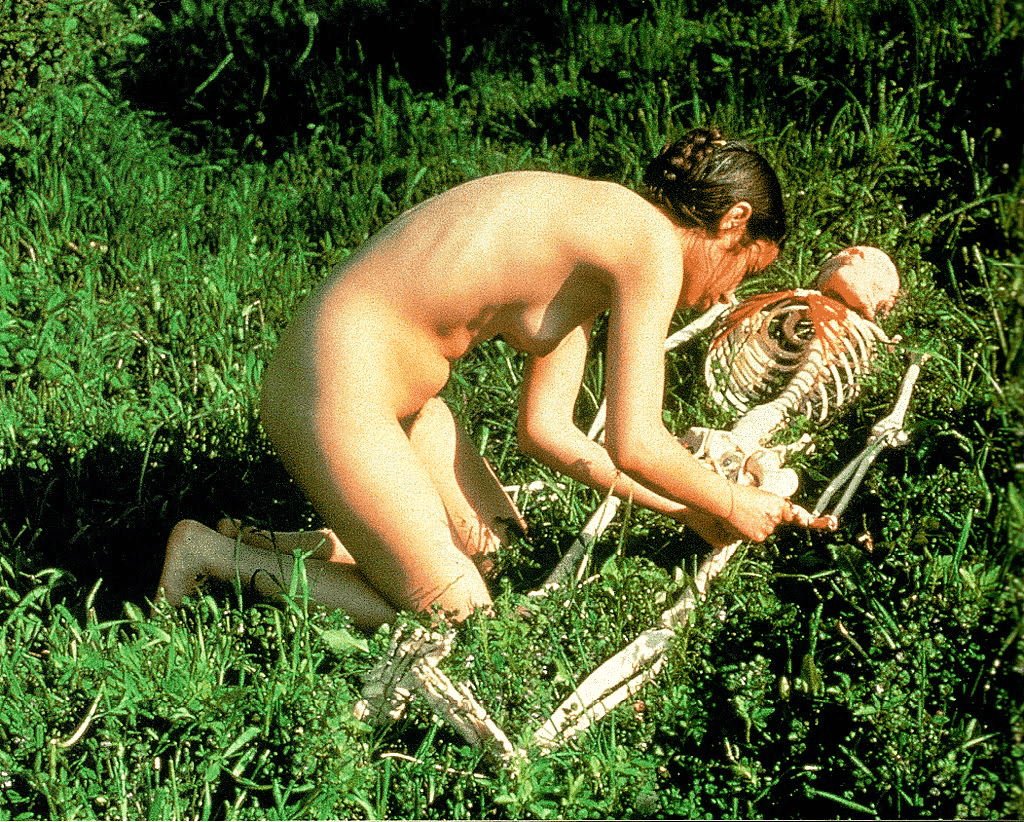 Marriage, Mysterious Death And Enduring Legacy
Mendieta was one of the first Cubans to go back to the country in 1980. After her travels to Mexico, she arrived in New York in 1978 and settled in a small apartment on Sullivan Street, where she made friends with some of the leading feminist artists of that time. In 1978, with one of her friend's support, Mendieta joined the Artists In Residence Inc (A.I.R.), an all-women gallery on Wooster Street. It was through one of her friends that she met her future husband, a famous sculptor Carl Andre. Their relationship baffled and intrigued their friends, mostly because of their difference in characters. Mendieta was opinionated and fiery, while Andre came across as cold and aloof.
Creatively, they also couldn't be further apart. She was elemental, ritualistic, and with a wide range, while Andre was minimalistic, refined, and cerebral. They had a tumultuous relationship and a tragically short marriage. In 1983, when their relationship was on the rocks, Mendieta moved to Rome to a prestigious American Academy residency and fell in love with the city, describing it as something between New York and Cuba. She felt accepted and as she could be herself. But, in January 1985, she surprised everyone by reuniting and marrying Andre in a private ceremony in Rome.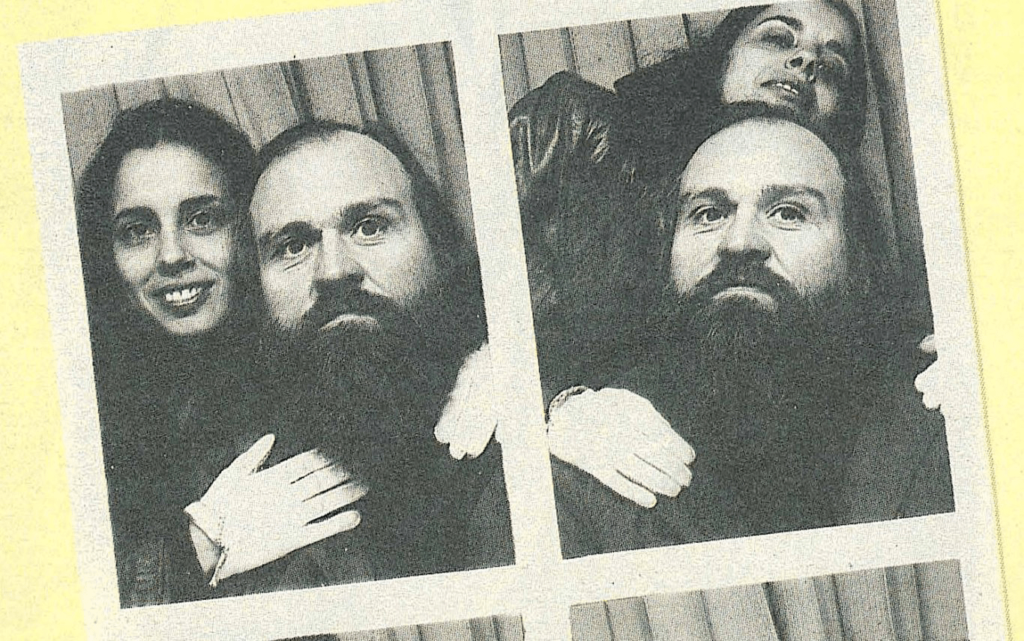 However, their honeymoon phase didn't last long. On Sunday, 8 September 1985, Ana Mendieta fell from the 34th-floor window of their Greenwich Village apartment; her body hit the roof of the delicatessen below so hard that her head left an imprint. Even in death, she echoed her art. Her newlywed husband was arrested for her murder, tried, and eventually acquitted. His defense attorney argued that she committed 'sub-intentional suicide,' despite the statement of a witness that he heard women screaming 'no' several times and the apparent scratch marks on Carl's face. The tragic event was as divisive as it was dreadful.
Nevertheless, the impact of her powerfully viceral art remains. Her goal was to move people out of their apathy and nonchalance and provoke them to connect with each other authentically and spiritually, and to understand that they all were essentially one with everything around. In the end, to know that the earth was the ultimate mother to all.
She wanted people to be more aware of their indifference to such unsettling things as prejudice and violence. As how Mendieta would say: 'Art is a material act of culture, but its greatest value is its spiritual role, and that influences society because it's the greatest contribution to the intellectual and moral development of humanity that can be made.'