In 2014, the MET uploaded high-quality, downloadable images of some of its most famous pieces to create a digital collection comprising more than 400,000 works of art. In 2015, the New Museum appointed Lauren Cornell, former executive director of Rhizome.org and a pioneering advocate of digital media and its significance in contemporary art, as a curator expressly responsible for engineering digital and new media art for the museum's important curatorial agendas. She mentioned that after years of resistance, the art world has finally internalized the Internet.
Other museums seem to agree. MoMA has now uploaded 63,000 pieces, the Whitney has 21,000, the Guggenheim has 1,700 – you get the idea. Art is going online. You can now view hundreds of thousands (and counting) of famous works of art from anywhere with an Internet connection. It's not just the big museums that are digitizing their collections, either. Galleries, artists, and collectors are putting their pieces online in increasing numbers. This brings up some interesting questions about what art is and how it works. What does digital art collection mean for the art world?
Bytes vs. Sights
To see Leonardo da Vinci's Mona Lisa in person, you'll have to take a trip to Paris. When you reach that room in the Louvre, you see the painting from the middle of a jostling, eager crowd and through a thick piece of protective Plexiglas. It's smaller than you might expect – just 2'6" tall and less than 2' wide – so you really have to fight to the front to see. In other words, it's no easy feat to get a good look at that famous smile.
However, you can see a picture of it on your computer or smartphone anywhere, anytime. You can zoom in and out and adjust the brightness. You can see it alone and spend as much time as you want with it. Why go all the way to the Louvre when you can see the same picture from the comfort of your own home, for free?
Instead, we might ask why anyone would go to a football game instead of watching it from the couch. You're seeing the same game—in fact, you're seeing more clearly and with more detail than you could ever see in person. You get the expert commentary, the instant replay, and the perfect camera angle without the lines, the weather, the travel, or the cost of getting to an actual game. Of course, people still go to the games. There's something different about having that experience in person. Art is the same way.
Like watching a televised game, seeing a digital representation of a work of art is different from being in the same physical space as the original piece. There's something about being in the presence of the artist's physical work that's missing online. This is especially true of sculpture and other media that are designed to be experienced in 3 dimensions, but it still holds for painting and other, flatter media. It's not just about getting a feel for the size and the brushstrokes and the quality of the light. The artist created the work to be seen in person (with the exception of purely digital pieces, of course), and viewing art is an emotional experience that connects you to that artist. That connection is strongest when you're seeing the actual piece.
Bringing Art To The People
Of course, some are fortunate enough to live in places like New York City, London or Paris that have world-class museums and galleries on every corner. For the rest of us, seeing those original works may not be an option. By putting their collections online, museums and collectors are opening the door for a whole new audience that may never otherwise have the chance to visit those collections in person.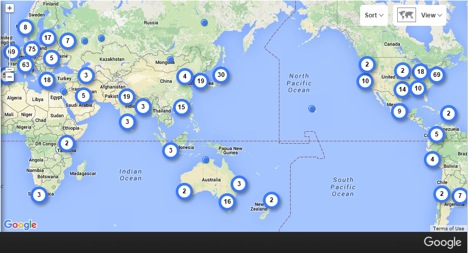 These digital collections aren't just boosting art accessibility for individual enthusiasts – they're also a way to bring art into the classroom. Students now have the ability to explore thousands of carefully curated collections from the best museums and galleries in the world. For example, Google offers hundreds of collections on their Google Art Project platform—students can access works from the Shimane Art Museum in Japan, the National Museums in Berlin, and the State Russian Museum at the click of a mouse. The map above shows the many museum collections available on Google Art Project alone. Students can also engage with their favorite artists' personal digital collections when they're looking for inspiration.
Bringing People To The Art
So, digital collections are great for bringing art to a wider number of viewers. That has a corollary benefit to the artists–digital art collections can put their work in front of a much bigger audience. Before they started putting their work online, artists were limited to physical galleries and art shows. Those galleries and shows, in turn, are limited by available space and interest. They're going to show art they think they can sell. By going online, artists can bypass the hard slog of getting their work into galleries and instead get it directly into people's homes, offices, and smartphones. They can also directly sell to and take commissions from collectors online, eliminating the middlemen.
The move to digital sales has been slower for art than for music, books, and other goods, but online art markets are on the rise. The four biggest art auction websites grew more than 100%, on average, in 2014. Direct platforms like Etsy are also allowing artists to showcase their work and sell directly without going through galleries and auction houses. In 2014, online art sales topped $3.5 billion – and that number is only growing. Long story short, digital art collection can get more work from more artists to more people than physical galleries will ever be able to.
Art For All
Digital art collection is opening the horizons of the art world to anyone with an Internet connection. People can now become digital collectors through sites like Pinterest and Facebook, keeping records of their favorite pieces and artists. New software is even being developed expressly for that purpose. For example, ARTDEX allows artists, collectors, galleries, and enthusiasts to create their own online portfolios of art that they've created, purchased, or simply fallen in love with. It also lets you connect with other artists and collectors to talk about the pieces you all love—it's a social network for the art world.
There's nothing like seeing the Mona Lisa with your own eyes. However, seeing it online is so much better than never seeing it at all. That's the real potential of a digital art collection. It takes art out of the realm of private collectors and big-city museum patrons and makes it available to anyone who wants to see it. It helps artists get their work in front of people who might love it. It allows everyone who loves art to connect with one another. Ain't nothing like the real thing, baby, but a digital version can come close.