From portraits of naked bodies twisted in often uncomfortable positions to disturbing self-portraits, Austrian painter Egon Schiele is remembered for his work that exuded raw sexuality, anguish, and narcissism.
Born in 1890 in Tulin, Lower Austria, Schiele grew up a shy, strange child who did poorly in school and exhibited troubling behavior at home due to his incestuous tendencies towards his younger sister. Despite his weakness in academics, Schiele did have a talent for drawing. His enthusiasm for art did not go unnoticed, and he eventually landed in the Akademie der Bildenden Künste in Vienna in 1906. In fact, at just 16, Schiele was the youngest student to ever enroll at Vienna's Academy of Fine Arts. However, frustrated by the traditional and conservative doctrine of the school, he would leave three years later.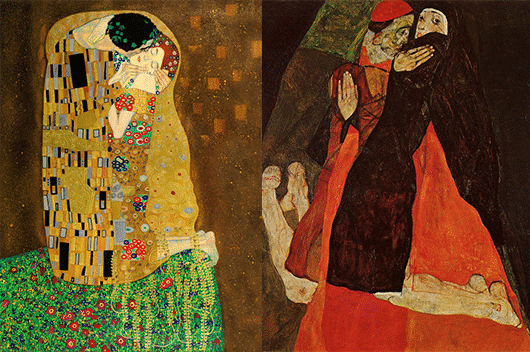 Art Cannot Be Modern. Art Is Primordially Eternal – Egon Schiele
Identifying immensely with artist Gustav Klimt, Schiele would seek him out for mentorship. Klimt would take a keen interest in young Schiele, explaining why much of Schiele's earliest work strongly resembled Klimt's artwork. However, over time, Schiele's style would evolve. And when he exhibited his work at the Vienna Kunstschau in 1909, Schiele would be exposed to the works of Edvard Munch and Vincent Van Gogh.
Soon, Schiele's distinctive style took form. Already considered audacious, Schiele took the erotica in his work to the next level, distorting the human figure to the point of deformity and rejecting the concept of conventional beauty.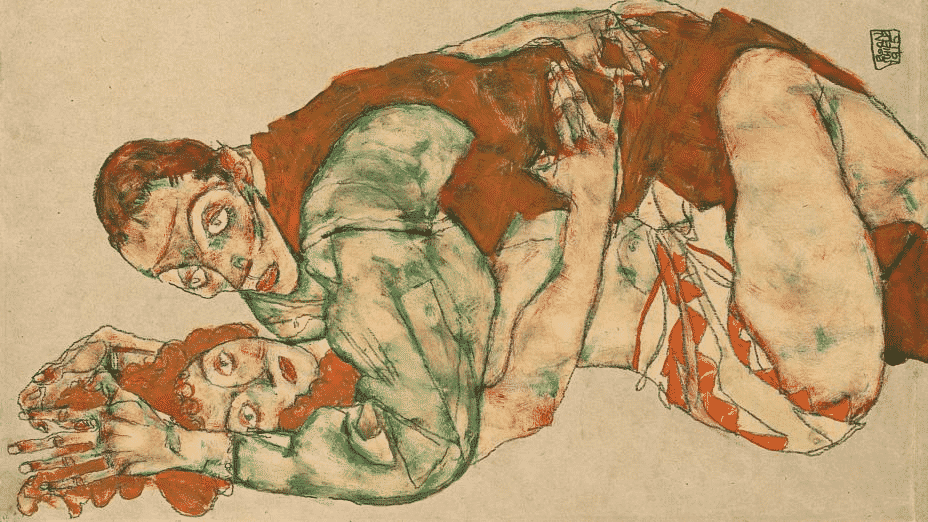 Sexual Desire, Up-close and Personal
Sexual frustration was a theme prevalent in Schiele's work. He drew and painted nudes, women, children playing, and his mistress, Wally. He often depicted himself nude and even masturbating. In Seated Male Nude (Self-Portrait) 1910, Schiele reveals an intense vision of himself in a tormented pose. And while he is fully exposed with his legs spread apart and genitals exposed, his arms covering half his face suggesting shame. In Death and the Maiden (a.k.a Death and Girl, featured image of this article) 1915, Schiele tells the story of Edith, the woman he marries, and Wally, the woman he wanted to keep as his mistress who ultimately chooses to leave. Has Schiele depicted himself as Death who is unable to let go of the muse who has transformed him sexually, spiritually, and artistically?
However, Schiele's work wasn't always about grotesque imagery that borderline pornography. In fact, many critics argue that he adored women and put them at the center of his art to give them power, making him a feminist. He drew women in all positions in the nude – from reclining to kneeling to pregnant.
Most of Schiele's most memorable work lives in the Leopold Museum, Vienna and the Egon Schiele-Museum, Tulln. His watercolor Reclining Woman 1916 would go on to hold the world record for the most expensive artwork ever sold at an online auction, selling for $2.418 million in June 2013 in Berlin. His Two lovers (Self Portrait With Wally) raised an impressive £7.88 million, gaining in a world auction record for a work on paper.
Schiele was only 28 years old when the Spanish flu pandemic claimed his life, along with his wife who was six months pregnant with their first child – a tragic end to an artist whose work was described as disturbed. And while Schiele's work was once dismissed as pornographic, the impact and legacy of his work remain to this day, revealing itself as bold, honest, and an expression of sexual freedom.