I work with pictures and words because they have the ability to determine who we are and who we aren't. -Barbara Kruger
Conceptual art carries within it an idea or concept that takes priority over aesthetic and art techniques. Conceptual artists challenge the definition of art and are not afraid to push their boundaries. Such are the examples of Stelarc — the outlandish performance artist and proponent of the bioart movement — and Maurizio Cattelan's controversial work "Comedian."
Undoubtedly one of the most renowned conceptual artists of today, Barbara Kruger has never shied away from creating artwork that is not only unconventional — focused on text more than figures or forms — but that also offers societal critique and poignant social commentary on current events. Covering topics like consumerism, feminism, and political issues, Kruger has established herself as a bold figure in contemporary art who isn't afraid of loudly broadcasting her ideas and challenging the concept of mass media.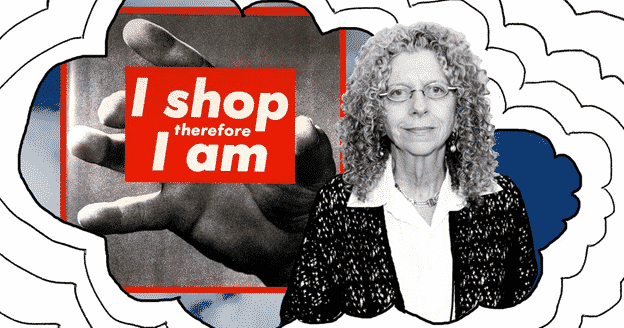 The Beginnings Of Barbara Kruger
Kruger was born in 1945 in New Jersey, and in her early twenties, she first pursued graphic design and picture editing. She attended the Parsons School of Design in New York and worked as a designer at Condé Nast Publications. During this time, she discovered her love of poetry and how words can be powerful tools in the hands of those who know how to wield them for their advantage.
In the late 1960s, she started turning towards art. Her first wall paintings included unconventional materials such as sequins, feathers, beads, and ribbons. She painted subjects that were vibrant, bright, and sexually suggestive. Despite some success in the form of her work being included in the Whitney Biennial exhibition, Kruger became dissatisfied with her art form. It wasn't until 1977 that she returned to it with a new perspective and aesthetic, slowly transitioning to her collage works in the early 1980s.
At the very start of her art career, Kruger felt intimidated by the New York art scene. She was quoted as saying that it wasn't welcoming to "particularly independent, non-masochistic women." However, support from organizations such as the Public Art Fund enabled her to continue creating art, which she later admitted was crucial to her career.
Barbara Kruger's Art Style
Kruger's style is unique in the sense that it primarily focuses on words. Her graphic design background is evident as she pairs photographs with text that encourage the viewer to think outside the box. Some of her impactful slogans include "I shop, therefore I am," a screenprint on vinyl from 1987 with framed text held by a hand, "Your body is a battleground" from 1989, with a model's face divided down the middle, and "You are not yourself" from 1981, depicting a woman seen in a mirror that appears to have been shattered by a bullet.
Kruger puts together her ideas on a computer and then transfers them into print images of various sizes— not uncommonly billboard scale and sizes. She uses a striking contrast between the words and their backgrounds, forcing the viewer to pause and take notice. Like the mass media headlines that Kruger opposes, she utilize sensationalism to deliver her messages to society. Some of her most memorable public artworks belong to a series from the 1980s called "Messages for the Public" from the Public Art Fund. These artworks included messages displayed on digital billboards in New York Times Square, such as, "I'm not trying to sell you anything," and, "I just want you to think about what you see when you watch the news on T.V."
Barbara Kruger has no qualms about pointing fingers both at the mass media and its consumer culture.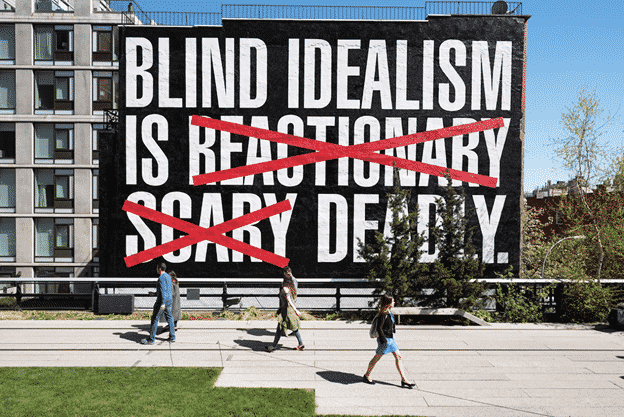 Societal And Cultural Criticism
Even though her art has been labeled as political and feminist, Kruger herself disagrees with the terms. "I never say I do political art," she declared in 2013, "Nor do I do feminist art. I'm a woman who's a feminist, who makes art."
Nevertheless, her artwork stands in defense of women and their inequitable position in society. Her "You are not yourself" work suggests that a woman's view of herself is shattered, much like the mirror in the artwork is. Among the world's expectations and assumptions about her, in a quiet moment of reflection, a woman realizes that she is never herself.
Kruger's "Your body is a battleground" was created to support legal abortion, with Kruger clearly stating that she was pro-choice. Her dramatic question, "How come only the unborn have the right to life?" posed in 1982 in one of her early 'paste-up' works asks why the authorities are keen on celebrating the fetus but starving the child.
Beyond feminism, Barbara Kruger reflects on the culture of consumerism and on the political changes her country has gone through. In the New York Times in 2012, readers could ponder over a large font that said, "You want it. You buy it. You forget it." Another more recent artwork from 2016 labels Donald Trump as a Loser on the cover of the New York Magazine, unreservedly taking a jab at the then-new President-elect.
Barbara Kruger's Message
Creating art as a means to provide commentary on the current social, cultural, and political climate is nothing new. However, Barbara Kruger's grit and confidence in expressing her views is nothing short of admirable. She uses the same language of the mass media to turn the viewer's attention and thoughts against the media, to wake up the public from their consumerist apathy, and make them engage and participate in their surroundings and the world they're living in.
Just as she challenges those in authority, Kruger encourages the public to use their heads and not to be seduced by the messages of mass media. She calls out their behavior and makes them rethink their actions and question why they are doing the things they are doing. Who are they following? The government? Their television?
Pandemic permitting, a landmark exhibition of Barbara Kruger's work is set to open at the Art Institute of Chicago, after which it will travel to the Museum of Modern Art and MoMA PS1 in New York and the Los Angeles County Museum of Art. In times of uncertainty and turmoil, where critical thinking and standing up against corruption and discrimination are imperative, we cannot think of a more appropriate moment for Kruger's iconic art and its powerful words to inspire and influence the masses.