I would have girls regard themselves not as adjectives but as nouns. – Elizabeth Cady Stanton
Everyone is familiar with the great names of the Impressionist movement — Claude Monet, Pierre-Auguste Renoir, Édouard Manet, Edgar Degas, Alfred Sisley, and more. Many may not be aware that a woman named Berthe Morisot was one of the founders of the French Impressionists, right alongside these skilled male artists.
Indeed, Morisot's name isn't brought up as much, even though this talented, educated painter achieved peer and public acclaim during her lifetime. Her artworks are every bit as quintessential to Impressionism as of her male counterparts. Given her unique focus on the females in her surroundings — aristocratic ladies and chambermaids alike — Morisot is often regarded as a feminist icon, sometimes even radically so.
And though her significance in the feminist movement is often debated among scholars, Morisot did provide an important perspective on working woman in the late 19th century. Her status as a renowned painter in the male-dominated French Impressionist circles is unquestionable.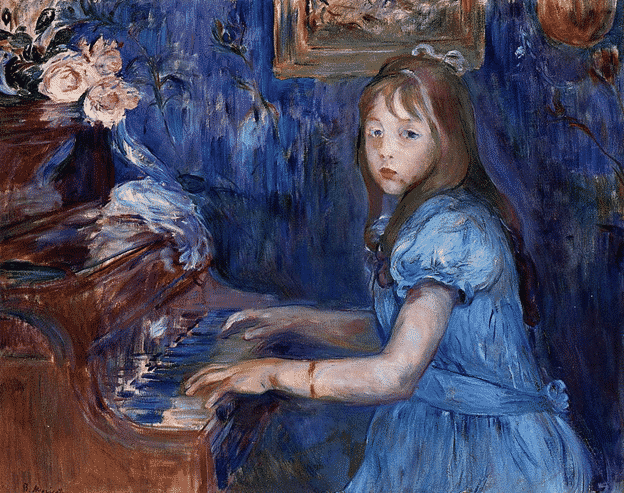 Affluent Beginnings
Berthe Morisot was born in 1841 to a wealthy, bourgeois family. She enjoyed fortunes that people of the lower class couldn't, such as receiving prestigious art education together with her older sisters, Edma and Yves.
Their private tutors were Geoffroy-Alphonse Chocarne and Joseph Guichard. Their parents would later send them to Louvre to further their study of painting, where the sisters worked with Jean-Baptiste-Camille Corot, an influential French artist known for his plein-air painting practice who was a pivotal figure in the Impressionist movement. He encouraged them to paint outdoors and in nature, which is something that would remain with Berthe for the rest of her career.
Even though Edma Morisot was considered to hold the most potential, she had abandoned painting in favor of marrying a naval officer. Berthe, on the other hand, entered the Parisian avant-garde society, becoming an art model and posing for Édouard Manet. It wasn't long before she met Édouard's younger brother, Eugène Manet, and married him.
Feminist Views
Berthe Morisot's painting career represented a push-and-pull of unconventional opportunities and expected oppressions of a patriarchal society.
On the one hand, her husband Eugène had left his job with the French Ministry of Justice to take care of their daughter, Julie, and organize Berthe's exhibitions. A stay-at-home husband and a rising career in arts were not easily attainable by a woman at that time, or any other time since. Perhaps to express her gratefulness and devotion to him, Berthe made Eugène the only male subject in all of her paintings, examples of which are In England (Eugène Manet on the Isle of Wight) (1875) and Eugene Manet and His Daughter in the Garden (1883)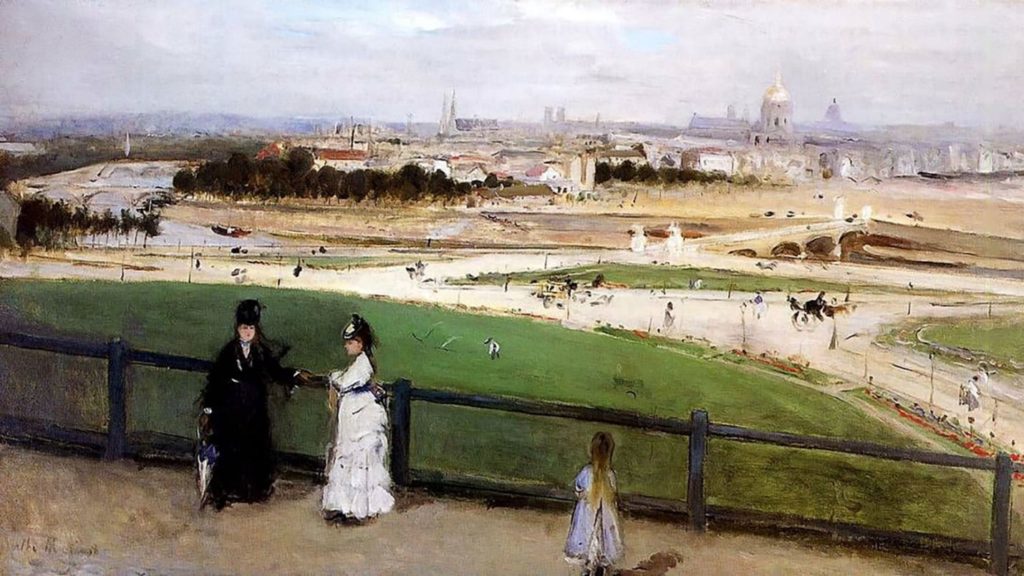 On the other hand, Berthe acutely felt the male-centric world she was surrounded by. She primarily painted women and children in domestic scenes and parks, regardless of whether they were ladies of a higher social standing or maids and house servants. One of the most famous examples of this is a painting of her older sister Edma and her newborn baby in The Cradle (1872). Her male Impressionist contemporaries had the luxury of painting exquisite Paris sites that Berthe couldn't access without a male chaperone.
Her artwork was described as charming, delicate, and feminine, implying that it wasn't taken as seriously as the artwork of her male peers. Édouard Manet, her brother-in-law, was quoted as saying, "This woman's work is exceptional. Too bad she's not a man."
In 1890, Berthe wrote in her diary, "I don't think there has ever been a man who treated a woman as an equal, and that's all I would have asked for, for I know I'm worth as much as they."
Style And Central Figures
At the beginning of her career, Berthe utilized light brushstrokes, only to transition to short, rapid strokes around 1888-89. She experimented with unprimed canvases in the same way Édouard Manet did at the time. A remarkable feature was that she tended to leave her canvases unfinished, such as in Young Woman in Grey Reclining (1879), that lent a suggestion of spontaneity to her artworks.
Berthe's male colleagues didn't pay much attention to domestic servants, who were often at the sidelines of their paintings. Berthe, however, positioned them as central figures in her artworks, making them the unique, singular subject, like in The Little Maid Servant (1886). Her daughter Julie was a prominent figure in her paintings as well, occupying roughly a third of her canvases. Portrait of Miss J.M. (Julie Daydreaming) (1894) is a superb depiction of Julie's beauty and Berthe's harmonious command of soft light and colors.
Some of the intimate female moments Berthe captured with her paintbrush were women in the process of bathing, getting dressed, and fixing their hair and makeup. While the male artists of that era depicted women with ample cleavage and often not completely dressed, Berthe filtered them through sensuality rather than erotic urges. Woman at Her Toilette (1875-1880) presents a woman viewed from behind, in the middle of fixing her hair for the evening.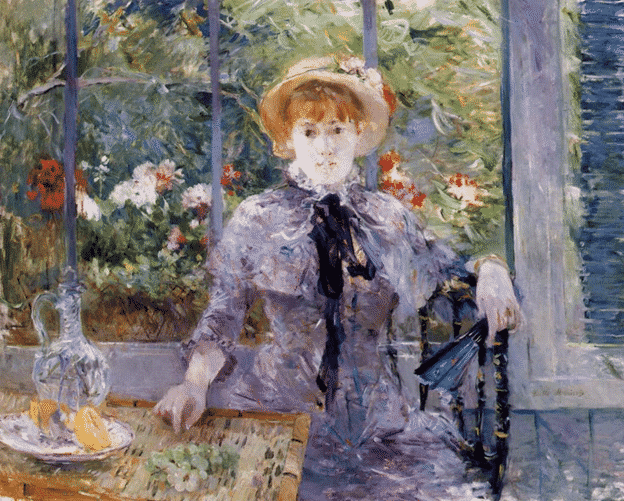 A Dual Identity
Despite being featured in seven impressionist exhibitions during her lifetime and producing over 850 artworks (paintings, watercolors, and pastels), Berthe Morisot struggled to reconcile her position as a member of high society with her free artistic spirit. Furthermore, she struggled to be accepted for who she was in her artistic career and not viewed as a fragile, feminine figure that would have been great if only she were a man.
Berthe Morisot died of influenza at the age of 54. Her death certificate lists her as without a profession. The street she lived on doesn't carry her name, but rather the name of her niece's husband, the French poet Paul Valéry, who lived in the same house as Berthe later on.
But Berthe's legacy must not be forgotten. Various feminist and art history experts may debate whether or not she truly belongs in the circles of feminist icons. Still, one thing is for sure: Berthe Morisot was a courageous woman artist who earned her rightful place at the top of a profession ruled by men. She wasn't the only one of her kind, nor the first one, but she was faced with trials that exist for women even today, still over a century and half later.
Women of all professions can see themselves in Berthe Morisot and be inspired by her example to bravely keep marching down their paths, knowing they are every bit as worthy of acclaim and recognition as their male peers.