I don't like to think about being an influence. It's embarrassing. – Bruce Nauman
Unfortunately for American artist Bruce Nauman, that's precisely what he's become – world-renowned, multi-awarded…influential.
Considered one of the most prominent artists to emerge in the 1960's art scene, Nauman's passion for art would not develop until he was in college. Growing up in Fort Wayne, Indiana, the young Nauman was shy and preferred to read and play instruments.His father was an engineer and this required the family to move around extensively. Once in college, he originally studied Mathematics and Physics at the University of Wisconsin. However Nauman would soon discover his love for art and changed his major to Fine Art. After undergrad in 1964, he moved to California to enter the graduate art program at the University of California, Davis, with the renowned sculptor Robert Arneson.
The Art Department at the UC Davis would include internationally-recognized William T. Wiley, Manuel Neri, and Wayne Thiebaud – making it one of the most prestigious art programs in the nation at that time, helping to launch and further develop Nauman's art career.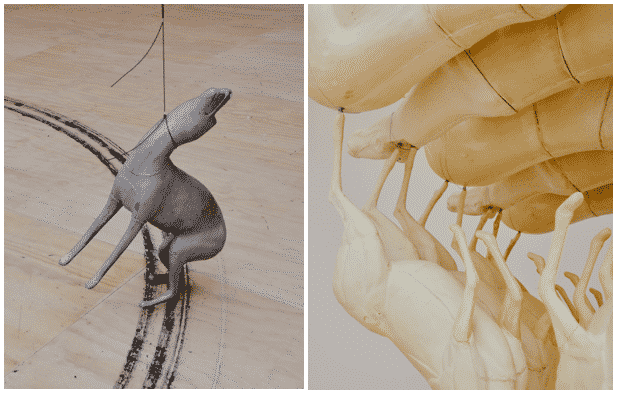 The True Artist Helps the World by Revealing Mystic Truths
Over the past five decades, Nauman's body of work has spanned extensively from sculpture,photography, video and performance, including a variety of mediums and materials such as neon lights. He would shift from sound installations to flashing neon to delicate drawings, working to seemingly avoid being imprisoned by a signature style or unifying set of ideas.
Video, a new and convenient art form when he first started his art career, was a preferred artistic language for Nauman. Some of Nauman's early video works was shaped by the way he related his own body to surrounding objects. For example, he filmed himself moving around his studio through an experimental one angle shot, exemplifying the connections of his movements to the surrounding studio space. In his 16-millimeter master work from 1968, called "Walking in an Exaggerated Manner Around the Perimeter of a Square", we witness Nauman's esoteric visual language that became a lifelong fascination for himself. His subject of observation and surveillance brought up the question of what it means to 'make art' as an artist. With such a broad range of mediums, he ultimately became a recognizable figure in conceptual art.
Inspired by language and a system of codes and signs, Nauman continued to use neon as a medium in his works to bring new life to otherwise, unremarkable everyday objects. Nauman states, "I had the idea that I could make art that would kind of disappear – an art that was supposed to not quite look like art. In that case, you wouldn't really notice it until you paid attention. Then, when you read it, you would have to think about it." Nauman's 1967 'The true artist helps the world by revealing mystic truths (Window or wall sign)' was meant to hang in the window at the front of his studio functioning as an advertising sign. Instead, it became one of his most recognizable pieces.
In retrospect, regardless of Nauman's future works, defiance against categorization, and choice of medium, his art had a common goal – to make people think. And ironically, they've never revealed mystic truths but rather provoked even more questions and intrigue.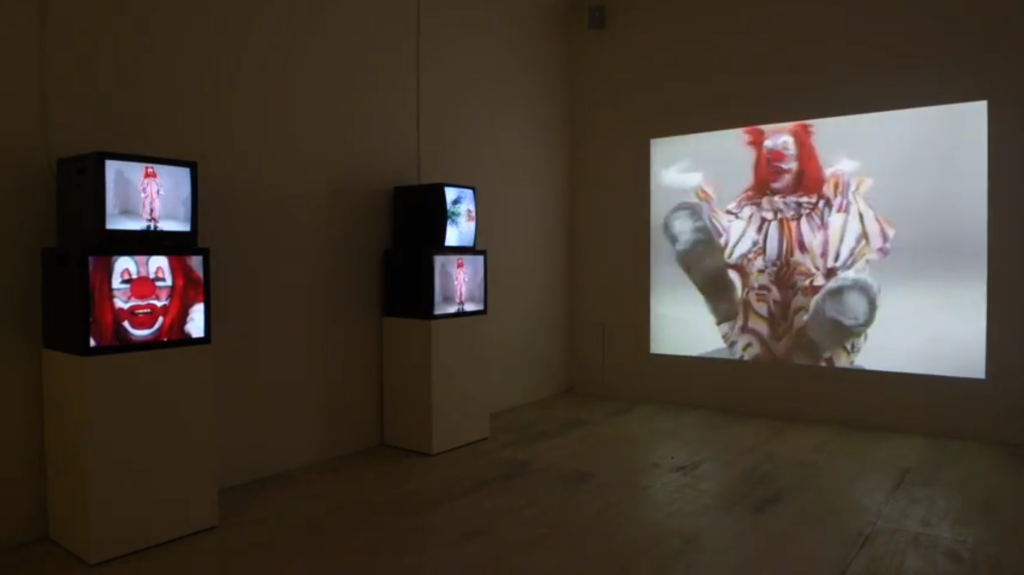 Impact on the Art World
Nauman's career in the arts dates back to the early 1960s when he dedicated himself to sculpture –specifically fiberglass and plaster. Between 1966 and 1968, he taught at the San Francisco Art Institute. It was also in 1966 that his first solo exhibition was held at the Nicholas Wilder Gallery. In 1969, Nauman's work was included in 'When Attitudes Become Form:Works-Concepts-Processes-Situations' an important conceptual art exhibition at the Kunsthalle Bern.
Some of Nauman's best-known works include: A Rose Has No Teeth (1966), Flesh to White to Black to Flesh (1968), Henry Moore bound to fail, back view (1967–1970), Clown Torture (1987), and World Peace (1996). All of his work throughout his career described as ironic and even controversial as it aims to question our existence, provoking participation from the audience.
Genuinely, Henry Moore bound to fail, back view (1967–1970) would go on to set an auction record for postwar art in 2001. The sculpture was a wax and plaster cast of Nauman's own arms tied back by ropes. The piece sold for $9.9 million to French billionaire businessman, Francois Pinault.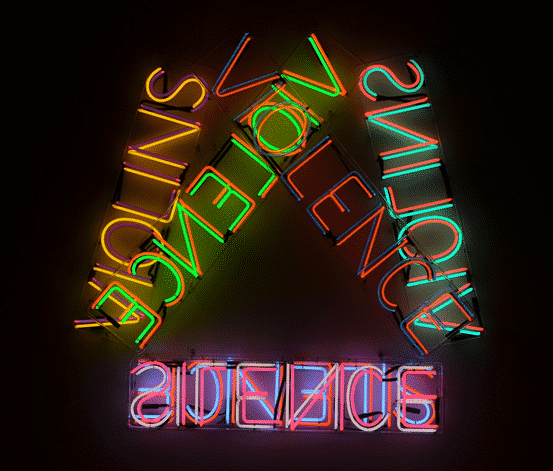 Much of Nauman's works have done well in an auction; in 2009, his neon work Violins Violence Silence (1981/82) sold for $4 million at Sotheby's. Nauman also had early supporters who collected much of his work at the beginning of his career. German-swiss art collector Mick Flick alone amassed 40 of Nauman's pieces.
Throughout his career, Nauman has won many awards and holds many distinctions. Nauman was granted honorary Doctor of Fine Arts degrees from the California Institute of the Arts and the San Francisco Art Institute. In addition, in 1993 he won the Wolf Prize, the international award granted in Israel, for his acclaimed work as a sculptor and remarkable contribution to the 20th-century art world. In 2000, he became a member of the American Academy of Arts and Letters. Time Magazine named Nauman as one of 2004's most influential people in the Artists and Entertainers category. In 2004, he received the Japan Art Association's Praemium Imperiale award. In 2008, he won the prestigious Golden Lion when he represented the United States at the 2009 Venice Biennale. However, that was not the first time he won the coveted award; he also won it back in 1999.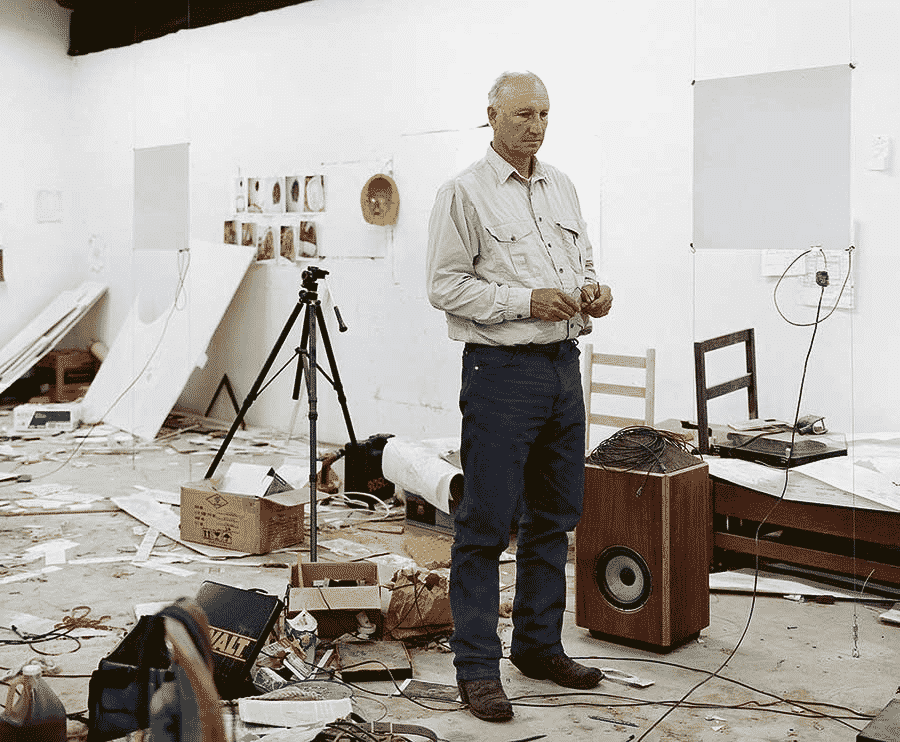 Nauman Today
Now 77, Nauman resides near Galisteo, New Mexico where he continues to work since 1980. He is married to American contemporary painter, printmaker, and sculptor Susan Rothenberg since 1989.
Described as the most comprehensive exhibition of the artist's work ever assembled, "Bruce Nauman: Disappearing Acts" exhibition was on view at Schaulager, Münchenstein/Basel, Switzerland between 17 March-26 August 2018. Through February 2019, it is at The Museum of Modern Art and MoMA PS1 in New York City, in the US.
Kathy Halbreich, a new director of the Robert Rauschenberg Foundation who was the lead curator of the retrospective when she was the associate director of the Museum of Modern Art (MoMA), describes Nauman to the Art Newspaper as "trenchant and urgent today as he was 25 years ago."
Halbreich goes on to say, "He is one of the very few artists I know—let's say Picasso is another—whohas retained his edge, risk-taking spirit and material experimentation from his grad-school days to the present."
What I am really concerned about is what art is supposed to be – and can become. – Bruce Nauman.
Tracing Nauman's 50-year career span compels us to leave all things familiar and comfortable, much like Nauman's calling on "withdrawal as an art form" for ever-present "Disappearing Acts."
Nauman continues to explore the philosophical question of what an artist is, making unique form of permanence or impermanence for even those fans who may never understand his appearance in those negative spaces in the first place.