"My bull is a symbol for America. My bull is a symbol of prosperity and for strength." – Arturo Di Modica
In December 1989, Arturo Di Modica with the help of a friend, without the proper permits or permission, placed a 3.5-ton bronze bull sculpture in Manhattan's Financial District as a symbol of freedom and love. Due to public insistence, the bull has remained there to this day and has come to be known as the "Charging Bull."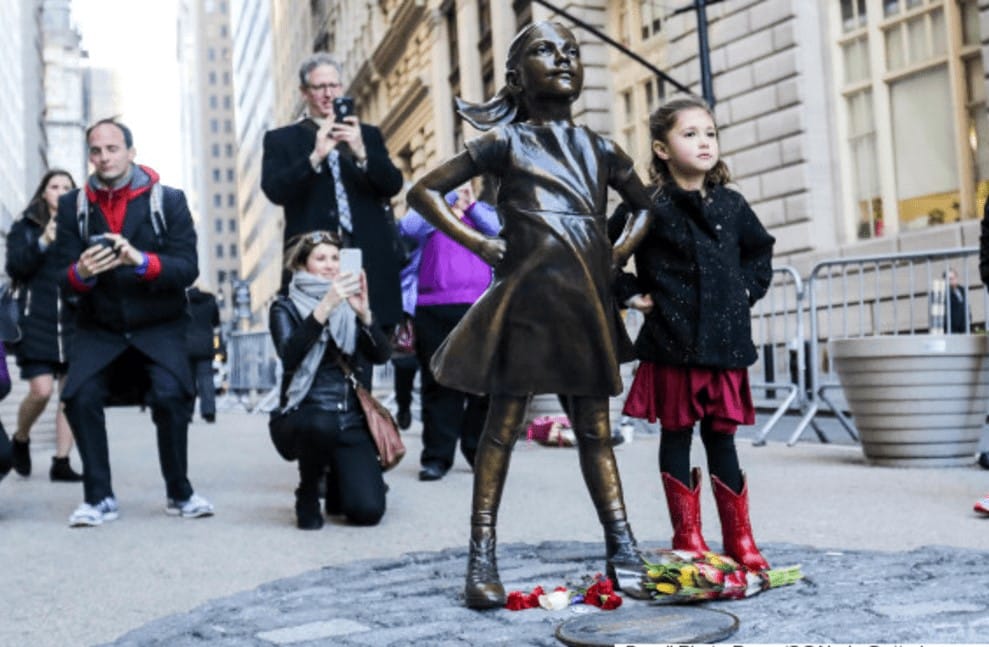 Symbol of Capitalism and Fight for Equality
Over the years, its intended symbolism of a booming economy began to shift as many associated the bull with the greed and excess of Wall Street. However, many still perceived it as Di Modica intended – as a symbol of "freedom, world peace, strength, power and love."
However, in 2017, the placement of a 4-foot bronze sculpture of a pony-tailed little girl wearing hi-top sneakers standing defiantly in front of the bull may have permanently altered the perception of Charging Bull.
The Fearless Girl was commissioned by the State Street Global Advisors as an ad to bring awareness to gender-diversity in senior leadership roles. The plaque beneath the statue states, "Know the power of women in leadership. SHE makes a difference."
And while Fearless Girl faces her own criticism from several feminist groups who feel the sculpture's symbolism has somehow twisted true feminist principles and leans more towards "corporate feminism"—BTW, the controversial 'SHE' plaque itself has been removed since, which doubled as the sponsor company, State Street Global Advisors' ETF trade ticker symbol— it is Arturo Di Modica who is most opposed the sculpture.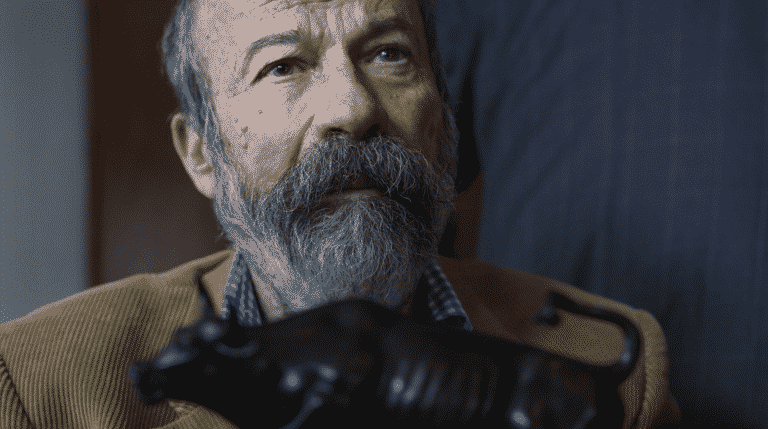 VARA: US Visual Artists Rights Act
However, Di Modica defends that he is not against what Fearless Girl represents but rather her placement. As Fearless Girl stands facing Charging Bull with her chin up and hands on her hips, she sends the message that Di Modica's bull, who now appears aggressive, is the antagonist in this story and now conveys a message radically different than what he had intended.
More importantly, Di Modica argues that the placement of Fearless Girl violates his legal rights according to the US Visual Artists Rights Act of 1990. VARA states that the author of a work of visual art shall have the right "to prevent any intentional distortion, mutilation, or other modification of that work which would be prejudicial to his or her honor or reputation, and any intentional distortion, mutilation, or modification of that work is a violation of that right."
Does the law protect Di Modica from SSGA's use of his Charging Bull to add context to shape their Fearless Girl message? Does the proximity of Fearless Girl to Charging Bull constitute an "intentional distortion, mutilation, or modification" that damages Di Modica's reputation?
Many would argue yes, it does. Without Charging Bull, what would a sole sculpture of a young girl confidently standing on city grounds represent? Does she symbolize rebellion? Would she be perceived as strong despite the lack of an object to bravely face?
In April 2017, Di Modica and his attorney, Norman Siegel, have asked the city of New York to remove the statue and place it somewhere that it doesn't rely on the Charging Bull.
"The Charging Bull no longer carries a positive, optimistic message. Rather, it has been transformed into a negative force and a threat," said Norman Siegel, Di Modica's attorney.
"Clearly, a deliberate choice was made to exploit and to appropriate the 'Charging Bull' through the placement of the 'Fearless Girl.'"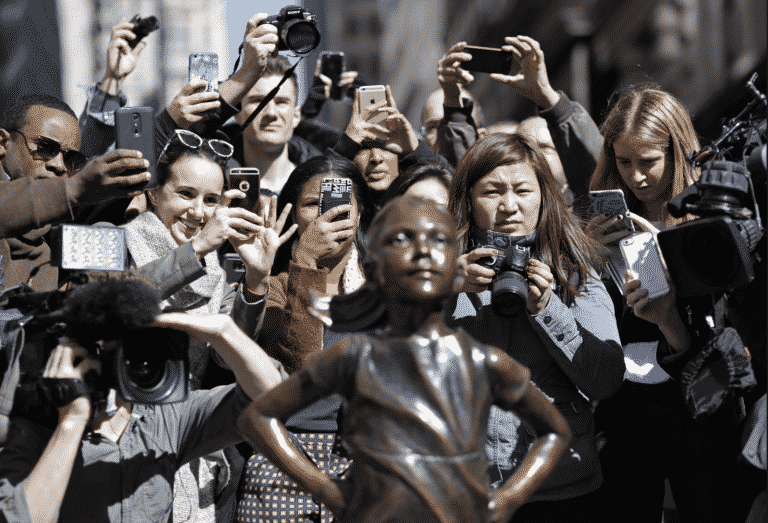 Intangible Power of Art: The Debate Goes On
In the case of the Charging Bull vs. Fearless Girl, the law is clear. This is regardless of Fearless Girl's popularity and her viral status when her image made its rounds online and on social media. Ironically, Charging Bull has remained where Di Modica placed it almost 30 years ago despite its lack of permits because of its popularity.
Whichever side you are on, Charging Bull vs. Fearless Girl are still impressive sculptures, whether together or apart. If you happened to capture them together, store it in your ARTDEX App. And when the time comes for Fearless Girl to be removed, whether lawfully or because her permit has expired, you'll still have the piece of controversial and viral artwork that is Charging Bull vs. Fearless Girl in your digital media collection.