$354.8 million
That's how much works by Chinese modernist painter, Zhang Daqian, who died in 1983 generated in auction sales in 2016. And before that, modernist painter Zao Wou-Ki's artwork set an auction high at Christie's by selling at $19.6 million.
According to an article on Artsy in 2016, China surpassed the U.S. in auction turnover for the first time in five years. This was recognized after the art market data and analytics firm, Artprice, examined 3,500 auction sales that took place globally. Of the $12.45 billion in public fine art sales worldwide, China captured 38% of that while the United States only achieved 28%, bringing China to rank first worldwide.
But what does this all mean? Has there been a shift in financial power towards Chinese auctions?
It means that China's art market is booming.
The buying frenzy of China's art and antiquities is growing. In 2011, a Chinese bidder purchased a vase for a whopping $18 million which was 20,000 times more than the suggested price of $800. And earlier in 2010, an 18th-century Chinese imperial porcelain vase that was valued at only $1.3 million was bought for $86 million.
But how did China rise to the top?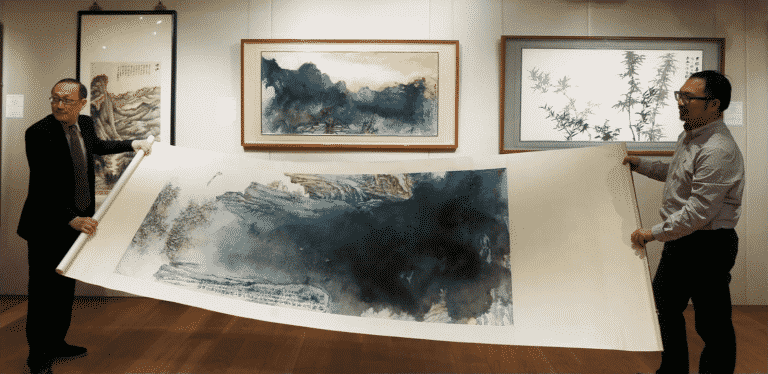 For starters, at Sotheby's in April 2016, Zhang Daqian's Peach Blossom Spring (1982) sold for four times its estimate – $34.7 million. Three other Asian artists, Wu Guanzhong, Fu Baoshi, and Qi Baishi are in the top 10 of global results along with Zhang.
And later on May 28, Indonesian painter's Christine Ay Tjoe's "Small Flies and Other Wings" made ten times its estimate at Phillips in Hong Kong. The five-foot-high abstract was an auction high for the artist at $1.5 million which was bought by a Japanese telephone bidder.
Art and Money, Happily Ever After
The number of billionaires is on the rise. And the art market quickly became a popular way for the China's wealthiest to invest with many of them purchasing artwork from overseas auctions in cities like Hong Kong or London.
Guo Tong, Vice President of China Guardian Auctions, estimates a 30% rise in 2017 in the Chinese art market. She told CNBC, "The warm up in the market has been quite obvious. More money is trapped in China. It is very likely that some of that money will go into the art market. This is one of the reasons people have upbeat predictions about the market this year."
In fact, China Guardian Auctions is just one of six Chinese auction houses that also belong in the world's top ten. Dominating the Chinese market is state-owned Poly Auction House which is rivaling Christie's and Sotheby's in size. And Beijing Council of International Auctions, which is ranked sixth globally, is well-known in the international art markets for its record-breaking purchases which include an impressive $45 million for a 15th century Tibetan silk Thangka.
China as an ancient civilization with deeply established historical heritage recognizes and upholds the value of the cultural power of art. Therefore, it is no surprise for the Chinese to be stepping up to be a global player in the art market as an economic power. More of China's affluent class expands and further demands for alternative assets for their billions, art comes as perfect objects-of-desire providing readymade stamps of cultural cache and privilege. And with a hefty ROI (return on investment) on resale price tags, more often than not, evidently. That's what the global rich calls a win-win for their money.