On November 15, 2019, in a crowded salesroom at Christie's Rockefeller Center headquarters in New York, famous David Hockney's 1972 painting 'Portrait of an Artist (Pool with Two Figures)' was sold for a staggering sum of $90.3 million after just nine minutes of bidding. This turned out to be the most expensive work by a living artist ever sold at auction. But this global record for a living artist reveals more about the art world of today than about David Hockney himself.
For the majority of the collectors and art market experts, this pricey sum was not a surprise, since the pre-auction estimate for the artwork was at $80 million. But if you wondered why any painting is worth that amount of money — you weren't the only one. Just two days after the sale, an article titled 'Is David Hockney's Portrait of an Artist worth $80m?' appeared, asking some valid questions, such as whether some immeasurable artistic merit of the painting demanded such a price, or whether it was a 'value-for-money' thing that works for the ultra-rich art world playbook just made for the handful of billionaire collectors. These questions are especially pertinent since the auction itself was covered in a most sensationalist way. So, what makes it so special?
The 'Portrait of an Artist' was rightly described as one of Hockney's masterpieces, combining two of the most famous and recognizable features of Hockney's work — his signature swimming pool glistening under the warm Californian sun, and his two-person composition. The English artist who is an important contributor to the pop art movement of the 1960s consistently used this two-person theme to reflect on the ideas of intimacy and distance. This particular painting was created out of two separate images from Hockney's studio: a photograph of a boy looking down and another of a man swimming. Such an image in today's world would most likely be done in Photoshop.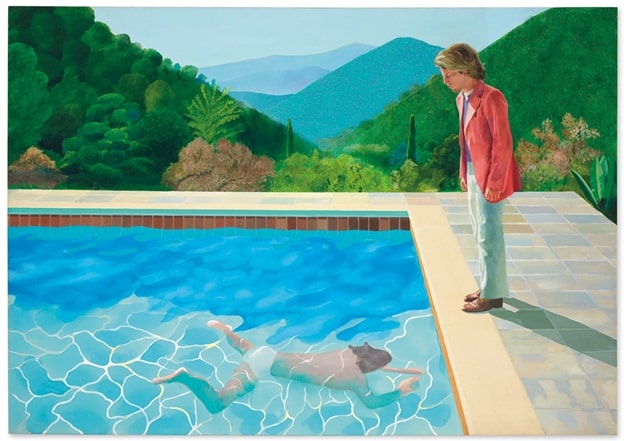 Prior to the now-famous Christie's auction, in 2017 Hockney who is often described as one of England's most influential living artists, had returned to London where he had his most comprehensive exhibition in the Tate Britain, celebrating his achievements in drawing, painting, photography, print, and video. The public could see how the changes in his artistic style evolved throughout the years, from his LA swimming pools and portraits to the landscapes and Cubist-inspired modern art pieces.
Short History Of Hockney's Art
When Hockney began his career, figurative painting was considered outdated. He would pick his subjects from his immediate surroundings — friends, family, pets, familiar Yorkshire landscapes, but he is arguably most famous for his scenes of American sunbathers and swimming pools, capturing an unusual and nostalgic stillness about them. As a committed colorist, it seems obvious that his heavily color contrasted object arrangement in his paintings is directly inspired by Matisse's Fauvism, Hockney admits he is more inclined towards Cubism and passion for the mechanics of vision.
Nowadays, his work explores the concept of "reverse perspective," inspired by Pavel Florensky's essay of the same name. Florensky was a gifted mathematician, philosopher, and art historian who argued that the correct perspective is overrated, pointing out that Russian, Chinese, and Egyptian art were all made without perspective. His recent paintings are even more distinctive, with chopped-off corners and shifting viewpoints.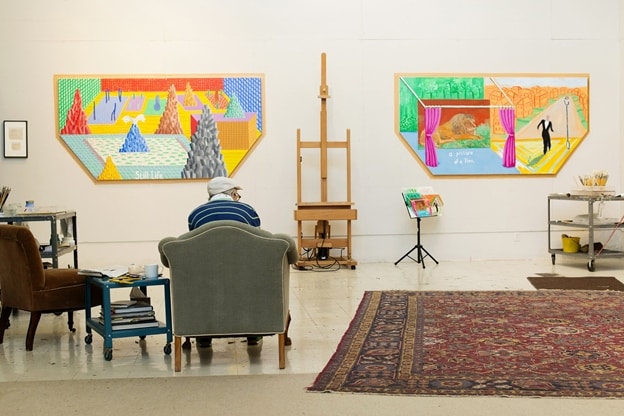 Hockney At 80
The recent years of Hockney's career could be described as the most prolific in decades. After his hearing started to deteriorate, he decided to retreat to his LA home where he could focus on his work. It's not that he doesn't love guests, as he pointed out in an interview for the Los Angeles Times, it's just that he can't participate in large gatherings like he used to. "I hardly go out as I'm too deaf…I'm not a good listener, anymore.".
He goes to his studio in the early hours of the morning and sticks to an established routine. After an eight-year hiatus from Los Angeles, which he spent in Yorkshire, returning to sunny LA was a pleasant change that affected his subsequent work. The difference in his work since his return has been profound. As one of his sitters says, "To sit for a Hockney portrait requires a certain amount of patience and concentration." The subject, art gallerist Larry Gagosian, recounts how over the course of eight hours, Hockney would break his focus for only an hour during lunch.
For most of his '82 Portraits and 1 Still-Life,' a body of work consisting of vibrant living colors of portraits of people with whom Hockney developed relationships over the past fifty years. The majority of the portraits were done in his LA studio and over a period of two to three days per painting. His sitters were almost everyone from his circle of prominent luminaries as well as other people, including office staff, curators, gallerists, and employees who have crossed his path in recent years. Hockney left to his sitters to choose their own clothes, giving them the chance to express their characters.
Most recently, just a year before the outbreak of the Coronavirus, a new exhibition at Amsterdam's Van Gogh Museum was set, highlighting the influences of the famous Dutch master on the later landscape Hockney's works. The exhibition Hockney – Van Gogh: The Joy of Nature featured both artists' landscapes, placing side by side their artworks, ranging from small sketches and watercolors to the massive wall-filling paintings, videos, and drawings.
While the 19th-century artist was inspired by the landscapes of southern France, Hockney drew his inspiration from the landscapes of Yorkshire. While this show meant to demonstrate the mutual love of nature of both artists, it also displayed their passion for innovation. Van Gogh formed his style by drawing on movements like Pointillism and Impressionism, while Hockney embraced techniques and technology.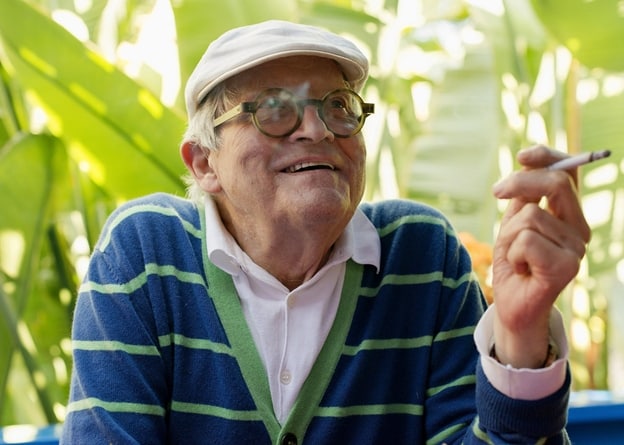 An Artist Set In His Ways
Although during his career, he never shied away from change, mastering a variety of artistic mediums, in his personal life, Hockney enjoys his rituals and habits, one of which is his smoking. Even in his eighties, he doesn't plan on quitting smoking — one of his greatest passions. In an interview for Architectural Digest last year, Hockney stated, "The people telling me to stop smoking are saying it's about time that I should think about my body, but I've gotten to be 81 not thinking about it, so what's the trouble?"
In these challenging times during the global pandemic, we cannot think of a more appropriate moment for Hockney's living colors of eternal sunshine to adorn our dream walls and screens. During the lockdown in Normandy, France, the 82-year-old artist released his latest iPad paintings earlier this year, unveiling vivid yellow daffodils, naming it 'Do remember they can't cancel the spring.' It is a much-needed splash of color and bright reminder of hope to the dark times facing the world.