Every once in a while, an artist comes along who isn't afraid to push the envelope and allow their culture to strongly influence their work. Ernesto Neto, a renowned Brazilian artist, has long since wrapped his art around the hearts of many contemporary art connoisseurs and art lovers.
Since the 1990s, Neto has received worldwide recognition and had the opportunity to exhibit at some of the most prestigious museums: the Tate Modern in London, the Museum of Modern Art, the Solomon R. Guggenheim Museum in NewYork, and the Hara Museum in Tokyo, among other places.
Neto's conception of art is unique, and through his magically woven structures, he continues to pursue an interplay and journey of discovery between art and senses — a rare realm of sensorial social netting that doesn't seem to be slowing down. Most of his works are focused on exploring the constructions of both the natural world and our social spaces by combining different artistic influences into a seamlessly experiential whole.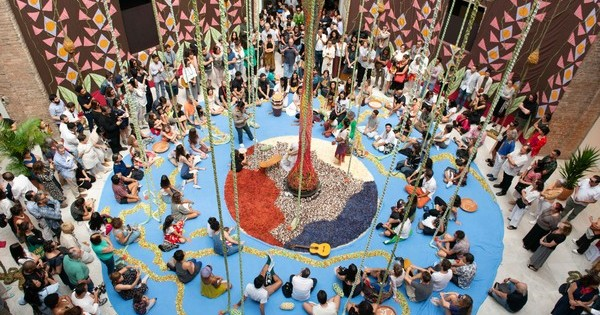 Ernesto Neto: Beginning of the Artistic Journey
Neto was born in Rio de Janeiro in 1964, where he still lives and works. His artistic education comes from Escola de artes visuais do Parque Lage and the Sao Paulo Museum of Modern Art, which he attended from 1994 until 1997. Ernesto Neto defines himself as a sculptor, and in his art, he uses various organic materials that invite the viewer to interact with the art physically and experience it in every sensorial way.
Neto's work demands the observer to engage with all of their senses, to consider how his art plays with not only their visual mind but everything else that constitutes the experience of being: such as scent, touch and static movement. Shells, sand, and spices are some of the materials he often uses to evoke all sensory perceptions and allow viewers to forge a novel connection to his art. In this way, his art challenges us to consider the architecture of the sensory system and how our individual, perceptual relationship with art builds our greater sense of social hierarchy and boundaries in our environment.
Neto's Influences and Themes
Neto has drawn his influences from Brazilian vanguard movements of the1960s and 1970s. Neo-concretism, Biomorphism, and minimalistic sculptures are quite prevalent and noticeable elements in his works. The art, often a largescale installation of combined materials, plays with connections between human-made and organic things, blending nature and spirituality within the social realm.
One of his most exciting projects to date was working with the Huni Kuin, who are an indigenous peoples living in the Amazon rainforest. Since cooperating with the Huni Kuin in 2013, Neto has begun incorporating these new influences into his art. The issue of sustainability became a major theme, as well as the deeply rooted and inter-weaved relationship between human and nature often seemingly esoteric and immaterial but profoundly spiritual. Neto was fascinated by the Huni Kuin, starting from their desire for happiness and harmonious values, all the way to their sense of aesthetics and skills in various crafts. It turned into a fruitful collaboration that elevated the style of this exceptional artist to new heights in his exhibition BOA in Kiasma Museum of Contemporary Art in Helsinki in 2016.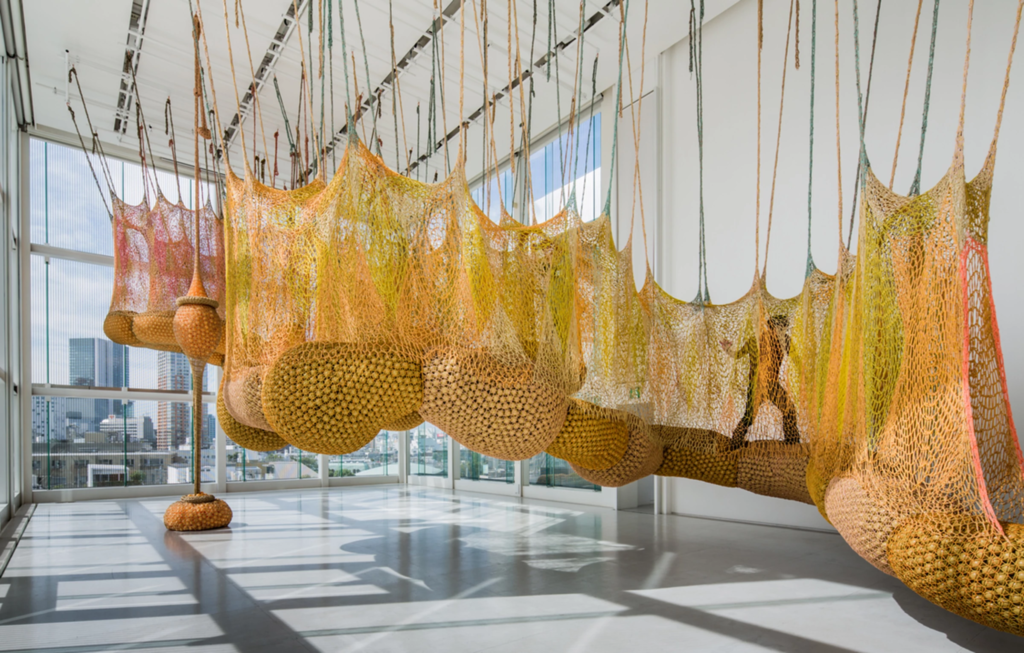 Major Exhibitions
You're likely to find works of Ernesto Neto in international museum collections, but there has been a myriad of essential exhibitions and outstanding works for the Brazilian artist. His first retrospective exhibition was opened in 2011 at the Monterrey Museum of Contemporary Art (MARCO) in Mexico. Neto has had numerous solo shows as well for the past decades. Many of them were inSouth American museums, although he was also well exhibited at major museums such as, New York's Museum of Modern Art, Guggenheim Bilbao, Museum of Contemporary Art in Sydney, Museum of Contemporary Art of Rome, and Astrup Fearnley Museum of Modern Art in Oslo to name a few.
His biggest exhibition in Brazil to date named "Ernesto Neto: Sopro" features sixty of his works, and will be hosted by the Pinacoteca Luzin SãoPaulo this year from March 30 to July 15. The central area of the museum adorns with a forest installation called "Cura Bra Cura Té," featuring nozinhos — tiny knots that are often used in crocheting styles of the less financially fortunate communities of Brazil. The method is quite rustic, and the hand-woven installation also features spices and medicinal leaves that have a prominent role in healing rituals of the Huni Kuin. As with all of Neto's works, it is meant to be touched, inspected and experienced with all the senses.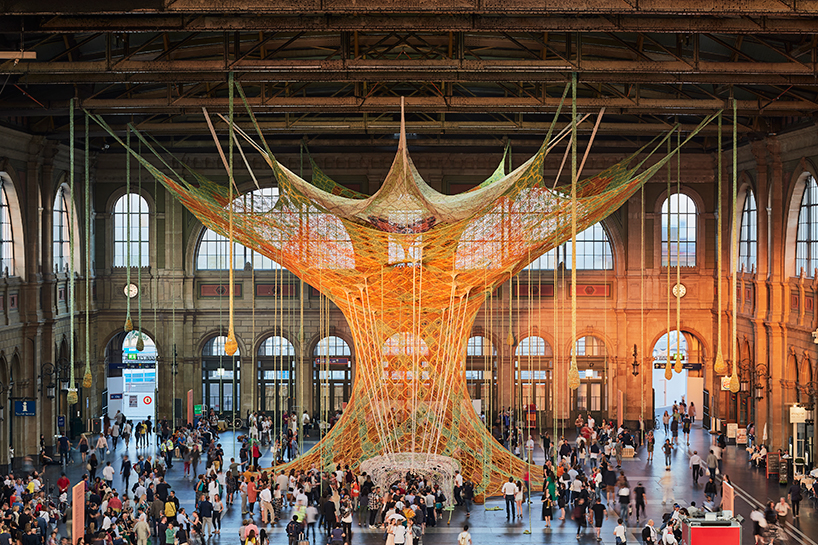 Neto's Famous Works
Among Neto's works that stand out, GaiaMotherTree might be one of the most memorable ones, first shown by the Beyeler Foundation in the Zurich Mainstation. With its height of sixty six feet, the sculpture reached the ceiling. The whole piece was made to look like a long, slender tree, with hand-knotted elements in bright colors. Underneath the tree sculpture, visitors could peruse the seats and rest in the shadow of the tree, enjoying the little offerings hanging from the branches in the shape of aromatic spices and different seeds. As a public art project and a sculpture that was meant to be experienced in a communal setting, GaiaMotherTree is an absolute representative of the themes and styles that Neto uses to make his artistic point known. A tree like Gaia was meant to be a collective memory of the great forest symbols, and all of the songs and rituals that different societies have brought from it.
Influenced by the Huni Kuin, Neto states he had experienced a rebirth after meeting them in 2015. Their first collaboration was presented on an exhibition in Vienna in 2015, and a group of shamans was present to perform their healing rituals. The scenery created by hand-woven tents accentuated the performance and establishedNeto as one of the most renowned contemporary art creators.
The work of Ernesto Neto shows the importance of reinventing the art form to include the viewer and give them a different experience. But even more importantly, it paves the way for the upcoming generation of artists and encourages them to explore the connections between various cultures, settings, and philosophies.
It can have an incredible impact on the world of contemporary art through enriching the art-viewing experience. It is a monumental artistic feat to raise awareness of the issues that are at the core of every human being, no matter how modernized or traditional their lifestyle.