"I don't know what a painting is; who knows what sets off even the desire to paint? It might be things, thoughts, a memory, sensations, which have nothing to directly with painting itself. They can come from anything and anywhere."– Philip Guston
Philip Guston was continually trying to define painting, calling it everything from an "illusion" to an imagined plane to a "peculiar miracle." Ironically, Guston himself and his body of work defied definition, evolving immensely over his 50-year career. Guston would take audiences on a rollercoaster that soared to his highs as one of the pioneers of Abstract Expressionism. The ride would then take a turn towards his figurative painting period and to the lows as he departed from abstraction and orthodoxies.
Born Philip Goldstein to Ukrainian Jewish parents in 1913 in Montreal, Philip was the youngest of seven. At a very young age, his father committed suicide by hanging – a sight that was discovered by Philip himself. The experience changed him profoundly, leading young Philip to retreat into a world of fantasy and comics which ultimately unraveled his gifts for drawing.
In 1927, at just 14, Philip was enrolled at the Los Angeles Manual Arts High School where he would meet and befriend a young Jackson Pollock. In high school, Guston and Pollackwere unsatisfied by how all the school's funding seemed to be directed towards athletic programs and not enough in the arts. They decided to express their protest through satirical drawings, which they deposited in faculty mailboxes.
Bolstered by not getting caught the first time around, the two published a pamphlet for which they were promptly expelled, despite being star pupils. However, Guston, barely 18, would go on to prove he didn't need formal education and resorted to books to self-train. Instead of attending classes, Guston would bring his work for criticism to Lorser Feitelson, one of the founding fathers of Hard-Edge painting, also known as "Abstract Classicism."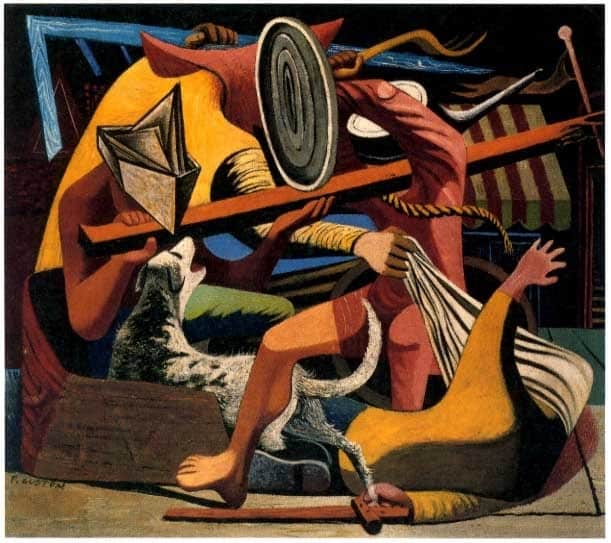 The Progression of Guston
In the 1930s, Guston began to emerge as a politically-driven muralist with a social realist style influenced by his early fascination for comics and Abstract Expressionism. By 1935, Philip had renamed himself "Philip Guston," perhaps as a way to disguise his Jewish roots or escape his family and past, which is something he admittedly tried to do for many years.
"After a lifetime, I still have never been able to escape my family. It is true that I paint now in a larger closet: much, much larger, with many lights. Yet nothing has changed in all this time. It is still a struggle to be hidden and feel strange." – Night Studio: A Memoir of Philip Guston by Musa Mayer
One of the best examples of Guston's social realist style is seen in his piece, Gladiators (1930), the image above, and Mother and Child (1930), which shows how Italian Renaissance art influenced his work at the start of his career.
Many would describe the 1950s as the height of Guston's Abstract Expressionism with much of his work from that era bearing recurring traits, such as broken brushstrokes and a limited color palette consisting of pinks, reds, blues, greys, and black. Some of Guston's most celebrated pieces from this time include Zone (1953 – 54)and Fable II (1957). However, it was To Fellini (1958)that would become Guston's record-breaking work, as it was the piece that realized $25 million in auction at Christie's in 2013.
Guston describes his work in the 1960s as "schizophrenic" as he returned to figurative and representational paintings and cartoonish drawings. His figurative works involved otherwise mundane scenes of everyday objects like cigarettes, clocks, shoes, and light bulbs.
By the late 60s, Guston seemed to abandon abstractions and all that made him famous and well-respected in the art scene to explore anew figurative style. He was quoted saying that he was "sick and tired of all that purity" as he "wanted to tell stories." It was at this time that he made a radical departure from gestural brushstrokes of Abstract Expressionism and shifted to a new figurative style, producing works such as Cigar (1969), The Studio (1969), the image above, and City Limits (1969).
Guston's 1970 exhibition at Manhattan's Marlborough Gallery would become notorious in the NewYork art scene for being a catastrophe, failing to make a statement and pack a political punch. Many critics have described Guston's 1970 work as grotesque, primitive, and crude at that time. However, these works, along with his early pieces, would ultimately influence a whole new generation of artists and secure him a legacy in the art community even after almost four decades since his death. Guston's entire body of work, the highs and the lows, challenged artists to have the courage to free themselves from easy definition.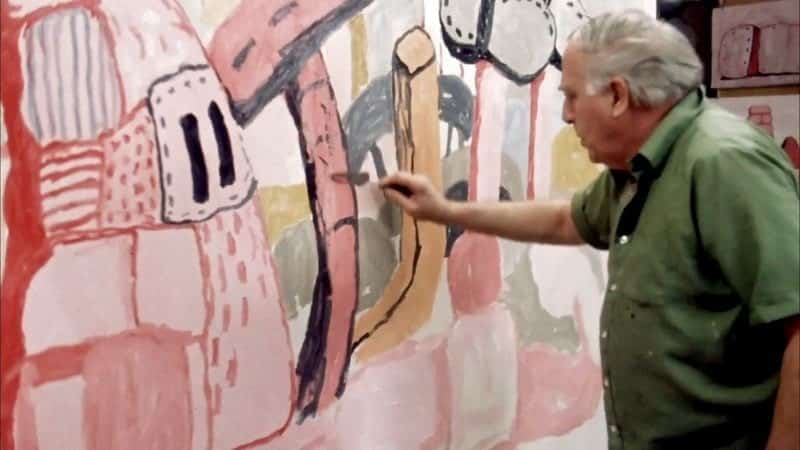 "…unlesspainting proves its right to exist by being critical and self-judging, it has no reason to exist at all – or is not even possible." – Philip Guston
Feeling misunderstood, Guston isolated himself. In the years leading up to his death in 1980. In 1975, he created Head and Bottle – a piece that would fetch $5.8 million in auction at Christie's New York in 2007. Today, his figurative charcoal drawings sell in the hundreds of thousands.
In 2017 at the 57th Venice Biennale, Gallerie dell'Accademia hosted Philip Guston's first museum show Philip Guston and The Poets in Venice. And in 2018, Philip Guston: A Painter's Forms, 1950-1979 exhibition at Hauser& Wirth art gallery in Hong Kong, narrated by Guston's daughter, gives audiences a look at her late father's creative periods while providing an insight to the artist's processes, insecurities, and inner battles.
Philip Guston (1913 – 1980): Philip Guston Now
Philip Guston Now, a major retrospective exhibition curated by Harry Cooper, Washington's National Gallery of Art's Department Head of ModernArt, aims to take audiences on an evolutionary journey that encapsulates Guston's impressive 50-year career. The exhibition boasts almost 200 paintings and drawings from dozens of public and private collections, featuring both distinguishable works and pieces that the public have likely never seen before.
The exhibition will run from June 7th – September 13th, 2020 at the National Gallery of Artin Washington. Between October 18th, 2020 and January 18th, 2021, the exhibition will be at the Museum of Fine Arts in Houston. The exhibition will also take place at London's Tate Modern from February 17th to June 13th, 2021 and Boston's Museum of Fine Arts between July 17th and October 17th, 2021.
Philip Guston may not have earned the same level of success as his former classmate and friend, Jackson Pollock. However, Philip Guston did impact a whole generation of artists and audiences, provoking them to engage, reinvent, find the humor in the vulgar, and embrace their inner desire to be confrontational and create without fear of consequence.