In Poland, the Warsaw Painters: Sketches from the Art Called Naïve exhibition shines a spotlight on the marginalized figures of Polish postwar art history. Hosted at the Ethnographic Museum in Warsaw until June 4th, 2023, the exhibition celebrates four "naïve artists": Leonida Płonkowa (1913–1992), Maria Korsak (1907–2002), Halina Walicka (1901–1980), and Łucja Mickiewicz (1894–1979).
The exhibition curated by Alicja Mironiuk Nikolska explores the works of visionary artists who existed outside the boundaries of the mainstream art world and used their distinct voices to illuminate their individual journeys through their art. These four "self-trained" or "non-professional" artists took the disruption and trauma they'd experienced in their lives to depict dreamlike realities and theatrical dimensions, profoundly impacting the postwar Polish art scene and giving the art world extraordinary examples of naïve art.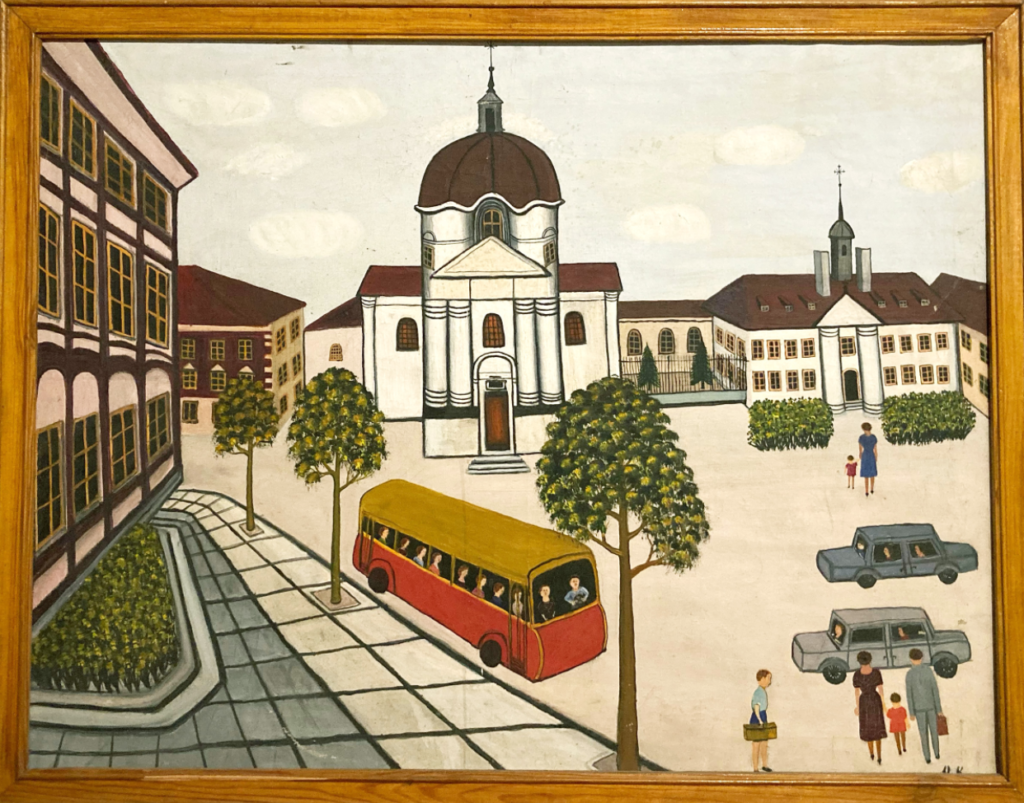 What is Naïve Art?
While naivety can negatively imply a lack of sophistication or suggest an undesirable gullibility or innocence in certain contexts, being labeled as "naïve" can emphasize one's genuine and unpretentious perspective. In the creative realm, the art world has changed the narrative of what it means to be naïve, embracing a charming genre known as "naïve art."
Naïve art emulates an aesthetic created by a professionally trained artist but was made by an artist with little or no formal education in the arts. Naïve artists often depict everyday life, rural landscapes, scenes from their immediate environment, or personal experiences, often drawing inspiration from folklore, mythology, religious themes, or popular culture.
The art movement emerged as a distinct genre in the 19th and early 20th centuries, gaining recognition for its association with artists who exist outside academically or conceptually driven art movements. Naïve artists are often referred to as "modern primitive artists" because both naïve art and primitivism challenge the prevailing norms and conventions of the art world, emphasizing a simpler, more intuitive form of artistic expression.
Naïve art experiments with unorthodox techniques, breaking free from conventional boundaries. The naïve artistic techniques have been described as "unrefined" or "unpolished" as many naïve artists used simple brushwork, representing subjects with a lack of perspective or proportion – suggesting that the artist did not grasp academic art principles. However, naïve art has its own charm despite lacking formal training and technique. Naïve art is instinctual, uninhibited, and intuitive and therefore, captivating for its simple authenticity.
Iconic Naïve Artists That Have Captivated the Art World
Often referred to as "art brut" or "outsider art," naïve artists emerged to give the world art that empowers unfiltered expression and highlights the power of untrained creativity. Here are four of some of the most recognizable contributors to the naïve art movement.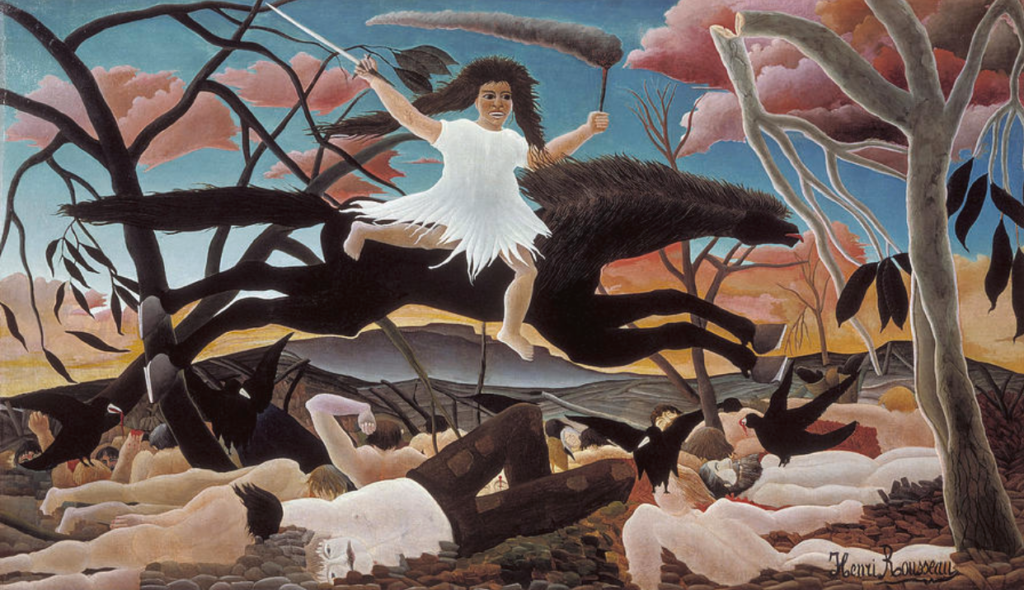 Henri Rousseau
One of the most influential figures in the naïve art movement was Henri Rousseau (1844–1910). Rousseau's contribution to the naïve art genre has inspired generations of artists to embrace the power of simplicity and explore the depths of their own imagination.
The French artist was famously discovered by Pablo Picasso who had found one of Rousseau's paintings being sold on the street as a piece of used canvas. Rousseau had a distinctive style with works that were characterized by their vibrant colors and detailed depictions of flora and fauna. His dreamlike compositions, which have often featured lush jungle scenes, tropical landscapes, and exotic animals, are celebrated for their imaginative and fantastical qualities. Rousseau weaves together elements of reality and fantasy to express his own unique visual language on canvas.
Rousseau's artistic journey began later in life, as he worked as a customs officer as he pursued painting as a self-taught artist. His lack of formal artistic training is reflected in his style, which charmingly exhibits childlike simplicity despite the meticulous attention to detail.
One of Rousseau's most famous works is The Sleeping Gypsy (1897), the artist's portrayal of a woman who lies fast asleep under a moonlit sky as a lion passes behind her. The oil painting blurs the lines of reality and fantasy to dance between the conscious and unconscious realms.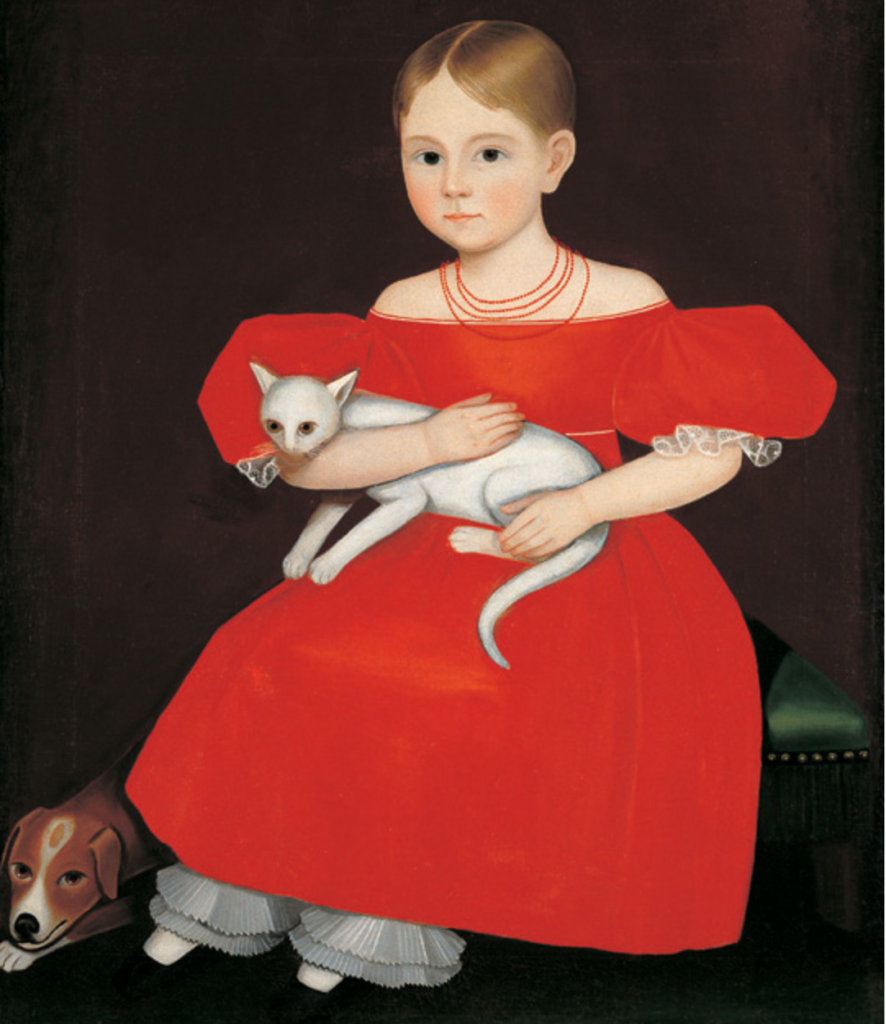 Ammi Phillips
Ammi Phillips (1788 – 1865) was an American artist known for his work as a naïve painter during the 19th century. The artist is recognized for its simple, unadorned approach to portraiture. He often painted everyday individuals, including farmers, children, and members of rural communities. He typically depicted his subjects in a straightforward style, focusing on their facial features and basic attributes rather than intricate backgrounds or elaborate settings – which helped express their essence and individuality.
Phillips' naïve art style demonstrated that he never struggled under the constraints of being self-taught. Rather, his art possessed a deep sense of warmth and humanity thanks to his skill in capturing human personality on canvas.
One of Ammi Phillips' most iconic naïve art paintings is often referred to as The Girl in Red, a portrait believed to have been painted in the 1830s. In the painting, a young girl in a vibrant red gown stands against a dark background; her expression is solemn, and her gaze is direct and penetrating, which creates a sense of quiet intensity while evoking vitality and demanding attention to her presence.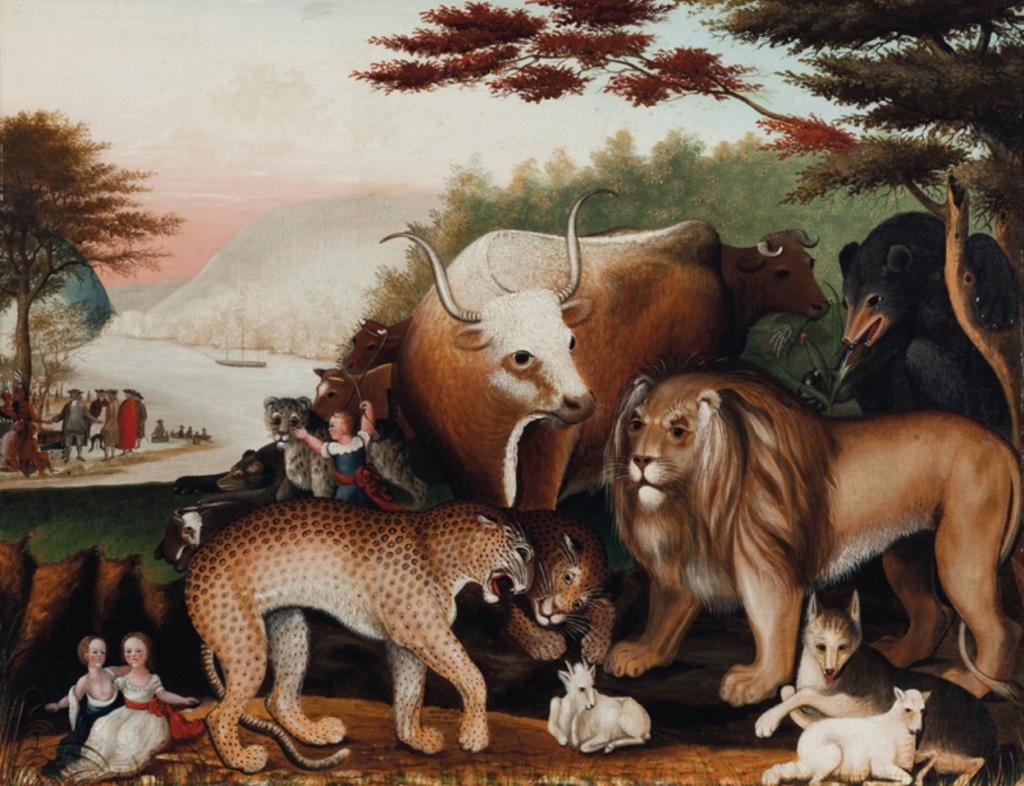 Edward Hicks
As a self-taught artist, Edward Hicks (1780 – 1849) was not widely recognized during his lifetime. And his contribution to the naïve art movement and American folk art wouldn't become appreciated and celebrated until the 20th century. Born in 1780, Hicks worked primarily as a sign and coach painter before he became a folk artist who often painted rural landscapes, historical events, and biblical narratives.
He focused mainly on themes of peace, harmony, and religious devotion. And his most recognized and recurring subject was inspired by a passage from the Bible, which describes animals coexisting peacefully. The Peaceable Kingdom describes a diverse array of animals, including lions, bears, cattle, and sheep, gathered in harmony. Hicks' work resonated with audiences that related to his religious messages as they reflected the values and beliefs of his community.
Hicks created numerous variations of The Peaceable Kingdom theme throughout his career, but one of the most well-known and celebrated versions is commonly referred to as The Peaceable Kingdom with the Leopard (1835-1840). The Peaceable Kingdom with the Leopard set Hicks apart due to its symbolism and spiritual depth, which served as allegorical representation of harmony and peace and the reconciliation among all of God's living beings.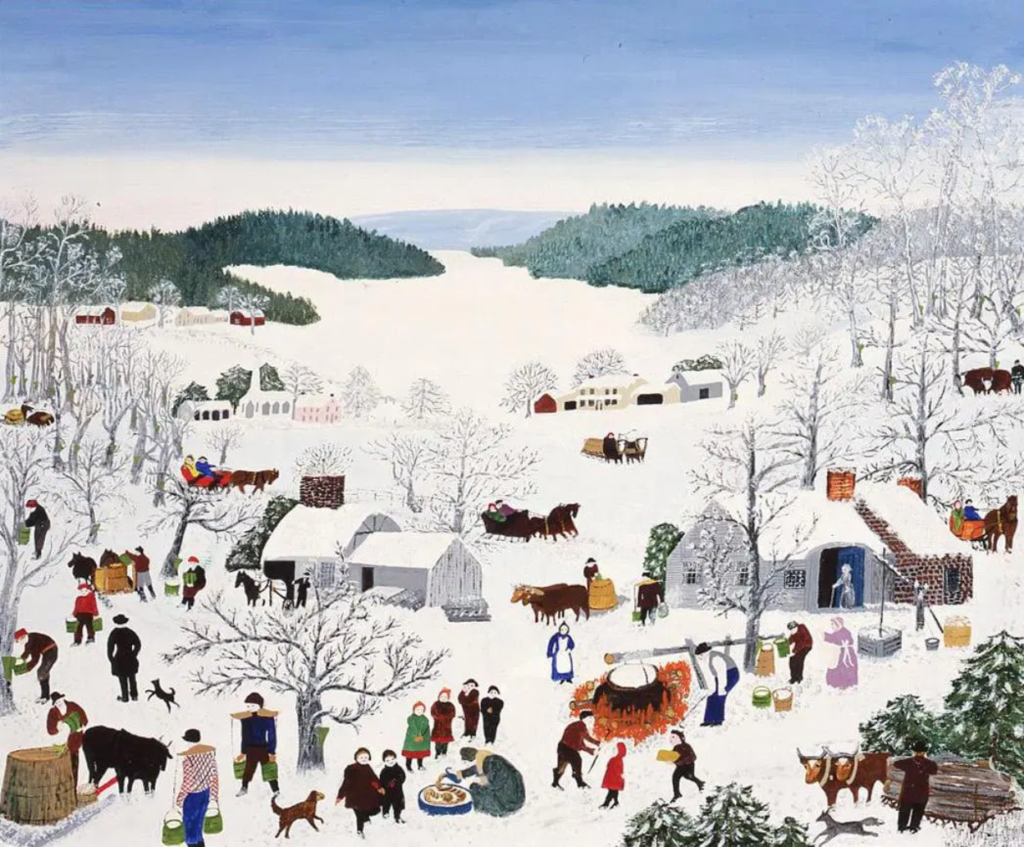 Grandma Moses
Grandma Moses (1860 – 1961), whose real name was Anna Mary Robertson Moses, was a naïve artist that began her artistic career in her late 70s but would not gain recognition until the mid-20th century. Her art was simple and direct, yet charismatic as she often painted nostalgic depictions of rural life, landscapes, and everyday activities.
What made Grandma Moses a quintessential naïve artist was not only her lack of formal training but also her unconventional artistic journey. She began painting as a form of leisure and self-expression, starting with simple Christmas cards that later progressed to larger canvases. Her art gained attention and acclaim when an art collector discovered her work in a local drugstore and promoted it nationally.
Moses' most famous piece is Sugaring Off (1943), a portrayal of a bustling farmyard scene during the late winter, with people engaging in maple syrup production activities. The painting became an emblematic piece that exemplified Grandma Moses' artistic vision, drawing the attention and imagination of viewers who appreciated its evocative portrayal of the idyllic rural life of Americana.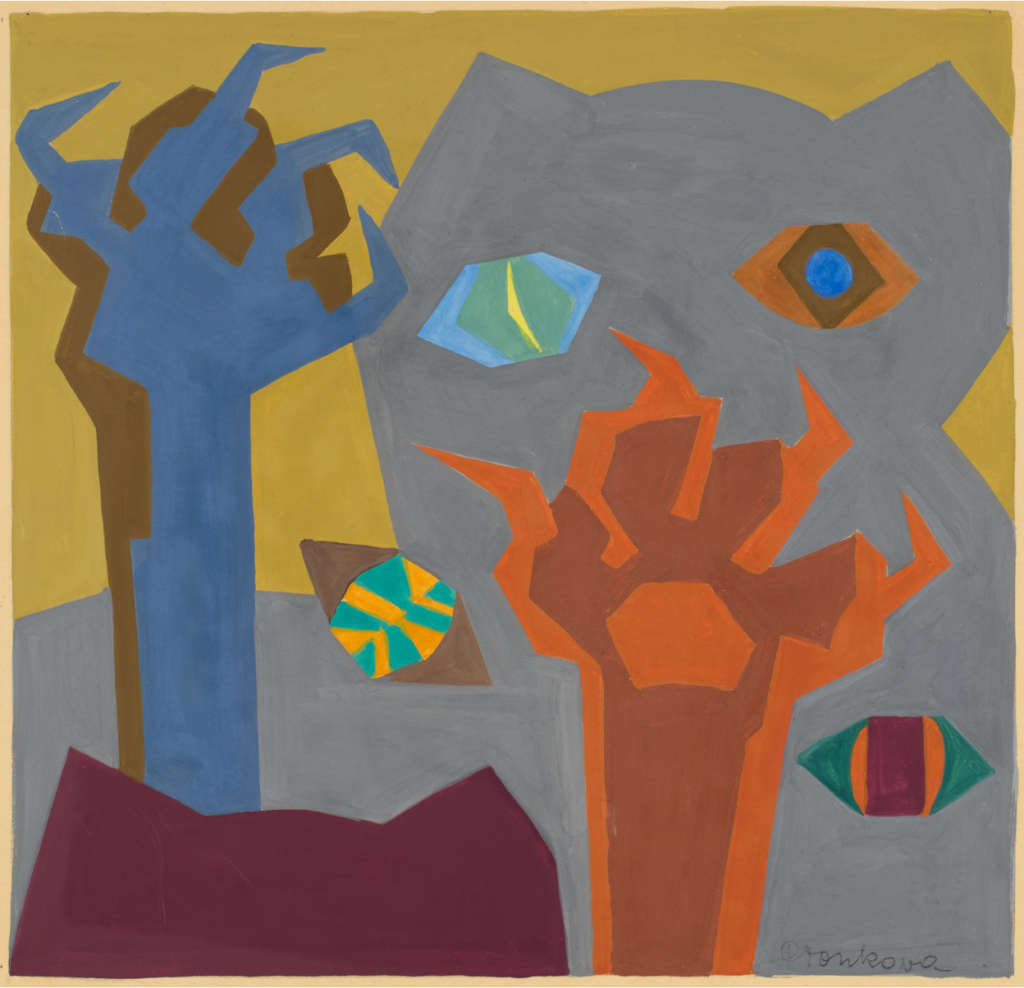 Naïve Art Preserving the Past and Connecting to the Present
Naïve artists challenge the dominance of technical proficiency and academic training in contemporary art, serving as a refreshing and liberating departure from the often complex and conceptual nature of contemporary art. Through naïve art, we are gifted with the unfiltered expression, experiences, and emotions of the artist's unique perspective.
Naïve art, with its simplistic and untrained aesthetic, has a unique ability to bridge the past and present in contemporary art by preserving tradition, evoking nostalgia, and sentimentality, challenging artistic conventions, celebrating authenticity and individual expression, and acknowledging different artistic traditions and perspectives.
Naïve artists often draw inspiration from cultural and historical roots and folk traditions that have been passed down through generations. So, by embracing naïve techniques and subject matters rooted in the past, contemporary artists help preserve these cultural narratives, carrying them forward and connecting them with present-day viewers.
In an ever-evolving contemporary world, naïve art provides a refuge, reminding viewers of the beauty, innocence, and values associated with simpler times, rural lifestyles, or idyllic settings of the past. By including naïve art within the contemporary art scene, we expand the diversity and richness of artistic discourse – allowing us to have ongoing conversation, dialogue, and exchange of ideas and opinions on the importance of different artistic traditions and perspectives while also challenging the notion of what should be considered "serious" art.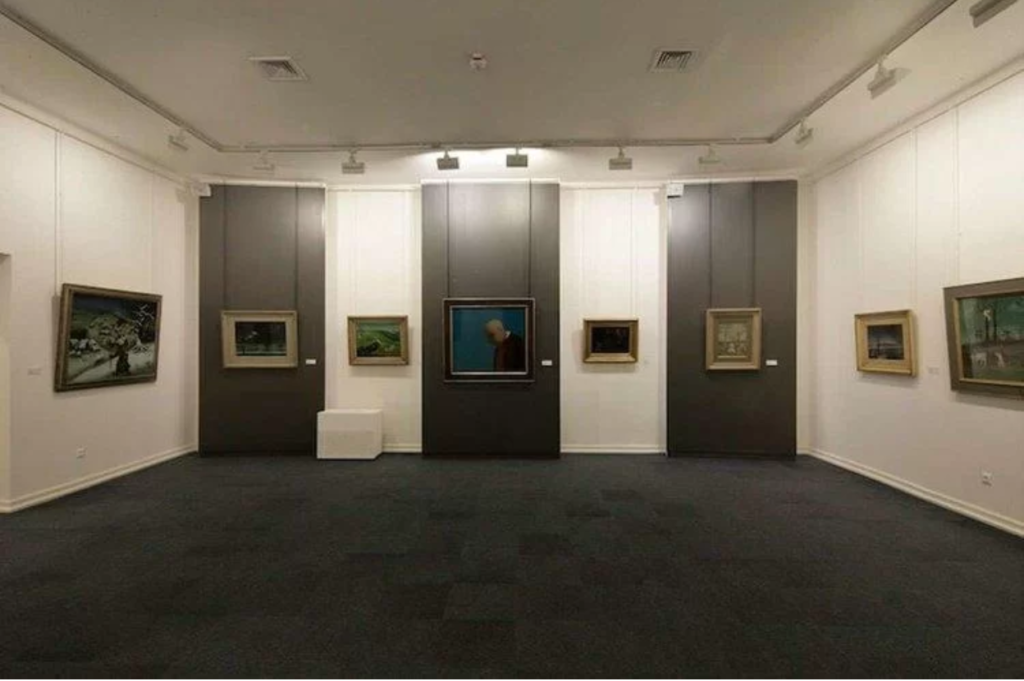 The Croatian Museum of Naïve Art in Zagreb
"The Naïve can in short be defined as the artistic expression of artists who have not been trained as such, but by the sheer force of their talent have managed to reach the level of high art." – Mira Francetić Malčić, Art Director of the Croatian Museum of Naïve Art in Zagreb
In Croatia, we witness naïve art's continuing influence on democratizing the art scene in the contemporary art world. The Croatian Museum of Naïve Art is dedicated to introducing audiences to naïve art by sharing 2,000 works by self-taught artists that have had no formal art training. The museum's art director Mira Francetić Malčić describes naïve art as "a direct consequence of the increasing democratization of social relations and artistic creation, and proof that everyone had the right to artistic expression."