Picture a triangular table, 48 feet to a side. Along each side, there are 13 place settings—39 in all. Each setting has a runner embroidered in a unique style. Along the first side, the places are reserved for mythical and historical famous women from prehistory to the time of the Roman Empire. The second side is for women from the beginnings of Christianity to the Reformation. Women from the American Revolution to the rise of feminism have places along the third side. The floor beneath the table is made of thousands of white tiles; the name of one of 999 women who left their mark on history is inscribed on each piece of this "Heritage Floor."
This is Judy Chicago's Dinner Party, an installation artwork first exhibited in 1979 and currently on permanent display at the Elizabeth A. Sackler Center for Feminist Art at the Brooklyn Museum.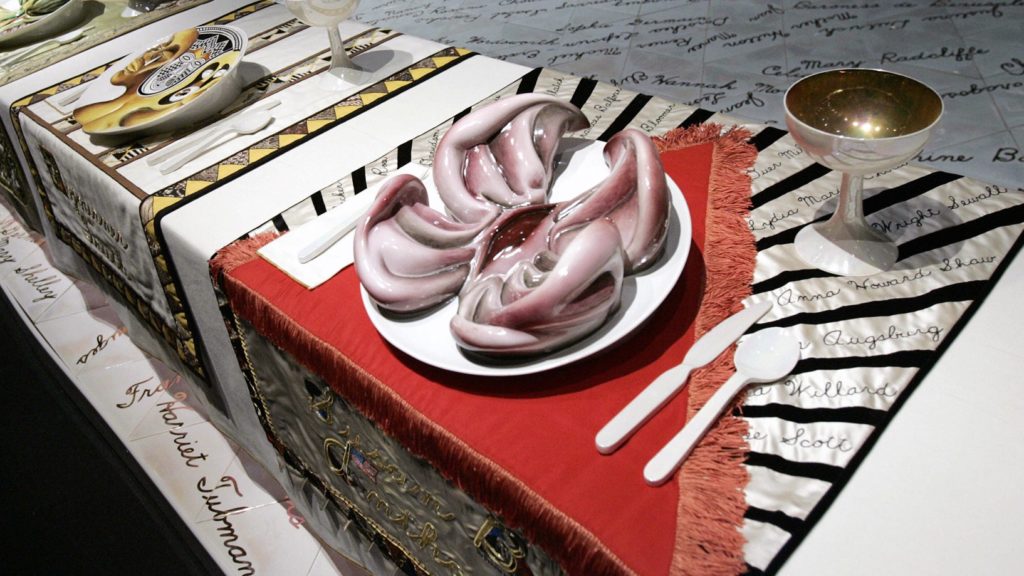 Getting A Place At The Table
It's no great secret that women have historically been systematically excluded from many things—work, the vote, STEM jobs, the boardroom—and art is no exception. If anything, art may even lag behind other fields in terms of gender equality. Just ask the Guerrilla Girls.
There have always been amazing female artists, and the 1960s and 1970s saw a particular profusion of artists making explicitly feminist statements. Take Nancy Spero's Torture of Women, a 125-foot-long scroll covered in images and text telling mythical and historical tales of women who disappeared or were tortured or killed. Or Yoko Ono's Cut Piece, where audience members were invited to cut off pieces of the artist's clothing until she was naked—a statement on the vulnerable place of women in art and the media.
But few have made a statement so clear and richly symbolic as Judy Chicago does in The Dinner Party. Every element is crafted to reflect the historical place of women in the world at large, and the art world in particular. The table and the tiles upon which it sits are triangular, an ancient symbol of femininity. Each place setting and tile is dedicated to a noteworthy woman. The runners are embroidered with symbols related to each woman's story. And the china place settings are painted with butterflies and flowers that represent vulvas.
But the depth of the symbolism doesn't stop there—ceramic and embroidery have traditionally been considered feminine "crafts" as opposed to masculine "high art," like painting and sculpture. The piece is designed to evoke the Last Supper, a pointedly male-dominated event in a male-dominated religious tradition. And women have traditionally been the cooks and maids, not the guests of honor at great dinner parties. This piece demands that women be given a place at the table.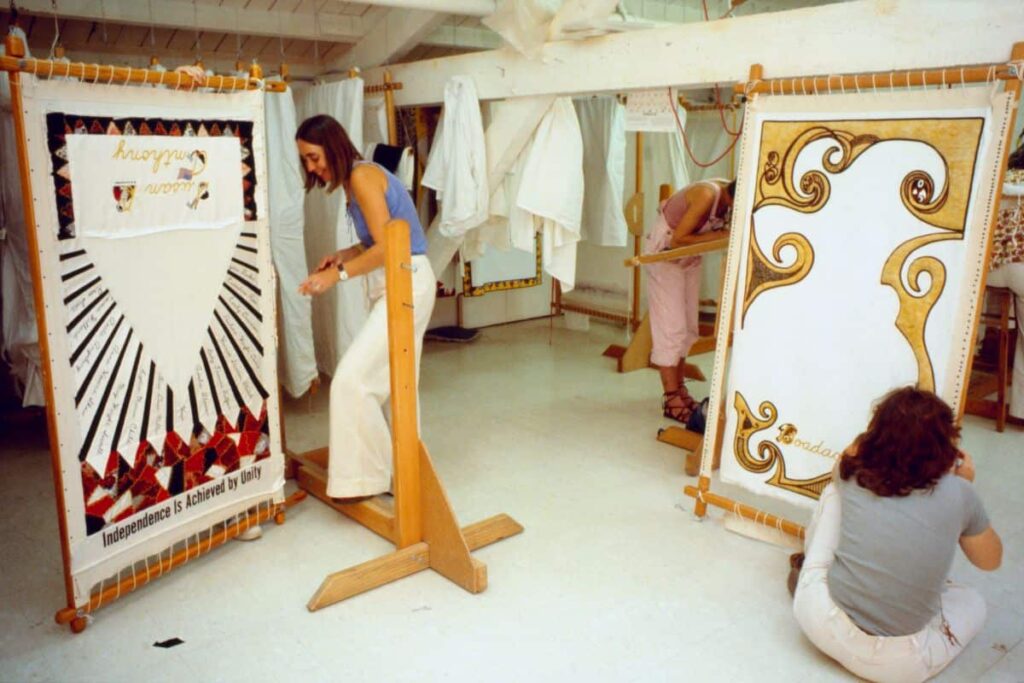 Uphill, In The Snow, Both Ways, In A Skirt
The Dinner Party was a massive effort, taking 6 years, more than 400 volunteers, and more than $250,000 to complete. Critical reviews were mixed. Feminist critic Lucy Lippard lauded the "intricate detail and hidden meanings" of the work and held it up as an excellent example of the feminist effort. Art critic Hilton Kramer, on the other hand, described it as "crass" and "vulgar" and compared it to an advertising campaign rather than a work of art.
To today's feminists, that criticism may even have some heft. Blatant vulva themes almost seem dated—the focus has shifted away from in-your-face tactics. But perhaps that's where the value of this piece really lies. In the more than 40 years since it was first displayed, the issues Chicago set out to highlight haven't gone away. Women are still underrepresented in art, and "feminism" is treated by many as a dirty word. Depictions of female nudity still make people squeamish, and breastfeeding in public is a major issue. Maybe what we need are some good old-fashioned bra-burnings and vagina plates to remind everyone that women are still fighting for equality all over the world. Save us a seat at The Dinner Party.