In 1954, self-taught Mexican artist Frida Kahlo died at the age of 47. But despite her short life, hundreds of admirers mourned and stood in the rain outside the Panteón Civil de Dolores where her funeral ceremony was held just before she was cremated.
Why did so many love Frida?
Because Frida loved Frida. Frida's love for herself, particularly her own image, was not about vanity or arrogance; it was acceptance. It's true that her favorite model for her paintings was herself, but it was far from a display of narcissism. And when asked why, Frida explained, "I paint self-portraits because I am the person I know best. I paint my own reality."
At age six, Kahlo contracted polio resulting in her right leg being thinner than the left; something she hid under long skirts all her life. Frida was bullied for her disability and began school later than her peers. She suffered sexual abuse by a female gym teacher, forcing her to move to another school. At 18, she was seriously injured in a bus accident that caused severe injuries that would cause her pain for the rest of her life. However, the most devastating of the injuries was the damage to her uterus which meant she would be unable to give birth someday.
As she recovered in the hospital, she eventually took up painting. In fact, Frida's first painting was a self-portrait she intended to gift her boyfriend whose love for her she already felt waning even before the accident. The painting Self-Portrait in a Velvet Dress would be the first of her 55 self-portraits.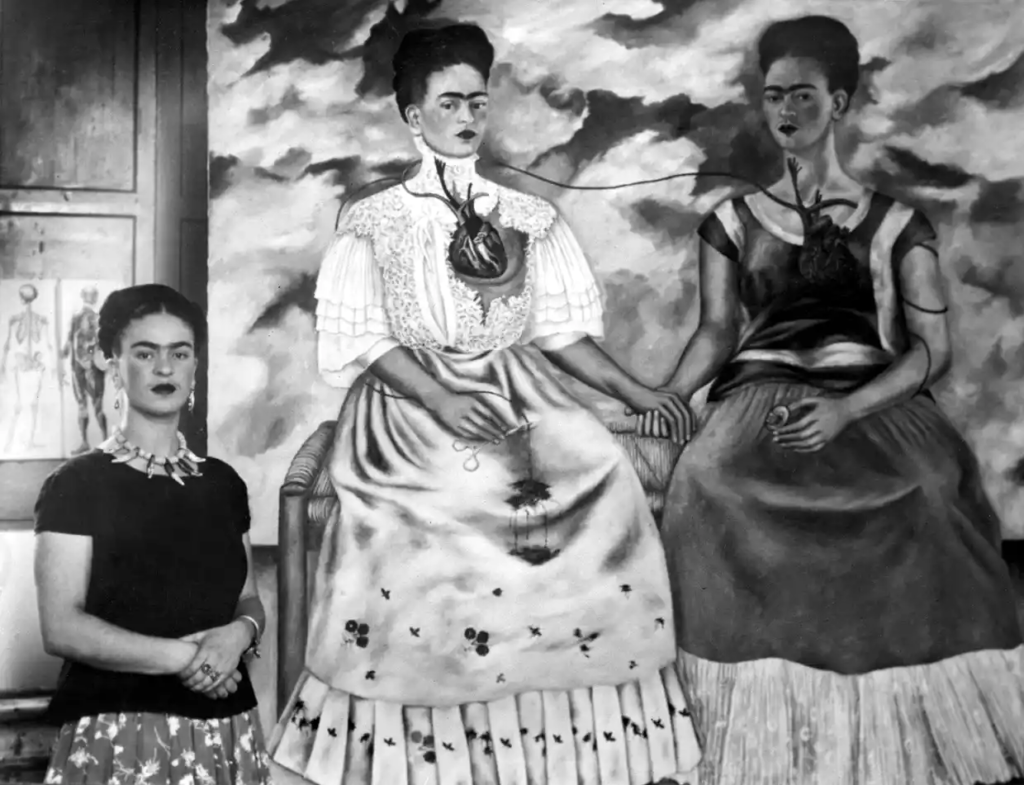 Surrealism, Symbolism, and Self-Portraits
Frida's passion for painting grew after the accident, self-studying techniques from her German father who was a professional architectural photographer. And despite the tragedies she experienced such as miscarriages, the failure of her marriage, and the pain she continued to suffer from her injuries, she endured.
But that's just who Frida was; she used chaos and disability as a reason to create. Constantly in pain and limited by her physical conditions, she obsessively held on to her artistry. In fact, she was once even showed up to her solo art show in an ambulance.
Frida, despite her suffering, would rise to become one of Mexico's national treasures. Her love for her country's colors and culture are evident in her work as well as her elaborate costumes and dresses. Her art was honest and brave, more than anything. Apart from her self-portraits, the sorrows and turbulence of real life were the subjects of her art.
Frida's most famous paintings include The Two Fridas (1939), Self-Portrait with Thorn Necklace and Hummingbird (1940), and The Broken Column (1944). In 2006, her 1943 painting Roots sold at auction for $5.6 million.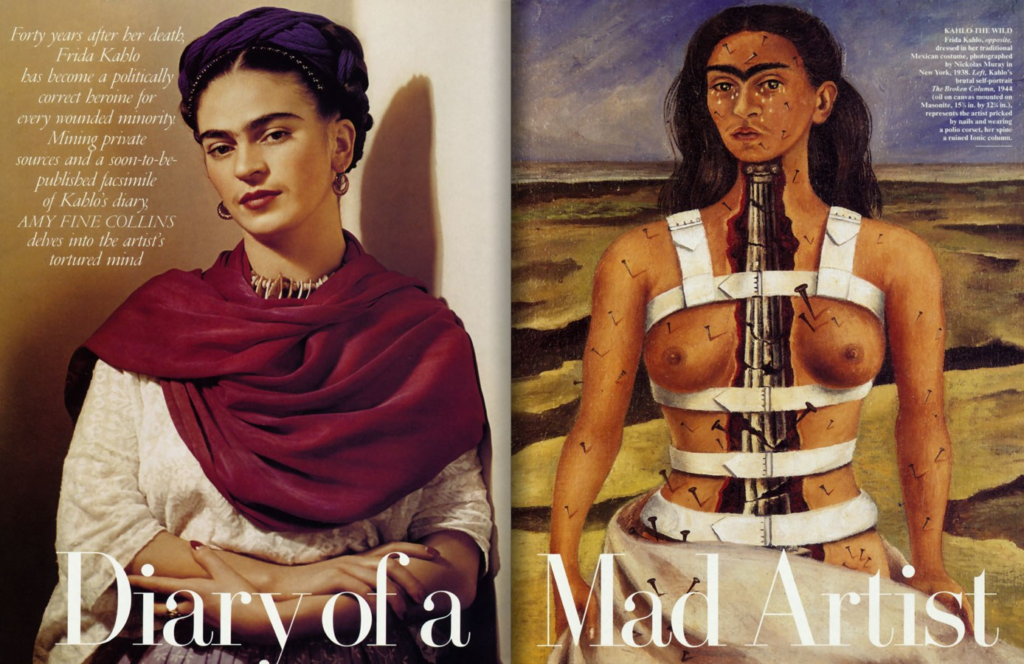 "The only ones who die are those who never lived." – Frida
The official cause of Frida's death was a pulmonary embolism. However, there's much speculation that she, in fact, died of an overdose. The nurse who was meant to monitor her pills said Frida took eleven of her prescribed painkillers when the maximum dose was seven.
We love Frida because while her life was tragic, she persisted and distracted herself by channeling all that negativity into her art. She was also unapologetic – a woman ahead of her time. She once showed up for a family photo in a men's suit. She rocked a full unibrow and a light mustache that she captured in all her self-portraits.
Frida's final drawing was a black angel; the words accompanied it, "I joyfully await the exit — and I hope never to return — Frida."
But while Frida hopes never to return, her legacy never left. She may be remembered as a tortured artist and a wife of Diego Rivera, but more than anything, she is celebrated for being one of the most talented Mexican painters who loved her country, an unapologetic feminist, and for being fierce and incredibly resilient throughout her tumultuous life.