In 1964, Francis Bacon executed a 78 x 58 ⅛ in. portrait depicting Lucian Freud, his fellow artist, constant companion, and rival. And on June 29th, 2022, the painting titled Study for Portrait of Lucian Freud achieved £43.3 million (USD $52 million) at Sotheby's London Sales, making it the most expensive contemporary painting offered in the British capital since 2014. The artwork had not been seen by the public for almost six decades.
In the composition, Bacon depicts his friend in an aggressive pose with clenched fists. Freud is seated, leaning forward with a bent knee — almost as if Bacon captured Freud in the moment before he stood up and charged directly at him. Freud wears his shirt open, exposing a bare chest. While Bacon distorts Freud's face, the frenzied brushstrokes demonstrate an agitated expression.
The oil-on-canvas is testament of the unparalleled friendship and rivalry between two of the most influential artists of all time. However, it was not the first time that Bacon had made his friend a subject of his work. Bacon executed his first painting of Freud in 1951, and it is believed that he produced at least 16 works portraying his friend. In 1969, Bacon painted Three Studies of Lucian Freud, an oil-on-canvas triptych. The artwork would sell in 2013 for USD $142.4 million, which broke records at the time as the highest price attained at auction.
Freud also made Bacon the subject of some of his own work. His oil-on-copper piece titled Francis Bacon (1952) was stolen during an exhibition at the Neue Nationalgalerie in Berlin in 1988. A hefty reward was offered for any information that would help recover the painting. Freud even publicly appealed to the thief. Two decades later, an Australian critic who'd had a conversation with Freud shortly after the artwork had been stolen revealed that Freud suggested that the thief "must have been crazy about Francis" — implying that the culprit targeted the artwork not because it was painted by him but rather, because it was a portrait of Bacon. To date, the copper painting has not been recovered.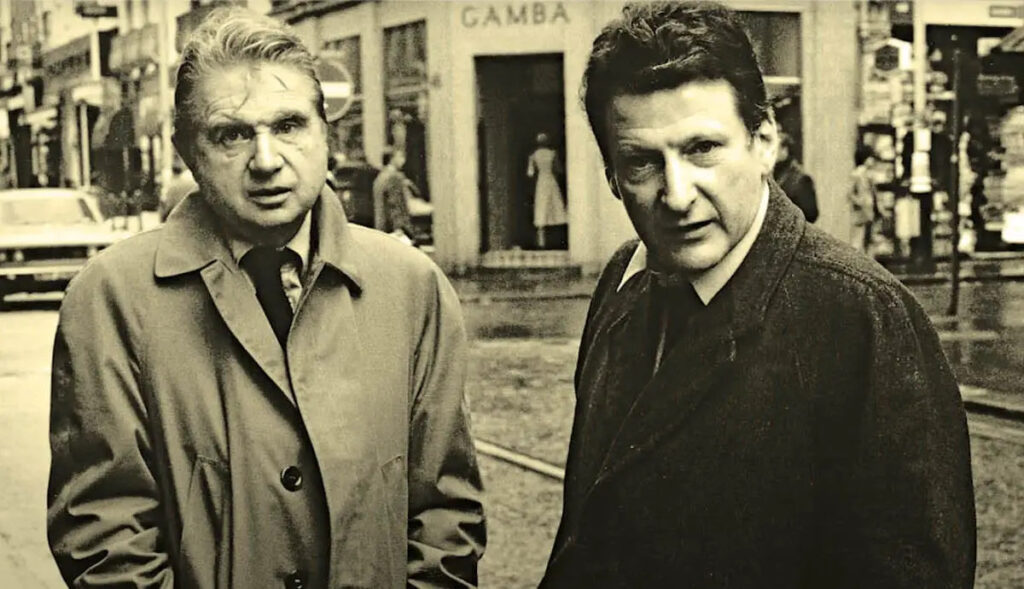 Mutual Admiration and Bitter Feud of Famous Frenemies
Bacon and Freud met in the summer of 1945 through Graham Sutherland, a fellow painter. At the time, Bacon was a rising expressionist painter and Freud had just had his first solo exhibition. Bacon was 13 years older than Freud. The two would spark an immediate friendship despite a considerable age gap. While the two artists employed different methods, they had a shared commitment to portray the human body. When the two artists weren't painting, they were drinking and gambling at Soho drinking dens such as the Gargoyle Club and the Colony Room. The two were famously inseparable, spending days and nights and most meals together for years.
When recounting the early days of their friendship, Freud spoke of the difference in their artistic approaches. While his work demanded a "terrific amount of labor," Bacon would "have ideas, which he put down and then destroy and then quickly put down again. It was his attitude that I admired." And that the "completely ruthless" way Bacon approached work is what helped him "feel more daring" with his own paintings.
Their love-hate relationship lasted for decades; they were one another's biggest fan and unrelenting critic. And their volatile friendship and bitter rivalry had a profound influence on each other's life and work. During their long friendship, the two painters proved that rivalries don't have to be built on hatred. However, those who were witness to Bacon and Freud's companionship always suspected that a falling out was inevitable.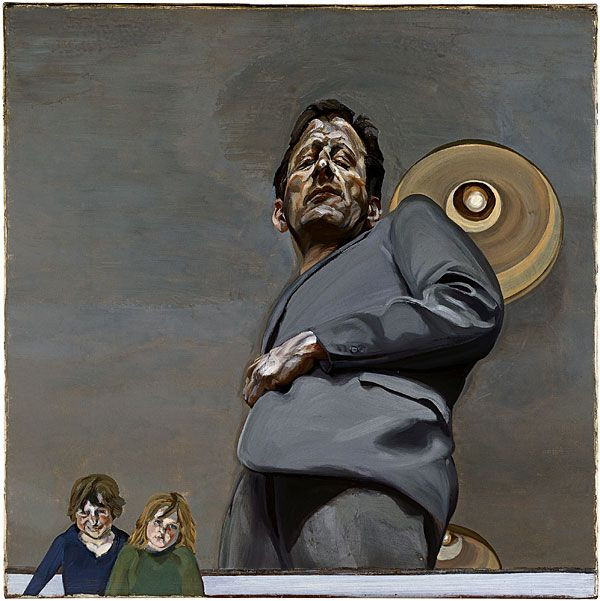 Bacon x Freud: Inescapable Connection, Comparison, and Conflict
Bacon, who was openly gay, had many lovers. However, it was his romance with George Dyer that would dramatically change his life and art. The two met in 1963. While the relationship was often described as dysfunctional and masochistic, it was also observed to be refreshing with many moments of tenderness.
Tragically in 1971, Dyer died two days before the opening of Bacon's retrospective at the Grand Palais in Paris, Dyer was discovered dead from an overdose of drugs and alcohol. Dyer had accompanied Bacon in Paris for the major retrospective, only to be ignored as Bacon occupied himself with the press and exhibition arrangements. The death was suspected to have been a suicide as Dyer had already attempted to take his own life before with the same substances and would have been successful had Bacon not used a stomach pump.
Bacon was reportedly stoic at the exhibition, continuing as normal. Years later, Bacon would express his regrets from that time, saying, "if I'd have stayed with him rather than going to see about the exhibition, he would be here now. But I didn't and he's dead."
The death of Dyer haunted Bacon, and he would continue to paint his former lover for a long time. In the years following Dyer's death, Bacon would paint without interruption. The works were dark, expressing loss, grief, and guilt. And in 1975, Bacon produced Two Figures, a tribute to Dyer, the great muse that transformed his life.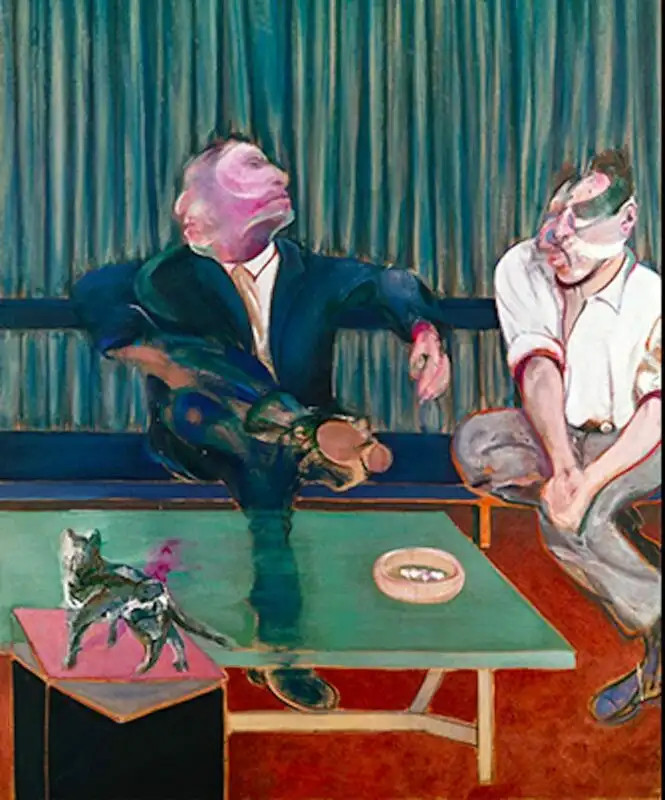 Perhaps it was around this time that Freud and Bacon's friendship began to sour. Bella, Freud's daughter, recalls that by the time she started spending time with her father in the late 70s that Freud and Bacon were no longer friends. The cause of their bitter falling out remains unknown. But when Bella asked her dad about it, he simply said it was "because his work went off." However, Bella was certain that her father "adored and admired" Bacon and that the two "obviously seemed to love each other."
"The things he repeated about him were just dazzling, utterly disarming and breathtakingly wonderful, and silencing because of their brilliance." – Isobel Lucia Freud on her father's friendship with Bacon
While the two artists met on occasion in the 1980s, they were not pleasant encounters as they often sat in stubborn silence. In 1988, Freud once phoned Bacon and the conversation ended with Bacon violently slamming the receiver down. Barry Joule, who lived near Bacon's South Kensington studio, shared recordings with the Observer. Joule described Bacon as red-faced when he was on the phone with his former friend. And the conversation left Bacon "swearing with the foulest language" which Joule said was unusual.
By the early 90s, it was evident that there was little hope for a reconciliation when Freud walked past Bacon having breakfast in London without uttering a word. Joule was also present for the awkward encounter. And when he asked Bacon about it, Bacon just sighed – obviously saddened.
Bacon passed away in 1992. And in the years before his death, Bacon was heard complaining about Freud, saying, "She's left me after all this time. And she's had all these children just to prove she's not homosexual."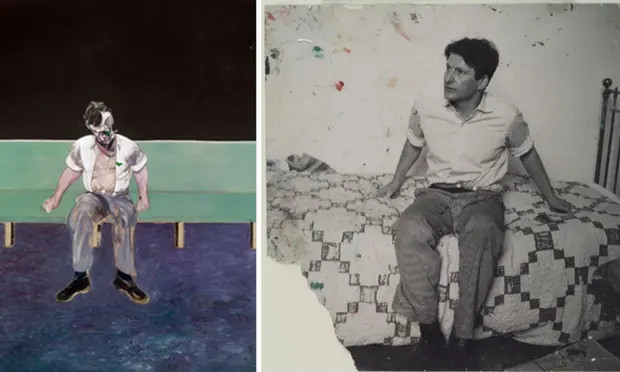 Freud was married twice. His first wife was Kathleen Epstein, which he had two children with. He divorced Epstein and eloped with heiress Lady Caroline Blackwood in 1952. Freud was a notorious womanizer who had been rumored to have as many as 40 children with various mistresses; however, only 14 have been identified. Blackwood was married to Freud for seven years and recalled that Bacon was present for dinner every night for more or less the whole time she was married to Freud.
Freud outlived Bacon by almost two decades. Until the day he died, one of Bacon's paintings still hung in a gilt frame over his bed. The treasured painting was titled Two Figures (1953); it depicts two naked men grappling in a sexual encounter on a disarrayed bed. The painting had been sold to Freud for a ridiculously low price – reportedly, between £80 and £100. Over the years, Freud would consistently refuse to lend the painting for exhibition – including the major retrospective of Bacon's work at the Grand Palais in Paris in 1971.
Over the decades, there were certainly rumors that circulated that the two painters had a closer, possibly romantic relationship. Michael Peppiatt, art historian, biographer, and close friend of Bacon's, would write that Freud was "in awe of Francis, or even in love with him. But then I suppose most of us are."