Yes, that Adrien Brody – the youngest to ever win an Academy Award for Best Actor Adrien Brody.
At first, you may wonder if he is an actor playing the part of an artist or doing research for a role he is about to play. But then you see Brody with his work and realize that this is no movie audition or performance of any sort.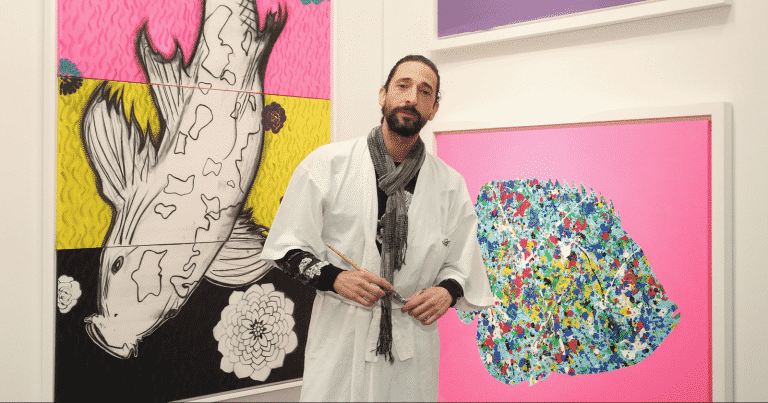 Brodybucks and Hooked
In fact, in May 2016, Brody already showed his second exhibition, "Hooked" in New York City. Brody told the NY Daily News, "It's a gift and an honor to show work that was inspired by the chaos that is uniquely New York."
"All the artists, the noise, and the streets that raised me, as well as all the beauty, suffering and inspiration it exudes, is present in my work. This opportunity allows me to give that back and share it with my fellow New Yorkers."
Don't be quick to assume that Brody squeezed in creating his works of art in between takes on a movie set or whenever he had time to spare. In fact, he took a year and a half off from his acting career to focus entirely on his art.
When asked how he would describe his work, Brody tells Vogue Italia, "Painting, music, photography and visual art have been creative forms of expression for me for decades. I've drawn and painted for many years (I used to paint fish and sharks even as child), but I never had the confidence to share that passion. More recently I've begun to nurture this, and painting has essentially become my main creative outlet."
"Currently, I would describe the work I do as a more autonomous extension of my creativity, a freedom I enjoy immensely and am deeply grateful for. Sharing this passion, discussing concepts with friends and strangers, and creating a dialogue for certain social issues has been very rewarding."
Brody's previous show called "Hotdogs, Hamburgers and Handguns" was described by the artist to the Miami Herald as "an exploration of how, in our culture, we gravitate toward instant gratification. That guns are as commonplace as fast food. There's a parallel between the way we reach for a hamburger to solve our hunger pangs and reach for a handgun to solve greater issues. I also want to delve into the conflicting messages that we receive as a young age, especially as boys, to play with guns."
Art Runs in the Family
It really shouldn't come as a surprise that Adrien Brody would develop a passion for painting; art runs in his blood after all. His mother is a photographer with five books to her name. And Brody's father who, though never showing his work, is described by Brody as a very gifted and "accomplished painter."
When asked about how Adrien Brody enjoys painting as opposed to acting, he has this to say, "I love the purity of the connection between brush and canvas. It's fulfilling and gratifying in the way that acting, for instance, is not. Better put, I should say painting affords me more freedom than acting. It's not something I have to focus on like a job — it's my release."