The true work of art is but a shadow of the divine perfection. – Michelangelo
By the time the Metropolitan Museum of Art closed its exhibition "Michelangelo: Divine Draftsman and Designer" on February 12, 2018, it had brought in an astonishing 702,516 visitors during its short 3-month run, making it one of the Met's most popular and most visited exhibitions of all time.
Daniel H. Weiss, President and CEO of The Met described the exhibition as a display of "the magnificent beauty of Michelangelo's works" intended to "deepen our understanding of his creative process."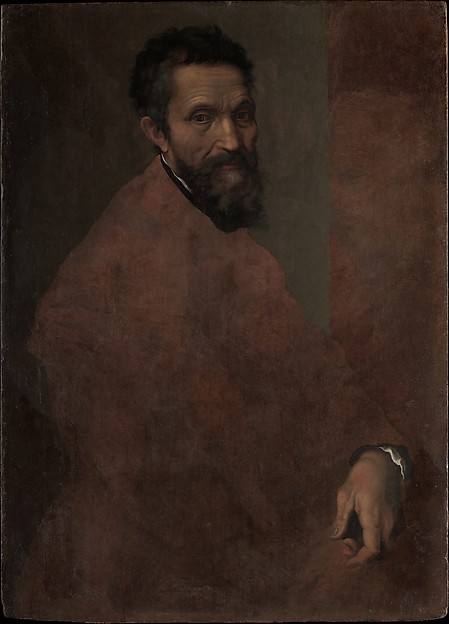 Michelangelo, the Man
Michelangelo di Lodovico Buonarroti Simoni was born on March 6, 1475, in Caprese, Republic of Florence, present-day Tuscany, Italy. At just six years old, Michelangelo's mother died, leaving him to live with a nanny and her husband, a stonecutter, in the marble quarry that Michelangelo's father owned. This is where Michelangelo would develop his love for marble.
As a student in Florence, Michelangelo never showed interest in his studies and preferred to copy paintings from the churches and spend his days watching other painters. His father, coming to terms with his son's lack of interest in his studies or the family's banking business, agreed for Michelangelo to be apprenticed at the age of 13 to Ghirlandaio, one of the most popular Florentine artists of his time.
And in 1489, when the de facto ruler of Florence, Lorenzo de' Medici, asked Ghirlandaio for his two best pupils, he would send Michelangelo. It was the time that Michelangelo spent at the Humanist academy founded by Medici that he would be influenced by the most prominent writers, poets, scholars, and philosophers of that time. Time spent with the powerful Medici family even opened him up to extraordinary opportunities such as special permission by the Catholic Church to study cadavers to gain better insight into human anatomy.
By 1492, Michelangelo fled to Barcelona after the death of Lorenzo caused political friction. He wouldn't find himself back in Florence until 1495. And at the age of 21, Michelangelo would arrive in Rome. By 1498, Michelangelo would receive a commission that changed the course of his career. The French cardinal Jean Bilhères de Lagraulas, envoy of King Charles VIII to the pope wanted a statue depicting Virgin Mary with her dead son, Jesus, resting in her arms – the now world-famous Pietà.
Over the course of Michelangelo's career, he received commissions from some of the wealthiest and most influential men of his day, including the Catholic Church and its popes. Michelangelo's most notable works include David, one of the most famous nude male sculptures of all time, and Rome's magnificent Sistine Chapel ceiling paintings. Michelangelo would go on to be widely regarded as the most renowned artist of the Italian Renaissance, with two separate biographies written about him before his death in 1564.
Michelangelo: Divine Draftsman and Designer
Michelangelo was called Il Divino "the divine one" by his contemporaries for his mastery of painting, drawing, design, and architecture. And the response from the Met's exhibition in November 2017, the world was reminded why. Borrowing works from 50 public and private collections, the exhibition presented 133 of Michelangelo's drawings, his earliest painting, his wooden architectural maquette from a chapel vault, and three of his marble sculptures, in addition to the incredible digital reproduction of the Sistine Chapel ceiling! The tour de force historical exhibition exceeded all expectations by surpassing the museum's 500,000 visitor milestone as people besieged upon the Met's special exhibition hall in droves every day of the week. Grateful to the Met for this cultural extravaganza, the exhibition served as a powerful reminder of Michelangelo's enduring 450 year legacy as one of the foremost masters of the Italian Renaissance.