As an exhibition in the open, accessible to everyone — sculpture parks are an irreplaceable part of the art world. There is a sculpture park in every country, and they serve an important role in introducing people to the world of art, whether that was intended or not. Moreover, in the current times — with the pandemic of COVID-19 still spreading around the world — open parks are more important than ever. Besides the above-listed advantages, now that the world is opening up after the lockdowns, they also provide a place for people to socialize and safely enjoy art. With the summer already starting, people are itching to go out and shake that quarantine feeling off — and what better way to do that than enjoy some art? With that in mind, let us share our 10 favorite sculpture parks around the world!
Storm King Art Center (Windsor, NY)
Starting with one of the U.S.'s largest open-air galleries — Storm King Art Center. Originally founded in 1960 by Ralph E. Ogden, this park was supposed to present the opportunity for the Hudson River School of painters to have their own museum. Over the years, it grew, both in terms of art styles displayed and its size — literally. Namely, in 1985, Star Expansion Company donated an additional 250 acres of land to the park, doubling its size; and it stayed this way to this day. 
Its name is derived from the mountain on the west bank of the Hudson River — and it is suitably majestic. Nowadays, it exhibits the works of a myriad of artists, some of which are Louise Nevelson, Mark di Suvero, Roy Lichtenstein, David Smith, and Alexander Calder.
Olympic Sculpture Park (Seattle, WA)
Watching over Seattle is the Olympic Sculpture Park. Built on a former industrial site in 2007, the Seattle Art Museum runs this park, and it has both permanent and rotating exhibitions. One of the most recent pieces is Echo (2011), created by Spanish artist Jaume Plensa. This is a 46-feet-tall sculpture named after a nymph from Greek mythology, and it ties into the theme of this park's name — as it was named after Mount Olympus, the home of Greek gods. Besides this piece, there are works by Tony Smith, Richard Serra, and Alexander Calder, amongst others.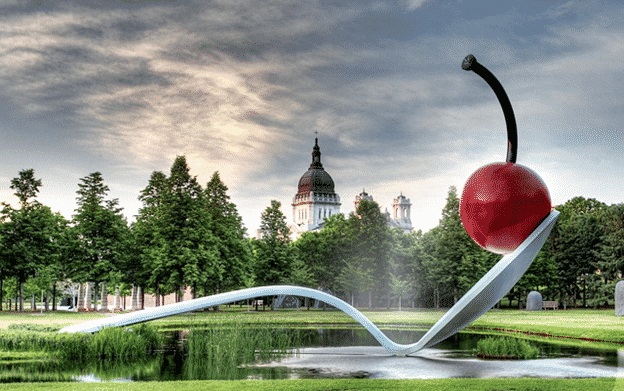 Minneapolis Sculpture Garden (Minneapolis, MN)
Minneapolis Sculpture Garden is one of few major US sculpture parks that can claim that they are in an urban location. Opened in 1988, this park is connected to the Loring Park and houses the Colwes Conservatory. Its 7.5 acres serve as a place to exhibit many pieces, where the centerpiece is a sculpture made by Claes Oldenburg and Coosje van Bruggen named Spoonbridge and Cherry. Other artists exhibited here include Judith Shea, Sol LeWitt, Frank Gehry, Henry Moore, and Dan Graham.
Yorkshire Sculpture Park (Wakefield, United Kingdom)
This park marked its 40th anniversary in 2019, and this was an important year, as Yorkshire Sculpture Park was the first of its kind in the United Kingdom. It also bears the title of the largest sculpture park in Europe as it covers over 500 acres in the 18th-century Bretton Hall estate. Like any other gallery without walls, it has been the place where many artists exhibited their work, including the big names such as KAWS, Ai Weiwei, Tony Cragg, Amar Kanwar, and Joan Miró. 
Lough Boora Sculpture Park (Boora, Ireland)
This park has not only artistic but also historical value. Namely, the Lough Boora bogland where this park is situated was populated by people from the Mesolithic era — nearly 10,000 years ago! The park itself is dedicated to conserving its history, flora, and fauna, and the art exhibited there follows that same idea.
To be more precise, all work exhibited in the Lough Boora Sculpture Park is made from materials found in the bog area. Materials such as railway tracks, for example, are harmoniously coupled with their environment, with the exposure to the elements making them a natural part of the Lough Boora. One such work is The Celtic Knot, made by Padraig Larkin, who used local pine and glacial rocks for this piece.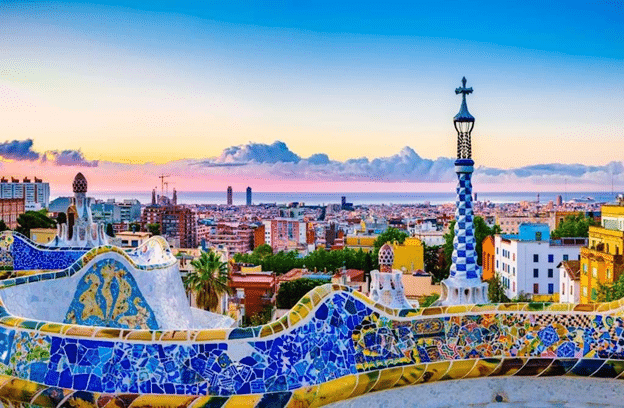 Park Güell (Barcelona, Spain)
Park Güell is nothing short of mesmerizing. Designed by Spanish architect Antoni Gaudí, it intertwines the dreamy and elegant elements into a unity that becomes more of a whimsical wonderland than a simple sculpture park.
Gaudi used his unique Catalan view on Art Nouveau in combination with traditional building techniques to design this park. Ever since the beginning of the 20th century, this park preserves and presents mesmerizing pieces of art that are further enhanced by its location — the centerpiece pavilion oversees Barcelona in its entirety.
Kröller-Müller Museum and Sculpture Garden (Otterlo, Netherlands)
Kröller-Müller Museum and Sculpture Garden contains over 160 works by many artists, such as Jean Dubuffet, Aristide Maillol, and Marta Pan. Its sculpture collection is one of the largest in Europe, and its museum is home to the world's second-largest collection of Vincent van Gogh's works of art. Additionally, Kröller-Müller Museum and Sculpture Garden provides an all-year-round experience, with each season presenting a different aspect of the park's charm.
Ekeberg Park (Oslo, Norway)
Ekebergparken Sculpture Park is, as the name suggests, in the neighborhood of Ekberk — just southeast of the city center. The city of Oslo is its primary owner, with the art collector Christian Ringes being the main financer, and since its opening in 2013, it has acquired nearly 30 pieces of art. Some of the main attractions are Salvador Dali's Venus de Milo with Drawers and Louise Bourgeois's The Couple. This park showcases contemporary sculptures in an idyllic forested area with a breathtaking view of the city of Oslo.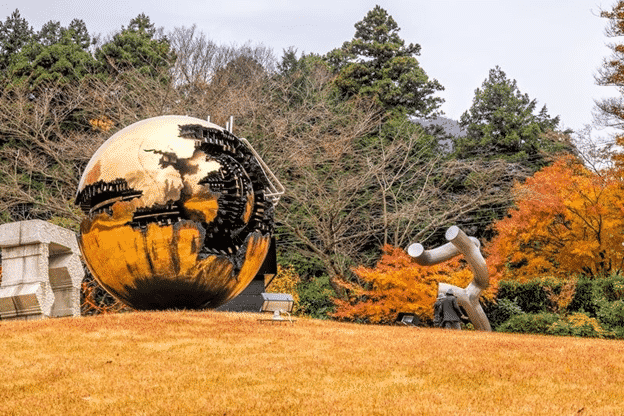 Hakone Open-Air Museum (Hakone, Japan)
Hakone Open-Air Museum is located in Ashigarashimo District, Kanagawa Prefecture, Japan. Its opening in 1969 marked the existence of Japan's first open-air exhibition space and museum. Since then, Hakone Open-Air Museum's collection grew to house over a thousand sculptures in five exhibition halls on 17 acres. Its collection is home to almost 300 of Picasso's works, with French artist Nikki de Saint Phalle and Swedish-American artist Carl Milles being present in the museum's permanent collection.
Changchun World Sculpture Park (Changchun, China)
Changchun World Sculpture Park lives up to its name by having five distinct sections, each representing a different continent. Moreover, its collection houses around 450 works by artists worldwide, representing not only the well-known and well-represented works but also Maori, Eskimo, and Mayan art. The pièce de resistance of this park is a 97-feet-tall sculpture representing global unity and named Friendship, Peace, and Spring. This joint work of five Chinese sculptors truly depicts the main drive behind this park, considering that it also houses multiple museums, one of which is dedicated solely to African art.
Each one of these destinations offers its own unique experiences, from the acres upon acres of art created by renowned artists at the Storm King Art Center in Windsor, NY, to the whimsical wonderland of architect Gaudí in the heart of Barcelona, Spain. And like we mentioned previously, there is a sculpture park in every country. Be it a weekend road trip or a week-long adventure in a new city, planning a trip to one of these sculpture gardens is easy and highly rewarding. They have the power to open your mind and take you on an unforgettable exploration. If you are near any of these sculpture parks, we highly recommend that you pay them a visit this summer, as this type of art can be enjoyed even in these uncertain times!