Even before Marvel's Black Panther movie was released, the level of anticipation brewing around it made it very clear that this was much more than just a future blockbuster hit. The world wasn't just getting the black superhero it deserves, but a cultural re-awakening.
And as the popularity of movie swept across the world, it shattered record after record. Moviegoers went all out, arriving to watch the film in African-inspired costumes. #WakandaForever trended worldwide.
But what Black Panther has accomplished goes far beyond its record-breaking ticket sales which makes it one of the highest grossing movies of all time. Black Panther is changing the cultural landscape. Jamie Broadnax, founder of Black Girl Nerds, tells The New York Times, "It's the first time in a very long time that we're seeing a film with centered black people, where we have a lot of agency." She goes on to say, "We're not dealing with black pain, and black suffering, and black poverty" – a common theme in most movies focused on black culture.
Black Panther has been described as a defining moment for the black community. And with it comes the realization that not only should Blackness be celebrated, but that there is a market for it. Directed by a black director and made up of a black ensemble cast, the phenomenon Black Panther's global success and overwhelming reception proves that now is the time for black creatives to rise.
Artists Centered on Cultural Identity
From Hollywood to fashion runways to the art world, Black Panther's achievement and proud cultural impact resonate across industries. For the art world, this means galleries and museums who have assumed for too long that there was little to no audience for Afro-centric themes and black culture were wrong.
In fact, the art world has had the power to change the narrative all along. Perhaps if more galleries had given black artists bigger platforms, the misperceptions and stereotypes had been eradicated generations ago.
Artist Kara Walker, an established contemporary artist of her own right, has been a strong proponent against racial stereotypes and inequality through her unique black-and-white cutouts and silhouettes to evoke the tangled history of race relations. Nina Chanel Abney's art is a flurry of colors and abstract imagery that address racial conflicts, politics, and pop culture. And Tschabalala Self's canvases represent Black female figures who confront racism and sexism.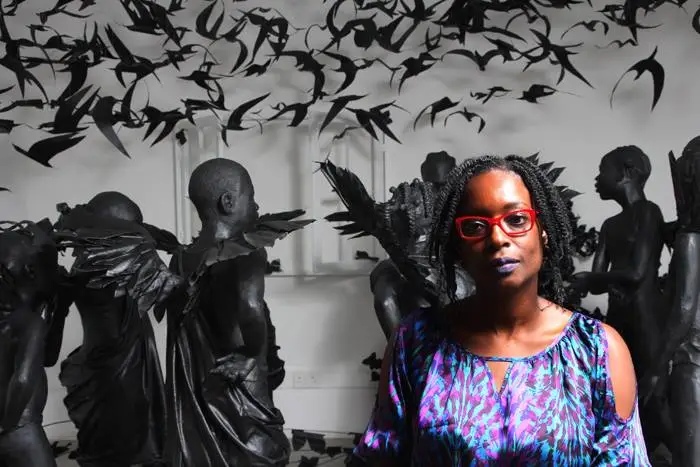 Kehinde Wiley, whose father is Nigerian and whose mother is African-American, is known for his work that portrays young black men as powerful and heroic. Praised for his ability to depict the black man in a majestic light, Obama chose Wiley to paint his official portrait which now hangs at the Smithsonian's National Portrait Gallery in D.C.
In fact, there's much attention focused now on the Nigerian art scene. Nigerian artists such as Victor Ehikhamenor and Peju Alatise are already in the art community spotlight. In 2017, they along with dancer Qudus Onikeku represented Nigeria at the Venice Biennale – the first time Nigeria would be represented. Also in 2017, Alatise was the recipient of the highly coveted FNB Art Prize.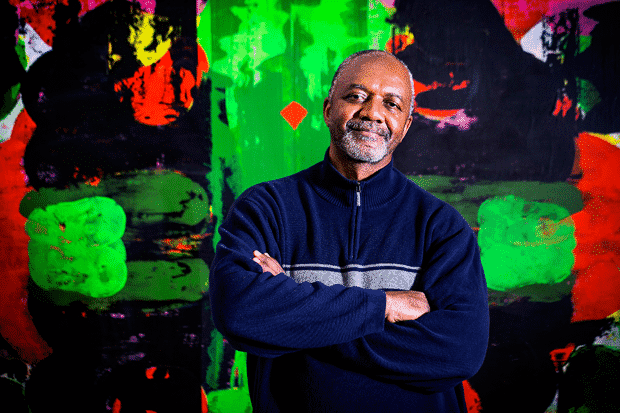 Black Visibility, History-making
And of course, there's Kerry James Marshall who just recently broke a world record for black artists with the $21.1 million sale of his 1997 painting Past Times (featured art of this article), making him the highest paid African-American artist to date. Coincidentally, Marshall grew up near the headquarters of the Black Panthers, one of the most influential black movement organizations in history. Marshall is also the artist behind the comic book series, "Rhythm Mastr," the black superhero he conceived because of the absence of black superheroes in the comics when he was growing up.
In the era of Black Panther and #blacklivesmatter, artist Kerry James Marshall's record-breaking achievements and market acknowledgement reverberate so much more than the average art market news, speaking to a cultural awakening that must and will continue.