The Salvator Mundi ("Saviour of the World") painting shows Christ with a haunting expression on his face. He is holding a glass orb in one hand while his other hand is raised with fingers crossed, as though blessing whoever was looking upon it.
But before Salvator Mundi, the 500- year-old painting of Christ by Leonardo da Vinci that has caused an international frenzy, broke auction house records, it was long thought to be merely a copy of the lost original and was at one point worth a mere £45. Today, the painting is being referred to as the "Male Mona Lisa" with Francois de Poortere, head of the Old Masters department at Christie's describing the piece as the "the holy grail of Old Master paintings."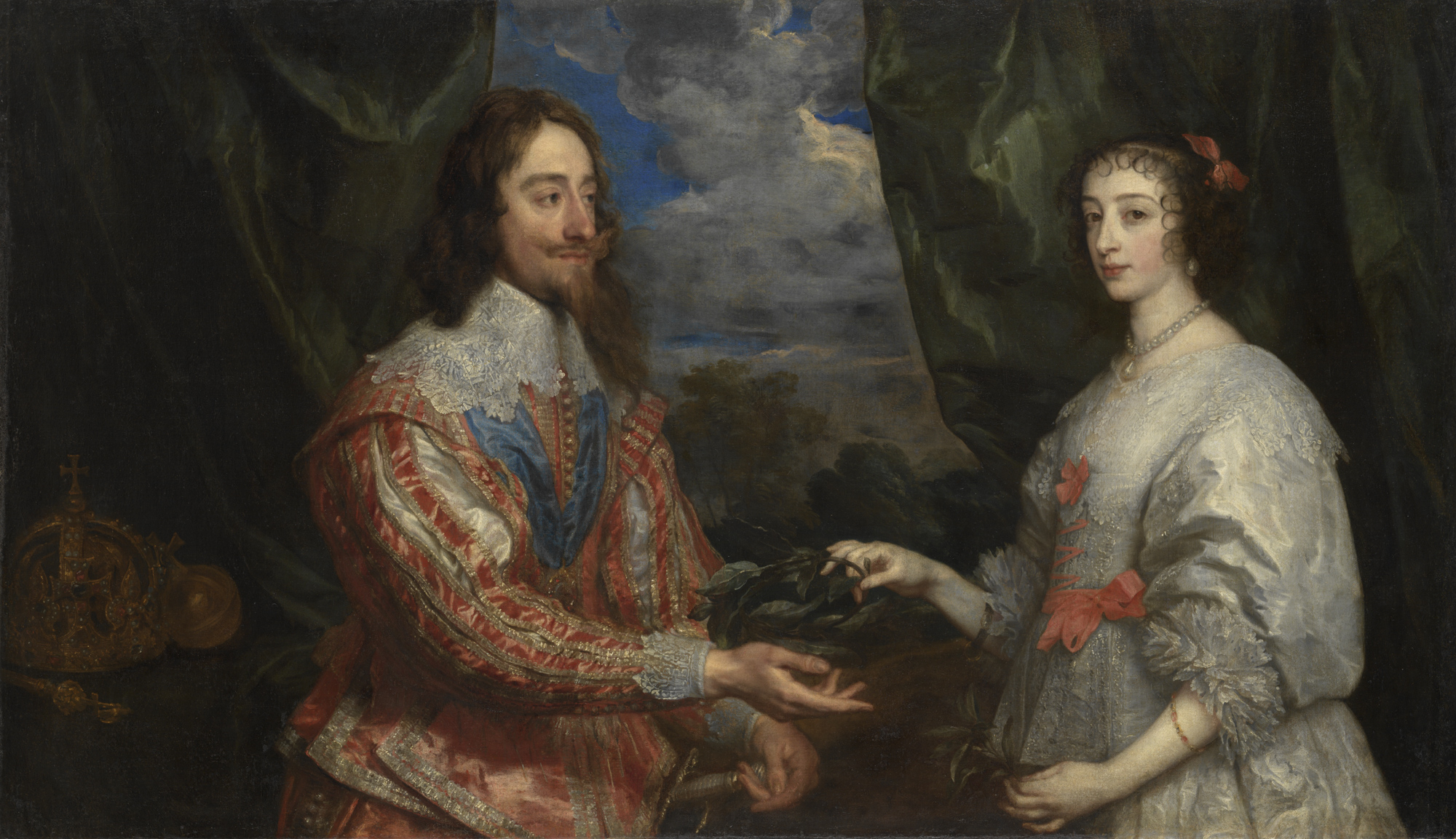 Possession for Kings and Queens
Believed to have been commissioned around 1500, Leonardo da Vinci's Salvator Mundi was painted for either King Louis XII of France or his consort, Anne of Brittany. And in 1625, when Henrietta Maria of France married King Charles I of England who was known to be the most prominent art collector of his age, the painting found its way to England where it remained in the Queen's Greenwich Palace private chambers.
Czech etcher Václav Hollar known as Wenceslaus in England was one of the most prolific artists of his time for his drawings and etchings and reproduced decorative works by other artists. In 1650, he published a print based on a drawing he made of the Salvator Mundi painting with the inscription, 'Leonardus da Vinci pinxit' – 'Leonardo da Vinci painted it' in Latin. The print itself was recorded in the Royal Collection inventory as 'A peece of Christ done by Leonardo at 30:00:00.'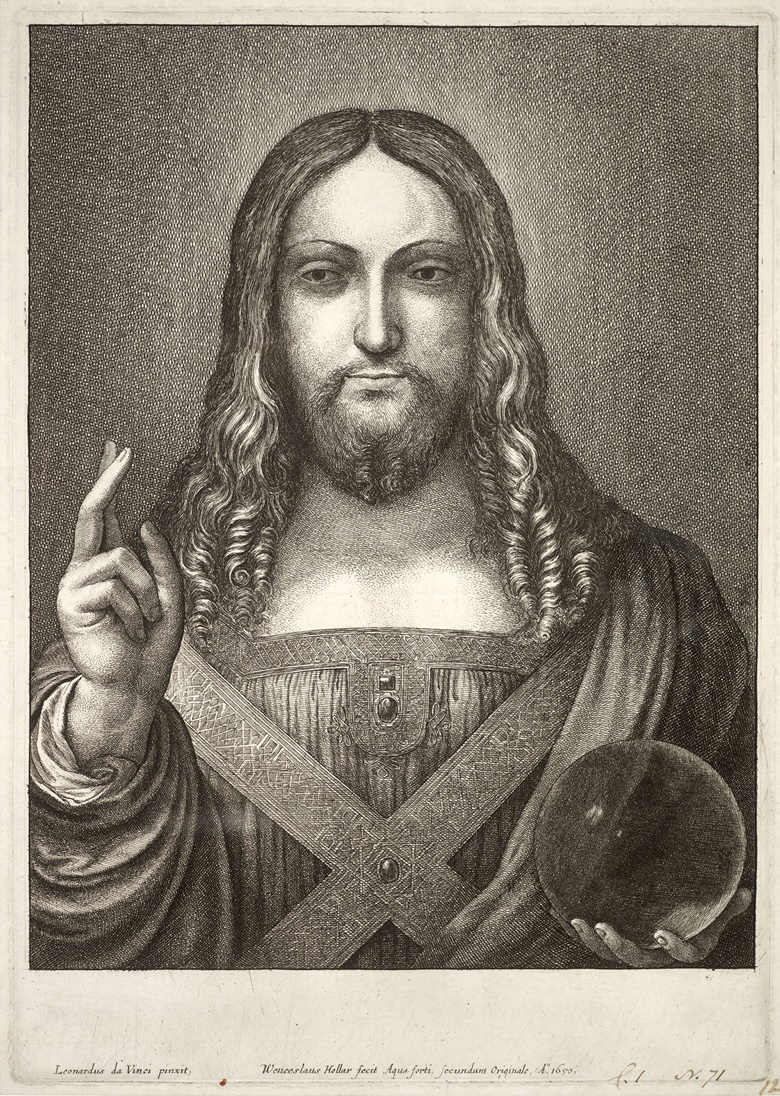 When Charles I was executed in 1649, ending the English Civil War, the painting ended up in the Royal Collection inventory. The painting, now valued at only £30, would be sold two years later to John Stone, a mason who was merely a representative of a group of creditors who would receive it as a repayment of debts.
In 1660, Stone would return the painting to the Crown when Charles II was restored to the throne after an act of Parliament recalled his late father's possessions. Between 1686 and 1763, the painting was believed to have remained at Whitehall until it went missing. It would not resurface until 1900 when it was acquired from Sir Charles Robinson and placed in the Cook Collection in Doughty House, in Richmond, as a work by Bernardino Luini, Leonardo's follower. By then the Salvator Mundi had been extensively overpainted and the panel itself has been severely cradled. Concealed by overpainting, the Salvator Mundi at the dispersal of the Cook Collection would ultimately sell for £45 at auction. It disappeared for another 50 years and was discovered in 2005 at an American estate sale masquerading as a copy where Alexander Parish, a New York art dealer, would purchase it for only $10,000.
Long Road to Authentication and Rediscovery
Its restoration began in 2007, a massive undertaking by Dianne Dwyer Modestini, Senior Research Fellow and Conservator of the Kress Program in Paintings Conservation at the Conservation Center of the Institute of Fine Arts, New York University. In 2008, the painting was studied at The Metropolitan Museum of Art by museum curators Keith Christiansen, Andrea Bayer, Carmen Bambach, and Everett Fahy, and by Michael Gallagher, Head of the Department of Paintings Conservation.
Later that year, it would be taken to The National Gallery, London. And it would by Vincent Delieuvin at the Louvre, Paris that authenticity of the Salvator Mundi would be confirmed as a work by Leonardo da Vinci. In 2011, Salvator Mundi was unveiled in the exhibition Leonardo da Vinci: Painter at the Court of Milan at The National Gallery in London. And in 2013, Parish would sell the piece for $75–80 million to Yves Bouvier in a private Sotheby's sale, who would then sell it to Russian billionaire Dmitry Rybolovlev for $127.5 million later that year.
And at Christie's on November 2017, after almost 20 nail-biting minutes of dueling between as many as six bidders over the phone, the winning bidder, Saudi Arabian Prince Bader bin Abdullah bin Mohammed bin Farhan al-Saud who acted as an intermediary for Crown Prince Mohammed bin, would prevail.
By that, Leonardo da Vinci's 500-year-old "Salvator Mundi" was sold for a record-shattering $450.3 million.
About a month after the sale, the newly inaugurated Louvre Abu Dhabi says it would exhibit the painting and that it has been acquired by the Department of Culture and Tourism of Abu Dhabi. From the last private hands of a Russian billionaire to a Saudi prince and to the Louvre Abu Dhabi chambers, the story of Leonardo da Vinci's masterpiece and the long road for the 'Savior of the World' continues its beguiling journey into the 21st-century chapter.