There is nothing in all the world more beautiful or significant of the laws of the universe than the nude human body. – Robert Henri
While many associate the naked body and exposure of flesh with erotica, the depiction of nude bathers in art shows us that the naked human form can be portrayed without the intention to arouse. Nude bathers, specifically, has been a favorite subject throughout art history as it allows artists to portray the naked body as ideals of male and female beauty in a familiar environment.

Titian, Michelangelo, and Renaissance Nudes
The naked human body, the nude has been a subject for artists for centuries with works of nudity being unearthed from ancient civilization ruins to the much of the preoccupation in Ancient Greek Art. From Titian's Venus of Urbino (1534) to Michelangelo's The Last Judgment (1541) to Rembrandt's Danaë (1636), the Renaissance and Baroque period were pivotal times for nudes in art. In The Last Judgment, Michelangelo depicts over 300 nude figures as angels for the painting behind the altar in Sistine Chapel. In the life-sized Danaë, Rembrandt portrays the mythical Greek princess in the nude in a luxurious bed as she welcomes Zeus, who impregnates her, in his mortal form.
To paint the Venus of Urbino, Italian painter Titian used the same model who posed for his "Woman in a Fur Coat" painting. In Venus of Urbino, often referred to as Reclining Venus, Titian portrays the goddess of love; but rather than place her in a mythical setting, the ravishing goddess lays bare in an elegant yet familiar environment. Reclined on a couch or daybed with pristine white pillows and sheets, the goddess's face is serene but sensual. In one hand she holds red flowers, bringing a sense of romance to the setting. With her other hand, she seemingly covers her private parts modestly. However, some critics will argue that because of her sultry stare, she is not displaying modesty at all – but rather, caressing herself to invoke arousal from the viewer.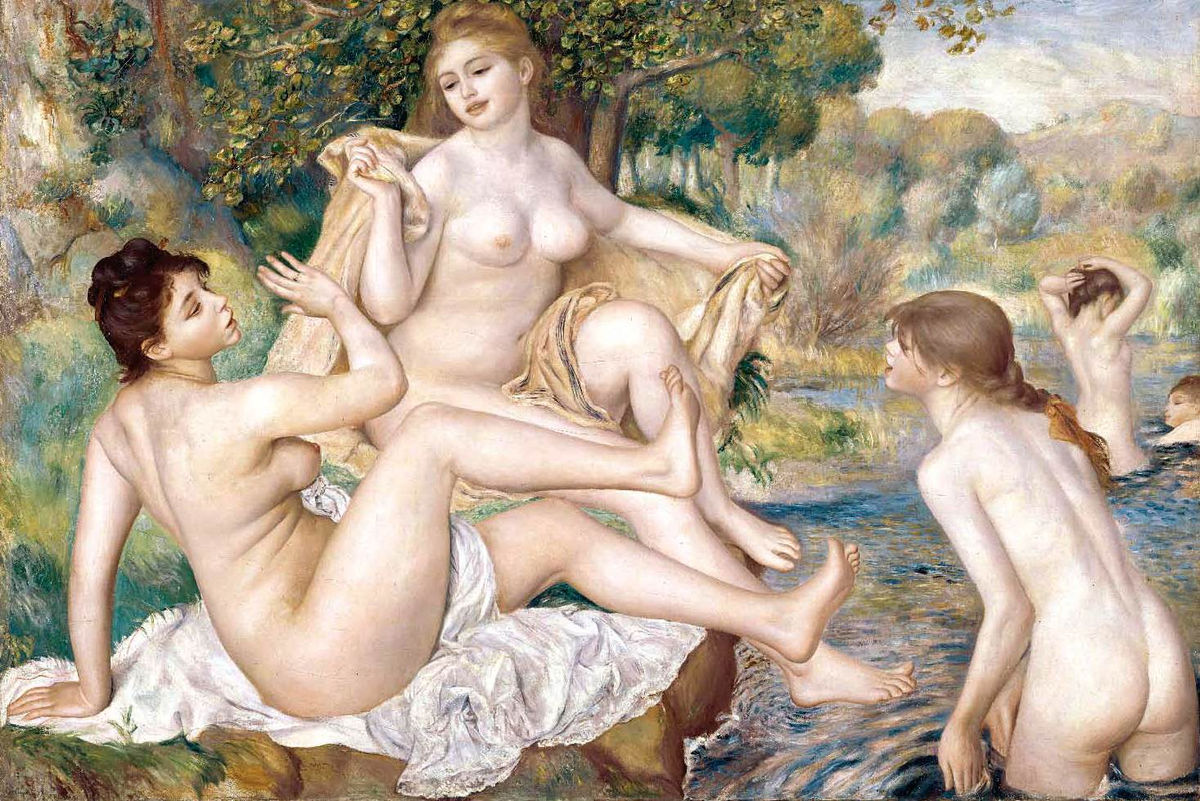 Stripping Away the Seduction by Portraying the Primitive
While critics have attached many meanings to the portrayal of nude bathers, some of the most common themes deal with purification, fertility, voyeurism, and even death. And it was in the late 19th and early 20th century that artists began to redefine the subject of female bathers by placing them in natural settings such as by the beach or at the riverside to remove the romanticized and provocative aspects of nudity.
Between 1884 and 1887, Impressionist painter Pierre-Auguste Renoir, famous for his female nudes, painted The Large Bathers (Les Grandes Baigneuses). Inspired by François Girardon's sculpture The Bath of the Nymphs (1672), Renoir depicts a scene of voluptuous nude women bathing riverside. Renoir labored for three years to refine his painting, even creating full-scale drawings to achieve a composition that almost resembled sculptures. The Large Bathers presents nude, youthful women resting by the water, presumably after bathing. There are three women in the foreground and two more in the background. The young, porcelain-skinned group of females are joyful and carefree as one appears ready to playfully splash her companions as one turns to her side to avoid the spray of water. The atmosphere is cheery and radiant in Renoir's signature Impressionist aesthetic, choice of saturated colors, and light-dappled brushstrokes.
Nude Bathers in Early Modernists
In the mid 1870s, French artist Paul Cézanne started painting bathers and used the same title for a series of oil paintings. Cézanne's Les Grandes Baigneuses remained unfinished although Cézanne continued to work on it for seven years until his death in 1906. Also referred to as Large Bathers or Big Bathers and standing at about 8 ft. x 7 ft., the painting is one of many from the Bathers series by Cézanne. But it was his Large Bathers (1898-1905) that was the largest and considered as the most remarkable work to come from his 30 years of painting female bathing parties.
Cézanne progressively and intentionally moved away from traditional Impressionist techniques to take on a more timeless approach, allowing Large Bathers to gain a more classical presence that earned the attention of more discerning audiences. Large Bathers' composition has simpler, geometricized forms that are more towards abstract art and Cubism. Art critics have described the bathers as goddesses in nature interacting with one another. The tree trunks in the background form a triangle, creating a frame over the bathers so viewers can focus on the water and the figures. Using a color palette of light and dark blues, golds and white that invoke serenity, the bathers seem to illuminate against the contrast of greyish-blue waters and golden-brown land.
When Spanish painter Pablo Picasso started spending his summers at the beach, so did his series of nude female bathers by the seashore. His journeys to Biarritz, Côte d'Azur, and Dinard in Brittany exposed him to the nude beach scene in France. In Picasso's Three Bathers (Trois Baigneuses) (1920), we see two nude women relaxing on a white towel by the sea while another female swim in the water. Created in oil, pastel, graphite, and ink, Three Bathers is celebrated for its classical symmetry. Distinctly Picasso, the women's features are exaggerated with one woman cradling her unusually small head with a grotesque, seemingly swollen arm and hand. The female forms are distorted with elongated arms and legs.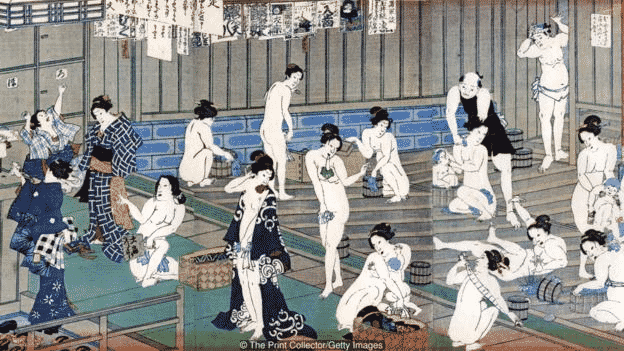 How the Communal Bathing Culture in Japan Promotes Body Positivity in Art
The public baths in neighborhoods all over Japan offer tranquil havens that promote inclusive nudity. With strict rules that bathers must be entirely nude, these natural hot springs called "onsens" and public bathhouses known as "sentō" normalize nakedness and remove the shame of exposing body parts, particularly in the natural act of bathing. By stripping away your clothes, you also remove societal status and acknowledge that in our naked form, we are equals. This open-mindedness and acceptance of the naked form is taught at an early age, allowing children to grow up into adults who don't immediately associate nudity with eroticism.
Japan's rich history of public bathhouses and culture of body positivity pave the way for naked art. In the 19th century, Japanese print artist Toyohara Kunichika's bath house scene from his woodblock prints give us a close perspective of Japanese communal bathing culture. As the son of a sentō proprietor, Kunichika grew up in the vibrant atmosphere of communal bathing. Using soft colors and natural pigments, Kunichika portrays mostly women. Some are washing their private areas with washcloths while others scrub their companion's back. In other prints, you see women with their young children, emphasizing the pureness of nudity and demanding acceptance of the human body in all its forms and flaws.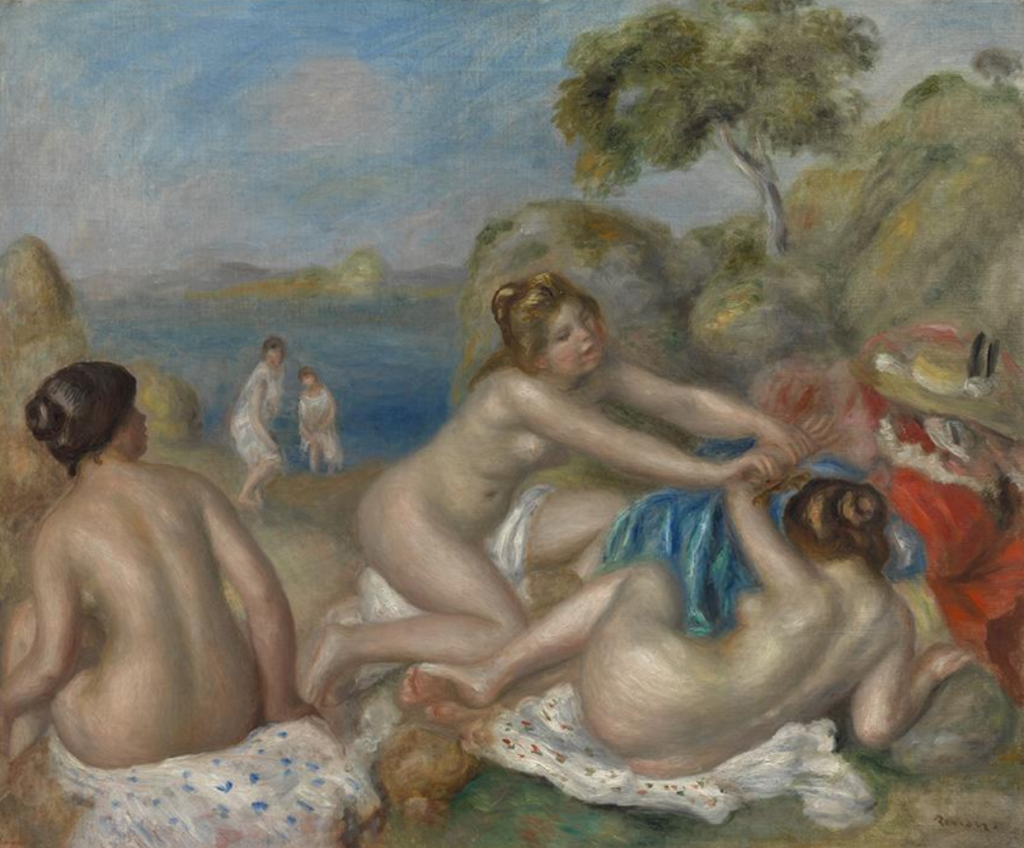 The Body, The Changing Senses
In late 2019, the centenary memorial exhibition "Renoir: The Body, The Senses" at the Clark Art Institute, in Williamstown, Massachusetts, allowed audiences to revisit Renoir's "mastery of the human form." The exhibition highlighted the red chalk drawings from 1884-87, a group of studies for "The Great Bathers" among many paintings from Renoir's entire career. But while it did provide viewers with a perspective of the Impressionist's celebration of body and nudity, the exhibition also raised issues of male sexism and political incorrectness for the contemporary viewers.
Much of the outrage focuses on Renoir's depiction of women and the apparent indifference he had towards them as individuals. Renoir appears to have put all his efforts into the roundness of his subjects' breasts, the creaminess of their skin, and fleshy thighs. Curiously, Renoir took great care in refining the articulation of the hands — perhaps a subtle revelation of the models' social status since most of Renoir's models were known to be his servants or lower-middle-class women. What he failed to do, however, was give life to the women's faces. Even the models that posed for him barely recognized themselves in the finished works, highlighting how Renoir regarded his subjects with so little approach to intimacy that he preferred not to capture their likeness, much less their soul.
Read more from our earlier Art and Nude Series: