The Rijksmuseum in Amsterdam is putting on display 28 of Johannes Vermeer's paintings from February 10th to June 4th, 2023. "Vermeer" is the simple and confident name given to this historical event, which has proven enough since advance ticket sales were over 200,000 before the opening. Because of the overwhelming demand, the Rijksmuseum has suspended ticket sales until further notice.
In 1996, 22 Vermeers were on exhibition at the Mauritshuis. And in 2021, only ten Vermeers were on display together in Dresden – making the exhibition at the Rijksmuseum this 2023 the largest retrospective exhibition ever for the Dutch Golden Age painter most known for his genre paintings that radiate with luminosity and evoke emotion despite their mostly muted tones of interiors and mundane subjects. The artist used rich colors in his paintings, carefully complementing light and dark tones to invoke illuminance and contrast. His exquisite ability to capture light on canvas helped create scenes of serenity and intimacy, which quietly romanticized everyday moments of domestic life.
While experts believe that Vermeer created no more than 60 works throughout his 22-year career, only 37 oil paintings have survived. And at least six Vermeer paintings remain missing or believed to be lost forever. Taco Dibbits, the general director of the Rijksmuseum, describes Vermeer as "the most mysterious and beloved artist of all time." Never in history have 28 of Vermeer's paintings been gathered, a collection that Dibbits calls a "very happy reunion."
Audiences will get to see Vermeer's iconic Girl with a Pearl Earring (1665), the work that was once lost for 200 years and famously bought for only two guilders by an art collector who would only discover the painting's significance once it was cleaned. The Girl with a Pearl Earring (1665) is on loan from the Mauritshuis, the museum in The Hague that has vowed to never sell the artwork – making the painting truly priceless.
Also on display at the Rijksmuseum is The Milkmaid (1660), often called The Kitchen Maid. The painting is one of Vermeer's most memorable examples of why he's famously referred to as the "Master of Light." In the milkmaid composition, Vermeer demonstrates his extraordinary use of pigments and thoughtful attention to the mesmerizing way light plays upon the milkmaid's skin, fabrics of her clothes, and even the bread and on the table where she pours milk from a pitcher.
The Städel Museum, Frankfurt am Main has also lent The Geographer (1668-1669) to the historical event. Another international loan includes Woman Holding a Balance (1664), which is homed at The National Gallery of Art in Washington DC. Also on view at the exhibition is Lady Writing a Letter with her Maid (1670-1671), which is on loan from The National Gallery of Ireland, Dublin.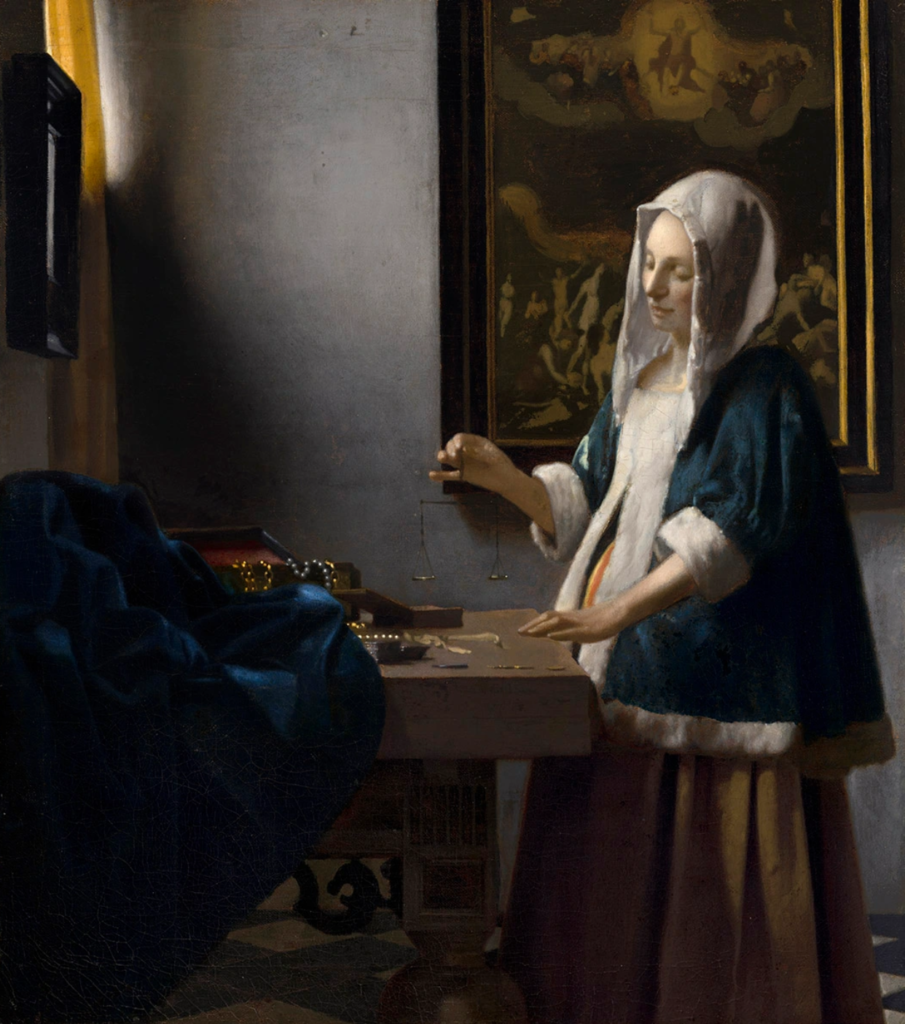 The Makings of the Master of Light
Vermeer was born in Delft, Holland in 1632 to middle-class parents – Digna Baltens and Reynier Janszoon, a fine satin fabric weaver. At some point, Vermeer's father became an art dealer. And when Reynier died when Vermeer was only 20 years old, Vermeer would inherit the art dealership. Art historians surmise that Vermeer was heavily influenced by his father's work in the silk industry and art dealing business. Unfortunately, little is known about Vermeer's artistic training or whether he had a formal education in painting or apprenticed at all. He may have been self-taught, which is an impressive thought given the depth, delicate technique, and degree of realism in his lifelike works.
At the start of his career, which began in the early 1650s, Vermeer mostly painted scenes with mythological, biblical, and allegorical themes. At some point, he was commissioned to paint cityscapes. However, it was his compositions depicting the everyday activities of otherwise ordinary people in common interior settings that he would become famous for.
While Vermeer used Renaissance techniques, he also utilized his own elegant style of depicting light so that it harmonized with shadow. What set him apart from his contemporaries was his execution of scenes showing how natural daylight enters a room and touches a subject, such as from an open window. He's also known for lavishly using the color ultramarine, a revered pigment made from natural lapis lazuli and the most expensive paint made in the 17th century. At the time, the brilliant blue coloring substance, which was mined from the mountains in Afghanistan, was more expensive than gold.
Based on technical analysis of his compositions, it was apparent that Vermeer worked with only one or two pigments at a time and the underpainting technique that was typical for the time. It was evident that Vermeer's process was tedious and time-consuming as he mapped out darker and lighter areas on his canvas, careful to conjure texture and depth. By underpainting, Vermeer was able to achieve tonal dominance and backlighting shadows, invigorating areas of the painting and uniting color values. He used stiff bristle brushes which left painterly tracks and allowed him to work in layers. He also used a badger brush which allowed him to blend the paints on the canvas to create a distinct bushy appearance.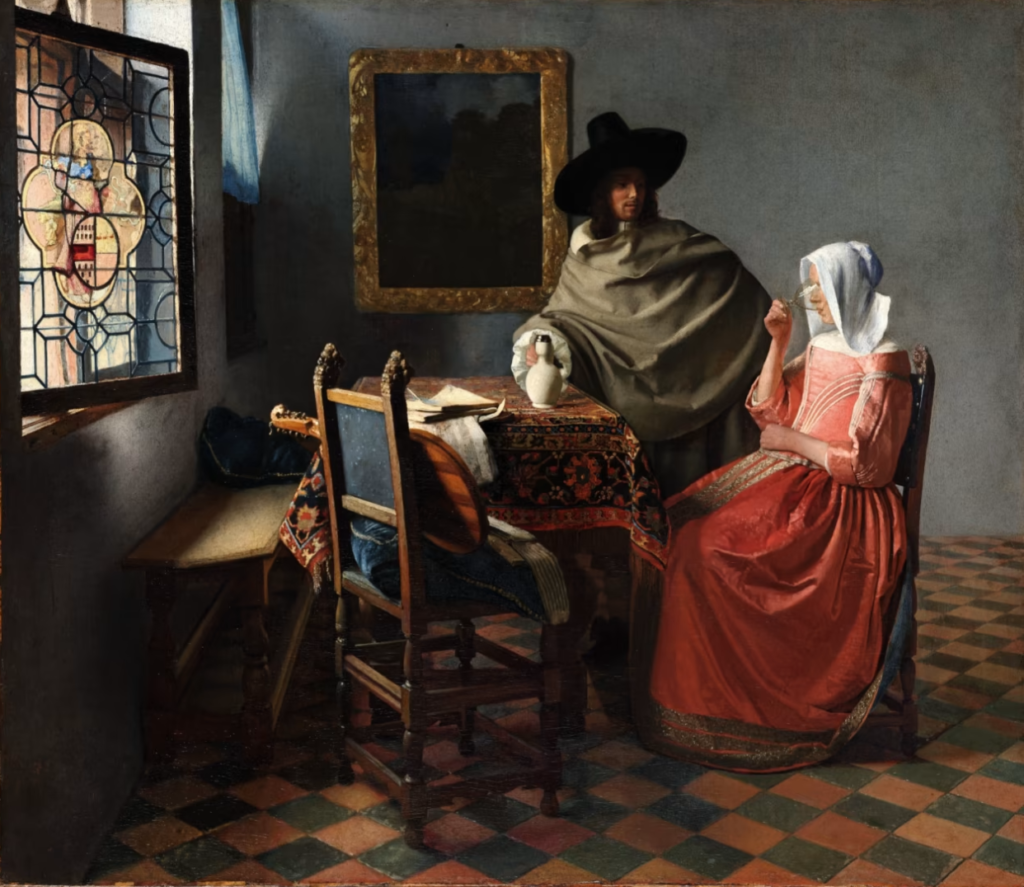 By the age of 30, Vermeer was elected as the head of the St. Luke's Guild, Delft's professional trade organization for artists and artisans. Johannes Vermeer lived until 1675, dying at only 43 years old. Suffering in debt, Vermeer left his wife and children in near poverty when he died suddenly. Vermeer fathered 15 children with his wife, Catharina Bolnes; however, only 11 survived childhood and only 5 lived into adulthood – all of which were girls. Many believe the women in Vermeer's life is the reason why he portrayed them so prominently in his works.
Middle-class women were commonly the subjects of Vermeer's works, as seen in The Lacemaker (1670), Woman Reading a Letter (1664), Woman with a Water Jug (1662), Study of a Young Woman (1665-67), A Lady Writing a Letter (1665), and Girl with a Flute (1670). In all, Vermeer depicted 42 women in contrast to 13 men in his works. Some believe that Vermeer used his daughter Maria as the model for The Girl with the Pearl Earring.
After his death, Vermeer was quickly forgotten. And it wasn't until two centuries later when his art was rediscovered by French art critic Thoré-Bürger that Vermeer elicited the attention that he deserved and gained global prominence. Since the 1800s, there have been nearly 300 exhibitions dedicated to his work which have been staged all over the world.
"Vermeer" at the Rijksmuseum in Amsterdam took seven long years to organize, challenged by diplomatic requests and rising logistical costs. Seven of the paintings from the exhibition have not been on display in the Netherlands for over two centuries. Dibbits, general director of Rijksmuseum, shares with pride, "I have had this dream of having all the paintings together. Having 28 here is something we never thought possible."