Whether it's a single piece of art or your whole body of work, an artist statement can provide clarity and context to your purposes and processes. A good artist statement can have the power to sway how an audience distinguishes your work. Providing insight on your choice of mediums or the themes you're aiming to convey can give viewers a deeper understanding and appreciation of your creative intentions.
In this complete guide to writing an artist statement, we will discuss the importance of an artist statement for your art career and provide tips for writing an artist statement. We will also share examples of excellent artist statements and explain what makes them so powerful.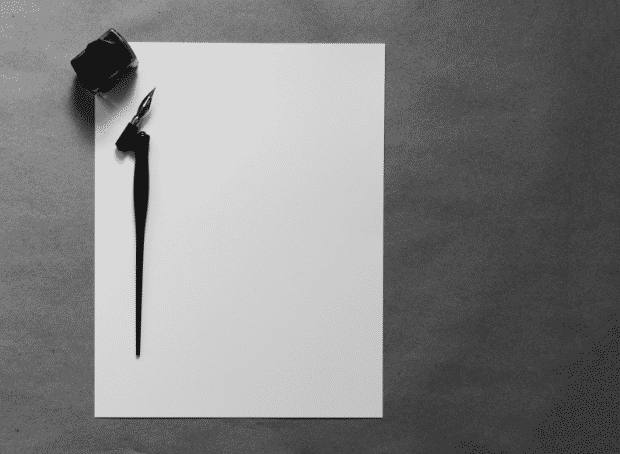 What is an Artist Statement?

Simply put, an artist statement is a description of your work in your own words. It is an explanation of why you do what you do and how you made what you created. You can have an artist statement for each piece of art you create. You can also have an artist statement that represents your entire body of work. An artist statement explains your creative process, including your motivations, inspirations behind, mission, and methods. It should include your choice of mediums and use of tools and techniques.
A well-written artist statement can have the power to break a tie in an art competition, an artist grant application, or secure your spot in a coveted artist residency program. Think of your artist statement as a caption in a broadcast program, similar to what you would include on a social media post. An artist statement, like a caption, aims to improve engagement by giving the visual image desired context and relevance. It will likely appear alongside your work at a gallery, exhibition, art fair display or on a press release of your show.
Artist Statement vs. Artist Bio

An artist statement is not your life story, a manifesto, or a list of your accomplishments. It is also not an artist biography. An artist biography is a summary of the significant events of your life that lead up to your art career. Unlike an artist statement, an artist bio can be written in the third person. It will include when and where you were born and where you are now based.
An artist bio can talk about how you first became interested in art and where you studied. It can discuss your education, degrees, formal art training, or apprenticeship programs you participated in. Essentially, an artist bio connects the impact your life history has on your artwork and talks about your concepts, philosophies, inspirations, and influences.
An artist statement is typically required when you join an art competition, submit your portfolio to a gallery or museum; it may also be used in press releases. Your artist biography, on the other hand, can be used on your website or your profile on a gallery site. It may also be used in articles, interviews, or exhibition catalogs.
Because an artist bio is the account of your life as an artist, it should remain relatively the same throughout your art career. Artist statements, on the other hand, are more flexible and may change depending on its purpose. It may be changed or tweaked from time to time to stay relevant with any status or developmental changes in your work.
Why You Need an Artist Statement in 2021
From portfolio websites to artists galleries, arts professionals benefit from artist statements in more ways than one. Whether you're applying for residencies or art collectives, submitting your portfolio to a gallery, or participating in a competition, your artist statement will help you stand-out. Decision-makers will want to learn more about your process. When someone becomes familiar with you, they may search the internet to see what others are saying about your work.
Up-and-coming contemporary artists and performance artists alike use the online platforms to reach more audiences and spread their artistic messages. It's where people may see your work for the first time and learn about you as a talented visual artist. So without realizing it, your personal brand already exists online – especially if you are active on social media or have a website for your work. And while people are free to form their own opinions about your art, remember that you are the best person to represent and describe your work.
Writing an artist statement is how you can take control of your narrative. We live in a digital era where most things, even art, are first experienced on the internet. And unfortunately, seeing art on a screen can often make it impossible to determine the true nature of the piece.
If they are seeing your art online or a photograph, they will want to know your medium and methods. A still image of a performance art piece may be mistaken for photography while a picture of a sculpture may look like a painting. A hyperrealistic art piece may be so accurate and detailed that it is thought to be a photograph of a real person or object. And without the right description, it may go unnoticed that you have used mixed media or used a highly unique method that sets you apart.
Without proper context, an audience, whether online or in-person, can view your art and become confused, be misled, or often make their assumptions about your message or intention behind your work. And while you have little control over how people interpret your work, the goal of your artist statement is to tell your story in your own words and sway readers in the right direction.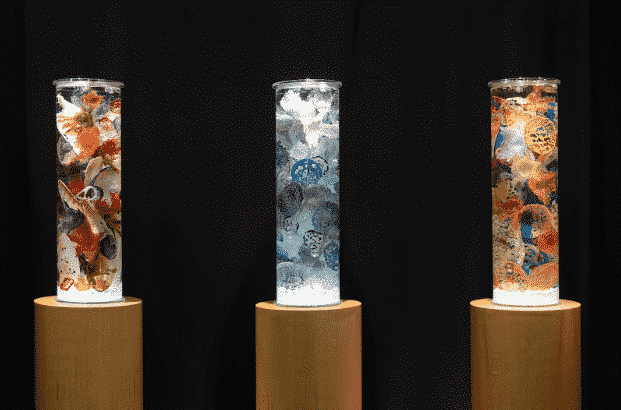 The Components of an Artist Statement

Artist statements vary in length, tone, and purpose. However, all effective artist statements have some qualities in common. They answer the "how," the "what," and the "why."
Medium, materials, and methods – Describing the medium and the materials you use to answer the "how." How do you create your art? Do you use acrylic, oil paint, or charcoal? Do you use metals, wood, stone, or recycled materials? Do you take your photography work using old film cameras and develop them in your darkroom? Or like everyone, a digital camera?
Subject matter – Sometimes subject matters aren't always obvious. And often, visual artists would prefer not to put labels on their work to let their audience interpret the work for themselves. However, you can describe your subject matter without directly saying it is. Instead, you can answer the "what" by saying it's an abstract painting, a landscape, or your interpretation of an everyday object.
Relationship between your concept and materials – Talk about your influences and how they manifest in your work. This is your opportunity to differentiate your work from art that is similar to yours and answer the "why." Explain why you do what you do and what you hope to achieve. What are your intentions? What message do you hope to convey?
Tips for Writing an Artist Statement

Feeling the pressure of being both artist and writer? Connecting with your audience by explaining your visual art through written words can be a challenge. However, it doesn't have to be a painful process. Here are some tips on how to help your audience understand your art and gain insight into your process:
Write in the first person – While some may argue that the third person sounds more professional, the goal of your artist statement is to communicate your work effectively. And the best way to do that is by using your own words, active voice, and first-person language to connect with your audience. When crafting your artist statement, imagine you're having a conversation with the reader; use "I" and "me." Allow the reader to see your work through your eyes. The problem with writing in the third person is that it may detach you from the reader and make it seem like someone else is describing your motivations.
Use your voice – Using your voice is different from writing in the first person. Your voice refers to your writing personality. Your style may be humorous, witty, technical, or heartfelt. When writing your artist statement, use your unique perspectives and experiences. And while many artists have inspired your work, try not to copy other people's words to describe art that is similar to yours.
Consider your audience – While it's important to stay true to your voice, different situations call for different artist statements. A basic artist statement will suffice if it accompanies your artwork on your website. However, if the artist's statement is for a grant opportunity, you may need to change your tone slightly to focus more on your goal, purpose, and/or techniques.
Write different versions – It is wise art practice to create different versions of your artist statement. This will save you the time of shortening and lengthening your statement depending on the situation. So before you write your artist statement, know your audience.
Because artist's statements are used for different purposes, they can vary in length. An artist's statement accompanying a single piece of work can be a few sentences or a short paragraph long. Generally, an artist statement should only be between 100-200 words because shorter statements are better for the average attention span.
On the other hand, an artist statement submitted with your portfolio for review by jurors on a grant committee or graduate art program may require a detailed description of your concept and processes. Therefore, they can be longer if the intended purpose for the artist statement requires a more comprehensive explanation of your work.
Answer the right questions – An effective artist statement answers the "how," the "what," and the "why. Think about all the questions you would typically have if you were looking at a piece of art. Interview yourself. What would a prospective buyer, grant-giving organization, or art competition judge want to know about your work?
Use accessible language – Overly technical language and art jargon can be intimidating for the average reader. And while an art expert or a scholar who may understand complex art terms may be reading your artist statement, using fanciful words may come off as pretentious. Instead, use clear, accessible vocabulary that will enlighten your audience rather than confuse them.
Read your statement aloud – When you read your artist statement out loud, does it sound like you or someone else? Remember that your artist statement should sound natural coming from you, after all, they are your words and your voice.
Read your artist statement to a fellow visual artist, a teacher, a mentor, or even an art critic. Sometimes it's best to seek the opinion of an unbiased third party who has no formal art background. Ask them to point out any inconsistencies, grammarly errors, or confusing comparisons.

Excellent Examples of Artist Statements

To get inspiration when it's time to write about your work, read sample artist statements from reliable art resources, art news, artist books, related articles, and art business publications. The best artist statements have a few elements in common. They are short personal narratives that give the reader insight into the art-making process and deeper meaning of the art. They are also written in the writer's unique voice. Here are some of our favorite artist statements:
We start with an artist statement by Henri Matisse:
"I don't paint things; I paint only the differences between things… I do not literally paint that table, but the emotion it produces upon me. What I dream of is an art of balance, of purity and serenity devoid of troubling or depressing subject matter – a soothing, calming influence on the mind, rather like a good armchair which provides relaxation from physical fatigue."
– Henri Matisse
Henri Matisse wrote this artist statement for his painting Harmony in Red (1908), considered to be Matisse's masterpiece by many critics and art historians. While this statement is over a hundred years old, it shows that a well-written artist statement stands the test of time and secures itself in art history.
Here is another artist statement that we love:
"Getting outside is good for the soul. Through my artwork, I try to bring the outside in. While I make no attempt to portray actual plants or animals, I do want my creations to look like they could have lived or grown somewhere. Living with beautiful objects that pay tribute to the natural world reminds us to slow down and helps us reconnect with nature."
– Alison Sigethy
Alison Sigethy is an artist who makes environmentally themed sculptures out of glass. In her artist statement, she explains beautifully where she draws inspiration from when creating kinetic water features and nature-inspired glass art.
Here is another compelling artist statement from Charlene Fuhrman-Schulz:
"My subject matter is nature, whether it is a traditional landscape or a bird and flower painting. I use traditional materials, ink and brush on rice paper, to capture movement and life — making the brush dance and the ink sing. Everything is captured in the spontaneous dance and movement of the brush as it meets the rice paper. There is no going back and correcting when painting with ink and rice paper. This love of spontaneous Chinese painting has provided a unique segue for my exploration of more abstract techniques of Oriental painting such as "Splashing Ink" or "PoMo". These techniques entail pouring color and creating an image from the abstract through the use of traditional brush work. At this point my work ranges from the very traditional to abstract and a blending of the two."
– Charlene Fuhrman-Schulz
Charlene Fuhrman-Schulz is a sumi-é artist who began Chinese Brush painting in 1989. We love her artist statement because it gets straight to the point and describes her medium, techniques, and intentions.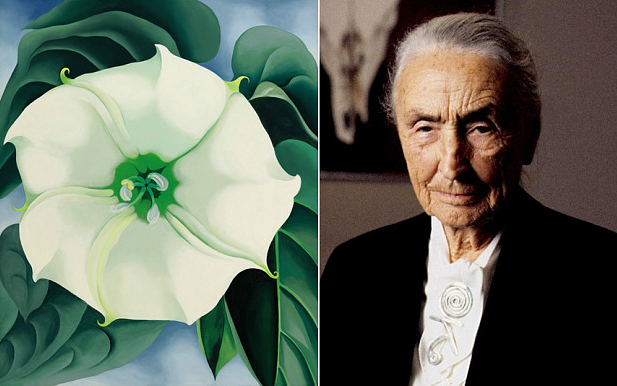 Take a look at Georgia O'Keefe's artist statement for Jimson Weed/White Flower No. 1 (1932):
"When you take a flower in your hand and really look at it, it's your world for the moment. I want to give that world to someone else… Nobody really sees a flower – really – it is so small – we haven't time – and to see takes time… So I said to myself – I'll paint what I see – what the flower is to me but I'll paint it big and they will be surprised into taking time to look at it."
– Georgia O'Keeffe
Georgia O'Keefe's artist statement puts focus on the piece's subject matter, the flower. She talks about her motivations for painting it.
And finally, here is an artist statement from an old master:
"The pre-homoeroticized body forms both my field of action and the basis of my conceptual taxonomy. My sculptures explore both the flux of transfixable signifiers and their complimentary anecdotal formations. My choice of Carrara marble as a medium creates a dialectic between proto-Classical conceptions of idealized form and later Humanistic naturalism. Each figure's physical struggle is simultaneously inoperative and adjectival."
– Michelangelo Buonarroti
In this excellent example of an artist statement, Michelangelo, one of the greatest artists of the Italian Renaissance, talks about The Rebellious Slave, a marble sculpture piece from 1513. What makes Michelangelo's artist statement so effective is that it answers the "how," the "what," and the "why" of the masterpiece sculpture.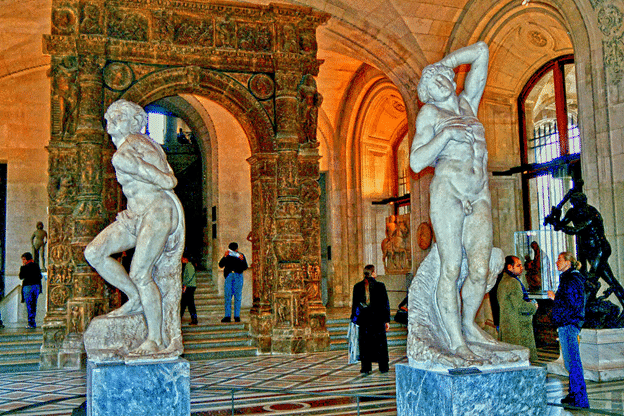 Conclusion
Your artist statement is a useful tool for explaining your creative process and allows you to steer your narrative in the right direction rather than leave it open to misinterpretation and confusion. While you may dismiss writing an artist statement to allow your visual work a chance to speak without verbal cues, remember that artist statements are necessary if you want to grow as an artist and gain the attention of audiences and potential patrons and buyers.
Whether you're in New York City or Los Angeles, somewhere in Europe or Latin America, applying for national or international residency programs, or a hardworking emerging artist finding your niche in the artistic community, an artist statement is your ticket to the art world.