The first generation of Abstract Expressionism brought us masterpieces by Jackson Pollock, Willem de Kooning. Robert Motherwell, and Franz Kline. Through dynamic and energetic visuals, these American abstract artists emphasized spontaneity and departure from conventional techniques. With Abstract Expressionism dominating the New York art scene in the 1950s, a new generation of artists emerged – demonstrating their own styles and expressing their unique narratives for the postwar art movement.
Hailing from Chicago, Joan Mitchell took on the challenges of innovating beyond the first generation of Abstract Expressionists, responding with her distinctive landscapes and signature painterly techniques. Mitchell was able to achieve widespread fame, a feat rare for female artists of her time – made even more impressive given the movement's noticeable male dominance. While she also produced works of still lifes, the artist would be most celebrated for her vivid color fields and eclectic depictions of landscapes and urban environments.
"I paint from remembered landscapes that I carry with me – and remembered feelings of them, which of course become transformed. I could certainly never mirror nature. I would like more to paint what it leaves me with." – Joan Mitchell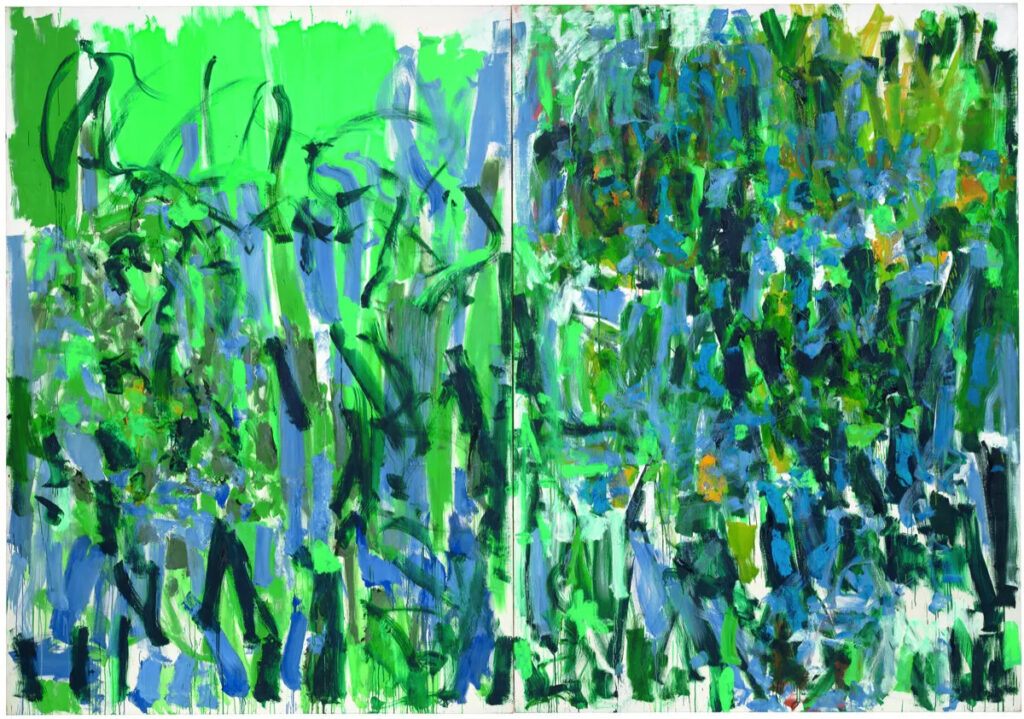 The Genesis and Evolution of Joan Mitchell's Abstract Expressions
Born on February 12th, 1925, Mitchell was born to a dermatologist father and a poet mother. While she was deeply rooted in art, Mitchell was also raised to practice dance, music, and even sports. She took weekend classes at the Art Institute of Chicago and spent her summers at the art colony run by the School of the Art Institute of Chicago (SAIC). In 1947, Mitchell earned her BFA from Smith College in Massachusetts.
In 1948, Mitchell was living in Paris where she studied the history of French painting. By the mid-50s, the artist traveled frequently between New York and Paris before permanently moving to France in 1959, even buying property in a village in Vétheuil in Normandy where the Impressionist master Claude Monet once lived.
Most of Mitchell's most admired works were produced in the 1950s and 1960s. And despite her formal art training and studies of French art history, Mitchell displayed her commitment to abstraction throughout her career – revealing her approach through gestural brushwork and emotionally-charged strokes. She portrayed her memories of landscapes and enduring feelings through abstract interpretations. Sentiments fueled by poetry were also a theme in her art, an influence rooted from her poet mother, no doubt. Working with mediums like oil, pastel, and lithographic printing, her expansive works often covered multiple panels. She chose stark white backgrounds to emphasize the purity and brightness of her chosen colors – vivid hues that were vibrant and vibrated with life.
To the average onlooker, her compositions did not strike the mind as landscapes; certainly, not in the traditional sense. There were no clear outlines of trees, mountains, or bodies of water – defined and distinguishable elements of landforms that one would expect from a conventional portrayal of nature. Rather, Mitchell used scenes she'd seen through her travels and memories she'd formed to guide her work. Mitchell's intent was to convey emotions through her sweeping brushstrokes and choice of bold colors. And often, it wasn't until one read the title of the composition that the subject matter became clearer – forcing one to tilt their head and squint their eyes before realizing the accuracy and intention of the colors and shapes. "In all my paintings, there are trees, water, grasses, flowers, sunflowers, etc…but not directly," Mitchell once said.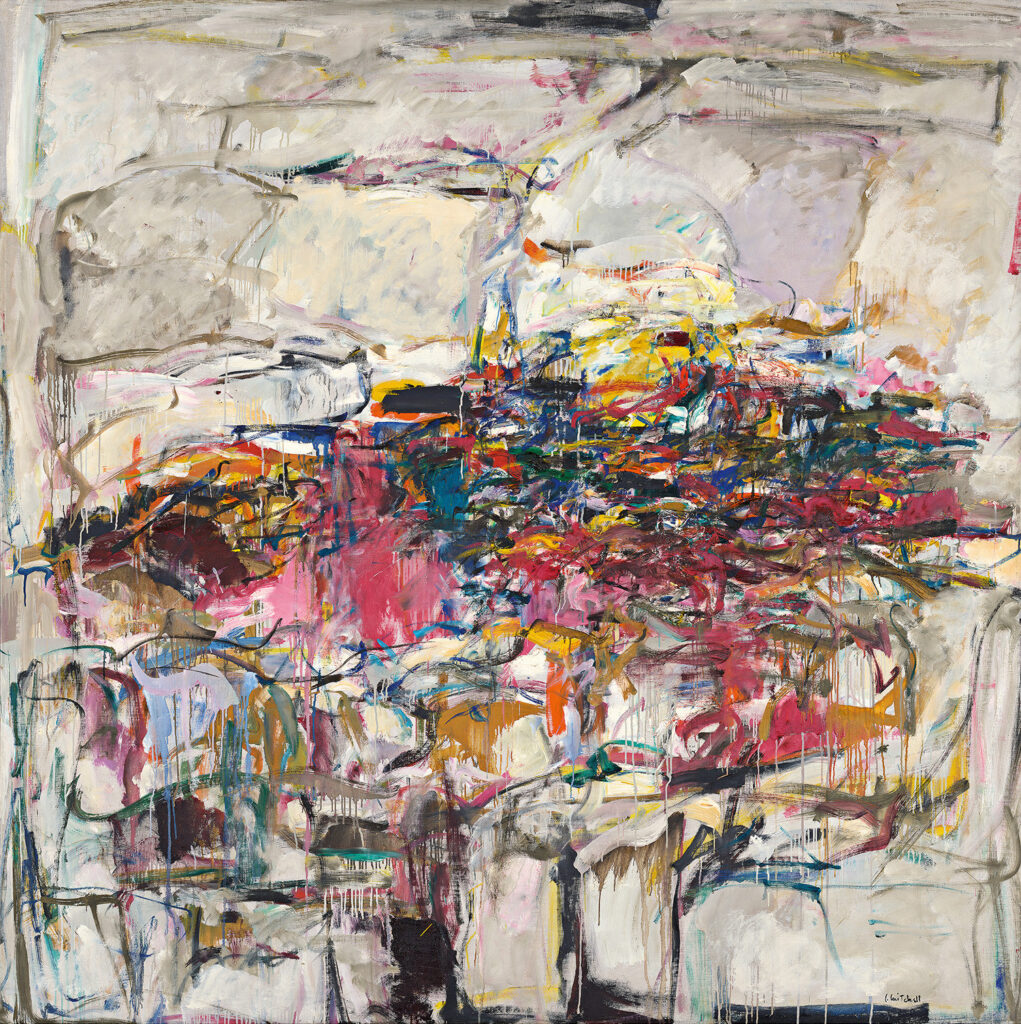 At first glance, Mitchell's City Landscape (1955) could be misunderstood as a messy finger-painting by a child. However, the title reveals that the composition is the depiction of a large metropolis. And only when you embrace the narrative do you realize that the colorful swirls and drips are reminiscent of an energetic urban space. In My Landscape II (1967), Mitchell reveals her view from her hillside home window which overlooked the River Seine. The composition is a jumble of undefined shapes and strokes with the most dominant colors being blue and green – presumably to depict lush foliage and water. In Grandes Carrières (1961–62), Mitchell used a combination of rusty brown, mint green, and rich blue to express her vision for the cypress trees that could be seen in the district of Grandes Carrières.
Mitchell continued creating her abstract compositions until her death in 1992. Her career which spanned almost five decades would leave an enduring legacy. In her will, she provided guidance for the creation of the Joan Mitchell Foundation, a non-profit organization dedicated to aiding and assisting artists through grants and fellowships.
Capturing the Critical Art Market's Attention and Admiration
Mitchell was notoriously competitive, a character trait which was likely nurtured by her participation in sports and natural athleticism. She once referred to herself as the "last Abstract Expressionist" and was part of the Eighth Street Club, the New York club of abstract expressionists that only included a few female artists at the time. She was also the first female American artist to ever have a solo exhibition at the Musee d'art modern de la Ville de Paris.
Mitchell's work sold well during her career and prices for her work began to soar in recent years. Her first work to sell for over $1 million happened in 2004. In 2020, three of her works sold for a combined $22.7 million at the Sotheby's New York auction. Garden Party (1961-62) sold to an online builder while Straw (1976) and Liens Colorés (1956) sold for $6 million at the evening sale. Also, in 2020, Mitchell's Noël (1961 – 62) was sold to a private American collector for $11 million.
In 2021, Mitchell's Blueberry (1969) sold at Art Basel Hong Kong for $20 million, the highest recorded price for the artist. Also, in 2021, the San Francisco Museum of Modern Art (SFMOMA) celebrated Mitchell by exhibiting approximately sixty of her works, including the artist's early paintings and drawings. The exhibition was on display at SFMOMA until January 2022 and then traveled to The Baltimore Museum of Art when it was on view until August 2022.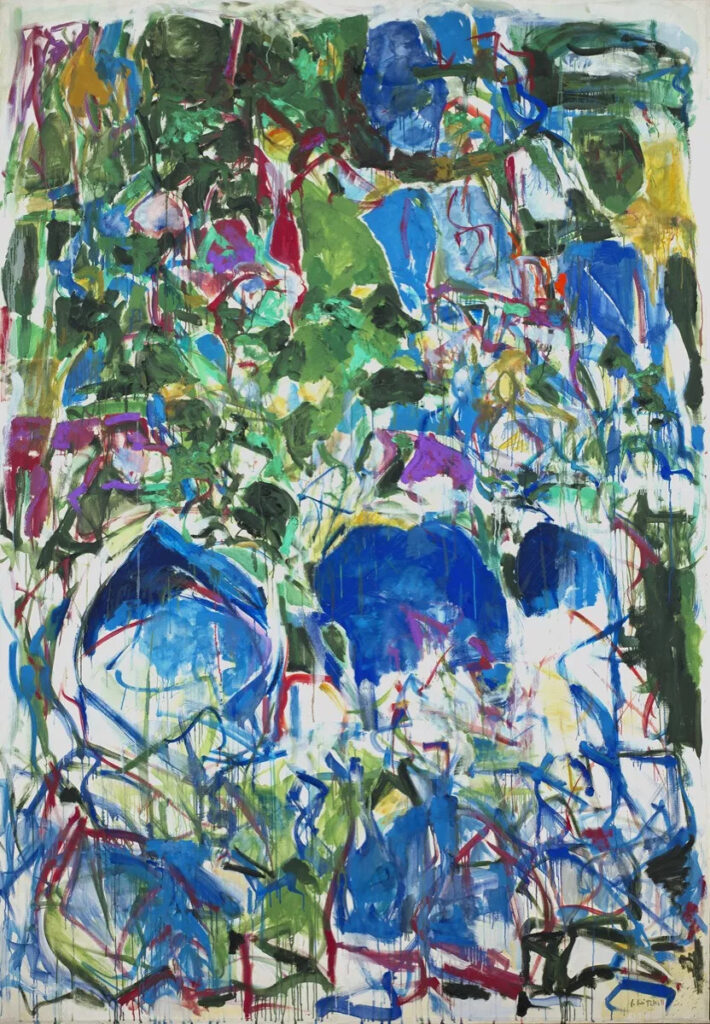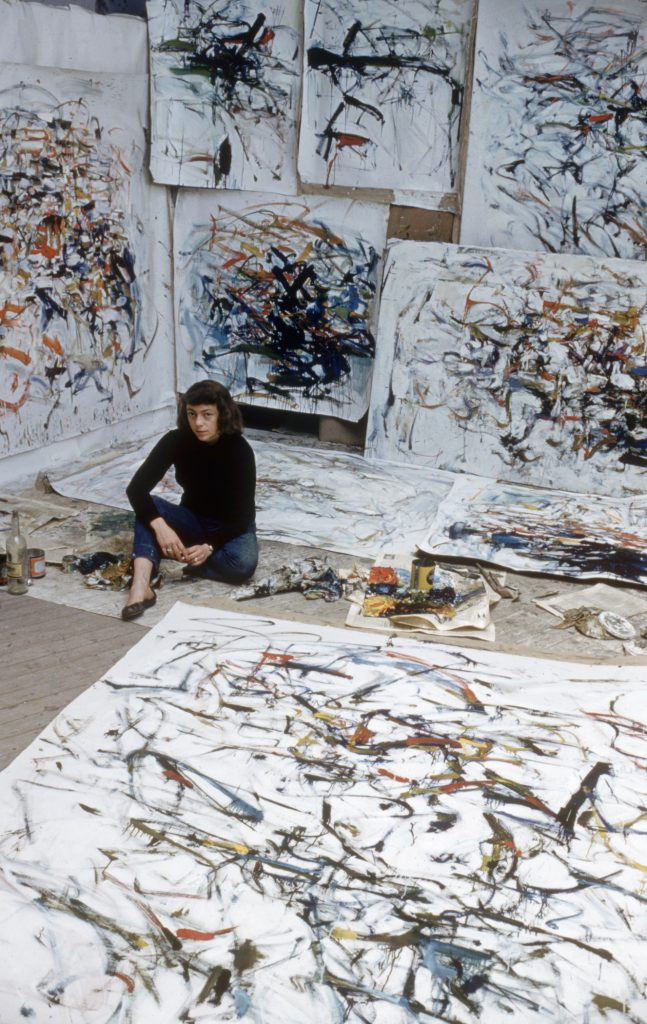 [Left] Joan Mitchell, My Landscape II, 1967. © Estate of Joan Mitchell. Courtesy of Smithsonian American Art Museum. | Source: artsy.net [Right] Joan Mitchell in her studio at 77 rue Daguerre, Paris, (1956). Photo by Loomis Dean/the LIFE Picture Collection/Shutterstock. | Source: news.artnet.com
"Monet-Mitchell" in Dialogue in Paris
Claude Monet is celebrated as the founder of Impressionism and a catalyst for Modernism. Mitchell is known as a second-generation Abstract Expressionist. The two also produced their works a generation apart, with Monet dying a year after Mitchell was born. Initially, it would seem that Monet and Mitchell wouldn't belong to the same narrative.
However, both Mitchell and Monet demonstrated techniques that pursued freedom. While Mitchell had always remained discreet about the influence that Monet had on her work, we can recognize that the two artists shared common themes. While their styles were different, their works are also noticeably connected by a shared interest in nature. Mitchell, after all, had once resided in the same home where Monet once lived, surrounding herself with the same landscapes that had also undoubtedly influenced the impressionist artist emotionally and creatively. While Monet created motifs from his observations and translated them on his canvas, Mitchell set out to explore her memories to depict her emotions in the form of abstract compositions. When juxtaposed, their compositions seemingly speak a similar language and engage in an agreeable conversation.
To reveal the connection between Monet and Mitchell to a wider audience, Foundation Louis Vuitton in Paris presents the works of Monet and Mitchell in "dialogue." The exhibition offers 60 works by both artists, taking audiences on an immersive journey meant to emphasize the parallels between Monet and Mitchell. The "Claude Monet – Joan Mitchell, Dialogue" will be on view through February 27th, 2023.