I don't like the term 'artist.' It is a term which I'm uncomfortable with, but I love the idea of being a cartoonist, a draftsman, a designer, a painter… – Wayne Thiebaud

The three crucial things you need to know about Wayne Thiebaud are that:
His last name is pronounced TEE-boh,
He does not like to be called an artist,
He is turning 100 years old this year, and health permitting, he will enjoy every second of this incredible milestone.
Wayne Thiebaud is described as a lively presence, a man who chooses his words and speaks eloquently, and believes in the magic of painting. He is one of the most prolific modern painters, with a career spanning over half a century.
Thiebaud's main subject is often food — mouth-watering artworks of pies, cakes, candy, and ice cream that have drawn art critics and the public alike. Distancing himself from the commercialism of the contemporary art world, Thiebaud remains true to his principles and his aesthetic, even as he's nearing his 100th birthday.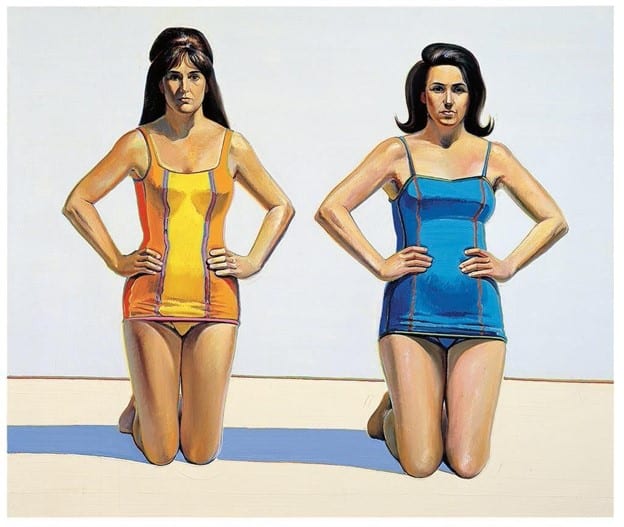 Early Influences
Born in 1920 in Arizona, Wayne Thiebaud and his family moved to Southern California when he was still a baby. In his teenage years, Thiebaud eagerly perused comic strips and the "Sunday funnies," as he calls them. Everyone read them back in the day, and it wasn't long before Thiebaud fell in love with cartoons and the cartoonish style of drawing.
This appreciation for the style encouraged him to become an apprentice at Walt Disney Studios as an "in-betweener," someone who draws frames of famous characters, such as Goofy, Jiminy Cricket, and Pinocchio. When shown in quick succession, these frames would give the impression that the characters are moving. Alongside this apprenticeship, Thiebaud worked in theater, creating posters for plays and setting up lighting and sets. At 18, he tried his hand at being a cartoonist and a designer.
The economic rock bottom of the Great Depression was the main reason why Thiebaud decided not to pursue a career in fine arts. Instead, he studied commercial art and illustration because he reasoned he would earn more in those career paths. His art skills saved him from combat during World War II, where he served as an artist and a cartoonist in the Special Services Department.
Commercialism In Fine Art
After the war, nearing 30 years of age, Wayne Thiebaud returned to commercial art. "At one point, all I wanted to be was a red hot, highly paid advertising art director," he said. However, his good friend, Robert Mallary, showed him "how limited and off-course" he was about important things in his life. With Mallary's encouragement, Thiebaud earned a master's degree in art history. From the 1950s on, he would paint and teach art courses and slowly transition away from his commercial career.
However, Thiebaud's illustration and design beginnings are evident in his paintings. His most famous artworks feature different types of food as the main subject, balanced and harmonious in heavy pigments (such as Cakes (1963)and Bakery counter (1962)). Among the different dishes, he favors diner pies, ice cream cones, hot dogs, and popsicles. It's the food he grew up with and the food that he knows. He says he has always painted, "what I lived with and what I knew."
Thiebaud used thick brushstrokes, dramatic shadows, and outlines — halos — of complementary colors to make the object stand out for the viewer. He even named this technique "halation." The blank, monochromatic backgrounds of paintings depicting everyday objects — like in Eight Lipsticks (1988) and Caged Pie (1962) — clearly speak of Thiebaud's advertising experience. Even though his heart wasn't in commercial art, Thiebaud gave credit to his mentors from that era, declaring how they helped shape who he was as a painter, instilling a work ethic in him that allowed him to evolve.
He utilized what he learned from cartoons, ads, and design and applied it to his paintings, merging the two seemingly disparate art worlds in his eye-catching artworks.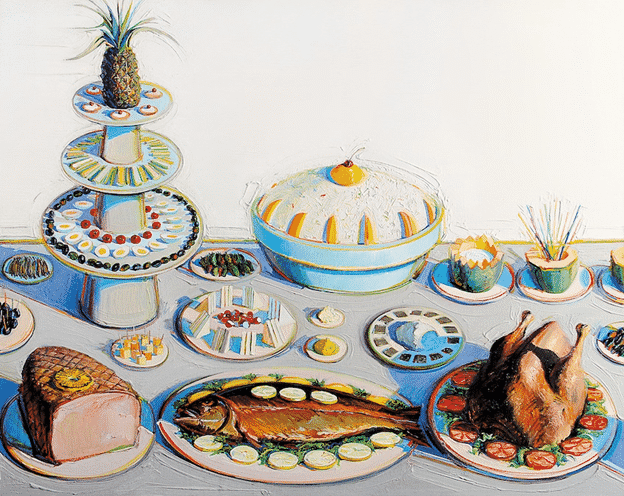 Not An Artist
Despite being recognized for his work and included in exhibitions in New York and San Francisco, among others, Wayne Thiebaud never considered himself an artist. Instead, even today, he describes himself as "an old-fashioned painter."
Throughout his career, Thiebaud had the privilege of meeting great New York artists such as Willem de Kooning, Robert Rauschenberg, and Franz Kline, members of the Abstract Expressionism movement that was in full swing in the 1950s. However, Thiebaud found them too dark and brooding. He also met cartoonists such as Reamer Keller, Helen Hokinson, George Price, and Peter Arno. "They were kind of angry all the time," Thiebaud said of the New York scene. "Some of them were pretty cynical."
Because of his style, the fact that he portrays mundane objects, and the repetition found in some of his artworks (such as in Pies, Pies, Pies (1961)), Thiebaud is often associated with the Pop Art movement. His paintings were displayed alongside the artworks of Andy Warhol and Roy Lichtenstein in two Pop Art shows in 1962, but Thiebaud wasn't enthralled with this art movement. He considers Warhol's style "flat and mechanical," and, perhaps unsurprisingly, Thiebaud doesn't see himself as a Pop artist.
The Miracle Of Painting
When Thiebaud speaks of painting, he uses words like "empathetic," and "miraculous." Here is a painter who isn't concerned with labels or art movements. He doesn't think he belongs to any specific art era, and because of that, he doesn't. He says he hates his art but loves the process of creating it, bringing something to life on canvas.
Likewise, Thiebaud emphasizes giving back to the community through art. "Everybody doesn't have to trundle off to New York City," he elaborates. "It's a loss for your community."
Opening shortly before Thiebaud's 100th birthday, the Crocker Art Museum will present a celebratory retrospective exhibition Wayne Thiebaud 100: Paintings, Prints, and Drawings, featuring the 70 year career-spanning exhibition of 100 objects of the California artist's achievements, from October 2020 to January 2021.
When asked about his legacy and what he would like to be remembered for, Thiebaud doesn't dwell on his place in art history. He would like to be considered a part of the painter community, but nothing more than that. With admirable humility and poignant insights, at almost 100 years old, Wayne Thiebaud is as vibrant yet soothing as his paintings are — a true old-school painter who touched many lives through his teaching and mentoring artists, and whose jubilant work will be loved and treasured for many more decades to come.