I don't know anybody who needs a critic to find out what art is. – Jean-Michel Basquiat
The year 1980 saw a breakthrough of a solo artist who took the world by storm. A charming young black man with a sweet smile, Jean-Michel Basquiat was bold and unapologetic, opinionated and unafraid to rock the public with the genius of talent reflected in his art.
He was, at the same time, a recluse and a legend. A man who thought he would be a bum for the rest of his life but who was also confident he would achieve fame: Jean-Michel Basquiat, a brilliant study in full contradictions.
Born in Brooklyn in 1960, Basquiat quickly displayed a superior level of intelligence and curiosity about the world around him. A copy of Gray's Anatomy that his mother gifted him when he was 7 would have a significant influence on his artistry in adulthood. By the age of 11, he was already fluent in three languages: English, Spanish, and French.
However, his family life was turbulent during his adolescence. Affected by the divorce of his parents and his mother subsequently being committed to a mental institution, Basquiat struggled to deal with the unrest at home. Upon dropping out of school at 17, he was banished from his father's house and was mostly homeless from then on.
It took only three years for him to go from sleeping on his friend's couches and selling T-shirts for a living to creating paintings that sold for $25,000 apiece.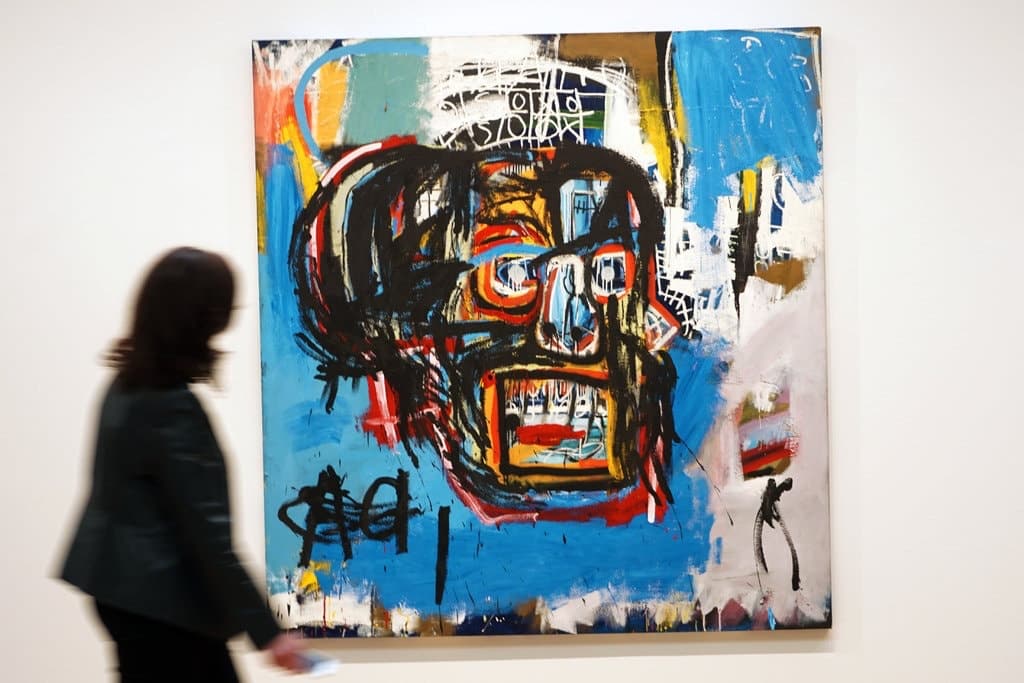 The Rise of Basquiat
Even though he had a day job, Basquiat kept evolving as an artist. He formed SAMO, a graffiti duo that would spray paint the buildings of Manhattan with thought-provoking lines. These were political at first glance but downright poetical upon further inspection. They criticized students in art schools by calling them the avant-garde, as well as capitalism as a whole, always bordering on surrealism.
These graffiti drew others—artists, executives, and media—to approach Basquiat, take an interest in his vision, and slowly start him on his way to greatness. From 1980to 1988, when his life was tragically cut short, Basquiat was a force to be reckoned with.
His work is jarring to the eye. It consists of vibrant colors contrasted with black, and it often features a central figure — an athlete, a policeman, a musician, or even Basquiat himself. The composition of his art is busy and a lot to take in at first —a lot to untangle and consider. Basquiat's street art background is immediately evident, as well as his tendency to incorporate other enigmatic epigrams as an art form in his drawings and paintings.
Basquiat used poetry, words and phrases, symbols, pictograms, and more to emphasize the message of his art, or rather his own emotions and thought processes while creating the artwork. Fitting into Neo-Expressionism that emerged in the early 1980s, his work was raw and almost aggressive, with distorted and harsh central figures. One couldn't simply glance over his art and not pause to give it a closer look. This compelling and redemptive power of complex imagery was its purpose, after all.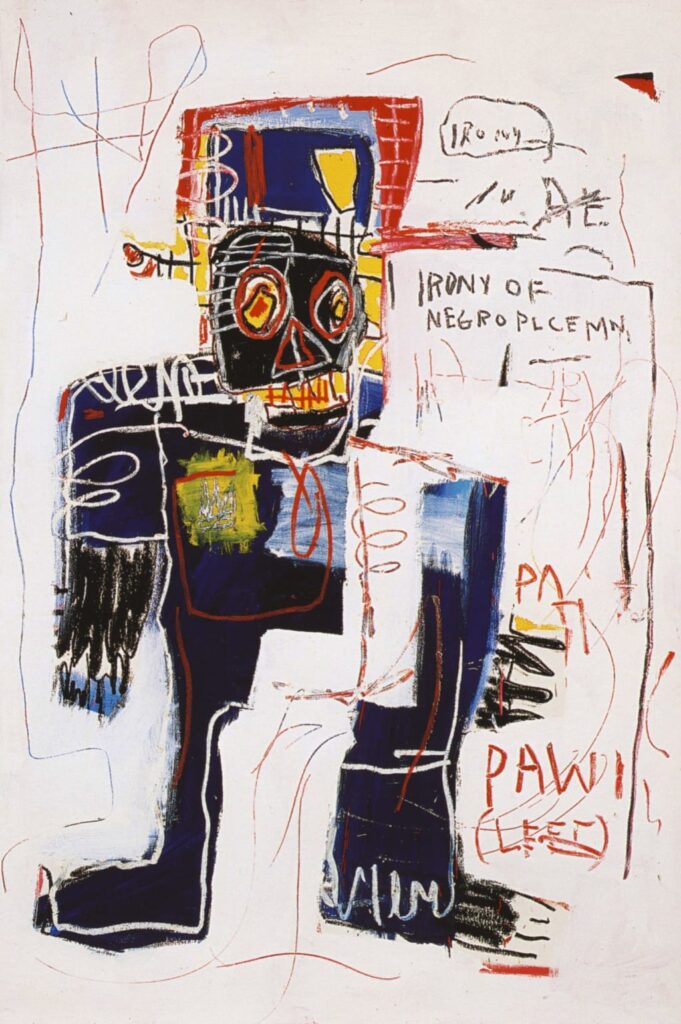 The Message Behind Basquiat's Art
Undoubtedly Basquiat focused on expressing his view of the world through his paintings. He touched on the subjects of wealth and poverty, on what it meant to be a black man in a white-dominated society, on racism and the power systems that supported its inequity. His work titled Irony of Negro Policeman depicted his inability to understand how an African-American could be a policeman in America, effectively acting on orders meant to oppress his own race that is particularly poignant in this current climate of #BLM and black justice movement. It's disturbingly clear how those sentiments are more than ever relevant today, over three decades after Basquiat's death.
He did not care for art critics or the art community, but at the same time, he sought to be acknowledged by them. Basquiat famously collaborated with Andy Warhol, with the years 1984 and 1985 being the peak of this collaboration, and he was close to Keith Haring, another artist. Haring also used his work to advocate for social justice and humanity.
Basquiat as a diverse visual artist was the epitome of eccentricity. He painted in Armani suits and wouldn't mind them getting splattered. He had a keen eye for fashion, wrote and produced rap songs, loved freely, regardless of the gender identity of his partners, and never, ever stopped creating art. Even though he had only eight years in the spotlight before succumbing to drug addiction, Basquiat produced over 1,500 drawings, 600 paintings, sculptures, and other mixed-media pieces.
The Pull of Basquiat's Contradiction
If anyone asked why the world loved Basquiat at the time and why it still loves him today (his work Untitled, depicting a powerful black skull, sold for over $110 million, breaking the record for the highest price paid for a piece of American artwork throughout history), the answer wouldn't be simple.
That answer is, likely, a combination of everything that Jean-Michel Basquiat was. He was young and ambitious, devouring the world around him only to spit it back out in the form of one masterpiece after another. He had strong attitudes and passionate perspectives about important social issues and found a powerful voice to draw attention to them in his master. He lived fast and rough and felt everything that happened around him. Love and fear and rage and bitterness and euphoria and ecstasy — Basquiat was all of that and so much more. It was impossible not to get caught up in his wild and enraptured flame and, if you got too close, not to get burnt or singed.
What is then Basquiat's legacy? Did he succeed in encouraging critical thinking far beyond his short-lived artistic life while garnering incredible fame and followings from his obsessive lifestyle and creations? Did he help raise awareness on the prevalence of racism, the dangers of capitalism, and the ever-growing consumerist behaviors that he constantly critiqued?
Yes, and no. On the one hand, he is one of the greatest postmodern artists of all time, hailed for his unconventional methods and powerful artistic voice.
On the other hand, not even Basquiat's name managed to escape commercialization of pop culture. Thirty-two years after Basquiat's death, he is once again revived in the form of a Barbie doll, attractively dressed in a pattern that features his art style. Would he consider this a bold move to educate young children on the importance and power of art regardless of your skin color, or would he see it as another attempt of soulless capitalist enterprises to cash in on what is now a big name in the art world, completely missing the point of his main message?
You tell us.