The artist in a disturbed society is to give awareness of the universe, to ask the right questions, and to elevate the mind. – Marina Abramović
From Rosa Bonheur and Mary Cassatt to Frida Kahlo and Georgia O'Keeffe — great women artists in art history have not been nearly as widely represented as their male colleagues. But that doesn't mean they haven't profoundly influenced the art historical landscape. Onward from the 15th and 16th centuries of the Renaissance period of transition towards great social changes and modernity, female artists have fought for their rightful place in the professional artists community and entry to art markets. To be treated equally to their male peers, and for their talent to be valued and taken just as seriously.
Today, while that persistent gender inequality in arts has yet to completely disappear, one could say the gap definitely has been narrowing in recent decades. Women in the modern art period have thrived in all types of mediums — prints and drawings, painting and photography, sculpture, installation art, performance art, and many more. The field of contemporary art is abundant in female visionaries who continue to challenge the norms with their constant innovations and are never afraid to express their points of views and earn their deserved canonical spots in art history.
Let's meet four outstanding women dominating in contemporary art today.
Yayoi Kusama
Yayoi Kusama is a nonagenarian Japanese artist with a distinctly recognizable theme of infinity dots with over six decades of critically acclaimed artistic career. Her extensive range of sculptures, widely popular large-scale installations, as well as a huge oeuvre of paintings and print works could belong to any number of art movements — Minimalism, Feminist art, Pop art, Abstract Expressionism to name a few — but she doesn't define herself by any single label. "I am an obsessional artist," Kusama said. "People may call me otherwise, but I consider myself a heretic of the art world."
Even though she has been working mainly with installation art and sculptures, Kusama also continues to paint and draw, has been involved in groundbreaking art happening performances, and created film, poetry, fashion, and even published several novels and an autobiography. One of her most renowned works is the Infinity Room installations, immensely popular and sought-after in art museums across the globe. In these Infinity Rooms, also referred to as Infinity Mirror Rooms, the viewers can step into an immersive experience of endless reflections, catching a glimpse of Kusama's one-of-a-kind obsessional repetitions in full scale visceral experience.
On many occasions throughout her long-standing career, Kusama has stated that art helps her cope with her mental health issues. A common theme in her work are polka dots — as seen in The Spirits of the Pumpkins Descended into the Heavens (2017), and various Infinity Mirror Rooms (1998), and others.She explains that the polka dots came to her in a dream when she was a child. "Polka dots are a way to infinity," she says. "When we obliterate nature and our bodies with polka dots, we become part of the unity of our environment." She feels as though through polka dots, she is integrating herself and her work into the universe.
Kusama's career took her from rural Japan to New York and back to Japan in Tokyo, and she is now considered one of the most influential modern Japanese artists. Eccentric, versatile, and completely dedicated to her craft, Yayoi Kusama is an iconic female artist that does not shy away from tackling mental health, sexuality and self-identity, and stifling burden of heritage and tradition, in the ways most vibrant and unconventional tribute, for her lifelong challenges and struggles that resonate with generations of audiences beyond time.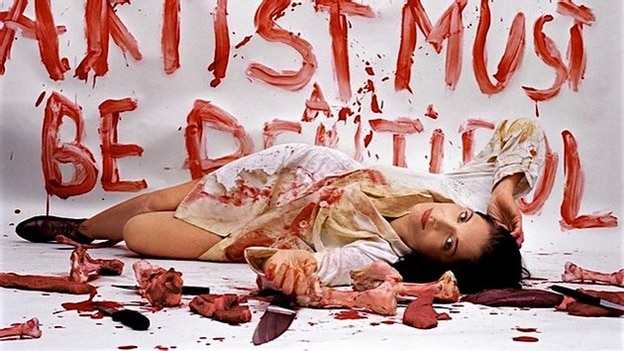 Marina Abramović
Referring to herself as the "grandmother of performance art," Serbian conceptual and performance artist Marina Abramović has been a forefront figure in the contemporary art community for over four decades. Her work is centered around body art, feminist art, and endurance art, in particular her 2010 MoMA piece "The Artist is Present" — in a way that she engages with her audience through long periods of confronting and testing the limits of such interactions. Her ideas are highly conceptual, often related to the relationship between two performers, or the performers and the audience, and ultimately seeking the truths of the mind and the body.
Born in Belgrade, Serbia (former Yugoslavia), Abramović wasn't understood or well received as an artist in her home country in the early years of her career. She sought recognition elsewhere, but she has stated that she always carried the Balkans with her as an identity of her art and art making. Her Balkan Baroque (1997) performance included her scrubbing thousands of cow bones covered in blood over a period of four days as a response to the war in Bosnia.
Her Rhythm series of performances is one of the most well-known early works, especially Rhythm 0 (1974), in which Abramović allowed the audience to do whatever they chose to her body, using one of the 72 objects available to them (among which was a rose, honey, scissors, a scalpel, olive oil, a whip, etc.). By the end of the performance, Abramović's clothes had been cut off and her skin had been lacerated and written on.
Marina Abramović is hailed as a pioneer in testing the limits of the body and the psyche. With her unconventional, often disturbing performances at times, she explores the notions of discomfort, pain, humanity, and even love in all its forms. There is no doubt that her way of viewing the world is unique and outrageous to most — however, this is precisely what made her one of the most formidable figures in contemporary performance art.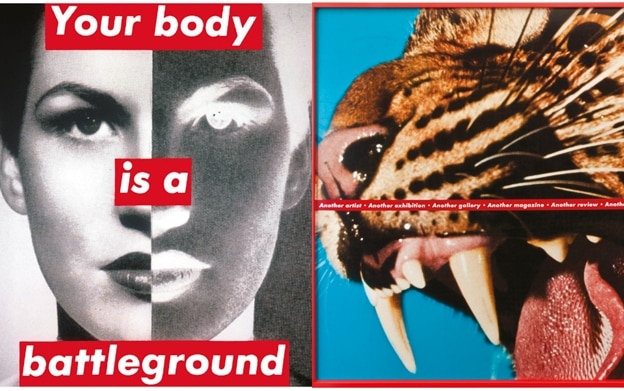 Barbara Kruger
With a background in graphic design and picture editing, Barbara Kruger has an unusual approach to art. She had dabbled in painting early in her career — creating erotic, vibrant subjects — but since then her main focus have been photograph images overlaid with prominent, contrasting text in the realm of conceptual art.
Kruger superimposes bold text — more like a news headline — over blank backgrounds or dramatic photographs. She blows her digital work up to enormous sizes (often big enough to fit on a billboard) with the intention of catching the public's attention. One of her main focuses is to comment on and critique the mass media and the effects on the public's perceptions, as well as the consumers of the mass media. In the 1980s Messages for the Public, some of her artworks were on digital display in New York Times Square, where they stated "I'm not trying to sell you anything," and "I Just want you to think about what you see when you watch the news on T.V."
Through her sensationalist social commentary art, Kruger explores the female identity. In You are not yourself (1981), a woman is seen crying in a shattered mirror, suggesting that she is unsure of who she is and what her true purpose is, apart from being a social construct to which she's been manipulated. Kruger is also pro-choice, as evidenced in Your body is a battleground (1989), created in support of legal abortion right. Her latest artworks include a jab at the consumerist society with You want it. You buy it. You forget it. (2012) and a clear resentment towards Donald Trump as she labels him a "LOSER" on the cover of a 2016 New York Magazine.
Barbara Kruger believes in the power of words inasmuch as the power of visual art and its consequential impact to our culture at large. Her conceptual work directing poignant criticisms of prevalant sexism that still persists in our society make her a modern feminist art icon. Moreover, Kruger's active opposition to consumerism and mass media strive to awaken emotion in a seemingly apathetic public to encourage them to take control of their thoughts and their lives.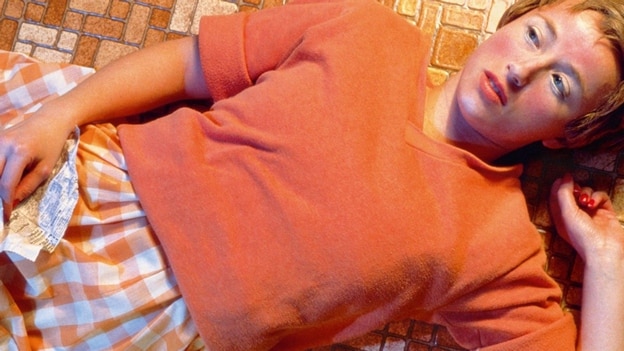 Cindy Sherman
Provocative and self-sustained, Cindy Sherman is a widely acclaimed American artist. Her focused medium is photography primarily of photographic self-portraits, featuring herself as own model, photographer, editor, stylist, costume designer, hair stylist, and makeup artist. Put simply, Cindy Sherman does it all.
The Untitled Film Stills (1977 – 1980) is a series of grayscale photographs of Sherman taking on the roles of various stereotypical females represented in films of the 1950s and 1960s. The 'clichés' she posed as a range of personas were the bombshell, the office girl, the housewife, the rebel girl, and many others. While creating this series, Sherman sought to understand women and their identities in their societal roles they play. "The characters weren't dummies; they weren't just airhead actresses," she said. "They were women struggling with something, but I didn't know what."
Her The Imitation of Life series from 2016 features Sherman in a range of portraits of old Hollywood divas, such as Mary Pickford, Ruby Keeler, and Susan Hayward. In this series, she addresses the question of ageing, as well as the lives of these divas and whether or not they have any regrets.
While some female artists focus on the lack of gender parity, Sherman has been focused on the ideas of femininity and the female identity. As she herself is getting older, she is digging deeper into the pressures women face to maintain their youth.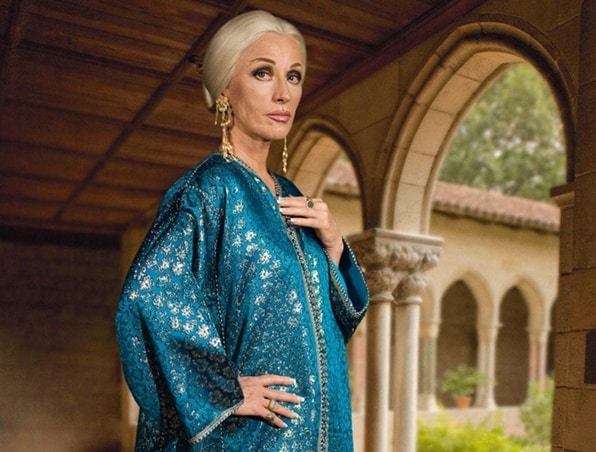 The Future Of The Woman Artist
The diverse and influential works — paintings, photographs, sculptures, and installations — of these remarkable women artists have garnered numerous milestone exhibitions that have traveled and impacted the world of art for many decades. From the Museum of Modern Art and Whitney Museum of American Art in New York City to the Museum of Contemporary Art in Los Angeles, and abroad, in London, Berlin, Paris, Shanghai to Tokyo — there isn't a corner of the globe untouched by the powerful works of contemporary women artists, sampled just a few exemplaries represented in this post.
Thanks to their predecessors who fought for their rightful place in a male-dominated field, artists such as Yayoi Kusama, Marina Abramović, Barbara Kruger, and Cindy Sherman have the freedom to experiment with their creativity and present their ultimate visions to the global art stage. We can only assume that the future for the female artist is bright. With the rise of feminism in art and much-needed revisionist art history in recent years, the wage gap between male and female artists is slowly diminishing. No doubt, we will be welcoming even more empowering, unabashed talent of women artists in the contemporary art world who will leave their indelible permanent mark in art history for generations to come.