No, it's not your imagination – summers are getting hotter. This year, the US had its hottest summer on record, reaching temperatures that haven't been felt since 1936! Heat spikes not only post physical health threats, but they can affect our mental health and well-being too. With global warming making heat waves more likely, it's no wonder we're preferring to stay indoors.
We're here to help you escape the heat and enjoy a cool home staycation. We've thoughtfully curated 21 titles that are must-sees for every art lover. Here's our list of the best art films, documentaries, biopics, and fictional portrayals.
1. Banksy Most Wanted (2020)
Directed by Paris-based filmmakers, Seamus Haley, Laurent Richard and Aurélia Rouvier. Banksy Most Wanted (2020) takes a journalistic approach to tell the story of the man dubbed as the "Robin Hood of the art world." The film presents viewers with a collection of archive footage, interviews, and news reports that explore the enigmatic street art icon's rise to fame, signature art, mysterious identity, and cultural and political impact.
Lucy Mangan of the Guardian reviewed the movie, saying "Rouvier and Richard's film covered a lot of ground enthusiastically, intelligently and as unpretentiously as I've ever seen it done."
2. Caravaggio (1986)
Caravaggio (1986) is a fictional portrayal of Italian Renaissance artist Michelangelo Merisi da Caravaggio, known for his dramatic use of chiaroscuro. Set in the 17th century, Nigel Terry plays Caravaggio, who gives audiences a look at the Baroque painter's turbulent life, different lovers, and reckless behavior. The movie also stars Sean Bean, Tilda Swinton, and Robbie Coltrane.
Art lovers will love this film for its recreation of Caravaggio's visual aesthetic. Andrew L. Urban of Urban Cinefile reviewed the film, calling it a "fabulously evocative recreation of the light/shade luminosity of Caravaggio's oil paintings."
3. Marcel Duchamp: The Art of the Possible (2019)
Written and directed by Matthew Taylor, Marcel Duchamp: The Art of the Possible (2019) is a documentary that will take you into the life and impact of Marcel Duchamp, the French artist best known for disrupting the art world with his "readymades" philosophy of art.
Wendy Shreve from Featuring Film reviewed the film, describing Director Matthew Taylor as having "assembled an impressive array of international art historians/scholars to illustrate Duchamp's evolution."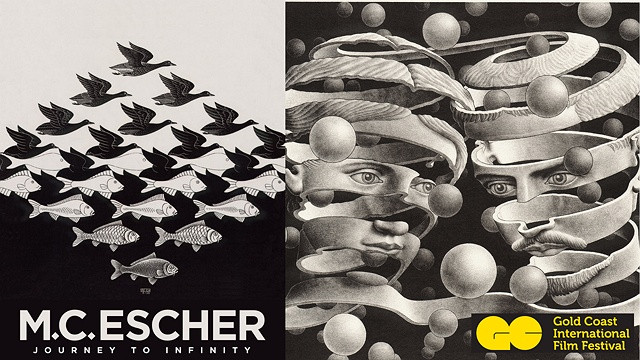 4. M.C. Escher: Journey to Infinity (2019)
Written, produced, and directed by Robin Lutz, M.C. Escher: Journey to Infinity (2019) is a documentary that covers the entire career of Dutch illustrator and printmaker M.C. Escher. The film examines Escher's methods and interests. Look forward to animations that help illustrate Escher's perspective, Stephen Fry's voice-overs, and interviews by the artist's sons, George (92) and Jan (80).
Peter Bradshaw of the Guardian raves over this film, saying "It's impossible not to be a fan." Owen Gleiberman of Variety describes the documentary as "an art book that comes to life."
5. Lifeline: Clyfford Still (2019)
Lifeline: Clyfford Still (2019) takes us on a creative journey into the life of Abstract Expressionist Clyfford Still. Directed by Dennis Scholl, the film features a collection of found footage, including audio recorded by Still himself. Also expect interviews from artists inspired by Still's legacy, along with Scholl's conversations with Still's two daughters.
6. Surviving Picasso (1996)
Surviving Picasso (1996) is a biographical film starring Anthony Hopkins as Pablo Picasso. The R-rated movie chronicles his romance with Françoise Gilot, played by Natascha McElhone.
Edward Guthmann from the San Francisco Chronicle described the film as "an absorbing look at emotional tyranny, with a great screenplay." Michael Wilmington from the Chicago Tribune reviewed the movie, calling it an "intelligent, beautifully crafted and engrossing Ismail Merchant-James Ivory biographical portrait of the century's most famous and successful painter."
7. Girl with a Pearl Earring (2003)
Scarlett Johansson plays Griet, the woman who goes to work for painter Johannes Vermeer (Colin Firth). Directed by Peter Webber, the biographical drama tells the story of their unlikely friendship which ultimately produces the iconic Girl with a Pearl Earring painting.
Anthony Lane of The New Yorker praises the film, saying, "What keeps Webber's movie alive is the tenseness of the setup (will this girl stay in the artist's household, and, if so, will she become his lover or his muse?), and, above all, the presence of Johansson."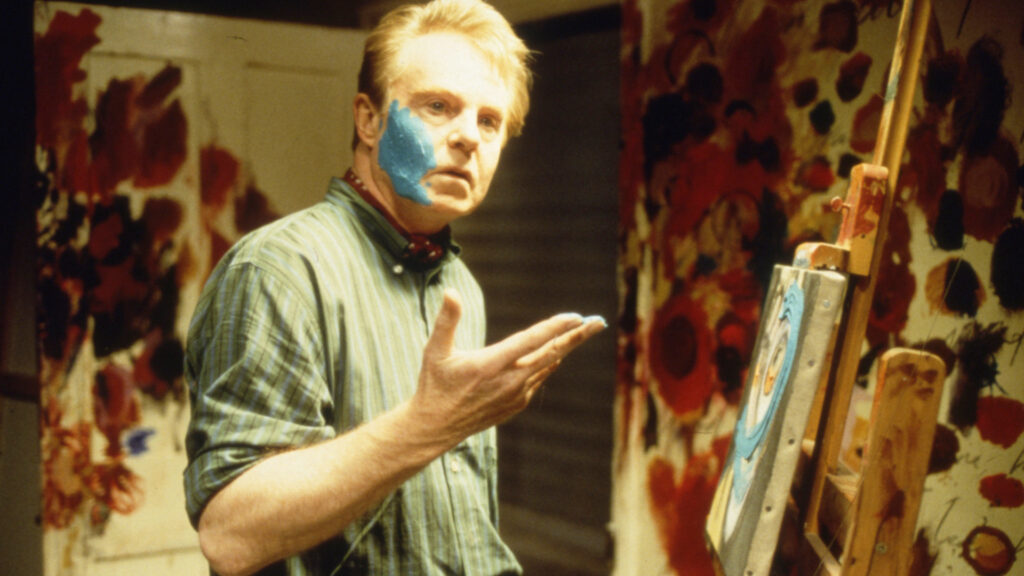 8. Love Is the Devil: Study for a Portrait of Francis Bacon (1988)
Love is the Devil is a biopic of Francis Bacon, focusing on the painter's tumultuous romance with George Dyer. Bacon is played by Derek Jacobi while the role of Bacon's lover George Dyer is played by Daniel Craig. The cast also includes Tilda Swinton.
Roger Ebert of the Chicago Sun-Times reviewed the movie, saying, "Maybury and his cinematographer, John Mathieson, make the film itself look like a Bacon… A viewer who has never seen a Bacon would be able to leave this film and identify one instantly in a gallery."
9. At Eternity's Gate (2018)
At Eternity's Gate (2018) is described by The New York Times as "an exquisite portrayal of van Gogh at work." In the biopic directed by Julian Schnabel, Willem Dafoe plays Vincent van Gogh. The film focuses on the tormented artist's final years.
The film earned Dafoe multiple Best Actor nominations and was nominated as Best Film at the Venice Film Festival. Donald Clarke from the Irish Times reviewed the film, saying "Schnabel, himself a painter, is going for an internal portrait, and At Eternity's Gate comes as close to that as we could have hoped."
10. The Painter and the Thief (2020)
Directed by Benjamin Ree, The Painter and the Thief is a documentary about Czech artist Barbora Kysilkova who develops an unlikely friendship with the Norwegian thief who stole two of her paintings from an art gallery in Oslo.
The Daily Beast's Nick Schager describes the film as a "true-crime tale reconfigured into a unique relationship saga, replete with twists, turns, heartbreak, failure and redemption that's as surprising as it is well-earned."
11. Night Watching (2007)
Written and directed by Peter Greenaway takes audiences into Rembrandt van Rijn's professional and romantic life with the movie Night Watching (2007). The film is rated R for its strong sexual content, language, and graphic nudity. Martin Freeman plays the lead role as Rembrandt van Rijn, the Dutch painter and printmaker often regarded as the greatest artist of Holland's "Golden Age."
Trevor Johnston of Time Out calls the film "not just Greenaway's best film in years, but one of his best films, period" while Adam Smith of Empire Magazine calls the movie a "speculative but gorgeously presented account of Rembrandt's creation of his masterpiece with Martin Freeman on cracking form."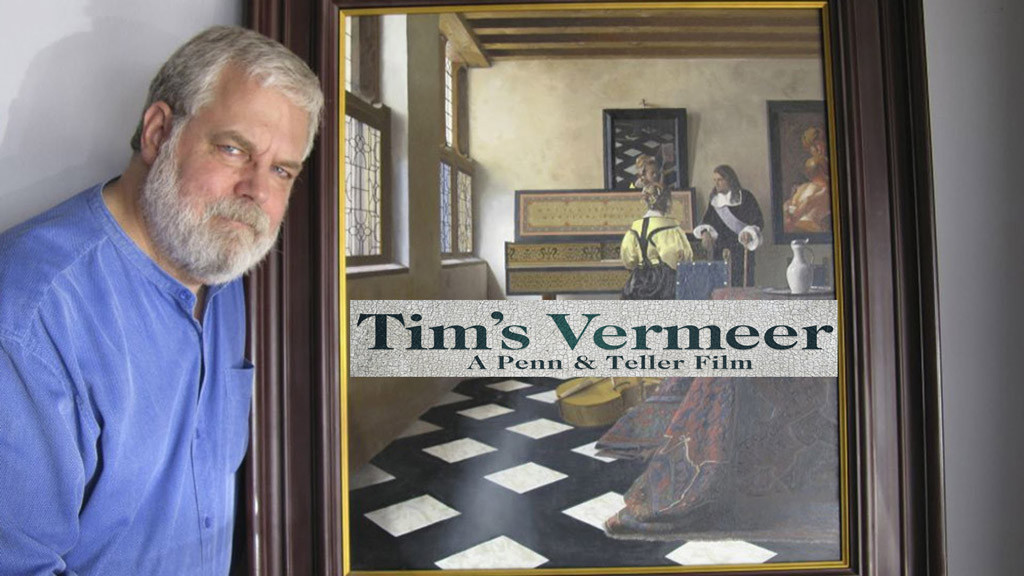 12. Tim's Vermeer (2013)
Written by Penn and Teller and directed by Teller, Tim's Vermeer is a documentary on the experiments that inventor Tim Jenison conducted to discover the secrets behind 17th-century Dutch Master Johannes Vermeer's ability to achieve photographic realism in his paintings. The movie explores more than just art history but emphasizes technology and technique.
Marc Salov of the Austin Chronicle understands the need for Penn and Teller to tell this story, saying "It's obvious in hindsight why Penn and Teller would be so drawn to this ethereally beautiful mystery: Their passion for all things seemingly magical, often mechanical, and always amazing is practically their trademark."
13. Mr. Turner (2014)
Written and directed by Mike Leigh, Mr. Turner (2014) is a biopic about eccentric British painter J.M.W. Turner. Turner is played by Timothy Spall. The film examines the last 25 years of Turner's life, including his relationship with his loyal housekeeper (portrayed by Dorothy Atkinson) and romance with twice-widowed Sophia Booth, played by Marion Bailey.
Moira MacDonald from the Seattle Times gives her review of the film, saying "You leave "Mr. Turner," as with all good fact-based films, wanting to know more about this man and his work – and remembering that beautiful, almost touchable light, on the canvas and on the screen."
14. Modigliani (2004)
Modigliani (2004) is written and directed by Mick Davis. Set in Paris 1919, the movie's plot focuses on the bitter rivalry between Pablo Picasso (Omid Djalili) and Italian artist Amedeo Modigliani (Andy Garcia).
Rex Reed of the Observer calls Modigliani "a film of vitality, with imagery as haunting and romantic as it is intense."
15. Basquiat (1996)
Directed by Julian Schnabel, Basquiat (1996) is a biographical portrait of graffiti artist Jean-Michel Basquiat, played by Jeffrey Wright. The film follows Basquiat's rise to fame in the New York art scene and troubled life in the 70s and 80s. Also starring in the movie are Benicio Del Toro, Claire Forlani, Dennis Hopper, and David Bowie who plays Andy Warhol.
Jonathan Rosenbaum from the Chicago Reader lauds the film for not having a "boring shot anywhere" while Roger Ebert of the Chicago Sun-Times says that Jeffrey Wright "gives a performance of almost mystical opacity."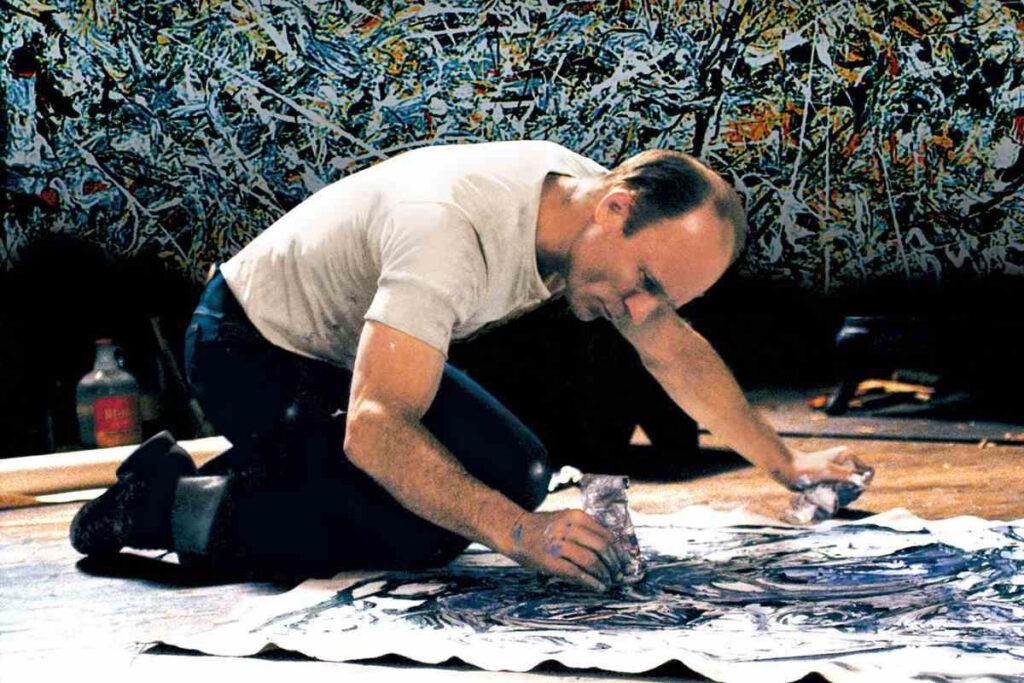 16. Pollock (2000)
Directed by Ed Harris, Pollock (2000) takes audiences on a journey into the life of the artist who was once dubbed as the "greatest living painter in the United States." Ed Harris also stars in the film, playing Jackson Pollack himself. Playing instrumental roles are Marcia Gay Harden as Lee Krasner and Jennifer Connelly as Ruth Klingman.
Neil Smith of BBC.com calls the film "a highly personal, rigorous, and thoughtful analysis of a truly troubled genius."
17. Rodin (2017)
The 2017 film Rodin is set in 1880 Paris, following the story of 40-year-old sculptor Auguste Rodin when he first receives what would become his most recognized creations, The Gates of Hell. The French film is directed and written by Jacques Doillon and stars Vincent Lindon as Rodin.
18. Museum Town (2019)
Museum Town (2019) is available in virtual theaters. Directed by Jennifer Trainer, the documentary is about the Massachusetts Museum of Contemporary Art (MASS MoCA), the largest museum for contemporary art in the world.
Lovia Gyarke from The Hollywood Reporter recommends the film "for those even mildly curious about the story of one of the country's largest visual and performing arts spaces."
19. Renoir (2012)
Directed by Gilles Bourdos, the French film Renoir (2012) portrays the life of leading Impressionist painter Pierre-Auguste Renoir at a time when his wife had just died, his son was wounded in battle, and he meets Andrée Heuschling, the woman who would become his last model.
Tom Long from the Detroit News reviewed the film, saying, "With its warm colors and sweet streams of light, its love of both the countryside and the human form, it makes you dream of painting. Or making movies. Or just luxuriating in the brilliance."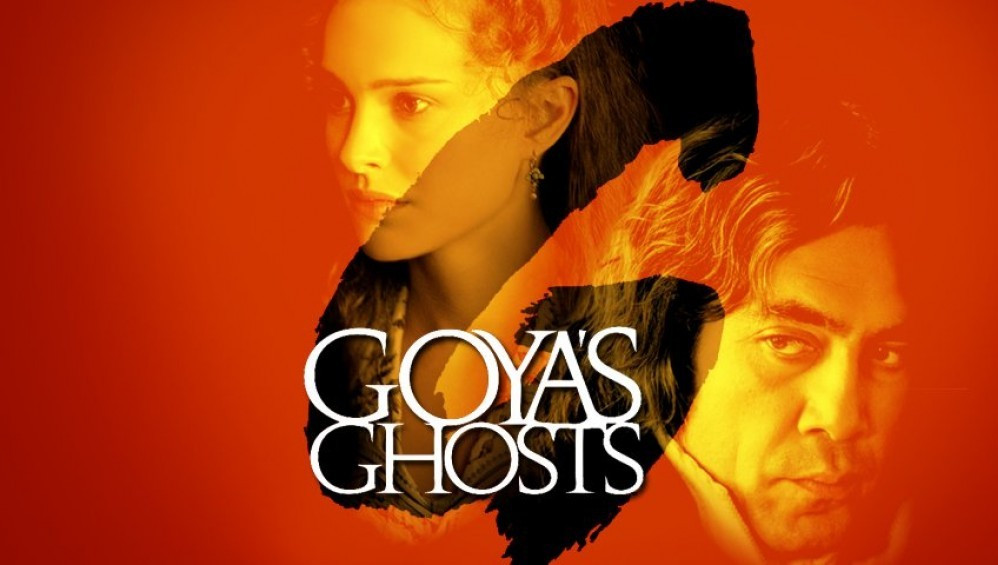 20. Goya's Ghosts (2006)
Goya's Ghosts (2006) was directed by Milos Forman and boasts a stellar cast, including Javier Bardem, Natalie Portman, and Stellan Skarsgård. The historical drama follows the story of Brother Lorenzo who arrests Spanish romantic painter Francisco Goya's muse.
Marjoris Baumgarten of the Austin Chronicle says "Goya's Ghosts uses the lives of artists and historical figures to show us the best and the worst of our human impulses."
21. Black Art: In the Absence of Light (2021)
Directed and produced by Sam Pollard, Black Art: In the Absence of Light is available on HBO Max(free with subscription). The film follows the contributions of various Black American artists, following two centuries of art by African Americans.
Forbes calls the HBO Original Documentary a "powerful introduction for mainstream audiences to a small cross section of the countless brilliant Black visual artists working today with a whiff of the genius that preceded them."
How many of these must-see art films have you already watched? We'd love to hear your thoughts and whether you agree with the critics.