Andy Warhol's iconic Shot Sage Blue Marilyn (1964) painting has recently secured the world-record price for artwork at auction. Warhol's portrait of Marilyn Monroe painting sold for $195 million in under four minutes — beating the record previously set by a 1995 Pablo Picasso painting that auctioned for $179.4 million in 2015. The 40-by-40-inch acrylic and silkscreen ink-on-linen work was previously estimated at $200 million, with Chairman of Christie's 20/21 Art Departments Alex Rotter referring to the painting as the "most significant 20th century painting to come to auction in a generation." The buyer of what is now the most expensive artwork to ever sell at auction remains unidentified.
The names Andy Warhol and Marilyn Monroe are some of the most recognizable in the world. Marilyn's one of the most recognized actresses of all time, and Warhol remains as one of the most important artists in the contemporary art market and its history. But who was Marilyn Monroe and who was Warhol? The question of what made both such a phenomenon is as elusive as their tragic private life. Were they both a genius, or was it that they were the right person at the right time? Let's take a look at the story of Andy Warhol and Marilyn Monroe and see if there is any connection with the world of art.
Immortalizing Marilyn, the Mystery and the Muse
When we think of Marilyn Monroe, we're reminded of iconic black and white images of the bombshell wearing a white dress standing above a subway grate — playfully fighting the upward breeze that was blowing up her skirt. We also think of the sultry woman singing a birthday song to President John F. Kennedy in a breathless, seductive voice. But it's thanks to Andy Warhol that generations would also recognize Marilyn for her signature blonde hair, full red lips, and the mole on her cheek.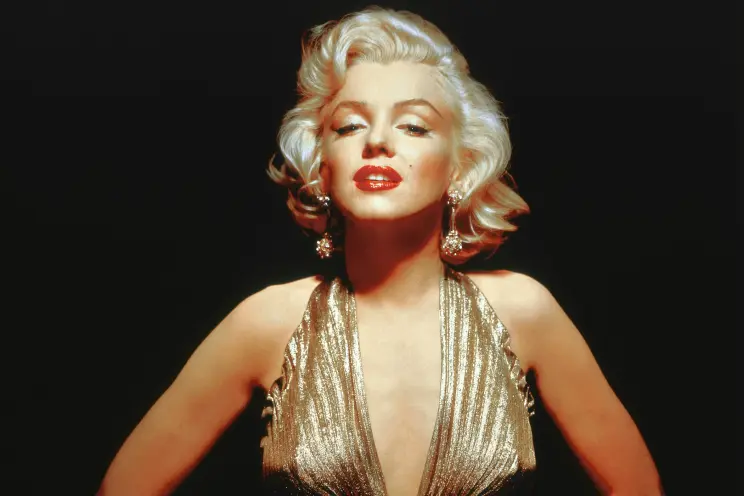 Marilyn Monroe was born Norma Jeane Mortenseon on June 1st, 1926. And by the 1950s, she was one of the most sought-after Hollywood stars and a recognized sex symbol thanks to her hourglass figure and femme fatale persona. She was loved for her comedic "dumb blonde" roles. And in 1959, Marilyn won a Golden Globe for Best Actress for her part in the romantic comedy Some Like It Hot. But on August 4th, 1964, just three years after being recognized as an accomplished actress, Marilyn was found dead in her bed. She was only 36.
Marilyn Monroe led a glamorous yet tragic life. She never knew her father and didn't even have a name to know him by. Her mother, Gladys Baker, already had two kids when she had Marilyn and left her in the care of foster parents two weeks after she was born. Baker was diagnosed with paranoid schizophrenia and spent time in various institutions throughout her life. Marilyn bounced around foster homes. In her teens, she was discovered by a photographer, which introduced her to a job in modeling and later, movies. Because of the instability of her work, she agreed to pose nude — a decision that would put her career at risk as she began to rise in fame.
Following a long-distance romance, Marilyn married baseball superstar Joe DiMaggio in 1954. Reportedly, DiMaggio was possessive and hated his wife's sexy symbol reputation. And it was the iconic subway grate scene that ultimately broke their marriage, resulting in divorce. Her career would be marred by stories of how Hollywood exploited her. Despite having been married three times during her short life, Marilyn, who longed to have children of her own, never became a mother. She suffered two miscarriages and an ectopic pregnancy. Marilyn was also believed to have been involved in many scandalous affairs, including intimate relationships with both Bobby and John F. Kennedy. She was known to be a heavy drinker and misused painkillers. And it has been reported that she took pills to manage her depression and insomnia.
News of her death shocked the world. At the time, an official coroner ruled her death as a possible suicide or accidental overdose. However, claims and inconsistencies would raise public suspicion, leading to rumors that Marilyn was murdered, and the FBI covered it up. And with so many conspiracy theories circulating the real cause of her death, the case was even reopened in 1982 — proving the enduring fascination and curiosity surrounding the life and death of Marilyn Monroe.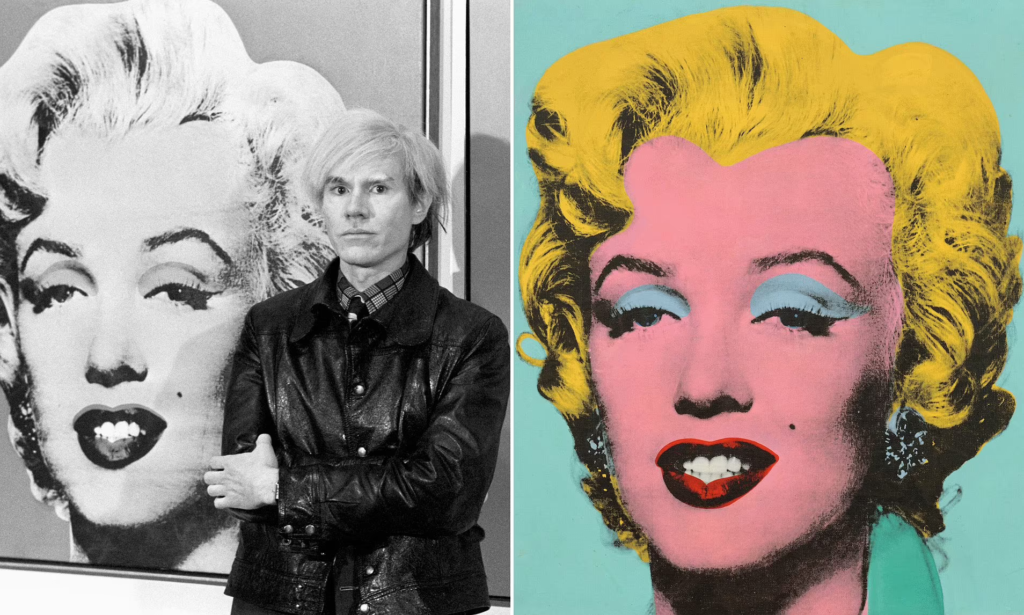 The Coincidental Combination of Two Cultural Icons
Shot Sage Blue Marilyn was one of the many canvases Warhol made of Marilyn Monroe using his screen-printing technique. There are at least 23 silkscreen paintings of Marilyn, ranging from monochrome to highly colorful palettes. Warhol made rubber stamps for his silkscreen process by using a black and white publicity photo from her 1953 movie, Niagara. Marilyn was 26 in the image; thus, immortalizing Marilyn at an age in which she was the most marketable star in Hollywood. It was the age that Marilyn cemented her hand and footprints at the Grauman's Chinese Theatre and was featured on the cover and centerfold of her first Playboy issue.
Through the years, art historians and experts have theorized the symbolism behind the Marilyn paintings, speculating that Warhol was intentional with his message. Why did Warhol use those specific colors, composition, and celebrity? Warhol revealed in a 1980 interview, "My first experiments with screens were heads of Troy Donahue and Warren Beatty, and then when Marilyn Monroe happened to die that month, I got the idea to make screens of her beautiful face — the first Marilyns." And with a response as casual as that, it would suggest that Warhol's decision to use Marilyn was purely coincidental. And had she not died in the month that he was perfecting his silk-screening technique, a different celebrity's face would have been linked to a historic sale.
Unlike Marilyn's enigmatic life and death, there's little mystery as to why Warhol chose Marilyn. For decades, people have overanalyzed Warhol's motivations, pushing there was more sentiment and meaning behind his choices. When Warhol produced Campbell's Soup Cans (1962), people also attempted to rationalize why the artist decided to paint a series of soup cans. The truth is that Warhol's success has much to do with his depictions of recognizable images, such as a well-loved soup brand or famous celebrities.
Andy Warhol, himself, did not live an easy life. Born relatively poor in 1928, Warhol suffered from Sydenham chorea, a neurological disorder, as a child. He contracted the infectious disease when he was 8, causing him to become bedridden. Unable to go to school for weeks, Warhol spent his time drawing and indulging in comic books and popular magazines. Perhaps these were the beginnings of Warhol's fascination with celebrity culture and fame.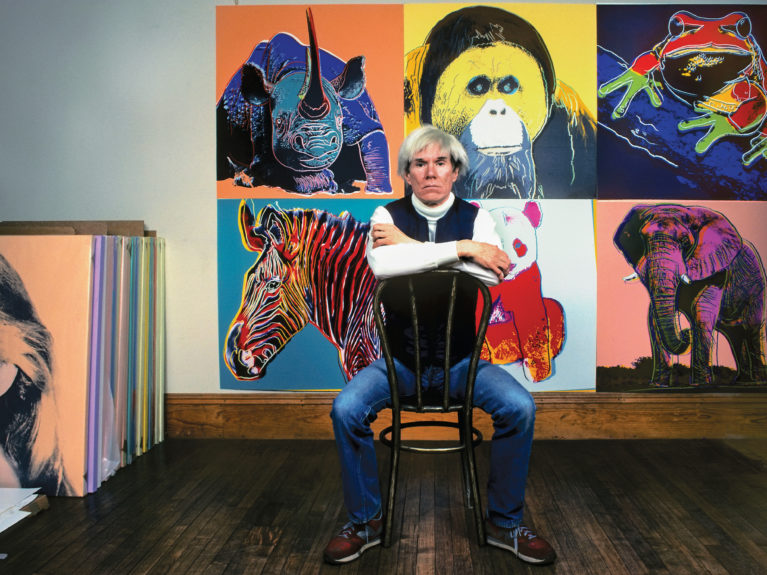 In 1949, Warhol received a degree in Pictorial Design from Carnegie Mellon University, formerly known as Carnegie Institute of Technology. He moved to New York to chase his dream of becoming a commercial artist and gained impressive clients such as Tiffany & Co. and Harper's Bazaar. So by the early 1950s, Warhol was able to produce his own artwork. Throughout the 1960s, Warhol was at the height of his career and embraced by the art community. His radical approach to art making made him instrumental in the Pop Art movement.
Famously living as an open gay man, Warhol was well-known for always being surrounded by celebrities, drag queens, industry leaders, the elite, and what would be known today as "influencers." But his overexposure in the public would change dramatically in 1968, when aspiring playwright and radical feminist Valerie Solanas shot Warhol three times in his studio; the bullets piercing both of his lungs, esophagus, spleen, liver, and stomach. And while Warhol survived, the artist would suffer from complications for the rest of his life. 
Following the mental and physical trauma from the shooting, the 1970s were a much quieter period in the artist's life. And in 1987 at only 58, Warhol died after a relatively simple gallbladder surgery. Much like Marilyn, there was much speculation surrounding his death. According to reports, Warhol appeared to be doing just fine after the operation and was even making calls. But just two hours after a nurse had last checked on him, Warhol was blue and unresponsive. An autopsy later revealed that Warhol had suffered from severe arrhythmia; his heart twitched and gave up. The shocking news of Andy Warhol's premature death was on the cover of newspapers all over the country. The New York Post called him the "Prince of pop art who turned a soup can into a museum treasure." And the photo that was used for the headline was of Warhol standing next to one of his famous Marilyn paintings.
Warhol's choice to depict Marilyn may have been a coincidence due to the timing of her death. However, it's doubtful that the staggering price tag that Shot Sage Blue Marilyn achieved was solely because it was a Warhol piece. And it's just as unlikely that the unidentified buyer bought the painting simply because it was a depiction of Marilyn. What makes Shot Sage Blue Marilyn so valuable is that it is the fusion of two cultural icons – Andy Warhol, the most influential figure in the Pop Art movement and an exceptional media whiz, and Marilyn Monroe, one of the most emblematic sex symbols of all time. Undoubtedly, the new owner of this iconic art will now be privileged to own two remarkable legacies like no other.