The most common media of art include oil paints, watercolors, ink, or marble, bronze, and clay. Cai Guo-Qiang's medium? Gunpowder and explosives.
"Throughout Chinese art history, some artists have been pursuing their own artistic language and how to use this language to convey and connect," Cai Guo-Qiang explains. And the language that Cai has chosen to express his art sizzles, crackles, and pops.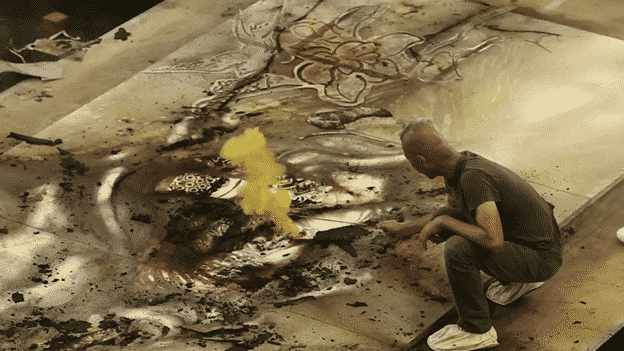 Fascination for Fire and Pyrotechnic
Cai Guo-Qiang is Quanzhou-born, New York-based artist who has made a name for himself for his "explosive" drawing technique. His paintings are created by detonating long trails of gunpowder on paper. And the best part is that they're ignited in front of a live audience who despite the alarming pops of explosives and proximity to flammable substances choose to witness art in the making.
"The most powerful artwork is when there's fear," Cai Guo-Qiang tells CNN. Growing up during China's notorious Cultural Revolution era (1966-1976), witnessing explosions and blasts from frequent social upheavals was personal memory for Cai.
But it was while living in Japan between 1986 to 1995 that Cai would start exploring the properties of gunpowder in his drawings. Eventually, he would start experimenting with explosives and his signature "explosion events" would burst into the art scene.
According to the artist's website, "These projects and events aim to establish an exchange between viewers and the larger universe around them, utilizing a site-specific approach to culture and history."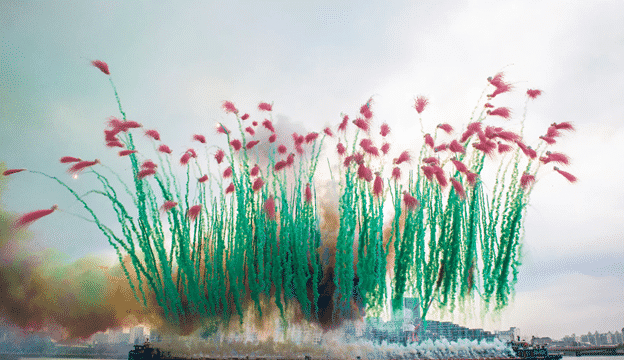 Offering Fireworks Sculpture
Some of Cai Guo-Qiang's most mention-worthy works include the Odyssey, a permanent gunpowder drawing for the Museum of Fine Arts and Black Ceremony, his largest ever daytime explosion event. And his work as the Director of Visual and Special Effects for the opening and closing ceremonies of the 2008 Summer Olympics in Beijing was televised worldwide, giving his "fireworks sculpture" an incredible audience of 1 billion people. 
Perhaps one of his most ambitious and most spectacular projects to date was his 1,650 foot ladder in the sky that was held aloft by a large weather balloon. Rigged with fireworks and explosives, igniting the massive art installation would create a fiery ladder that towered in the sky.
While there were only a couple hundred people present to witness it live when Cai's Sky Ladder finally succeeded in June 2015, the video of it wouldn't be leaked online until months later. That video, however, would gain 30 million views in a matter of 2 days.
Fiery Spirit Rising to Heaven
But what those millions of online viewers may not know is that Cai's Sky Ladder vision took two decades to be realized. It was a dream that he may have given up on after his first attempt had it not been for his "biggest supporter," his grandmother.
And now that Cai's two-decade long Sky Ladder dream has been fulfilled and even featured in the 2016 2016 Netflix documentary Sky Ladder: The Art of Cai Guo-Qiang, we wonder what is next for Cai and how he will top the 1,650 spectacle that lit up the sky and gave the world an 80-second glimpse of what a man-made "stairway to heaven" would look like.