When it was confirmed in 2021 that Casino di Villa Boncompagni Ludovisi, best known as Villa Aurora, would be auctioned with a starting price of approximately $547 million, it piqued the interest of not only real estate investors but of historians and the art world.
Situated near the iconic street, Via Veneto, Villa Aurora is a 32,000-square-foot-home that dates to the 16th century. But what makes the property most impressive and worthy of demanding a substantial price tag is the Michelangelo Merisi da Caravaggio ceiling mural that spans about 30 square feet above one of the villa's rooms. The oil-on-plaster mural was commissioned by Cardinal Francesco Maria Del Monte in 1597. The painting alone, which depicts the Roman gods Jupiter, Neptune, and Pluto, has an estimated value of over $360 million, according to Alessandro Zuccari, the art history professor who the tribunal summoned to assess the painting's value. Zuccari concluded his evaluation by saying that the Caravaggio is "priceless, being the only mural by one of the greatest painters of the modern age."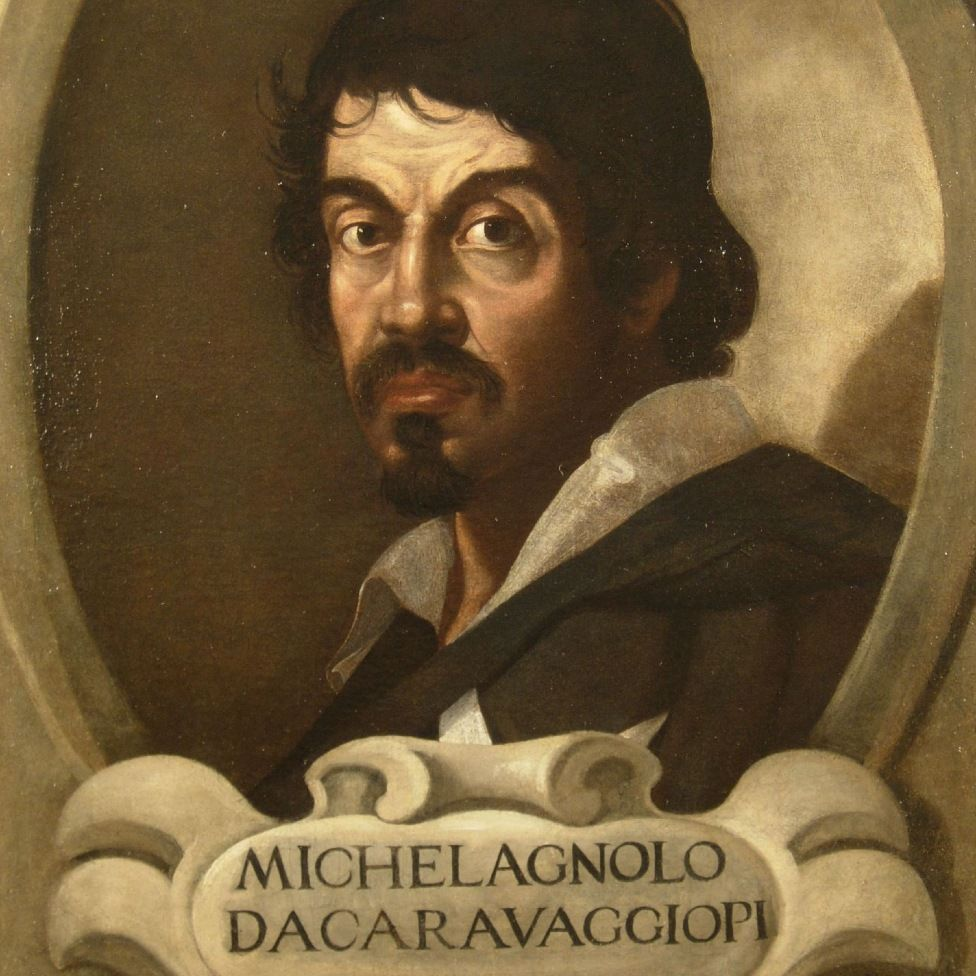 The Tumultuous Beginnings of a Volatile Innovator
Born in 1571, Caravaggio was named Michelangelo Merisi and grew up during a time when Europe was overwhelmed with plague-wreaked homes and streets. Caravaggio became orphaned at only ten years old when his father, mother, grandfather, and grandmother succumbed to the Black Death within a 4-year-span. By 12 or 13, Caravaggio became the apprentice for Italian Mannerist painter Simone Peterzano. The signed 1584 contract between Caravaggio and Peterzano wasn't discovered until 1927, in which it detailed the 4-year arrangement between master and pupil.
Caravaggio's time with Peterzano laid out the Mannerism foundation from which his Baroque style would emerge. By his early 20s, Caravaggio had already gained the attention of the Catholic Church, which at the time was in the midst of the Counter-Reformation, a crusade to save the church from Protestantism. Caravaggio joined a program with other painters and sculptors whose works would emphasize Catholic dogmas.
Caravaggio completed The Calling of St. Matthew, along with its companion, The Martyrdom of St. Mathew, in 1600. With a desire to depart from Mannerism, Caravaggio differentiated himself from his contemporaries by replicating real-life scenes of faith through realism using live models throughout his career. Dramatic lighting and shadows were ever-present in Caravaggio's work, helping create a dimensionality that intentionally drew the eye. And while his rejection of the Renaissance and emerging art style rocketed him into popularity, it also drew criticism from devout Catholics, including the lower and middle class citizens he included in his painted scenes.
Insisting on painting real-life depictions of biblical themes, most of Caravaggio's works were high-drama, brooding, and vulgar scenarios that shocked the public. The first of his gory depictions was Judith Beheading Holofernes, in which Caravaggio represents his interpretation of the moment Judith decapitates the intoxicated Assyrian general Holofernes. While there have been many depictions of that theological scene where Judith is represented as beautiful and pure, what makes Caravaggio's version powerful is the expression on Judith's face – an uncertain look that was equally irritated and repulsed. Caravaggio studied the sudden reactions of the people around him, giving him this ability to capture a level of authenticity often unseen before. Judith Beheading Holofernes was just the beginning of Caravaggio's visceral biblical representations. He would paint David with the Head of Goliath and The Beheading of Saint John the Baptist – both of which depict scenes as their titles imply. In Doubting Thomas, we see the scene from the bible in which Thomas doubts the resurrection of Jesus Christ. With incredible detail, Caravaggio painted Jesus guiding Thomas's unquestionably dirty finger into his open wound. Using his emblematic chiaroscuro technique, much of the light illuminates around Jesus, drawing attention to the intensity and depth of the gaping laceration in his torso.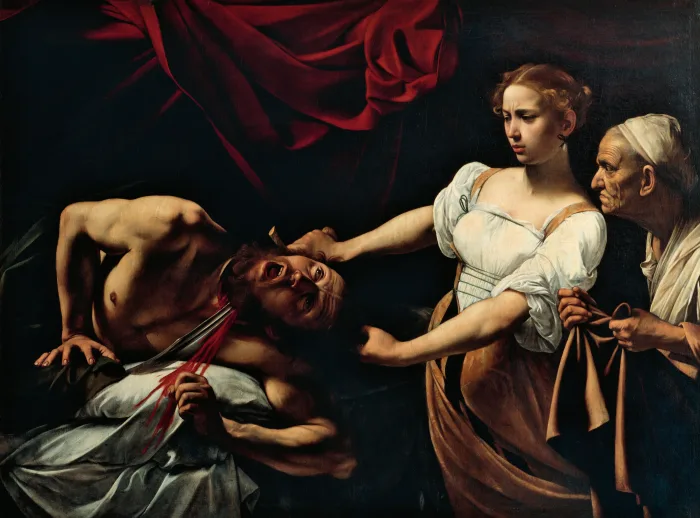 Fury on Canvas and In Life
Caravaggio was famously known to produce work quickly, staying up for weeks at a time to create large-scale paintings. He preferred to use live models, even pulling people from the streets to pose for his canvas – including prostitutes and drunkards. But his intensity, fury, and rebellious nature weren't only reserved for his work; Caravaggio was also a troublemaker in life who engaged in fights and quarrels. Caravaggio was a violent man who had been brought to trial at least 11 times on charges ranging from carrying an unlicensed sword to cursing at a constable. He also beat a man with a stick, threw a plate of artichokes at a waiter's face, and broke his rented room's window shutters.
Caravaggio was also issued a death warrant for the killing of Ranuccio Tomassoni. Art historians have debated over the reason for the brawl. But whether it began with a fight over a tennis match and lost bet or a disagreement over a prostitute, the altercation ended with a dead Tomassoni. And while Caravaggio insisted he did not intend to kill Tomassoni, the barber-surgeon who examined the corpse found that Tomassoni had bled out through the femoral artery in his groin – suggesting that Caravaggio had tried to castrate him with his sword.
With a death warrant issued for Tomassoni's murder, Caravaggio fled to Naples to escape execution in 1606. Protected by the powerful Colonna family, Caravaggio continued to paint and earned a steady stream of significant commissions, including the iconic The Seven Works of Mercy which is still housed in the church of Pio Monte della Misericordia in Naples today. However, Caravaggio wouldn't stay in Naples for long and would leave for Malta in 1607. It is believed that Caravaggio hoped to gain the favor of the Grand Master of the Knights of Saint John, who could induct him as a Knight and secure his pardon for Tomassoni's murder. The Grand Master commenced correspondence with the Order's ambassador and the Pope, insisting that Caravaggio was "una persona virtuosissima e di honoratissime qualita" or a person of "great virtue and of the most honorable qualities."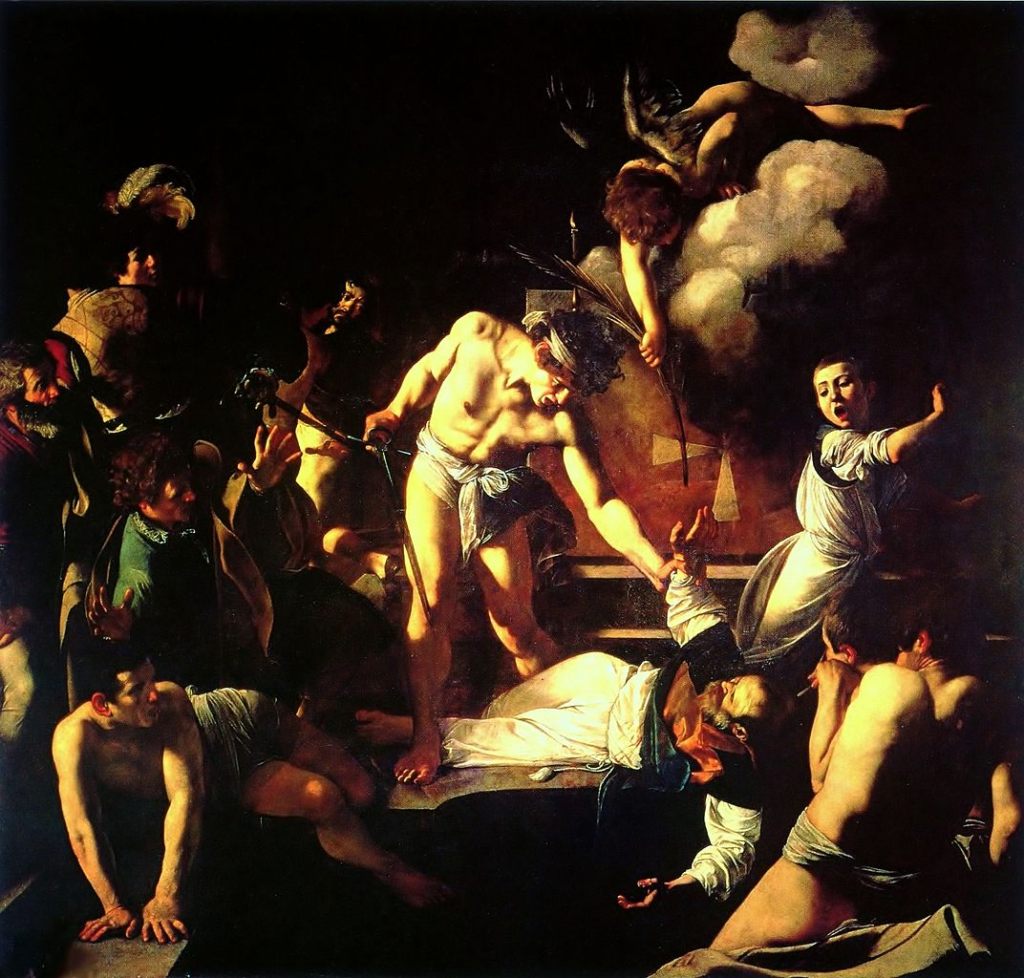 And while Caravaggio did serve as a knight for a brief time, his inability to stay away from trouble ultimately led to his expulsion from the Knights of Malta on charges describing Caravaggio as "putridum et foetidum;" essentially describing Caravaggio as putrid and stinky or rotten. Thanks to his influential connections, Caravaggio was able to escape from prison. However, he was later ambushed and suffered an attack that seriously disfigured his face.
Shortly after, the tumultuous life of Caravaggio came to an end in 1610. He supposedly died of a fever. However, many rumors swirled on the true cause of his death with theories that included syphilis and malaria. In 2010, tests on his confirmed remains suggested that he may have died of lead poisoning. It was later concluded that he died from sepsis, presumably from a wound sustained when he was finally tracked down by the Tommasoni family.
Despite Caravaggio's erratic life, he produced many major works. It was during Caravaggio's time in Malta that he would produce one of his most notable pieces, the Beheading of Saint John the Baptist. And he painted Bacchus while he recovered from malaria.
Inspiring the Baroque, Caravaggio was a scandalous yet innovative genius who left an undeniable impact on the art world. The 17th century saw a rise in artists influenced by Caravaggio's body of work with his stylistic followers, the Caravaggisti or the "Caravagesques," emulating the same tenebrism and chiaroscuro characteristics.
"Michelangelo Merisi, son of Fermo di Caravaggio – in painting not equal to a painter, but to Nature itself – died in Porto Ercole – betaking himself hither from Naples – returning to Rome – 15th of August – in the year of our Lord 1610 – He lived thirty-six years nine months and twenty days – Marzio Milesi, Jurisconsult – Dedicated this to a friend of extraordinary genius."