It is not a well known fact that the genre of digital art has been around for decades. However, digital art has been evolving since the 1960s – it just wasn't called 'digital art' back then. Over the years, people have referred to it as new media art, multimedia art, and computer art.
Today, we know digital art as the process of leveraging digital technology to produce creative works. In the past, there have been conflicting views on digital art, particularly in the fine art category that upholds a rather narrow definition. However, digital art is now embraced as an extensive medium which contemporary artists use to express and tell their visual stories.
However, digital art is more than a mere innovative addition to the artist toolbox, accompanying traditional materials such as paint, brushes, canvasses, clay, and pencils. Because digital imagery is computer-generated or processed by software, digital art has also revolutionized how art is shared and viewed by a wider audience.
Digital artists employ a wide array of methods such as digital paintings and CGI art, which utilizes complex mathematical manipulations. Through these methods, they produce phantasmagorical images that will make you take a step back and check if the images are not actual photographs.
Here are five incredible digital artists who are creating mind-blowing work and are worth keeping on your radar:
1. Oliver Latta aka Extraweg | @extraweg
"My aim is to provoke emotions."
Berlin-based 3D artist, Oliver Latta was born in a small town in East Germany. He works mostly with Houdini, a 3D animation and special effects software that makes it easy for artists to explore multiple iterations as they make changes to refine their work. Houdini also allows artists to create incredibly realistic visual effects.
Extraweg's pervasive use of the color pink doesn't go unnoticed. When asked why he chooses the monochrome pink aesthetic above all other colors, he responded, "The pink colour, like the nudity or the sexual neutrality that we usually see in the videos are only aesthetic resources to visually simplify the videos. I like to bring in to every video a non-threatening tone, and I often use monochrome materials, bright colours and somewhat slowed movements. All these resources are important not to distract too much from the content."
Extraweg's art describes as unconventional as he loves to present human beings doing otherwise mundane things in an "ambiguous and uncomfortable way." To hold viewers mesmerized, he keeps the figures' appearances minimal but focuses on actions or scenes that provoke sensations. As of this writing, Extraweg has 681,000 followers on Instagram. His posts go viral, with his latest works receiving millions of views and thousands of comments. Many have described his work as "disturbing" while admitting they couldn't pull their eyes away.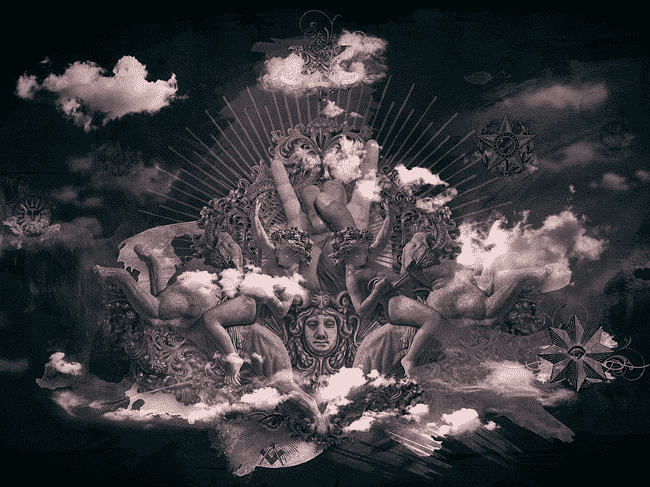 "Each software feature or technique I found led to the creation of a unique picture or design, which fueled deeper, more daring exploration of what was possible in the creative world."
UK digital illustrator Nik Ainley is self-taught and has been producing personal and commissioned illustrations for over a decade. It was while studying physics at university that he discovered his fascination for graphics and digital art. He completed his degree but quickly became a full-time illustrator.
Working with both 2D and 3D software, Ainley often combines and experiments with the two to achieve different abstract results. Using tools such as Transform, Liquify, and Photoshop, Ainley considers the digital art medium as being "virtually limitless" when it comes to creative options.
3. Randy Cano | @randy.cano
LA based artist, animator and 3-D designer Randy Cano has been working on commercial projects for famous brand names such as MTV, Nike, Netflix and Coachella for the past 7 years.
Cano studied Graphic Design at Cal State Long Beach and began creating animations/gifs while he was still a graphic design student. His digital art is composed of a hypnotizing, surreal body of work. His works in which computer graphics meet art have garnered the attention of a quarter million Instagram followers. His perception-challenging video/gif works evoke weirdly familiar and unfamiliar sensations that often liquefy and melt in their rapidly moving disfigurement of human-like figures and everyday objects.
4. Adam Martinakis | @adammartinakis
"/art being a bridge, a connection between the spirit and the material,
the living and the absent, the personal and the universal
/ scenes of the nonexistence, the echo of the living void,
immersed in the metaphysics of perception" – Adam Martinakis
Adam Martinakis has been working with 3D digital imagery, digital sculpture, digital video, and animation for almost 20 years. Martinakis studied Industrial Design, Interior Architecture, and Decorative Arts at the Technological Educational Institute of Athens and has taught digital arts and designs at numerous art institutes.
Martinakis is known for 3D works that depict there imagining of the human body in futuristic environments. His subjects resemble androids with veins that look like threadlike metals. His art often involves beings intertwined, practically melding into one another. In 2017, he was the winner of the international art competition "HighArt2017," and in 2013, he won the Stellar Art Award at Digital Arts: California.
5. DavidMcLeod | @david_mcleod
"A lot of what inspires my work is seeing how people respond to the tangible aspects of the intangible."
New York-based 3D illustrator and artist David McLeod arrived from Australia. He primarily experiments with 3D environments, organic motion, textural CGI illustrations, simulations, and bespoke typography. He describes his work as "driven by a curiosity for exploring new visual territories."
McLeod's creative process primarily utilizes Cinema4D and he has also been learning Houdini. To simulate fluids and fire, he uses a plugin that allows him to recreate the way water flows or how the flame flickers. On why he likes to use these tools to simulate natural elements, McLeod says, "I like to see how that can be pushed into a different direction and used in a way that it wasn't intended for."