The object of art is not to reproduce reality, but to create a reality of the same intensity. – Alberto Giacometti
One of the most admired and famed Swiss sculptor Alberto Giacometti takes the top three spots on the list of the highest-priced sculptures in art market history. L'Homme au doigt (1947) was sold for $141.3 million in 2015, L'Homme qui marche I (1961) for $104.3 million in 2010, and Chariot (1950) for $101 million in 2014.
Recently, the auction house Sotheby's sale added another one of Giacometti's masterpieces on the record list. The Grande femme I (1960), a bronze statue cast only six years before the artist's passing, was sold in an unsual 'sealed bid' sale with the starting price of $90 million. A sealed bid sale is designed to protect the bidders' identity, the final buyer, and the final price of the sculpture.
But what exactly makes Giacometti's sculptures so valuable? How did they become such an obsession for the art world?
The answers may lie in Alberto Giacometti's unique approach to artistry and the management of his legacy.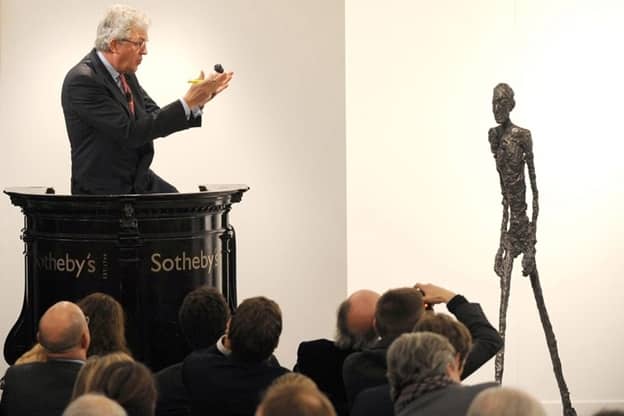 Early Surrealism
Giacometti was born in 1901 to an artist family. His father was a painter, and his brothers sought their creative outlets by becoming artists and architects in their own regard. Alberto studied at the School of Fine Art in Geneva, after which he moved to Paris. Starting from 1922, in Paris, he bonded with Surrealists Max Ernst, Joan Miró, Picasso, Balthus, and Bror Hjorth.
In his Surrealist phase, Giacometti explored the human subconscious, the dark side of the mind, and his own psychological states. The Suspended Ball (1930-31) makes use of actual movement — the ball of the sculpture swings like a pendulum — while the Woman with Her Throat Cut (1932) describes a violent scene of a woman raped and murdered.
These sculptures spark curiosity, questions; they are dreamlike, almost feverish in their design, and unflinchingly brutal. Practically overnight, Alberto Giacometti became one of the leading Surrealist names.
However, almost just as quickly, he had turned his back on the movement. The Surrealist vision didn't align with his own, and Giacometti left the group to pursue the ever-inspirational subject of the human form. Christian Alandete, the Giacometti Institute's creative director, said that after World War II, Giacometti "was not interested anymore in working with fantasy. He wanted to work from reality. He was a solitary artist in the sense that he really had his own vision of what sculpture should be."
In 1935, Alberto Giacometti started on the path of Existentialism.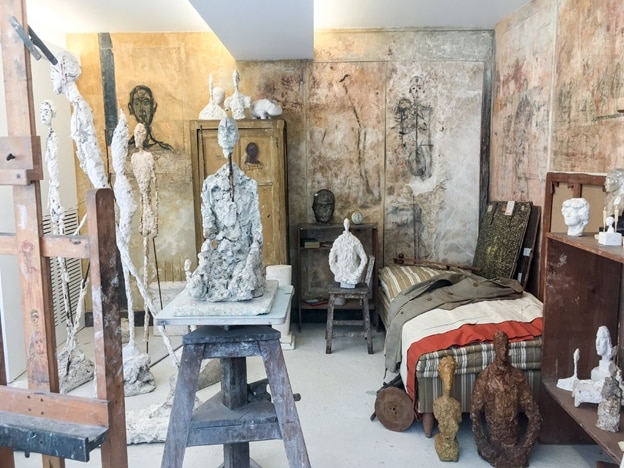 Humanity After Destruction
In post-war Europe, there weren't many good things to hold on to. Giacometti turned to the human form – a representation of humanity, love, community — to make sense of the atrocities that transpired.
Silvio Standing With His Hands in His Pockets (1943) is a notable Giacometti sculpture that represents his nephew, Silvio. It is a quirky statue molded in plaster, small and intimate in size, possibly to allude to a war-torn continent's helplessness and fragility. There is a child-like sense of innocence imbued in the sculpture; a characteristic Giacometti wanted to immortalize in such a destructive time period.
Around 1947, Alberto Giacometti's style evolved into the elongated, emaciated figures that are most highly sought-after and famously iconic that have become the most expensive sculptures ever sold today. L'Homme au doigt (1947), translated to Man Pointing (or Pointing Man), was made for Giacometti's first New York debut — his solo exhibition at Pierre Matisse Gallery opened in January 1948. The following sculptures all bear that same tall and eerily slender shape. These attenuated human forms are emblematically starved figures that have somehow survived against all odds. They are standing upright, pointing, walking (such as in Walking Quickly under the Rain, 1948), or at times speaking.
Unknowable Figures
Jean-Paul Sartre, one of the most famous philosophers of the early twentieth century and a key figure for Existentialism, penned an essay in 1948 about Alberto Giacometti. In it, he said about the artist, "He was the first one to take it into his head to sculpt man as he appears, that is to say, from a distance."
Giacometti's sculptures to many viewers are unknowable. They have no defining features, nothing to identify with. The figures' compression makes it seem like they are seen from afar, from a great distance and disorientation, regardless of how close the viewer is to them. As such, this makes them the uniquely perfect representations of the tenets of Existentialism and its lived experiences — our existential angst, anxiety, and all absurdities. Looking at Giacometti's sculptures, the fundamental existentialist questions arise in the viewer: Who are these people? What is their real nature or identity and where are they heading to? What is their greater purpose? What is the purpose of the existence of both the sculptures and the viewer?
While this deely reflective quality of Giacometti's sculptures draws the attention of intellectuals, art critics, historians, collectors, and appreciators, it can not be the sole reason why they are the most expensive sculptures in the world.
Behind $100 Million
Several things may contribute to the high value of Giacometti's work. The most significant factor by far can be the management of his legacy by the Giacometti Foundation. Throughout the years, the Foundation collaborated with different institutions on shows, projects, and even feature films, such as Final Portrait (2017), directed by Stanley Tucci and starring Geoffrey Rush as Alberto Giacometti. The Foundation also maintains detailed archives, a vast online database, and provides authentication services, which most other foundations have cut back on. As in any other case when an excessive amount of money is involved, there is a business element behind Giacometti's sculptures selling for over $100 million.
Another critical factor that cannot be ignored is the rapidly growing top-end of the art market for the past decades. With ultra-wealthy collectors willing to invest insanely large sums in just a handful of most recognizable paintings and sculptures.
Finally, where does that leave Giacometti's beautiful, haunting sculptures? Are they merely a fad among art collectors and billionaires seeking trophy acquisitions to match their status? Or is there a deeper layer to them?
Regardless of their financial value and sensational auction record news-flashes, the deeply emotional and existentialist connection of Giacometti's sculptures is indisputable for its unique place in the art historical canon. This is particularly evident in his series of sculptures named Women of Venice (1956). These ten female sculptures, standing alone and isolated, embody the essence of human Existentialism in its purest form. They invoke curiosity, reflection, as well as dread and anxiety at times.
Will we ever find out what the meaning of life is? Will we ever learn what comes after death?
While we can continue to seek out all of these answers, no price tag can be placed on the emotional and riveting exploration of the self and the universe that Alberto Giacometti's work awakens in the viewer — each step forward to the unknown truth, L'Homme au doigt.