Art history shows that artists have always sought new art forms and unconventional mediums to express their artistic principles. Various avant-garde movements that started mushrooming in the early20th century fundamentally challenged the traditional perception of art. Artists emerging from these progressive movements introduced new non-artistic materials, like books, magazines, cloths, household items, and many other everyday objects as perfect art mediums, stating that true artists can make artworks out of anything. This is how mixed media art was born, marking an exciting new era in the evolution of art.
The development of technology has continued walking hand-in-hand with progressive artistic concepts and has changed the way art is created and shared, enabling groundbreaking artists and their innovative expressions to gain expanded access to whole new audience groups beyond the conventional boundaries of the art world. We could only ask ourselves whether Andy Warhol's vast oeuvre would have developed in the same direction if it had not been for silk-screen printing technology and readily available cameras?
Nowadays, artists don't use technological innovations only as assistants in their creative process. Many artists and art professionals are transforming the art world by leveraging these powerful technology and tools as an art and design medium, allowing them to create striking, immersive, and highly engaging art pieces that are new and multi-disciplinary mixed media art and installations.
This article will show how the rapid development of advanced digital technology changed the world of art forever, pushing the boundaries of people's perception and understanding of art.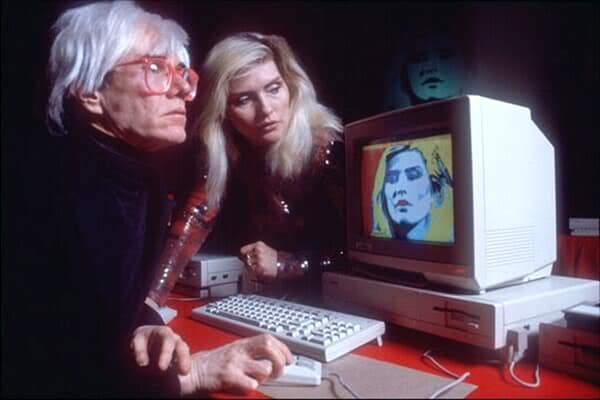 A Short History of Digital Art
People started tackling the idea of blending visual art and technology since the '60s. The first attempt to bring together technology and art in the creative process takes us to 1967. Back then, a group of New York artists including John Cage, Robert Rauschenberg, Robert Whitman, and Yvonne Rainer and more, worked with engineers and scientists from the world-renowned Bell Laboratories to create groundbreaking performances incorporating new technology. These first installations and performances promoting the use of technology in creating art set a cornerstone for further digital art development.
We have already mentioned Andy Warhol as one of the most influential artists who used modern technology, such as, video, film and screen printing to make his art more visible and accessible. However, it is a little-known fact that Warhol was also one of the pioneers of digital art. Namely, he created digital drawings on an Amiga computer to advertise the computer system and their software program as a brand ambassador for the computer company, Commodore International. All of this happened in 1985, but AndyWarhol's digital art pieces were lost and forgotten until 2014 when they were discovered and recovered by artist Cory Arcangel, a NYC based multimedia artist and a fanatic Andy Warhol fan, in the attempt to find and restore the images by staff and student-members of Carnegie Mellon University's computer club. From July 2017 to November2019, the Warhol Museum exhibited these historic pieces of Warhol's groundbreaking digital art using the original medium, a vintage Amiga.
The nineties brought the internet and started the technology revolution. People soon recognized the vast possibilities of this virtual global network, and the digital art scene started booming. The internet helped numerous artists make their artwork more visible, increasing accessibility to worldwide audiences. Advanced technology also enabled the artist to transform and manipulate their artwork, thus becoming a significant art medium.
The new millennium introduced numerous significant digital artists that use advanced technology to make memorable installations and performances. We will mention some of the most significant artists and artistic events to promote technology as an art medium.
1. Digital Revolution
This digital art exhibition, described in the Times UK as the "landmark show," has incorporated diverse digital art forms and gathered all of these groundbreaking art projects within an art gallery, exposing intricate connections among them. Visitors were able to experience profound feelings during this highly-engaging and immersive digital art environment. They used digital images and technological tools to create memorable interactions with the exhibited art and installation programs. The purpose of this artistic event was to celebrate "the transformation of art through technology" by gathering the most significant authors in various digital art genres. Visitors were able to see and enjoy the works and installations of Bjork, Chris Milk, Aaron Koblin, or Rafael Lozano-Hemmer and more.
2. Chris Milk
He was one of the most prominent digital artists who participated in the Digital Revolution exhibition with his interactive and highly popular project Treachery of the Sanctuary. Here, the artist used the interaction between spectators and digital birds on panels to explore the agony and ecstasy of a creative process.
The installation is based on three screens that rise above a black, reflective pool. Visitors stand in front of the first screen and watch as their shadow disintegrates into a flock of flying birds. Then they move to the next screen where they can observe the same birds pecking the remnants of their shadow. The final screen shows how the birds form into wings that visitors can move by waving their arms.
Apart from this magnificent, highly-interactive, engaging digital art project, Milk started an ongoing art project as an homage to legendary Johnny Cash. The idea is that everyone interested creates a portrait of the "man in black," and their piece of art will be incorporated into a massive portrait with other people's artwork.
3. Light Echoes
This is the name of a fascinating digital art project that came as a result of a joint, creative effort of Aaron Koblin and Ben Tricklebank. They used a giant laser beam projector that they placed on the roof of a train moving through California. Then they projected various materials, including pieces of poetry, onto the starry night sky and the scenery. These projections left visible "echoes" on the trails, and they were captured by a long exposure. This resulted in an extraordinary multimedia experience that inspires sincere reactions in audiences.
4. Eric Standley
Eric Standley, an artist and professor of studio art at Virginia Tech uses advanced technology to create stained glass windows out of laser-cut paper. He discovered that multiple layers of laser-cut paper provide a certain depth and three-dimensional effect to his artwork, which mesmerizes him and challenges him to create more intricate designs. The entire creative process starts with complex drawings that Eric then prints out and cuts with a laser. He then layers up the sheets of paper to create the envisioned work of art.
As opposed to many, Standley does not use technology to be more efficient or to alleviate the process of creating art. He stated that he enjoys using this art medium because technology is helping him widen his artistic vision and create more complex pieces.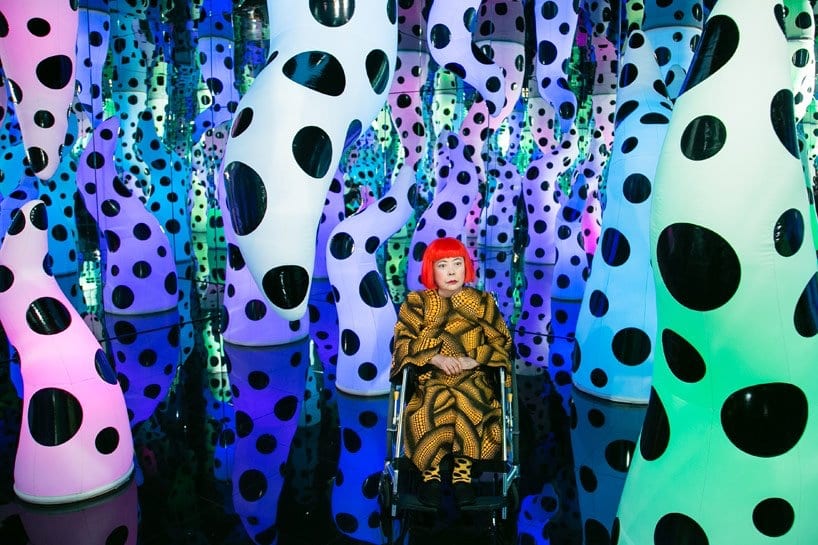 5. Yayoi Kusama
We decided to finish this list of outstanding digital artists and projects with an homage to a woman who impacted many fields of art during a long and versatile artistic career spanning well over half a century. Yayoi Kusama experienced severe traumas as a child that incited hallucinations like flashes of colorful light or an array of dots before her eyes. Because of her traumatic childhood and early life, she started experiencing obsessive-compulsive episodes she could not control. She creates art that painfully reflects the troubles she has gone through, and her work has made her audience sympathize with her.
One of her most poignant art installations are the "Infinity Mirror" rooms. These cube-shaped rooms covered in mirrors with water on the floors and only faint flickering light presented a contrast between life and death. Visitors are then transferred to another space of quiet and pulsating light where she could control their perception of light and darkness. Some experts stated that this was the artist's way of coping with the fact that she couldn't control many things in her life.
Not all art performances that use the technology have to evoke painful personal feelings to represent a dramatic and immersive art experience. For example, created by artists collective Umbrellium, Assemblance is a digital art performance that substitutes paintbrushes with laser beams. These lights leave colored marks on the ground and the people who are moving through them. The essential idea was to show people that they have to work together to create a lasting shape. The author's point was also in that building something valuable required serious effort that could be easily destroyed by one aggressive action.
Conclusion
All these fascinating artists and their artwork prove how advancing technology is transforming the art world and the perception of art. Technology has also given more people access to the arts, giving art enthusiasts and collectors platforms to build their art collection and share with others. Technologies and social media have also revolutionized the traditional art scene by allowing people to express their deepest emotions and beliefs through interactive and highly-engaging digital art pieces and projects.
From AI (Artificial Intelligence), VR (virtual reality) and AR (augmented reality) to digital designs and 3D printers, technologies and social media have disrupted the contemporary art and art market in so many different ways, changing how art is created, consumed and shared in our connected world. Besides being a versatile and expressive art medium, technology helps artists gain much-needed visibility and exposure for their works of art. Numerous online art platforms help them promote their work and stay connected with the artistic community.
Virtual technology brings masterpieces closer to the audience, helping us understand the artistic vision and its history to a broader public. Many world-famous art museums organize online tours to open their doors to global audiences for those who are otherwise inaccessible. Some museums are using technological novelties to develop mobile apps that answer visitors' questions right at their fingertips. We are excited to see where the application of advanced technology in art is going to take us next. Whatever the future holds, we are sure that it will continue to transform how artists express and share their creative force to inspire and influence the best of humanity.