A virtual art gallery is not just a website that features images of artists' creative work, but an interactive experience that can take many forms. Thanks to advancing technologies, along with consumer trends and radical changes in how art collections are curated, everything is pointing the way towards a wonderful digital future for all creatives.
Artists should consider embracing the digital world because the increased use of tablets and smartphones could make a significant impact on their outreach and sales. And besides the financial aspect, a virtual gallery comes with its own set of advantages that allow artists to showcase their art to the whole world, while art buyers get the chance to see and buy art from the comfort of their home. When everything happens via a digital platform, the concept of a virtual gallery is created, and people start building a community around it.
Why Go Virtual?
Virtual exhibitions and virtual art galleries are not just another type of online gallery that simply shows artwork on a website. It is a beautiful virtual museum of sorts, where viewers can enjoy the full experience of a real gallery and famous paintings, as well as a place to hang out and interact. Since many art aficionados today, and more in the future, may not have enough time to visit a physical gallery, they prefer looking at art in virtual, online spaces, hoping for a somewhat similar experience. Change is inevitable — the art world is increasingly moving into the virtual universe. The change surely cannot replace the real gallery experience and bring an end to gallery shows, but when art is shown in a virtual gallery, it does offer enhanced opportunities and advantages.
The benefits of creating a virtual art gallery include:
Unlimited connection
Convenience
Double exposure
Being able to stay connected to your viewers, allowing for longer exposures of artwork, can bring your work to the eyes of your potential clientele. There are various online companies where artists can display and sell their artwork temporarily, but they don't offer more than that. A virtual gallery can be delivered to your viewers and art buyers through social media, proactive newsletters, and connect to the wider community of people through your virtual art gallery platform. Your visitors can easily find information regarding your body of work and request other relevant information, such as your artist statement or biography.
A virtual gallery brings many conveniences. First, there is no drop-off and pick-up. Second, viewers and potential clientele can revisit your art pieces as many times as they want without traveling to a physical gallery space and some may never be able to do this due to the lack of time or physical distance. This allows them to become familiar with your work through repeated views, contributing to the recognition of your work in the future. Furthermore, your work is digitally displayed so that you can show your work in other virtual exhibitions at the same time. As for buying art, it is as easy as with any other online purchases.
Business-wise, virtual art galleries are places that art dealers frequently visit, and there are more and more art dealers specializing in works available only online. Also, when art gallery owners or managers notice your work, they might contact you to offer their locations for your shows.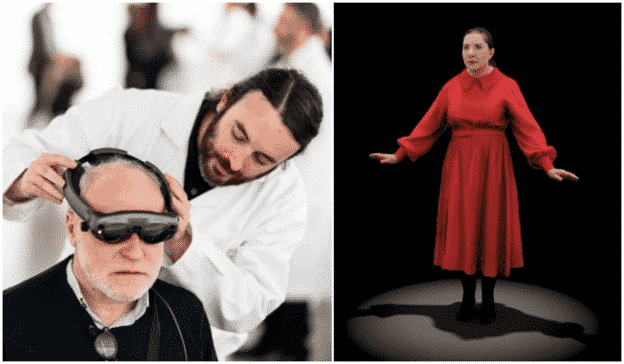 How To Create A Virtual Art Gallery
It is the 21st century, and selling art requires integrating into the online world. Auction houses are already listing, auctioning, and selling pieces online, while most galleries offer websites to showcase their artists. To market their art, artists can take advantage of digital resources, such as virtual art galleries.
1.Select your artwork
Choose your most important pieces that are representative of your style and vision. If you are displaying only virtual art pieces, you won't need to worry about how well they can be viewed in a virtual gallery. On the other hand, if you are putting up your "hand-made" art pieces, consider saving some of them for galleries or shows, because they won't always have the same effect in a virtual space. However, you can include detailed shots of those pieces. Make sure to list the title, dimensions, media, price, and other details that will help your viewers make decisions.
2. Take high-quality photos of your artwork or upload high-resolution images of your virtual artwork
In any case, your need to photograph your work properly and with the right use of light and positioning. If you're not a photographer, you may consider asking a professional to do it for you. They should be taken in the right lighting with at least one or two detail shots of each piece. This is especially important if you are a sculptor because you need a background, a platform, and some white space around the edges, as well as multiple perspectives. Also, make sure each photo has at least 72 DPI (dots per inch) or more.
3. Select a website, software, or app
Each digital platform or website requires different resolutions, so pick the one you like, sign up, and carefully read the instructions. Certain virtual art gallery solutions come with management software. For example, ARTDEX is a cloud-based website art collection and management tool and a mobile app, but it is also a social network where you can create and share digital art inventories of both virtual and physical art collections. Whether you are an art enthusiast, artist, collector, dealer/gallery, or curator, you can connect with others and overcome existing commercial art sale channels and the geographical barriers. Artists can also create a virtual art gallery in Google Slides or Google Data Studio.
As an artist, you can easily manage your virtual art gallery. You can upload artwork images to catalog your artwork, then share it, and network with other artist members. Some of these online platforms allow you to create a following and build your reputation within the art community. If there is a mobile app, it means you can photograph art images and make instant updates to your art collection folders. As for art lovers, they can find and save artwork they admire in their own curated collections, as well as discover trending artwork and new artists.
4. The art of marketing
Before you even begin with your virtual art gallery marketing, you should decide on your marketing budget. Are you going to build a dedicated website with a virtual gallery or sign up for an account on a virtual art gallery platform? Base your choice on your budget and tech-savviness.
Setting up a website is an excellent idea for artists who want to market themselves to both galleries and collectors. You need to build a website, pay for a domain, and upload your work and info. That requires larger investments at first but has fewer long-term costs.
Create a virtual art gallery via a free service. Just make sure to choose a respectable service where your virtual art will be protected. Consider adding a watermark to your virtual art if you're afraid someone might use it without your permission.
Join a community that already markets to online art clientele. Some are free, some require monthly rates, and others require an invitation.
Once you have created a virtual art gallery and uploaded it to your portfolio, you can market it with email newsletters, social media, studio photos, blogs, and more. If you don't want to be represented by a real gallery, all the promotion falls on you. Create an email list of art dealers, collectors, and galleries and give them the first invitation to view your virtual art gallery. Create social media accounts and pages and cross-reference them with your virtual art gallery to build an audience. In the art world, social media has become an integral tool for communicating with people and keeping them up to date on any changes and news.
Virtual Art Galleries – New Ways Of Exhibiting/Selling Art
The emergence of online art dealers who specialize in art only available in digital format is another interesting and exciting development. There are digital platforms and art exhibitions that enable art lovers to buy limited edition art for their computers and handheld devices. Once someone buys a piece, they also get a certificate of authenticity and can access their virtual art collection at any time. They can also make their collection visible to others on the platform.
A virtual art gallery is a tool that's becoming widely used by artists, curators, and other professionals in the art world (e.g., art students, art collectors, curators, art handlers, art funds, small museums, universities, print publishers, appraisers, estates, art advisors, private dealers and gallerists, and more).