Thirty-three years after her passing, abstract expressionist Lee Krasner set a record for her legacy when her painting Shattered Light (1954) sold at Christie's New York for $5.5 million. And just two years later in 2019, her painting The Eye is the First Circle (1960) shattered that record and doubled it when the painting sold for $11.65 million at Sotheby's. Sotheby's senior vice president and senior specialist of the contemporary art department Saara Pritchard described the piece as representing "a critical turning point for Krasner—a rebirth in a sense—as it was executed following a period of great personal loss and tragedy."
Lee Krasner's famous husband, legendary American painter and a leading figure in the abstract expressionist movement, Jackson Pollock, who was perhaps one of America's first artist that gained celebrity status, had died tragically in an alcohol-related car accident in 1956. The fatal car crash was survived by Pollock's mistress, a woman who was 18 years his junior.
Just a few weeks after her husband's death, Krasner began working in his studio in the barn, claiming it for herself. Perhaps working in the space where Pollock once worked and where the traces of his drip work could still be seen on the floors was a form of liberation for Krasner.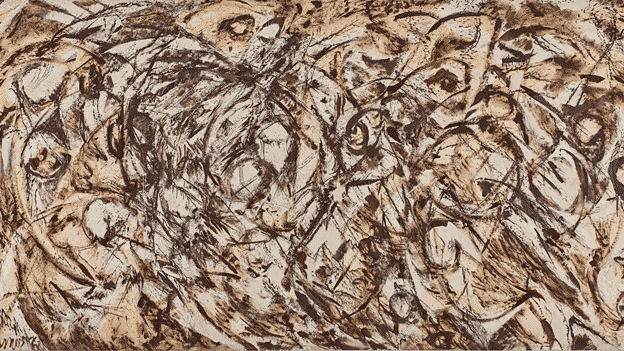 More Than Just Mrs. Jackson Pollock
"…it's difficult for people to see me, or to speak to me, or observe my work, and not connect it with Pollock. They cannot free themselves." Lee Krasner
Married to Pollock in 1945, Krasner always emphasized that she and her husband were equals. In fact, she had already established herself in the local art scene and had her works on view at the same exhibition where she first met Pollock in 1941.
However, when Peggy Guggenheim, socialite and art collector, took an interest in Pollock's painting and put him on contract, Krasner played the role of supportive wife and dedicated herself to the promotion of Pollock's work. Guggenheim even helped the couple secure a loan to buy the farmhouse where they would live and create art. While Pollock worked on his characteristic drip paintings in the barn, Krasner took one of the bedrooms as her studio and focused on kaleidoscopic works. But with Guggenheim's support and Krasner's management of his work, Pollock rose to fame quickly.
However, Krasner was more than just Jackson Pollock's wife when he was alive and more than the widow and trustee of his estate when he passed. She was an artist in her own right. For too long, Krasner fell into the shadows cast by the massive light surrounding Pollock.
Born Lena Krassner in 1908 in Brooklyn to a Ukrainian-Jewish family, Krasner pursued an art education from the start, enrolling in Washington Irving High School for Girls for its art course at the age of 14. She acquired her teaching certificate in art at the Women's Art School of Cooper Union where she studied on a scholarship. In 1928, Krasner enrolled at renowned technical art school, National Academy of Design and the Art Students League of New York.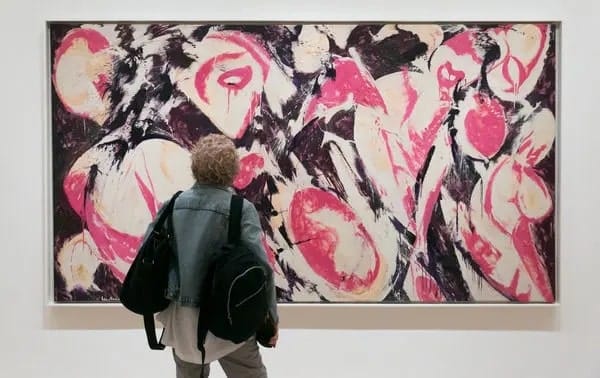 Lee Krasner's Versatility and Artistic Legacy
Krasner embraced the Cubist style and was one of the first American artists to explore abstraction. Her 50-year career proved her immense versatility as it encompassed charcoal drawings, collages, abstract paintings, and self-portraits. When asked about her refusal to be defined by a signature style, Krasner defends her ever-changing mediums as a way to"restimulate" herself.
Early on, Krasner abandoned traditional styles and gravitated towards modern art movements as pioneered by Matisse and Picasso. Krasner's charcoal on paper Seated Nude (1940) is perceived as her tribute to Picasso as it displayed Cubist elements.
Known as her Little Images series, Krasner's small-scale mosaic-type paintings between 1946 and 1949 were believed to be inspired by her Jewish upbringing. Using a drip technique, Krasner would create about 40 of these paintings. By 1951, Krasner shifted her focus towards collage paintings, abandoning her easel to work on canvases on the floor. Using cut and torn elements, she created textured collages of contrasting colors and shapes. It was during this phase that she would create Shattered Light, an oil and paper collage on Masonite that sold at auction for millions, decades after Krasner's death. Krasner's collage phase ended in 1955 with an exhibition at the Stable Gallery, just a year before the tragic death of Pollock.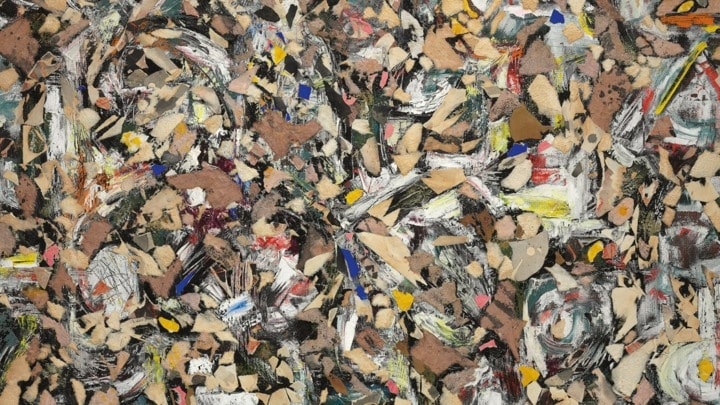 Many critics would describe the passing of her husband as a turning point in her career. Pollock's death led to long spells of insomnia that Krasner would leverage to create emotionally-charged paintings. Fueled by sleep deprivation, aggression, and grief, Krasner took to larger canvases which she fixed to the walls. Her Earth Green Series phase (1956 – 1959) is described to be bursting with anguish and loss as the principal colors seemingly represented flesh and blood.
In the years to follow, Krasner continued to battle insomnia and worked mostly at night. Between 1959 and 1961, Krasner created her Umber series, which many critics would describe as her interpretation of Pollock's large-scale, action-packed paintings. Cool White(1959) is one of the best representatives of the Umber series as it displayed a palette of umber tones and Krasner's aggressive brushstrokes.
Many would say that it was the 60s that redefined Krasner and the period that she stepped into her power and place in the art world. In 1962, Krasner shifted again to work in a style that was bursting in vivid colors and floral shapes. Her oil on canvas Gaea (1966) was alive with color and energy, almost as if she had been reborn.
By 1969, Krasner's medium of choice was gouache painting on paper. And between 1970 and 1973, Krasner painted in a new style that involved a limited palette and hard lines. In 1976, she returned to collage work, which was well-received by critics when they were exhibited in 1977. Lee Krasner passed away in 1984 at the age of 75 from natural causes. Later that year, a retrospective exhibition of her 50-year career was held at the Museum of modern Art.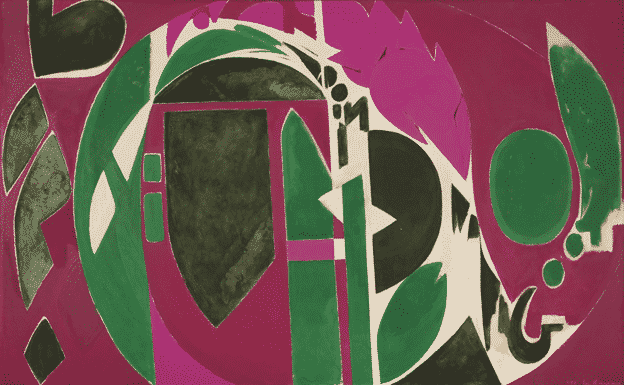 Unfortunately, Krasner's work went relatively unnoticed for so long. However, it wasn't just being Mrs. Jackson Pollock that kept her from competing in the art world. Krasner existed in a time when galleries preferred the work of men. The emergence of the women's liberation movement in the 1960s put a spotlight on women's issues and equality, helping female artists gain the attention of art critics.
Were it not for her husband's passing and the women's liberation movement, audiences may have never recognized Krasner as an innovator and a brilliantly versatile artist. This year has been a big year for Krasner's legacy. Not only did her large-scale work that she completed after Pollock's death shatter her auction record in New York, but the thrilling major retrospective Lee Krasner: Living Colour at London's Barbican Centre showered her with deserved "splashes" of praise – giving Krasner the spotlight that had been a long-time coming her way.
"Painting…in which the inner and outer man are inseparable, transcends technique, transcends subject, and moves into the realm of the inevitable."– Lee Krasner