"Remember that an artist's life is an intense search for truth. This search takes many forms. Every one of these forms demands its own disciplines." – Brice Marden
On August 9th, 2023, the world lost Brice Marden at the age of 84, the celebrated abstract artist whose work was defined by experimentation and exploration of color and style. His work is remembered as silent dialogues that opened a space for introspection and connection. Marden's rise to fame, while slow compared to his contemporaries, was steady over the decades – a journey that demonstrated his dedication to explore beyond boundaries and redefine artistic language. He was a soft-spoken and introspective individual whose art communicates powerfully, resonating with audiences over decades around the world. And his refusal to be trapped within the confines of a single artistic identity spoke volumes.
Evolution and Exploration of Technique, Expression, and Perspective
Born in Bronxville, New York in 1938, Marden studied at the Boston University School of Fine and Applied Arts from 1957 to 1961, earning his Bachelor of Fine Arts degree. He then went on to pursue his Master of Fine Arts degree from the Yale School of Art and Architecture, graduating in 1963. During his years at Yale, he was exposed to modernist theories and the works of prominent artists that would profoundly influence his early career, like abstract expressionist Barnett Newman and Pop artist Jasper Johns. And his peers at Yale would include photorealist Chuck Close and sculptor Richard Serra.
While the 1960s art scene was bursting with colorful abstractions and pop-art declarations, Marden emerged with a style that whispered with muted hues rather than scream with color. And ultimately, that's what set Marden apart from his contemporaries – monochromatic and minimalist canvases that were meditative and contemplative. He would be recognized for his single and multi-panel paintings characterized by their monochromatic surfaces. His works such as Nebraska (1966) and The Dylan Painting (1966) possess a sense of depth, despite their quiet simplicity. These minimalist works often consisted of multiple canvases joined together, each one painted a single, subtle color – emphasizing the subtle variations in hue and texture. In 1966, Marden had his first one-man show in Manhattan, an exhibition that was then met with mixed reviews.
Unlike some artists who find a style and stick to it throughout their entire careers, Marden would evolve. In the 1970s, Marden took a transformative trip to Greece where he would allow the colors, lights, and landscapes of the islands to influence his palette and style. Grove Group IV (1976) would become one of his most notable works that was inspired by his annual trips to the Greek island of Hydra.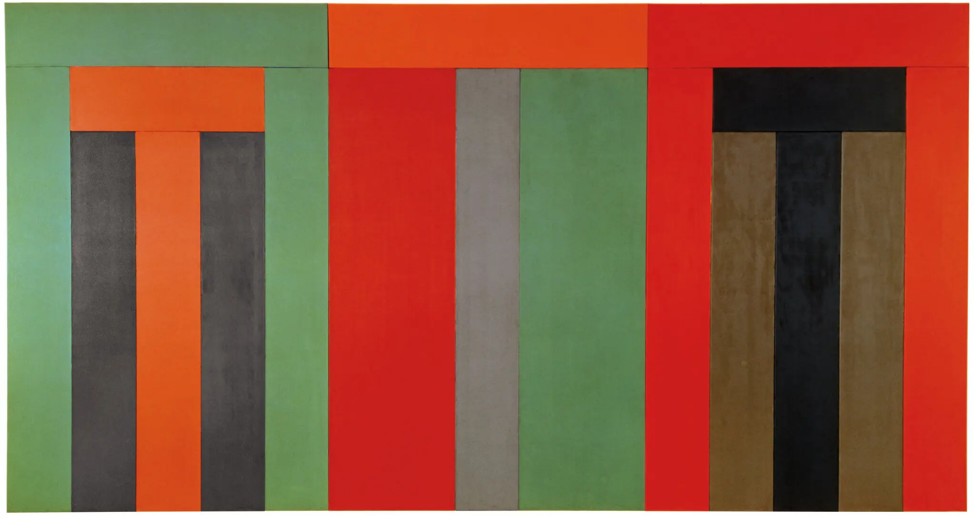 Synthesis of Western and Eastern Influences
Later in the 1980s, visits to Asia introduced Marden to the gestural brushwork and fluidity of Chinese calligraphy, leading to a significant shift in his style. Marden began to incorporate calligraphic lines allowing his art to become a dance of lines and colors and a synthesis of his minimalist past and his evolving present. His line drawings were complex and retained the same sensitivity and attention to detail as his former works. The lines, while entangled and overlapping, were executed with great precision as they evoked movement and emotion.
"Western artists stand as humans looking at nature; Asian artists try to be in nature. You become one with nature rather than painting a portrait of it. That's a big shift."
Also in the 1980s, Marden would experiment with a series of paintings inspired by patterns on Greek marble. Marden's work remained primarily abstract and minimalistic. However, he evolved through distinct phases, marked by different techniques and stylistic concerns. Thira (1979-80), for example, combines the structured grids of his earlier work with the fluidity of his later pieces.
From the late 1980s to early 1990s, Marden produced his Cold Mountain series, inspired by the poetry of the Chinese Tang Dynasty poet Han Shan, whose name translates to "cold mountain." These works were true testaments to his desire to bridge the gap between his Western and Eastern influences as seen in his serpentine lines and abstract compositions. His Nevis Stele (1998-99) series are another significant example of his skill in combining monochromatic fields with intricate, winding lines.
By the late 20th century, Marden was celebrated as one of America's foremost living painters. As his mark in the art world deepened into the 21st century, Marden continued to showcase this fascination with line and color. The fluidity and intricacy of his lines have been likened to neuronal pathways, revealing a more organic and expressive side of Marden that the deeply private artist rarely revealed.
Over the decades, Marden employed a variety of materials, including oil paint, beeswax, and graphite, which gave his paintings a distinct texture. He would build up thin layers of paint which created tactile depth and variation, demonstrating his skill and intentional tendencies. He was also known for being meticulous about his colors, often grinding his own pigments to achieve the exact shade he desired.
The Man Behind Muted Monochromatic Minimalism and Meandering Lines
Muted and matte, it was easy to accuse Marden's work of lacking emotion. However, closer inspection of his canvases revealed intricate texture through deliberate layering. And in 1988, Marden would defend his intentions in an interview with Bomb magazine, saying "Each layer was a color, was a feeling, a feeling that related to the feeling, the color, the layer beneath it. A concentration of feelings in layers."
Those who knew Marden personally described his paintings as mirrors of his personality – contemplative and reserved. However, despite his intensely private nature, his enthusiasm for art was infectious. He was also an avid art collector, having possessed works from various artists, ranging from ancient pieces to contemporary works.
In 2019, Marden sat with The New York Times to talk about his rectal cancer diagnosis, saying that his first thought was that "I'm supposed to die. It's a reality." He continued, "It hasn't made me hurry things up. It hasn't made me work any differently. It's just been an extra thing to think about."
At 80 years old, Marden unveiled Moss Sutra with the Seasons (2010-2015) at Glenstone. The massive five-panel painting took five years to complete and was the largest commission of his career. The monumental work brings together Marden's signature styles. Each of the monochromatic panels flanking the central piece represents a distinct season, starting with a warm yellow that expresses Spring and ending with blue black palette evoking Winter. The panel in the middle features Marden's iconic calligraphic lines and subdued colors.
Over the course of Marden's impressive and influential career, he would hold solo exhibitions in numerous esteemed institutions, including the Museum of Modern Art in New York, the San Francisco Museum of Modern Art, and the Hamburger Bahnhof Museum in Berlin. In 2019, Marden's Number Two (In Twelve Parts) (1983-1984) sold for $10.9 million. And in 2020, his Complements (2004–07) would sell at auction at Christie's New York for $ 30.92 million – making it one of the most expensive artworks sold at auction that year.
"Question the truth of anything you confront. How does it apply to yourself and the trail you are pursuing?"