See a banana duct-taped to a school hallway, and you'd probably think it was a science experiment or a prank. Walk into a restaurant to find a banana taped to the wall, and you'll wonder if someone from the kitchen has gone mad.
But go to a world-renowned art fair and see a banana taped to the wall of a fancy art gallery booth, and you'll have to prepare yourself to accept it as art.
That's exactly what happened at Art Basel Miami in December 2019, when Maurizio Cattelan presented the art world with Comedian, an installation consisting of a ripe banana secured to the art fair gallery wall by a piece of duct-tape. Yes, the same Cattelan who replaced a toilet in one of the bathrooms at the Guggenheim with a fully functioning 18-karat gold one in 2016 and titled his work America.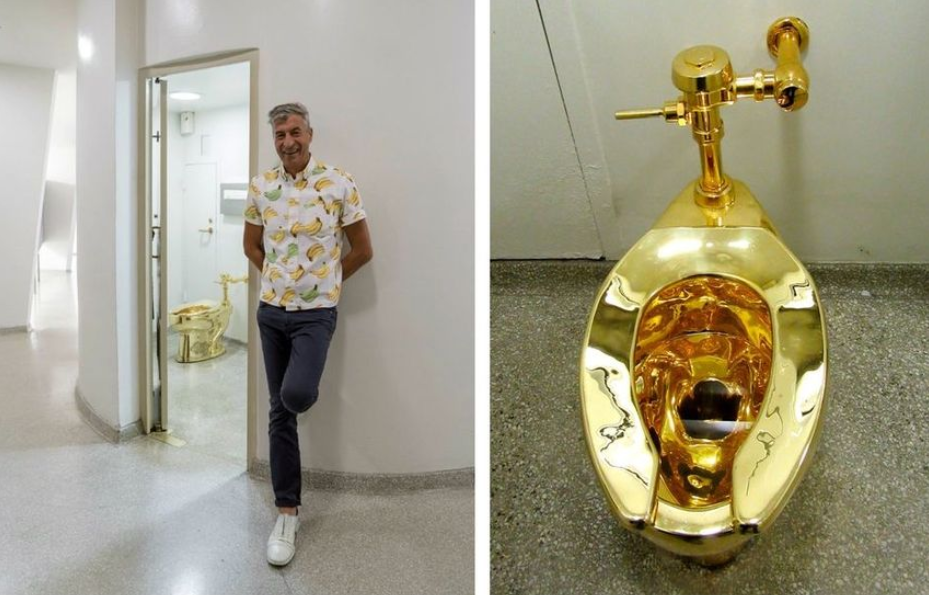 But while many thought Comedian was ridiculous and Cattelan was playing everyone for fools, the proud new owners, Miami art collectors Billy and Beatrice Cox defend their purchase. The couple released a statement to Page Six saying, "We are acutely aware of the blatant absurdity of the fact that 'Comedian' is an otherwise inexpensive and perishable piece of produce and a couple of inches of duct tape." They continued with, "We knew we were taking a risk, but ultimately we sense that Cattelan's banana will become an iconic historical object."
The same couple who paid an astonishing $120,000 for the piece added, "We see the piece as a unicorn of the art world and bought it to ensure that it would be accessible to the public forever, to fuel debate and provoke thoughts and emotion in a public space in perpetuity."
And as if Comedian wasn't mind-boggling enough, artist David Datuna would step in to make the already viral installation even more of a phenomenon by plucking the banana off the wall and eating it – without permission! Calling his performance piece Hungry Artist, Datuna tells The Guardian, "Warhol put banana on a canvas. Cattelan takes a real banana and puts it on the wall. David took banana from the wall and ate it!"
THE ROLE WE PLAY IN THE PRICE WE PAY FOR ART
"Art is about comedy, about fun, about tragedy, about emotions," Datuna tells the Guardian in defense of his actions at Art Basel, for which he was asked to leave the booth and the fair. And while many serious art critics and enthusiasts may draw the line when someone is obviously making a mockery of the art world and wasting the time of audiences, there's truth in how emotions play an influential role in determining an artwork's meaning and its worth.

Comedian was eventually removed from the fair because the crowds and commotion posed a threat to the other artworks on display. People queued in long lines to get a glimpse of Comedian. Was it because they'd never seen a banana or duct-tape before? No, it was to see if the rumors were true, take a photo for their social media, and satiate their fear of missing out.
The curious case of the conceptual artist who took a banana, taped it to the wall, and sold not one, but three "editions" of the piece, with prices ranging between $120,000 and $150,000, still demands our attention. It exposes both all that is good and bad in the contemporary art world and the art market.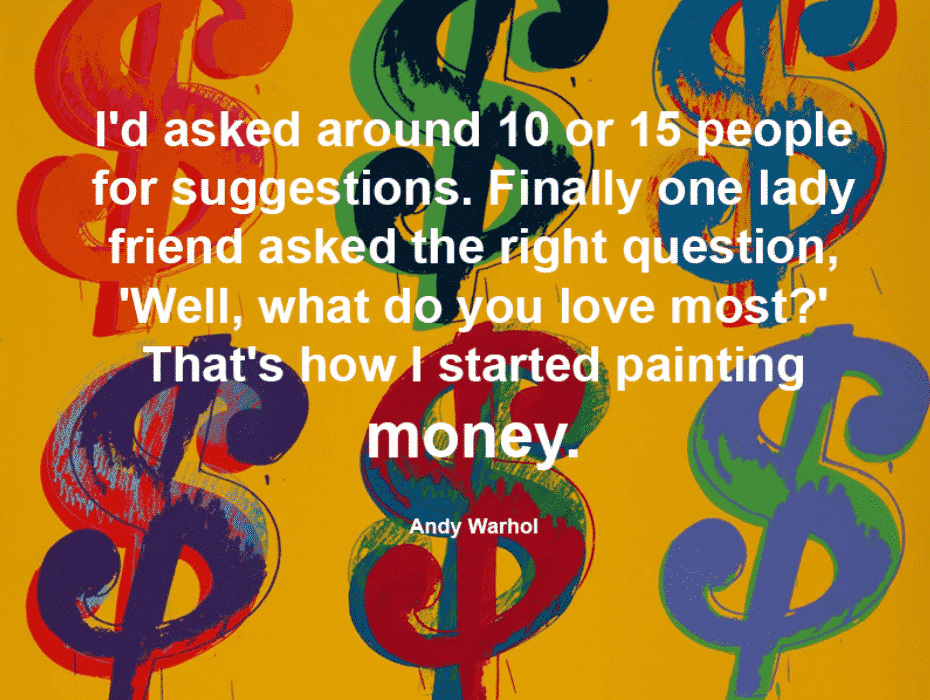 ART IMITATING LIFE AND ITS ABSURDITY
Living in the era of internet hyperbole, endless feed loops, and instant gratification, aspiring artists recognize there is an audience for all forms of creativity in the myriads of contemporary art scenes. But on the other hand, we also realize that we unintentionally and collectively control how much attention and traction a work of art gains, whether it deserves it or not. So while we convince our traditional selves that skill and hard work should be the defining factor when pricing art, the reality is that the contemporary world suffers from the effects of obsessive content culture – one that feeds off viral pieces of digital media. And with every click to share content with our boundless peers from near and far, we inadvertently play our roles in helping drive the value of work that ironically took very little "work" to create.
Perhaps the Cox couple will go on to prove they were right, and Comedian will go down in history as an iconic art object. Or maybe it will soon be forgotten once the next bold artist performs an even more controversial anti-art act. Either way, Comedian, as with all conceptual art, has already accomplished what it set out to do — to be remembered more for the idea than for the actual product just like Duchamp's infamous "Fountain," a porcelain urinal piece debuted in a New York art exhibition in 1917
For Cattelan's "banana," it's baffling why anyone would "invest" $120,000 – $150,000 on artwork that costs mere cents to recreate and comes with instructions to replace the banana every 10 days. However, the astounding true story of a piece of fruit duct-taped to the wall at Art Basel that came with an authentication certificate and a hefty price tag says more about where we are as a society. More than anything, it magnifies how our love-hate relationship with conceptual art has the power to continue to raise the value of even the most mundane.