Virtual art, virtual reality art, and VR art are all terms used interchangeably to describe the technical virtualization of art. And unlike other art forms, this type of art exists only with the observer, and collapses or erases the distance between the artist (creator), the viewer (recipient), and the art piece itself. Since viewers are able to control their surroundings with movement and different gestures, all the elements are merged into one, integrating everyone who participates in the artwork itself — usually through video clips, speech clips, breathing, and even virtual representation of the participant.
Artists have been creating virtual artwork since the late 1980s (or earlier, in some cases) with the technological tools developed around that period, such as data clothes and data gloves, generators of 3D sound, stereoscopic spectacles and screens, visualization casks, and other human-machine interfaces. Today, exponential advancements in technology have brought us virtual reality technology that provides a fully immersive virtual art experience. According to Frank Popper, a pioneering art historian who greatly contributed to the field of virtual art, a great deal of contemporary art has become virtualized.
Convergence Of Art And Technology
Virtual art emerges from those illusionist art created in ancient Pompeii to more recent genres, such as immersive cinema, Kinetic art, and Op Art, that often explore virtual movement, colors, light, sounds, vibrations and more, that reside in the realm of experiential elements of art. However, virtual art could finally take its truest form due to the invention of VR casks, helmets, and spectacles. It is the art that allows participants to immerse themselves in the artwork and interact with it, all through a technological interface.
In the 1980s, the creators of interactive artworks, such as Myron Krueger, Grahame Weinbren, Lynn Hershman, and Jeffrey Shaw, typically worked alone. At first, virtual art developed in advanced research institutions that were equipped with the right technology —which was quite expensive at that time. That is when the boundaries between art and technology began to break down and started to converge. Now, there is a large network of artists who work in research institutions on the development of virtual realities.
The beginning of the 1990s brought improved consumer electronics when high-performance computers came on the market at an affordable price. Now, it was possible to depict 3-dimensional shapes with up to 500,000 polygons. What also allowed interactive simulations was the possibility of real-time operations, introduced by the Silicon Graphics Workstation. New art installations were created and were putting the viewers more intensely in the image, as well as involving them in the actual creation of the art piece. That's when artists began to actively participate in the development of VR technology.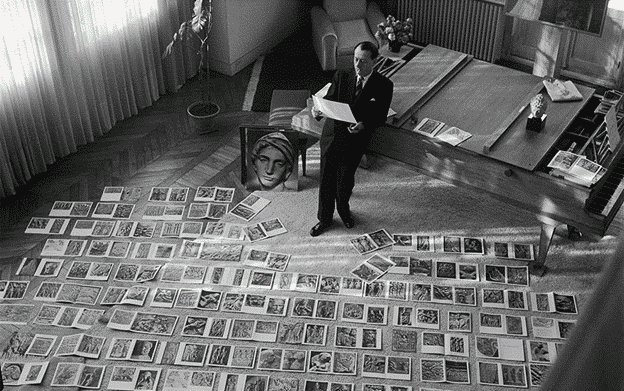 What Is A Virtual Gallery?
In the 1960s, André Malraux, a French cultural theorist, was the first to advocate the idea of a museum without walls. In his work "Le Musee Imaginaire," he described the shift in how art was understood, taught, and studied. The phenomenon of the virtual gallery could be traced back to his concept of virtual museums. What allowed for a colossal virtual museum to appear is the advent of the Internet, which took Malraux's original ideas even further. According to Malraux, the art museum is the ideal location for displaying art, which can be seen today with an array of a whole new set of possibilities. The concept of virtual museums was introduced in 2004 as a means to improve the visitor experience and overcome the limitations of real museums. Furthermore, people get access to various benefits of virtual museum resources, e-learning, and online collections
Just like a virtual museum, a virtual gallery can be defined as an organized and systematic collection of digital artworks in different formats, offering flexibility to visitors for interaction and communication as per their interests and needs. Traditional art objects have no longer physical space in the virtual settings and are now available through an advanced computing system with augmented curatorial touch. A virtual gallery is, therefore, a digital entity that draws on the characteristics of a gallery in order to enhance and complement the gallery experience through interactivity, richness of content, and personalization. It can refer to the Internet, on-site, or mobile offerings of traditional art galleries in a virtual environment, or it can be born-digital content, like digital art, virtual reality (VR) art, net art, and more.
Benefits Of Virtual Galleries
Running an art gallery can be both challenging and rewarding. Holding events, galas and exhibitions is an exciting part of building a reputation within the art community, and you can enjoy the complete freedom of choosing the artist and artwork you want that is an expression of your creative spirit. However, running a traditional (physical) art gallery is not the only way to go – many gallery owners can now offer art pieces in a virtual art gallery setting, while some even sell digital artwork that can be enjoyed with VR goggles and other types of technological tools. Even artists can build and launch their virtual galleries to showcase their work and increase potential sales and exposure to a different audience group.
Thanks to the recent technological advancements and affordable consumer computer products, it is fairly inexpensive and easy to set up a virtual exhibit. Upon entering the digital realm, fine art, original art, and virtual art have all become accessible to a wider audience. That automatically makes searching and shopping for artwork much simpler because potential buyers can easily look for art by artist, price range, category, and other readily available preferences. The world of art has moved to the digital realm because most consumer purchases, even in the art world, begin with an online search.
A virtual gallery or exhibition is always accessible for people who want to soak up some art and enjoy culture whenever they wish. You won't risk getting the exhibition dates wrong or reaching the gallery only to find that it's closed on Sundays or Mondays. Virtual galleries are open 365 days a year, 24 hours a day, ready to take you on a virtual tour of their exhibitions.
Getting to a gallery booth at a high-end art fair can cost you both traveling time and money, while virtual galleries won't cost you a dime. You can visit galleries on the other side of the globe in a matter of seconds and for free. There are no bus or plane tickets or entry fees to see a wonderful exhibition in Paris or London.
For example, if you wanted to see the Christ statue in Rio de Janeiro before, you would have to travel there to see it. Today, you can explore it online with the Google Arts & Culture app and website. The VR experience is expected to play a significant role in the future of travel, as well as in increasing the accessibility of different cultural content.
The most visited painting in the world is the Mona Lisa (Louvre Museum, Paris). It attracts hundreds of thousands of visitors every year, and if you're in Paris, you should definitely go to see it. However, once you're in front of the Louvre, there is a chance you may not be able see it easily. Those who want to see the Mona Lisa are waiting not only to see it but to take selfies, as well. Moreover, you won't be able to get close to the protected settings of the painting because of the crowd and raised cameras, elbows, and hands that will obscure your view. With virtual galleries and tours, you don't have to "fight" to get the best view.
Getting closer for a detailed view
Whether you are in a half-empty or crowded gallery, visitors are not encouraged to get close to the exhibited artwork. However, a virtual art piece cannot be knocked over or get dirty because it's, well, virtual. In virtual galleries, visitors are actively encouraged to interact with the art pieces.
Young and up-and-coming artists in the art world can build their own virtual galleries and use them for promoting their art online. Social media is an integral part of every art marketing strategy, but artists cannot rely solely on that method. Having a virtual art gallery where an artist can publish an interactive online exhibit and build a digital library of portfolios, can put them a step ahead of others. It is an important helping hand when it comes to building a reputation in the art world, building a following, and increasing the value of their art and potential sales.
Virtual Art As A Full-Sensory Experience
Visiting a museum or gallery, seeing an artwork up close, and (when allowed) touching or hearing the art is when people enjoy art the most. Then, it becomes a full and immersive sensory experience. Whether we are talking about contemporary or classic art, there is always room for technology, and innovators continue to prove their benefits through augmented reality (AR) and virtual reality (VR) technology. Today, artists can use VR technology in so many different ways, including exhibiting their work in virtual spaces or even using virtual painting techniques.Although the virtual art technology is still in its early stages of development, some artists are already revolutionizing the exciting virtual art scene. Companies like V21 Artspace continue to develop new ways of data sharing and archiving content, ensuring that virtual art exhibitions are accessible to a broader audience. V21 Artspace based in the UK, uses laser scanning technology to capture real-time art and culture exhibitions and create 3D exhibitions and art gallery tours. These interactive online collections of 3D models of art can be viewed on all online platforms, which is crucial for accessibility and audience development.
Vr Technology And Projects
Virtual reality (VR) can be defined as an artificial environment that is experienced via sensory stimuli provided by a computer. In VR, your actions partially determine what happens in the environment. To engage in a VR experience, one needs special VR headsets or goggles. Top-of-the-line VR goggles have their own motion sensors, lenses, displays, and even game controllers, while the less expensive sets only require a smartphone and app.
Many virtual projects are created using Unreal and Unity software, while the most popular virtual reality software for the virtual arts is definitely Google's Tilt Brush. Artists can choose any brush and color around the virtual space to express their creativity, and it is quite different from painting on canvas. Other technologies allow creatives to create animation, scanned photos and paintings, and even already-created objects that can be transformed into a VR format.
Beyond the spheres of contemporary art, there are VR projects in motion that focus on classic artworks, such as the VR work of The Mona Lisa to The Scream by Edvard Munch. This project works with the HTC Vive VR headset and includes a glove or controller to interact with the VR space.
Artists Gaining Momentum Within The Virtual Art World
Virtual art goes beyond the mere viewing aspect of it because it includes the immersion component. That component doesn't leave anything out of the experience because it allows users to hear, see, and manipulate their virtual environment. More and more artists are beginning to embrace virtual reality as a creative medium, virtually sculpting and painting with tools that are unrelated to their intended result. Art has transcended the physical world, thanks to specially designed interfaces, motion sensors, and the use of Oculus Rift, a lineup of VR headsets developed by Facebook. Google's Tilt Brush — a 3D virtual paintbrush uses Rift as its platform, allowing artists to paint on virtual canvases. Virtual art created this way is digital but also uses the artist's hands, removing the physical barriers between the art and the artist.
When working with motion controllers and a headset in 3D, artists say that it feels more natural because the art piece is not constrained to two dimensions on a flat screen. Virtual objects are seen in the same way as real-world objects, and things like depth become intuitive and fluid experience. Virtual art is still in its infancy, but artists that use it believe it has a bright future, as it allows for limitless possibilities in its process through the world of art.
Virtual Art – Exhibitions And Sales
The Oculus Rift brings many different possibilities to artists and galleries. For example, the use of VR apps is one of the most recent approaches — The Renwick Gallery of the Smithsonian American Art Museum, Washington D.C. held an exhibit from 2015-2016 that took place on their viewers handheld devices. They launched theRenwick Gallery WONDER 360 — an immersive, 360-degree virtual tour art VR app that allowed viewers to explore the museum's WONDER exhibit in 3D. Nine contemporary artists were asked to create a gallery-sized and site-specific art installation from an array of unexpected materials. This virtual reality art exhibit tour is a completely new approach to sharing art with the public because it allowed the gallery's viewers to see and experience art from anywhere in the world.
For creating such 360 virtual tours, artists and virtual galleries can use the Ricoh Theta 360 camera to shoot architectural spaces, artworks, and virtual tours of buildings.
Many audiences show great interest in virtual art exhibitions, which has proven correct during the coronavirus pandemic — people's appetite for online art experiences is booming because many cultural spaces and institutions have closed their doors. For example, the British Museum's online collections page jumped from about 2,000 to 175,000 daily visits in early March and is averaging at about 75,000 visits per day. The virtual tour of the Courtauld Gallery in London got 723% more visitors mid-March than a week before, which is an unprecedented figure.
"Occupy White Walls"
For artists and others who prefer a DIY approach to art appreciation, there is a free video game that allows users to design and launch their own virtual art gallery. The video game is called Occupy White Walls and is available on Steam, a gaming platform. The virtual art gallery building experience features more than 2,000 unique architectural elements (such as stained-glass windows, art deco lighting, and spiral cases) and more than 6,000 artworks ranging from contemporary creations to Old Masters paintings. An AI assistant curator, Daisy, is there to suggest artworks users' might enjoy and help interpret their collections.
Basically, Occupy White Walls is a multiplayer game – a space where you can create your own museums and build galleries, but it is also a virtual art platform for emerging artists. In a search for inspiration, users can browse a huge collection of other players' galleries. Besides the opportunity to design their own space, artists can view all the amazing art to draw inspiration.
Integration Of Virtual Art And Video Game
A whole generation of young people has grown up playing video games, and some digital visionaries are making moves to blend virtual gaming and art into one integrated virtual ecosystem. Why? Well, many would argue that the art market system needs fixing. It often happens that the artist gets a very small portion or nothing from the resale of their work at an auction. Also, the rate at which colleges and educational institutions produce graduates is large. Those who graduated with a $100,000 art degree end up in debt with no career in the arts to pursue. According to the 2014 report, a mere 10% of art graduates make their living in the arts, meaning that people don't have a clear picture of what the art market can support and sustain.
Some technology companies see a solution to this issue in the integration of gaming and virtual art. CryptoVoxels, pixEOS, MakersPlace, and EverdreamSoft CrystalSuite all have projects that combine virtual art and gaming in numerous ways, providing potential financial opportunities for artists.
Virtual Art Has A Bright Future
Virtual art has always been a way for people to immerse themselves in a virtual experience of interacting with their digital surroundings. Doing artwork in virtual reality requires a different mentality, one that is not present with 2D art. The viewer has to be guided through the virtual art space, meaning when the user is either creating art or taking a virtual gallery tour, they don't have the complete freedom to move around at will. In other words, the user has both the problem and the freedom of exploring the virtual world, and that's what many artists and galleries may not want.
An increasing number of art galleries and museums (including science museums, history museums, and more) are launching their virtual museum tours:
North Carolina Museum of Art
Virtual Museum of Canada (digital source containing stories and experiences contributed by Canada's heritage organizations and museums)
Canadian Museum of History
Speed Art Museum (Kentucky's largest and oldest art museum)
Denver Art Museum
Denver Museum of Nature and Science
Pitt Rivers Museum (a museum located at the Oxford's Museum of Natural History in England that displays the anthropological and archaeological collections)
Kremer Museum
Smithsonian National Museum of African American History and Culture
Smithsonian National Museum of Natural History
Museum of Contemporary Art
Boston Children's Museum
Houston Museum of Natural Science
Art, we know of, is still seen as a single image where there's control of what viewers can see on a 2D surface. However, virtual art provides an experience that's happening in both space and time. Advanced technology and many online platforms offer significant opportunities for galleries and artists, as well as those of us viewing art now and in the future. The virtual art medium is limitless and boundless. Although it is obvious that it's more challenging to paint or build in 3D with the required use of technology, there's no denying that possibilities of virtual art could be the barely explored multi-dimensional experience that the art world needs.