On the night of August 11, 1956, 44-year-old Jackson Pollock drove his Oldsmobile 88 convertible while under the influence of alcohol with two passengers onboard, Edith Metzger and Ruth Kligman.
"Speeding wildly" through the roads in East Hampton, New York, Pollock would lose control of his car on a curve on Fireplace Road, flipping it into trees and killing himself and Metzger. Twenty-six-year-old Kligman, who was sitting in the passenger seat, was thrown from the vehicle and spared. And while she sustained some serious injuries, she would go on to fully recover.
But who was Ruth Kligman? Was she simple the woman who earned the nickname "death-car girl" from poet Frank O'Hara after being the sole survivor of the crash that ended the life of "the greatest painter" of abstract expressionist movement heralded by art critic Clement Greenberg? Or was there more to her story? And why would her name be forever associated with Pollock despite only knowing him a few months before his tragic death?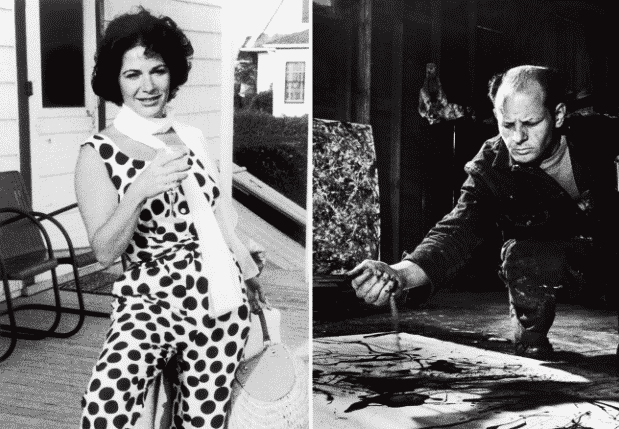 Muse, Mistress, and Artist
Pollock and Kligman met when Kligman worked as a gallery assistant at a small Midtown Manhattan gallery. Pollock, a married man almost two decades older than her, was at the peak of his fame thanks to his celebrated painting style entitled 'action painting' that had earned him the name "Jack the Dripper."
Kligman was an aspiring abstract artist herself. The meeting at the famed Cedar Tavern, a watering hole for many famous downtown artists, would spark a love affair that would go on for months and end devastatingly when Pollock, after a whole day of drinking, crashed his car with Kligman and her friend on board.
Kligman would later describe the night they met in her book of 1974, Love Affair: A Memoir of Jackson Pollock, saying Jackson locked eyes with her hard. Kligman would continue, "I didn't waver my eyes. I needed no introduction. I felt I had known him for years."
While the sudden passing of Pollock sent shockwaves across the world, there was little surprise to learn that he had been traveling with his mistress on that fateful night. It was no secret that Pollock and his artist wife, Lee Krasner, had a tumultuous marriage and had become estranged. After Krasner, who was still Pollack's manager and marketer, had discovered the affair, she fled to Europe for the summer while Pollock and Kligman played house in East Hampton. Kligman even boldly set up in Krasner's studio, determined to get Pollock to start painting again.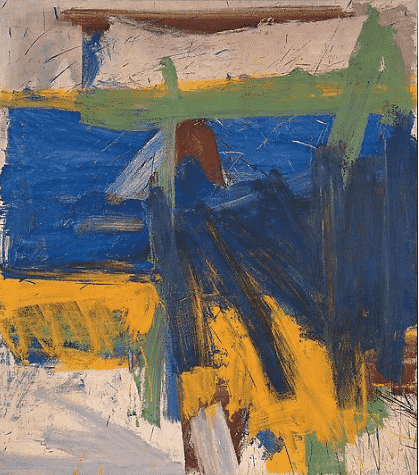 Although Kligman would say in a 1999 interview with Elle magazine that she had loved Pollock "best and last," it was Krasner that would suffer from depression and long bouts of insomnia that resulted in grief-stricken artwork after his death. Kligman, on the other hand, would become known in art circles for her impressive string of lovers, which included Willem de Kooning — Pollock's artistic rival — and Jasper Johns, a longtime friend of Kligman to whom she proposed to once.
Just one year after Pollock's tragic passing, De Kooning titled his 1957 painting Ruth's Zowie. American photographer Irving Penn and French sculptor Marisol would likewise feature Kligman in their work. Kligman also claimed that the artist and Pop Art icon, Andy Warhol, who had mentioned her in his diaries, had a "terrific crush" on her for years. Close to the likes of Mark Rothko, Robert Mapplethorpe, Bern Stern, Franz Kline, and Jasper Johns, Kligman would say, "All the geniuses of 20th-century art were my fathers, lovers, sons."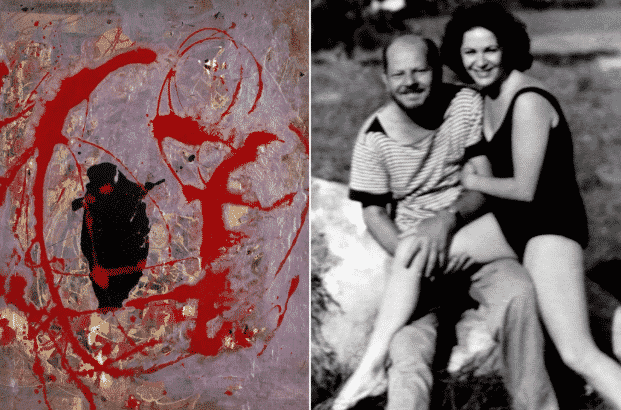 The Controversial Red, Black & Silver
The love affair would spark a decades-long controversy – but not because Kligman was Pollock's beautiful, voluptuous, and vibrant lover who was often compared to Elizabeth Taylor and was 18 years his junior. Rather, the drama revolved around a painting that remained in Kligman's possession until her death in 2010.
Although Kligman painted works that included the Deman series and Joan of Arc, the painting embroiled in controversy was not one of her own, but Red, Black & Silver – the painting believed to be the final work of Pollock's life.
Titled Red, Black & Silver, the painting sits at just 24 x 20 inches — a size unconventionally small for Jackson Pollock. However, the painting bared the techniques and movement that Pollock was known for. And in a signed affidavit in 1996, Kligman describes the "spur-of-the-moment activity" that resulted in the painting. Kligman would say, "I stood near him and watched him paint: saw him pour the silver aluminum, and drop the black form on the board, and quickly gesture with the red enamel. It was an expression from Jackson to me."
"When he was done, he gave the painting to me," Kligman claimed.
However, all Kligman had back then were her words and personal recollection of the moment. While she maintained her claim of its purported creation in 1956, she had no way to authenticate the painting was Pollock's gift of love to her. Proving its authenticity was something she wouldn't attempt to do for as long as Krasner was on the main authentication committee. And when Krasner passed away in 1984, Kligman remained hesitant to take action as the authentication board remained loyal to Pollock's former wife.
Until the day she died in 2010, Kligman insisted that the painting was the American master's final work until the day she died in 2010. Leaving the painting in a trust, she instructed that the proceeds of its sale would go to a foundation for struggling and rising artists and to advance forensic research in the arts.
And on what would have been Pollock's 100th birthday, the canvas headed to auction in 2012. But instead of being billed as "by Jackson Pollock," the painting was presented as "attributed to Jackson Pollock" – impacting its value and public interest.
The Potential Pollock Lost in Limbo
In 2013, the trustees of Kligman's estate continued to help vindicate Kligman's name by working with a forensics expert, Nicholas Petraco, to authenticate Red, Black & Silver. Stuck in the artwork's paint were traces of fur from the bear rug from Jackson's home. Beyond the fur, Petraco's forensic team also found Pollock's hair and sand unique to East Hampton where his home was located. The evidence proved that the painting existed in the time and place that Kligman had claimed.
However, Francis O'Connor, the distinguished scholar of Jackson Pollock, describes the forensics as "redundant and essentially irrelevant." But was it a statement of truth or one made because of O'Conner's loyalty to Krasner who had deemed the painting a fake?
With the authenticity of the painting still in question, we ask — did Kligman, a woman who made it her mission to date all the greats, attempt to dupe the world to fuel her narcissism and capitalize from the artwork's potential value? Or has the world been denied an authentic Pollock because his estranged wife and her supporters refused to acknowledge that his last act of love was dedicated to his much younger lover?