In 2010, "Guerrilla artist" Banksy would make the Time's list of the world's 100 Most Influential People. And in true Banksy style, he would supply a photo of himself with a brown paper bag over his head. To those who know and love Banksy, this behavior is in no way disrespectful to the illustrious publication. In fact, many of his fans don't want his identity revealed, and some have even protested that it never be made public should anyone find out.
The Real Slim Shady, Please Stand Up
Ever since Banksy first hit the scene in 90's as a freehand graffiti artist, his identity has been a closely guarded secret, creating a shroud of mystery that has, no doubt, helped make his work more valuable. And over the past two decades that his works of "vandalism" from all over the UK to Jerusalem to Melbourne to New York City have popped up, unmasking the world's most elusive street artist has become something of an international pastime.
On the topic of his identity, Banksy has told Swindle magazine, "I have no interest in ever coming out."
"I'm just trying to make the pictures look good; I'm not into trying to make myself look good."
Over the years, there have been theories and speculations, with some people believing that Banksy is not just one artist but a whole team. In the HBO documentary Banksy Does New York, media artist Chris Healey claimed that Banksy is actually a team of seven artists led by a blonde woman.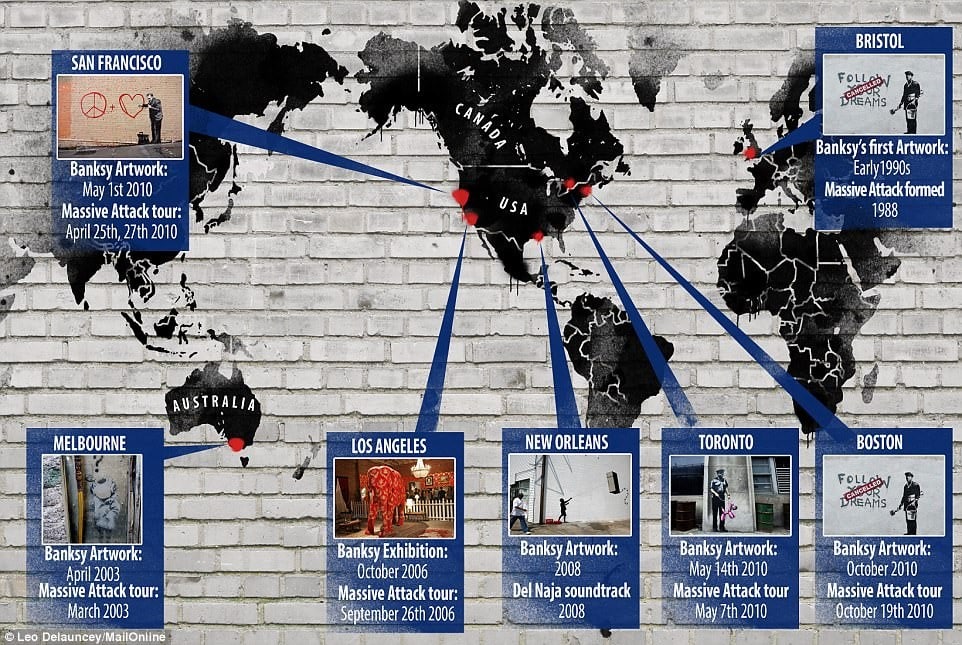 Ever Elusive for Perfect Moonlighting
Internet hoaxes have even made their rounds, and an investigative piece by journalist Craig Williams has been published connecting Banksy's murals to the touring schedule of the band, Massive Attack – linking Banksy directly to the band's frontman, Robert Del Naja, who had been a graffiti artist back in the 80's.
Del Naja was swift to deny the reports, maintaining that the rumors were "greatly exaggerated."
Criminologists at London's Queen Mary University have gone as far as using geographic profiling in an attempt to unmask Banksy once and for all. Their sophisticated statistical analysis technique would lead them to Bristol street artist, Robin Gunningham. However, when The Mail published the story in July 2008, Banksy's agent at the time, Steve Lazarides, told The New Yorker that the photograph that they printed of Gunningham was not his client.
However, in 2017, the world's most influential street artist who the world has come to love for not just being just another wall tagger, but as someone who has crossed boundaries by depicting social and political realities and ironies on walls all over the world, would make headlines again.
Truth or Dare?
However, it was not because there was another Banksy sighting. Goldie, English musician and DJ who is known for pioneering the UK rave scene in the 90s, told Scroobius Pip in an interview,
"… give me a bubble letter and put it on a T-shirt and write Banksy on it and we're sorted, we're ok. We can sell it now. We can sell it. We can make it something else."
He continues, "No disrespect to Rob, I think he is a brilliant artist. I think he has flipped the world of art over."
Rob.
Did Goldie mean Rob, as in Robin Gunningham? Or Rob, as in Robert Del Naja, a friend who Goldie has run in the same circles with since the 80's and once took part in the largest-ever British graffiti art battle with?