"To be an artist you have to give up everything, including the desire to be a good artist."
– Jasper Johns
Jasper Johns: Mind/Mirror 2021/2022
Between September 29, 2021, and February 13, 2022, the Whitney Museum of American Art, in collaboration with the Philadelphia Museum of Art, will stage simultaneous "mirroring" retrospectives of the almost 70-year-long career of American artist Jasper Johns, best known for his encaustic painting, printmaking, and depictions of the American flag.
The Jasper Johns: Mind/Mirror exhibitions will provide rare insight into the 91-year old artist and feature an unprecedented array of John's most celebrated works, including his iconic flags, prints, drawings, sculptures, and paintings. Almost 500 artworks will be shown publicly for the first time across the two museums, offering visitors an immersive experience designed to take viewers through John's impressive career in chronological order.
Jasper Johns: The Early Years
Born on May 15th, 1930, in Augusta, GA, Jasper Johns knew early on that he wanted to become an artist and was already drawing at the age of five. He was the son of an alcoholic father who divorced his mother in 1933 sending Johns to live with his grandfather in South Carolina. There, Johns would describe himself as a "good guest" — more specifically, "always a guest." He would only live there until he was nine and moved in with an aunt. After his mother remarried, Johns reunited with her and moved back to South Carolina, where he would graduate as the valedictorian of his high school.
In the late 1940s, Johns briefly studied at the University of South Carolina before moving to New York, where he spent a semester at the Parsons School of Design. Johns was drafted into the army in 1951 and spent the next two years at Fort Jackson, SC and Sendai, Japan. Honorably discharged in 1953, Johns returned to New York and met collagist, painter, and one of the key Neo-Dada movement artists, Robert Rauschenberg. The two spent six years involved in a deeply emotional and artistic romance, together exploring the contemporary art scene. Johns credits Rauschenberg for having "learned what an artist was from watching" him.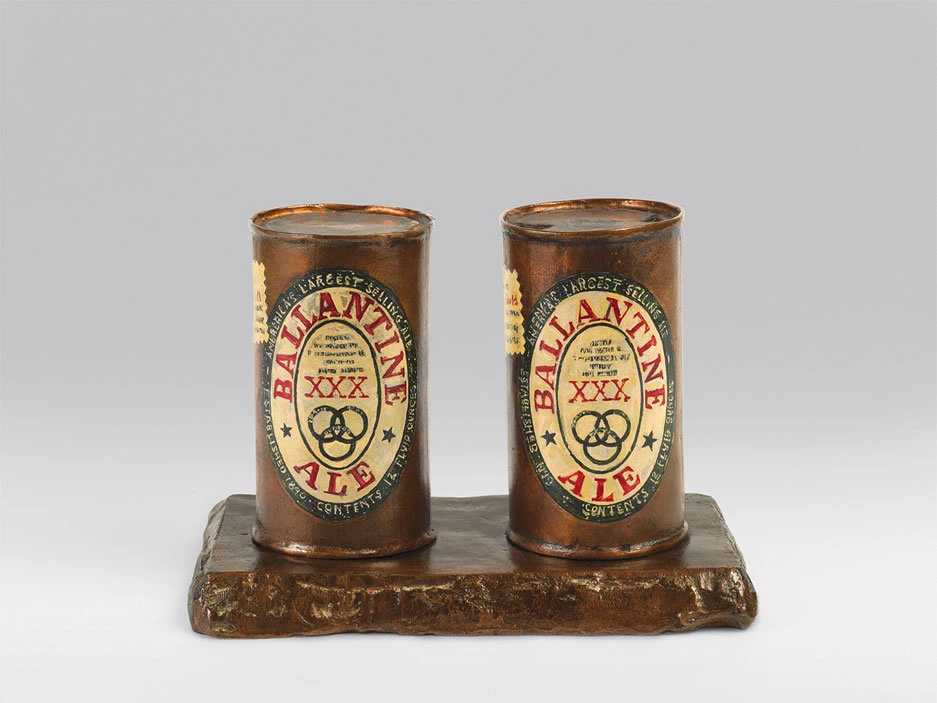 The time the couple spent together greatly influenced Johns' artwork, immersing himself in the exploration of Abstract Expressionism, Dadaism, Conceptualism, Pop Art, and Minimalism ideas and techniques. It was during his relationship with Rauschenberg that Johns first began painting what would become his iconic American flag works and discover his distinct style.
The relationship came to a bitter end when one of the world's biggest dealers at the time, Leo Castelli, signed Johns. Castelli discovered Johns studio while visiting Rauschenberg. Castelli described his discovery of Johns' work as "a miraculous array of unprecedented images — flags, red, white and blue" and "an incredible sight" that was "new and out of the blue." At the moment, Rauschenberg was quickly overlooked, and Castelli offered the then 28-year-old Johns the opportunity to exhibit his first solo show.
Transitioning from Abstract Expressionism to the Neo-Dada Movement
The iconic duo ended their relationship in the early 1960s and wouldn't speak for years. Of course, Rauschenberg would become one of the most influential American artists and a catalyst for the transition from Abstract Expressionism to the Neo-Dada movement. His works are currently on view at The Pace Gallery in Chelsea, NYC. The exhibition titled, Robert Rauschenberg: Channel Surfing takes a look at more than 30 of the artist's works and is on view until Oct. 23rd.
Johns' first solo exhibition catapulted his career and featured his most recognizable painting, Flag (1954-55). During his first show, Johns sold three of his paintings to the Museum of Modern Art. At first glance, the painting appeared to be a simple recreation of the American flag, but upon deeper inspection, viewers were awed at the combination of panels, paint, pigment, tree sap, and melted beeswax. Johns' encaustic technique gave the painting depth and texture in its deliberate strokes and smears.
Johns' would paint the Flag again in 1958. In 1965, he described his approach to the American flag painting as "no more about a flag than it is about a brushstroke or about a color or about the physicality of the paint." In 1983, Johns' Flag would sell for $36 million at Sotheby's, beating a previous record of $28.6 million. And in 1998, the Metropolitan Museum of Art purchased White Flag for a reported value of more than $20 million.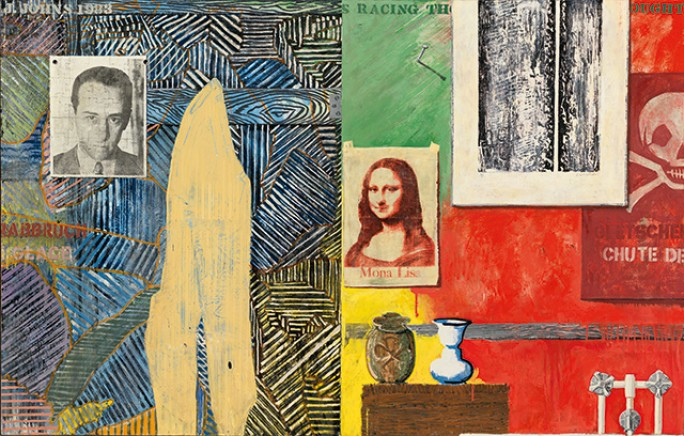 The Painter, Printmaker, and Sculptor
Beyond painting flags, Johns also became known for his target motifs, one of the most recognizable works being Target (1961). Johns' most celebrated Abstract Expressionist encaustic paintings are his Painting with Two Balls (1960) and Painting Bitten by a Man (1961).
In 1964, Johns was commissioned to create a piece for the David H. Koch Theater, originally named The New York State Theater, at the Lincoln Center for the Performing Arts. Johns made a towering grid of numerals that was 9 feet high and 7 feet wide. Numbers (1964) would become one of Johns' most significant works and was featured in the theater's lobby for 35 years, and in 1999, the center's board endorsed a strategy to sell the painting after it had elicited offers of a reported $15 million. However, the idea to sell was met with criticism and abandoned following the "intensity of the public reaction of the possible sale of 'Numbers, 1964.'" Johns was reportedly "very pleased" to hear that the plan to sell the piece did not follow through.
Having found success in his encaustic paintings, Johns transitioned to printmaking while continuing to work on his flags. Johns' also started making sculptures in wax, which he would cast in bronze. The 70s would see a new side of Johns' as he began to work and showcase simpler art forms, along with autobiographical paintings. Johns' career continued through the decades, producing memorable works like Usuyuki (1981), Fall (from the 'Seasons') 1986, Bridge (1997), and Regrets (2013).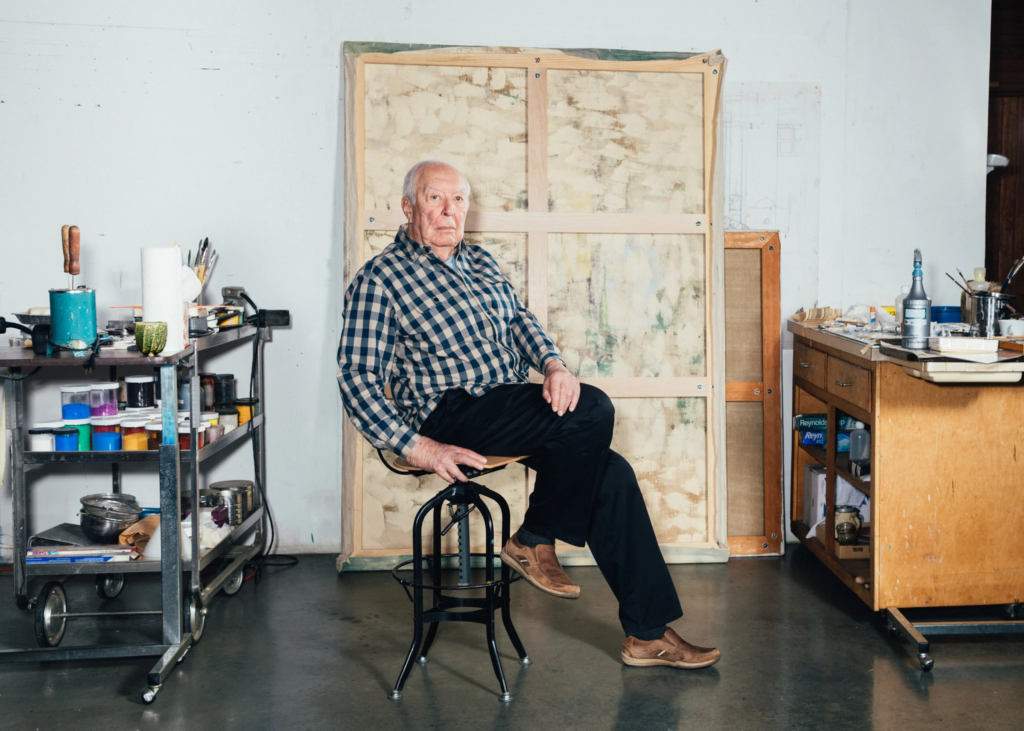 Jasper Johns continued his impressive career, painting an average of four to five large-scale paintings each year. Some of Johns' highest valued works include False Start (1959), which was auctioned for $17.05 million at Sotheby's in 1988 and later purchased by a private collector for $80 million in 2006 — which for the time, made it the most expensive artwork by a living artist. In 2014, Johns achieved a new auction record when his Flag (1983) was auctioned in New York Sotheby's for $36 million.
Johns has also earned various accolades, including the National Medal of Arts in 1990 and the Edward MacDowell Medal in 1944. In 2011, President Barack Obama awarded Johns with the Presidential Medal of Freedom, an award that had not been awarded to a painter or sculptor since 1977.
Jasper Johns offers rare interpretations – if any – for his work, preferring instead to not elaborate on the motivations for his works. Often, Johns alludes to his dreams as the source of his intentions. He now lives alone in Sharon, Connecticut, in a property he intends to use as an "artist's retreat."
"I don't want my work to be an exposure of my feelings."
– Jasper Johns