In March 2019, New York-based illustrator, sculptor, and street artist Brian Donnelly, best known as KAWS, launched a massive 121-foot-long inflatable sculpture at Hong Kong's Victoria Harbour. The monumental work was pulled out into the waterfront of Tamar Park using tugboats. The work features his signature character, Companion, a gray sculpture modeled after Mickey Mouse whose hands are covering its face and X-ed-out eyes.
The 2019 "water piece" in Hong Kong is almost 30 feet longer than the KAWS: HOLIDAY 2018 — 92-foot-long inflatable laid out on the waters of Seoul's Seokchon Lake using the same character. Before that, KAWS's works involved a 40-foot Companion Macy's Thanksgiving Day parade balloon. And before that, it was a 33-foot sculpture of BFF, another of KAWS's signature character which looks like a cross between Sesame Street's woolly-textured Elmo and Grover. It seems that KAWS's installations only get bigger and bigger.
And of course, when it comes to large-scale sculpture, we can't help but think of Jeff Koons' 10 foot tall, mirror-polished, stainless steel Balloon Dogs that exist all over the world in attention-grabbing colors like magenta and orange.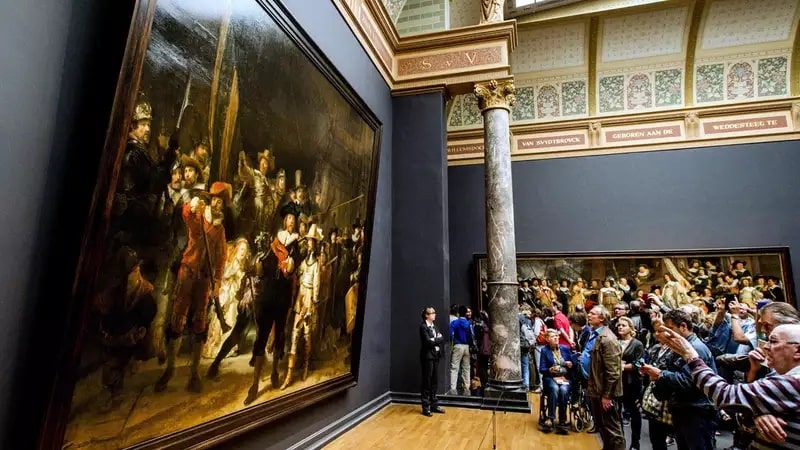 Why size in art matters
One of the biggest problems with colossal art is that it's difficult to appreciate up close. Only when photographed with the right light and equipment from a distance do massive art installations look magnificent. In the right context, they demonstrate how their size compares to their surroundings.
To a regular audience, the only way to truly appreciate big art is to distance yourself from it or viewing them through professionally shot photographs. The Statue of Liberty or even crop circles are awe-inspiring from the right vantage point. And unfortunately, not everyone has the luxury of chartering a helicopter to get the best views. However, while typically unimpressive up-close, this doesn't take away the fact that they are still monumental works of art that took weeks, months, or years to make.
We know that towering mega sculptures such as the 597-foot Statue of Unity in India isn't just a colossal version of Sardar Vallabhbhai Patel. It is an astonishing representation of artistry, engineering, and architecture. The 330-foot-tall Ushiku Great Buddha in Ibaraki, Japan took nine whole years to complete, while the 279-foot-tall The Motherland Calls statue in Volgograd, Russia was built using 5,500 tons of concrete and 2,400 tons of metal.
Even going back to the Dutch Golden Age, influential works such as The Night Watch by Rembrandt and the Panorama Mesdag by Hendrik Willem Mesdag are some of history's most celebrated large-scale canvas paintings. It took Rembrandt three years to paint the 11′ 11″ x 14′ 4″ The Night Watch. The Panorama Mesdag, which is a gigantic cylindrical painting of 45' high and 131' in diameter, that took Mesdag a whole year to complete even with the help of his wife and student painters, is housed in a custom-built museum in the Netherlands.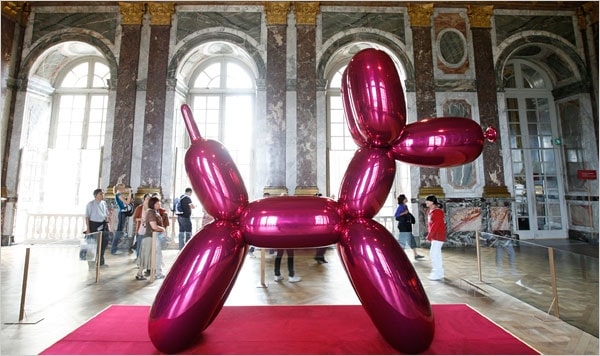 Is it fair to value artwork with a higher price tag based on size?
While it certainly doesn't take less skill to paint something in small format, smaller works do tend to be perceived as more affordable pieces, particularly by impulse buyers. In the commercial art world, bigger is often considered of higher value and more impressive because creating works in large-scale is no small feat. And while factors such as the artist's history and exhibition career are taken into consideration to determine the value of artwork first and foremost, so are the production costs of the piece.
Colossal art is often valued higher because they are typically collaborative efforts involving other artists, technicians, architects, and even scientists. What makes large-scale art so remarkable and more valuable isn't just its size; it's the fact that producing a massive work of art takes multiple levels of skills, more resources, patience, and months or possibly years to plan and finish.
Koons' giant balloon art uses expensive technology such as CT scanning and 3D imaging. The scanning method Koons' uses is rarely seen outside the medical world, and it is powerful enough to make detailed cross-sectional images of the brain to look for tumors and examine the surrounding bone structures.
Nigerian-based artist El Anatsui, whose largest work to date spans 361-feet-long, employs a whole team of people to cut, flatten, twist, fold, and connect the thousands of bottle caps he uses for his large-scale tapestry-like installations.
Undoubtedly, KAWS needs help with his large-scale sculptures. KAWS's enormous inflatables start with a 3-D model, which is sent to an inflatables company that scales the design to its massive size and print it out on miles of cloth. KAWS's 60-foot Moonman at the 2013 VMAs involved 6,000 separate pieces of printed cloth that had to be blown up and assembled piece by piece.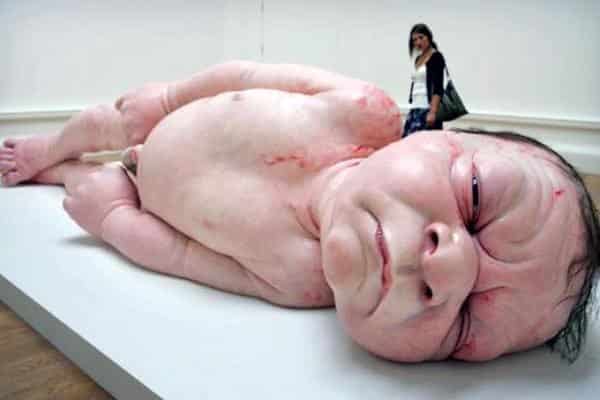 The overwhelming power of size and scale
Audiences have always relied on art to take them to places they've never been, whether real or imagined. And when it comes to larger than life artwork that not only demands more space but attention span and viewing conditions, people can't help but be tickled by its unnatural scale. An otherwise unremarkable object blown up and oversized plays with our visual senses, compelling us to linger longer and examine all its angles –something we wouldn't be able to do if the object were its natural size.
London-based sculptor Ron Mueck's hyperrealistic sculptures of human beings captivate audiences due to both their attention to detail and sheer size. The Boy (2000) sculpture stands 16' tall and is so realistic that it almost makes the viewers cautious about getting too close. Mueck's In Bed (2005) is a massive 21-foot-long sculpture of a woman lying in bed. To appreciate this sculpture, viewers need to take a few minutes to examine both up close and from a short distance.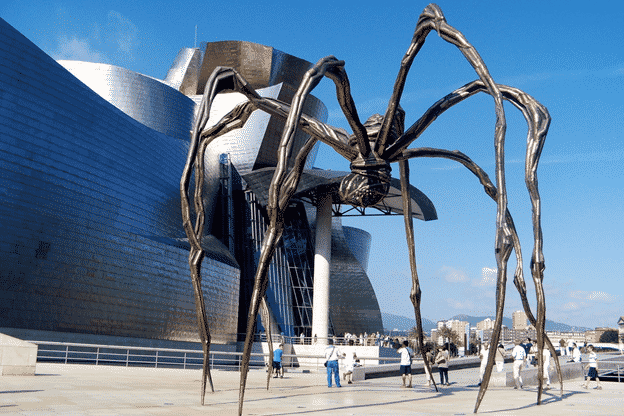 Louise Bourgeois is best known for her large-scale sculptures over and above as a prolific painter and printmaker. Her 1997 Spider is a 24-foot-long sculpture estimated to sell for between $25 million and $35 million, potentially making it one of the most expensive works sold by a female artist. Bourgeois's Maman (Spider) series involve giant arachnids that look like something straight out of a sci-fi movie, but she in fact alluded the gigantic scale to the enormity of the strength and influence of her mother — the foundation of her artistry. And so, they may be terrifying to those who cannot appreciate the benevolence of spiders, yet symbolizing powerful beauty and strength to those who appreciate what Bourgeois's spider form represents.
Experiencing up close, Maman feels more architectural than sculptural, inviting you into the space between its eight thin legs made of steel and bronze. Look up, and you will see the creature's underbelly filled with marble "eggs." They are on permanent display all around the world in places like Spain's Guggenheim Museum in Bilbao, London's Tate Modern, Tokyo's Mori Art Museum, and the Qatar National Convention Centre and more. Due to sheer size, they're mostly displayed in front of these establishments in outdoor setting; the biggest one stands almost 30 feet tall.
Ultimately, size in art matters because of its power to impact the way audiences respond. There's something about large scale objects that affects our visceral senses and emotions, humbling us with a feeling of reverential respect. This is just as true in our wonderment of nature when we stand beside the massive ocean waves or under a towering giant sequoia.