Is fashion art? Can art be fashion? These arguments should no longer exist thanks to a long history that has witnessed how the two creative cultures have collided, collaborated, and crossed over time and time again.
Fashion and art both have stories to tell and messages to communicate to their audiences. Bold or understated, loud or low-key – both fashion and art have always been about expression.
In decades past, we've seen fashion designers borrow ideas from art movements and present them on runways. However, the connection between the two visual disciplines is anything but a one-sided love affair. At Manhattan's Museum of Arts and Design (MAD), audiences explore the intersection between art and fashion through the works of 35 contemporary artists. Across two floors at MAD, you'll find dresses, coats, robes, and other forms of clothing. What you won't see is a single fashion designer behind any of the creations.
MAD's Garmenting: Costume as Contemporary Art exhibition has a distinct purpose. It sets out to be billed as the first global show "dedicated to the use of clothing as a medium of visual art." And on the artists' intentions, Elissa Auther, the Deputy Director of Curatorial Affairs and the William and Mildred Lasdon Chief Curator, shares, "The artists brought together share objectives of upending tired distinctions between the fine and applied arts, creating work that explores the essential relationship between the body and the garments that adorn it.
"Garmenting: Costume as Contemporary Art will run through August 14th, 2022 at Manhattan's Museum of Arts and Design (MAD).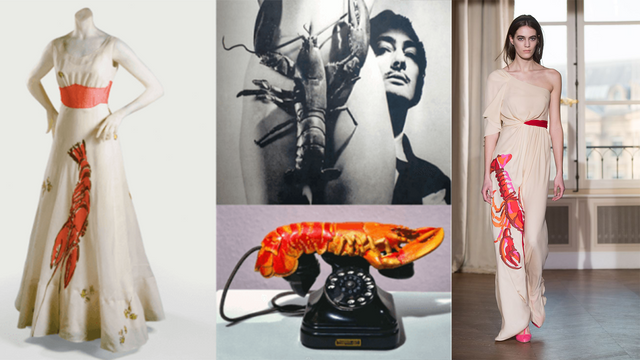 The Abiding Bond Between Art and Fashion Through History
In 1937, Italian fashion designer Elsa Schiaparelli collaborated with her friend, Spanish Surrealist artist Salvador Dalí who is best known for The Persistence of Memory (1931). Dali drew the lobster design that would be incorporated onto the fabric of Schiaparelli's silk organza evening gown. Schiaparelli's Woman's Dinner Dress would be worn by American socialite and wife of the Duke of Windsor Wallis Simpson for a feature in Vogue magazine. While an iconic moment in fashion, the "lobster dress" doesn't hang in a woman's closet today as part of a well-loved vintage collection. Instead, the dress found its home at the Philadelphia Museum of Art where Schiaparelli and Dali are credited as the object's collaborating "artists."
And in 1966, fashion designer Paco Rabanne presented Twelve Unwearable Dresses in Contemporary Materials, a couture collection that was not of fabric, but garments structured with aluminum plates, metal, and plastic. Influenced by the Surrealist and Dada movements, Rabanne broke convention by dismissing traditional textiles and sewing kits – using instead, discs, rings, glue, wire, and pliers to piece the sculptural dresses together. A micromini from the revolutionary collection now resides at The Met.
Throughout history, dresses that were first seen in paintings have influenced fashion. Famous paintings such as The Arnolfini Portrait (1434) by Jan Van Eyck, The Swing (1767) by Jean-Honore Fragonard, and July: Specimen of a Portrait (1878) by James Tissot depicted women in dresses that would influence fashion trends. Through dresses in the styles and fine textiles reminiscent of the paintings, women could display their status within society.
Fashion and art have long been bound together by their shared fascination in experimentation, innovation, and originality. Through the decades, we've seen fashion designers inspired by iconic artwork or collaborate with their favorite artists to create garments and accessories. We've also watched how couturiers blur the lines between disciplines by using tools and techniques usually found in art studios to create works of fashion.
And in the 1980s, the world was introduced to yet another subgenre of the art x fashion fusion. In 1984, the term "cosplay" was coined in Japan, introducing the world to the artistic expression of costume play. Cosplayers and fans will argue that the practice goes beyond performance art, particularly those who craft their own costumes. The subculture has grown into a global phenomenon with the cosplay global market expected to hit $23 billion by 2030.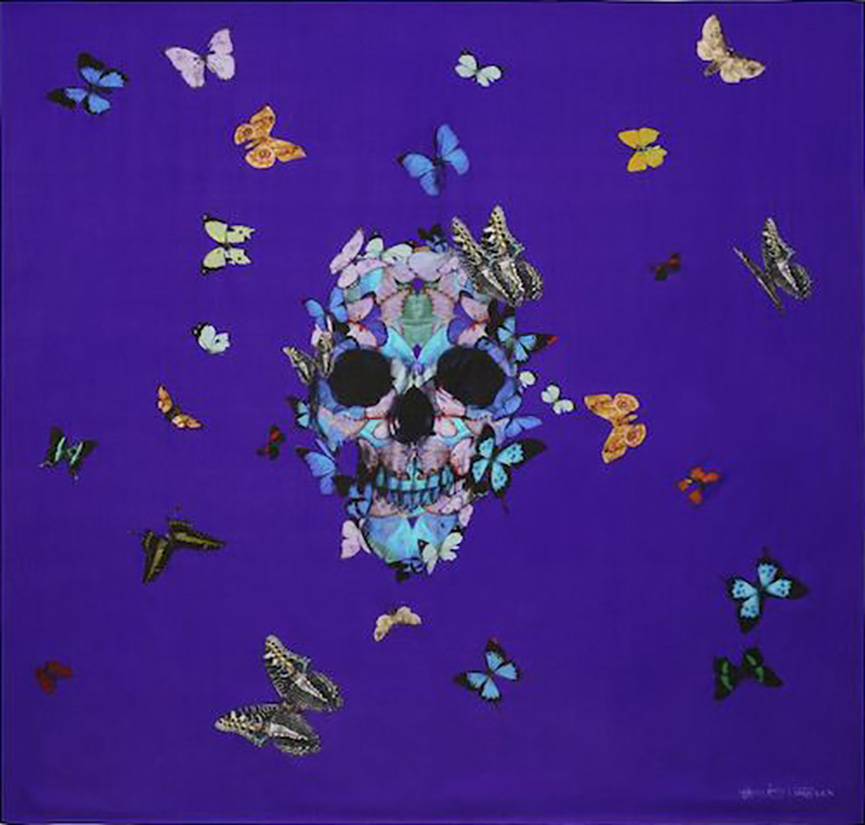 Contemporary Collaborations Between Artists and Fashion Brands
Art and fashion are constantly referencing each other and borrowing ideas from one another. Focused on expanding their audiences, both push the boundaries – making the two industries natural allies.
In 1965, Yves Saint Laurent's cocktail dresses, which were inspired by Piet Mondrian's 1921 Composition with Red, Green and Blue, became one of the best examples of art shaping fashion. In 2012, American fashion design sisters Kate and Laura Mulleavy used paintings by Vincent van Gogh as inspiration for their Spring collection. The dresses' fabrics mimicked van Gogh's widely recognized brushwork and color palette.
While we have many examples of fashion houses seeking inspiration from classic masterpieces, we're also seeing designers clamoring to collaborate with contemporary artists. In 2003, the Takashi Murakami x Louis Vuitton fashion-art collaboration married the iconic LV monogram with Murakami's psychedelic motifs and colorful palette. The popularity and rarity of the pieces have made the bags status symbols to this day. Marc Jacobs, the artistic designer of the French design house at the time, would describe the collaboration as "the ultimate crossover one for both the fashion and art history books."
In 2013, British design house Alexander McQueen collaborated with Damien Hirst, best known for using death as the central theme for his work. Thanks to its shared aesthetics, the Alexander McQueen x Damien Hirst brought us 30 limited edition designs that reconceptualized McQueen's signature skull motif.
Throughout the decade that Trevor Andrew aka Gucci Ghost was ripping off Gucci by approximating and playing around with the brand's iconic interlocking Gs, Gucci could have easily sued him. Instead, Gucci creative director Alessandro Michele invited the multi-disciplinary artist to collaborate with the brand. The collaboration resulted in 80 pieces with Gucci Ghost's signature reimagining of the Gucci logo.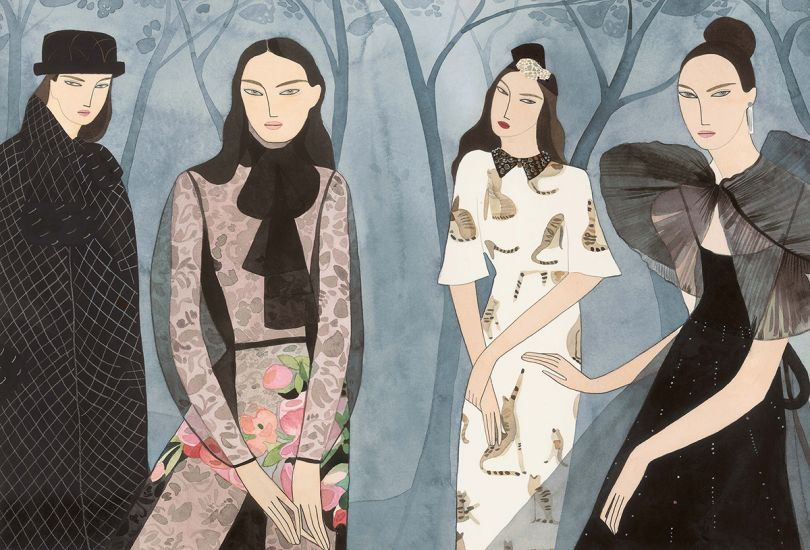 Louis Vuitton would certainly not be Takashi Murakami's collaboration with a major fashion brand. Murakami has gone on to work with Crocs, Vans, Uniqlo, and Supreme. Another contemporary artist that has collaborated with many famous brands include New York artist Kelly Beeman. Her watercolor and oil paintings and nude contour drawings have caught the attention of luxury brands like Elie Saab and Tory Burch.
Yoshitomo Nara, one of the most famous contemporary artists from Japan, is best known for his sweet but sinister depictions of children and animals. His rebellious aesthetic caught the attention of fashion designer Stella McCartney. Together, the progressive creatives unveiled a selection of genderless apparel and merchandise. A contemporary artist that can't be left out from conversations on art x fashion collaborations is KAWS. Designers have been obsessed with KAWS for decades, resulting in partnerships that include Uniqlo, Guess, Calvin Klein, Dior, Nike, and Vans.
Which contemporary artist do you think will be influencing major clothing brands and defining future trends next?