Color helps to express light, not the physical phenomenon, but the only light that really exists, that in the artist's brain. – Henri Matisse
The Museum of Modern Art (MoMA) recreates Henri Matisse's The Red Studio (L'Atelier rouge) (1911), bringing together seven paintings, three sculptures, and one ceramic plate for a mini retrospective titled "Matisse: The Red Studio."
The show is delightfully meta — in 1911, Matisse depicted several of his works on one canvas. And 111 years later, it's almost as if MoMA reached into the painting itself to pull out the individual objects and put them on physical display. The exhibition unites the pieces represented in the composition to visually connect viewers with The Red Studio's narrative. And bringing together all the pieces was no easy feat for the curatorial team, which had to track down each work and loan some from private collections and museums.
The Red Studio, unlike Matisse's other works that were grounded in reality, was an untethered scene that challenged visual perspective and had the eyes wandering from one seemingly levitating mini painting and sculpture to the next. Upon closer inspection, you come to the realization that it's a representation of the artist's studio. Furniture such as a table, clock, drawers, sculpture stands, and a chair are discreetly outlined to separate them from the composition's domineering brick red background. And the images that pop out in pinks, blue, yellows, and greens are meant to be depictions of Matisse's own works as they are displayed on his studio walls.
Russian textile magnate and art collector Sergei Shchukin, who already owned Matisse's The Red Room (1908), Harmony in Red (1908), La Danse (1910), and Music (1910), commissioned Matisse to create a companion piece for The Red Room. Shchukin was a loyal patron of Matisse's who commissioned the artist to help him decorate a chamber in his Moscow mansion. However, when Matisse showed Shchukin the watercolor study of The Red Studio (which was then titled the "Red Panel"), he politely rejected it, explaining that he preferred compositions that had people in them.
Because Shchukin passed on the painting, The Red Studio stayed in Matisse's possession for more than a decade until David Tennant bought the piece and displayed it at the Gargoyle, a nightclub in London. Tennant would then consign the artwork to the Redfern Gallery. And from there, it would end up at Bignou Gallery and finally, MoMA – where it would grow in significance as an iconic piece of modern art and gain its place in art history.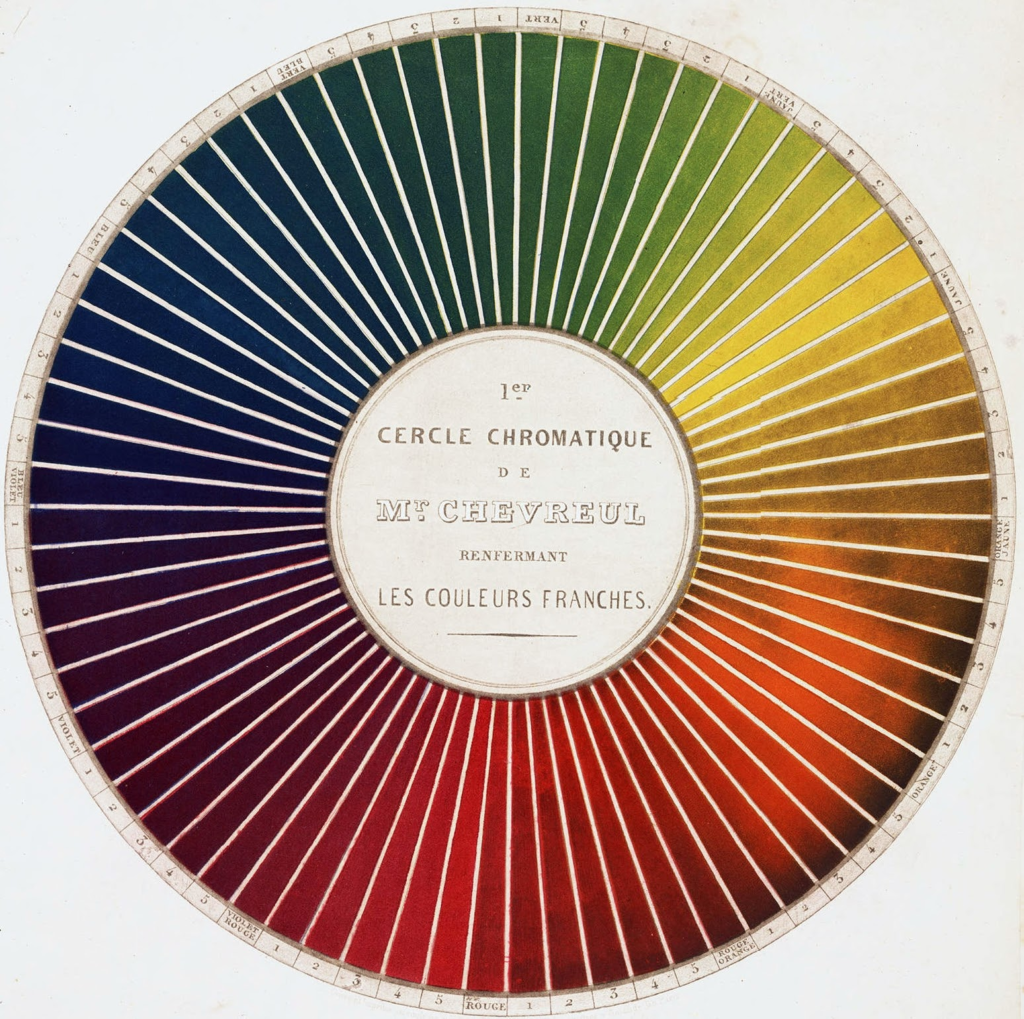 Energy and Intensity of Colors as Tools of Expression
I am as curious about color as one would be visiting a new country, because I have never concentrated so closely on color expression. Up to now I have waited at the gates of the temple. – Henri Matisse
Henri Émile Benoît Matisse was born on December 31st, 1869 in France. Between 1887 and 1889, Matisse studied law and worked as a legal clerk at a law office in Saint-Quentin. He would ultimately abandon a career in law after taking classes in drawing and discovering his passion for painting while he was convalescing after a severe appendicitis attack.
At the start of his career, Matisse explored various mediums, encompassing sculpture and printmaking. In 1891, the 22-year-old Matisse returned to Paris and enrolled at Académie Julian. He left the school a year later to study at the atelier of the Symbolist painter Gustave Moreau at the École des Beaux-Arts. It was under Moreau's tutelage that Matisse discovered his individuality and began experimenting with Impressionist and Post-Impressionist painting techniques.
In 1896, Matisse was introduced to the works of Paul Gauguin and Vincent van Gogh. Van Gogh's work, which was deeply dependent on intense colorism and distorted forms, influenced Matisse heavily. And by 1900, Matisse was a recognized leader of the Fauvists, the art movement characterized by its emphasis on bold colors, aggressive brushwork, and abstract depictions. In 1904, Matisse began studying the color wheel and color theory text developed by French scientist Michel-Eugène Chevreul. The Contrast of Colors by Chevreul was one of the pioneering studies of color perception and color design. Matisse applied Chevreul's color wheel and principles to his work, observing and demonstrating color relationships and visual effects of light and contrast.
In a 1941 interview, Matisse talked extensively about his process of conceptualizing colors for each of his works. The artist "came to consider colors as forces, to be assembled as inspiration dictates." He chose color palettes thoughtfully and purposefully, understanding how a color could be transformed by placing it alongside another color. Each painting Matisse created started with a specifically composed palette. And rather than take a Neo-Impressionist approach which involved dominants creating color reactions, Matisse mixed colors so that the intensities and reactions were "on the same level."
All the colors sing together; their strength is determined by the needs of the chorus. It's like a musical chord. – Henri Matisse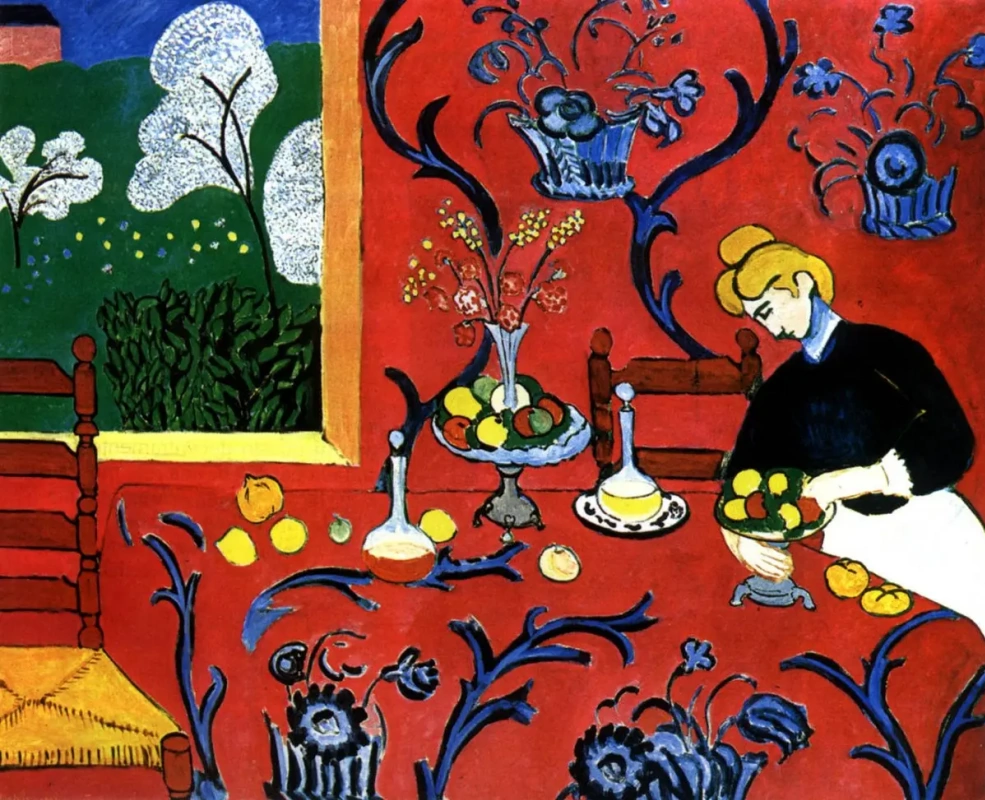 MoMA x Matisse
The Red Studio confused critics and collectors when it first debuted because Matisse was already rising in prominence in the art world for his intense use of color, rigorous brushwork style, and abstract yet logical depictions. And he was already celebrated for works like Woman with a Hat (1905), The Joy of Life (1906), Nu Bleu (1907), and La Danse (1909). Unfortunately, audiences had yet to recognize the significance of The Red Studio and its journey.
As perplexed as audiences were by The Red Studio, it did not help that Matisse himself was confused by his own creation, admitting to a journalist, "I like it, but I don't quite understand it." And in 1913, critic Harriet Monroe viewed the painting and reported that Matisse, "throws figures and furniture on his canvas with precisely the prodigal impartiality and the reckless drawing of a child."
When Shchukin declined The Red Studio, he probably didn't realize he was passing on what would become one of the most celebrated pieces by the artist he had championed. His loss would become MoMA's gain. Because while the piece was absent of people as Shchukin had preferred, The Red Studio did not lack personality or substance. On the contrary, the work has a life of its own as it invites viewers into his creative space but into his mind — the mind of the artist who revolutionized color and light.
MoMA's "Matisse: The Red Studio" will show in New York from May 1st to September 10th, 2022. It will then exhibit at the SMK National Gallery of Denmark in Copenhagen from October 13th, 2022 to February 26th, 2023.