"Graffiti is linear and it's done with a pencil, and it's like writing on walls. But in my paintings it's more lyrical." – Cy Twombly
From August 2nd to October 30th, 2022, The J. Paul Getty Museum presents Cy Twombly: Making Past Present, an exhibition that explores the celebrated American artist's creative journey, which was heavily influenced by the texts and artifacts of ancient Greece and Rome. The exhibition will focus on specific periods in Twombly's life, particularly the time he spent in Italy in the late 1950s and onwards through his travels across Europe and central Asia. Twombly's paintings, drawings, sculptures, and prints will give audiences a look into the artist's imagination and evolution. And for the first time, the public will also be able to view Twombly's personal collection of Greek and Roman antiquities, which includes a bust of the Emperor Marcus Aurelius.
Cy Twombly was a key figure that influenced 20th century art, impacting the works of artists like American painter and filmmaker Julian Schnabel, German painter and sculptor Anselm Kiefer, and Italian contemporary artist Francesco Clemente. Contributing to the Abstract Expressionism movement, Twombly is most celebrated for his dominating, large-scale graffiti-like compositions.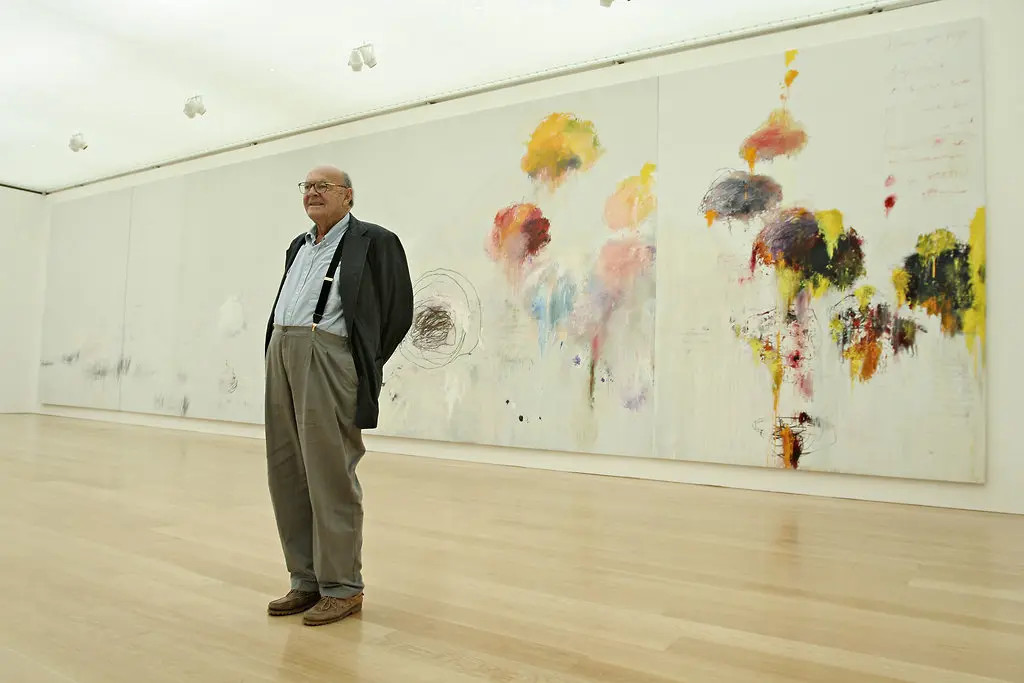 The Sophistication of Twombly's Scribbles, Scrawls, and Scratches
Born in Lexington, Virginia on April 25th, 1928, Cy Twombly began taking private art lessons with Catalan artist Pierre Daura at the age of 12. Twombly furthered his art studies at the School of Museum of Fine Arts, Boston and later at the Art Students League of New York. By 1951, Twombly would have his first solo exhibition, which was arranged by American Abstract Expressionist painter Robert Motherwell and organized by Samuel M. Kootz Gallery in New York City.
Between 1953 and 1954, Twombly served in the US army as a cryptographer, breaking secret enemy codes. Perhaps it was this exposure to ciphers, signs, and symbols that sparked his fascination for biomorphism, the intuitive mode of creating art from emotion. And on his weekend leaves, Twombly would rent a hotel room in Augusta and spend his nights creating biomorphic drawings that resembled naturally occurring patterns and decorative shapes. It was during this time that Twombly produced one of his iconic works, Untitled (1954), a representation of his "blind" drawings executed in colored pencil.
By the late 1950s, Twombly moved to Italy and would be best known for using a pencil as his material of choice when executing his seemingly erratic scribbling technique which has been likened to the practice of automatic writing. His method was unhinged and feverish, producing scribbles and scratches that were raw and primitive yet never immature.
For years, Twombly battled criticism for his drawing and painting approach that many compared to mindless, childlike doodlings. Twombly responded to critics, saying, "My line is childlike but not childish. It is very difficult to fake… to get that quality you need to project yourself into the child's line. It has to be felt." Because unlike many children who grow bored quickly and will abandon creative expression for the next distraction, Twombly remained focused and committed to his aesthetic throughout his entire highly expressionistic artistic journey.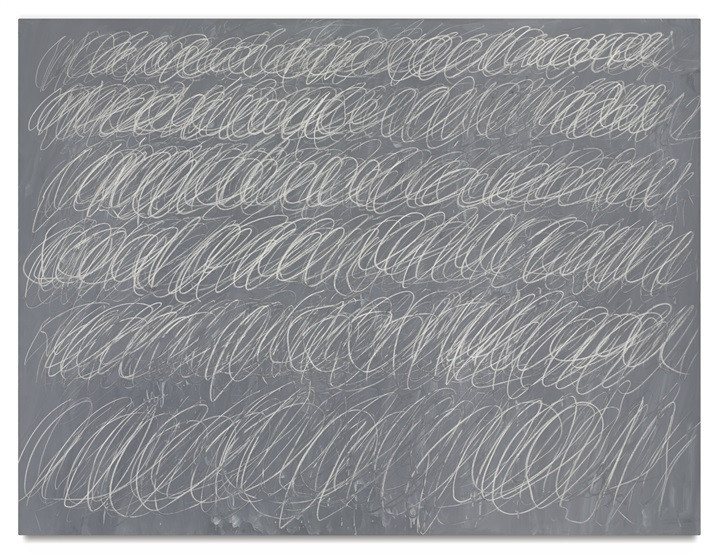 The Polarizing Impact of Twombly's Calligraphic Expressions
The artistic process of executing beautiful symbols by hand and skillfully arranging them to inscribe words fascinated Twombly. He'd witnessed the rich and ancient history of beautiful writing in his many travels across Europe, Central Asia, North Africa, and the Middle East. However, Twombly did not produce works of traditional calligraphy. Rather, he allowed the practice of writing, a free hand, and an untethered mind and soul to dictate his strokes and scribbles.
Powered and informed by calligraphic expressions, Twombly often scrawled words into his works. While Twombly's words were indecipherable, they proved an innate desire to communicate. One of Twombly's most accomplished works, Leda and the Swan (1962), was a combination of swirls and zig-zags with the title of the composition written in the lower right corner.
Some called Twombly's creative process genius while others critiqued it as unhinged and even "silly." And therefore, Twombly's seemingly mindless, unintelligible scribbles and scrawls weren't without their detractors. His work has been called both elegant and chaotic, similar to how many perceive a Jackson Pollock composition as either brilliant execution or senseless, erratic paint splatters. Max Kozloff, American art historian and art critic, observed Twombly's work, saying, "Without an inherent tone of struggle, or pretense of evoking the unconscious, his calligraphy assumes that it was nothing other than what it was."
In 1972, art critic Kenneth Baker, depreciated Twombly's series of "chalkboard" paintings, saying, "A Twombly is only a blackboard insofar as it is a painting, but its claim to being a painting, that is to a certain kind of meaning, is based on the illusion it gives of being a marked-up piece of slate."
Loved and loathed by the art world, Twombly established a lasting legacy. Some of his most recognizable works include Discourse on Commodus (1963), the Quattro Stagioni series (1993-1994), and Untitled (2007). And in 2015, Twombly's "blackboard" painting Untitled (New York City) (1968) sold for $70.5 million at a postwar and contemporary art sale at Sotheby's New York. The composition, which was wax crayon on oil-based house paint, could easily be mistaken for a chalkboard in a classroom with the six lines of scribbles on its delicate gray background resembling the repetitive writings that naughty school children once had as punishments.
Twombly was notoriously shy, rarely sitting for an interview by the media. Over the course of his career, Twombly had 249 solo exhibitions. He was celebrated by the art community, receiving numerous awards throughout his career – including the Praemium Imperiale in 1996, an award presented by the Imperial Family of Japan and The Japan Art Association for outstanding contributions to the development, promotion, and progress of the arts. He was also awarded the Golden Lion at the 49th Venice Biennale in 2001. And in 2010, the French government made him a Chevalier de la Légion d'Honneur (Knight of the National Order of the French Legion of Honour).