Scheduled on May 12th, Robert Colescott's painting George Washington Carver Crossing the Delaware River: Page from an American History Textbook, which was painted in 1975, was one of the most anticipated highlights of Sotheby's Contemporary Art Evening Auction in New York. While Colescott's work has already been on auctions before, the price for the artist's landmark canvas was groundbreaking. Namely, the artist's work that fetched the highest price until now was Cultural Exchange, which reached the price of $912,500 — but, George Washington Carver Crossing the Delaware River: Page from an American History Textbook was sold for $15.3 million at the auction, where it was estimated at $9 million. However, if you are not familiar with Robert Colescott, you may not understand the great importance this has — so, let's talk a bit more about him before we dive back into the current event.
Who Is Robert Colescott?
Robert Colescott, born on August 26th, 1925, in Oakland, CA, was an African-American born into a family of artists. Colescott's mother was a pianist and his father, a violinist — which influenced his decision to take up drumming at a young age. Although he was planning on pursuing a career in music, he instead chose visual arts after he witnessed the acclaimed Mexican muralist Diego Rivera painted a mural at the Golden Gate International Exposition on Treasure Island near San Francisco in 1940.
Another tie he had to visual arts was a family friend — the sculptor Sargent Claude Johnson — and he was also presented with a concrete connection to art-culture dealing with African-American experience, including the Harlem Renaissance.
During World War II, Colescott was drafted into the U.S. Army, where he served in Paris — a place he returned to after the war ended. He found the French culture more accepting of black people than in the US, and that is where he studied in the studio of French modernist Fernand Léger. His return to Paris happened before he earned his M.A. from the University of California, Berkeley, in 1952.
During his stay in Paris, he studied the Western art historical canons but also consciously explored African art, as well as the art of New Guinea. He made it a point to be aware of current events during the post-war time as these early exposures and experiences were formative towards Colescott's artistic languages.
He died on June 4th, 2009, and today, his works are held in collections of various museums. The National Gallery of Art in Washington, D.C., and the Museum of Modern Art in New York are some of them.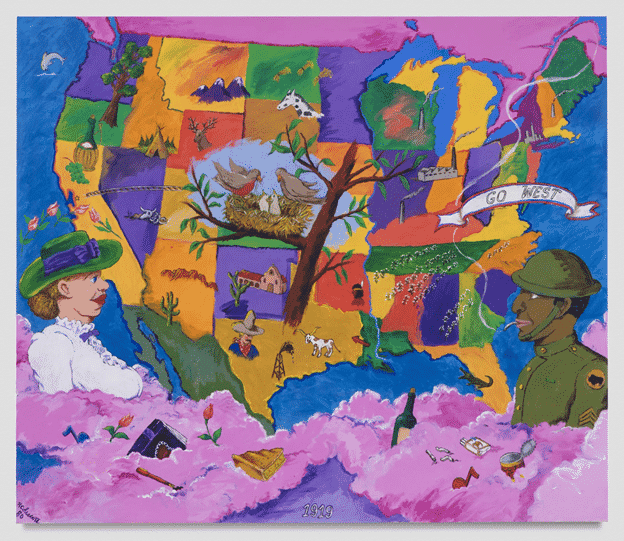 Interject Blacks Into Art History
In no doubt Robert Colescott's life experience up until the 1970s amounted to his work's most recognizable evolution. Throughout this period, he started a series of works reimagining European paintings — to be more precise, he reimagined what history calls masterpieces (which is very Euro-centric in itself) with black figures being either center-stage or more prominent. Those were the years when the style that people now recognize as 'his own' started appearing. His approach became expressionistic and bluntly gestural painting style, often in confrontational examination of racial and gender issues, while he continued to deal with his artistic identity and black history.
Furthermore, during the 1970s he established his career in Portland, making his mark on the art scene by those very controversial paintings. To quote Colescott himself, the purpose was to "interject blacks into art history". Therefore, he took it upon himself to reenvision masterpieces of art history using a provocative and satirical method of blackfacing the main figures in those paintings. Moreover, he developed a crude, abstract, and expressive approach which, at first sight, mocked the very paintings he was reimagining.
However, this all led to him pioneering the movements of figuration in the 1970s and strategies of appropriation in the 1980s — which caused more people to forge their visions of unexplored social and political issues. And that leads us to our next point: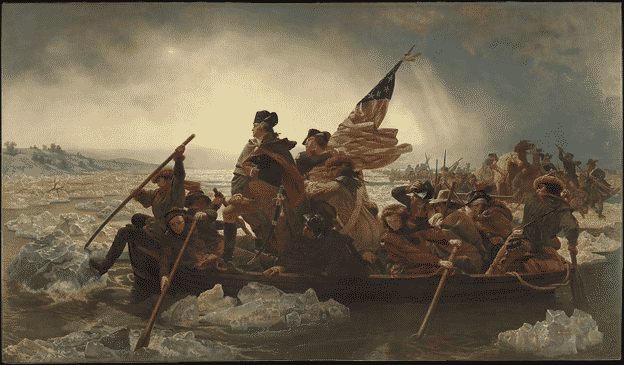 The Importance of His Work Today
Well evidenced in his appropriation of Picasso's iconic painting, Les Demoiselles d'Avignon (1907), while his work was entitled Les Demoiselles d'Alabama: Vestidas (1985), the very challenges of racial stereotypes and themes of art history Colescott has constantly dealt with have never been more relevant in the current American cultural landscape. Keeping in mind the events that took place in the recent years in #BlackLivesMatter protests and the consequences they brought to the American climate, both socio-political and artistic, he could have been as well one of today's art creators. His perspectives on race, historical heritage, and culture hybridity are challenging the status of all of those matters today.
George Washington Carver Crossing the Delaware: Page From an American History Textbook, is a reinterpretation of Emmanuel Leutze, a German-American artist's painting depicting George Washington crossing the Delaware River during the American Revolutionary War. In Robert Colescott's version, the central figure is George Washington Carver — an African-American agricultural scientist and inventor. He is surrounded by black cooks, Aunts Jemimas, and banjo players — disgraceful stereotypes of black people that pervade to this day. His brushwork and slurred shapes show that no truth can be held to be self-evident, challenging the very Declaration of Independence — that was written by men very much unlike himself.
In today's political climate, such images are more than relevant and should be acknowledged more often — which is why the recognition brought by this auction resulting in historical price is history-making in itself.