The world responded to the global pandemic with social distancing, lockdowns, and quarantines. For the art world, this meant cancelling art exhibits, shows, workshops, and conferences. For the past two years, museums and galleries closed their doors, forcing the art environment to adapt as the world waited with uncertainty.
But we are resilient, and thanks to the mass rollout of vaccines, the world is becoming confident about reopening. We're seeing a gradual return to normalcy as kids head back to face-to-face learning, people being allowed to dine in at restaurants and go to movie theaters again, and even tourism is slowly resuming operations. For the art world, this means welcoming Winter and Spring with optimism that we'll get to attend more art shows.
But before you get ahead of yourself, bear in mind that we've spent the last year mostly distant from society and art exhibits are essentially social gatherings. After a long time, you will again be surrounded by crowds of mostly strangers. And during our time away in pandemic isolation, we may have forgotten basic art exhibit etiquette. To prepare for the upcoming art season, here's a guide that will help you make your way back into the art scene while also preparing you for the "new normal."
Prepare to Comply
Each state has always had its own rules and regulations regarding COVID-19 measures. Some states had mask mandates, while others did not require masks at all. And when it comes to immunization, some states have announced vaccination requirements while others are banning vaccine laws.
Some major museums and art venues have announced that they require visitors to show proof of immunization. Before heading to an art exhibit, be sure to check if they have any health-specific requirements for guests. Currently, all LA and NYC museums and indoor galleries have implemented these vaccine-related policies for all their visitors. So, if you plan on attending an art exhibit in these states, be prepared to comply with the venue's specific policies and show your official vaccination card or a photo of your immunization record. Some states have vaccination verification apps that make the entrance to indoor venues enforcing these policies more convenient.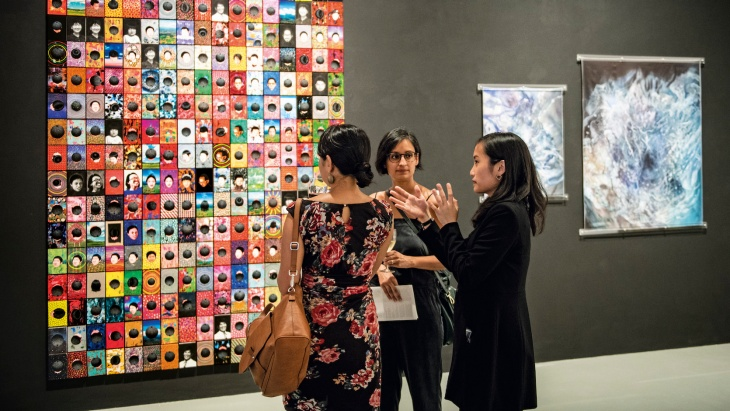 Behave Professionally
If you are an emerging artist, art exhibits provide you with the opportunity to mingle with your target market. You may overhear fans critiquing the work or discussing their interest to purchase a particular piece. You'll see how an audience behaves at an art exhibit, giving you a peek at how they may act at one of your future openings. The experience will be insightful, but it's also not the time to conduct serious market research.
Your presence as an artist doesn't give you the excuse to make the event about yourself. Network appropriately by introducing yourself as an artist but don't market yourself without permission. Pass out your business card or share your social handles and website if people ask. As tempting as it is to bring out your phone or tablet to show off your work or pass out a brochure, casually give the interested party a card with your social media handle or website printed on it instead; it's much more discreet and respectful.
Also, don't monopolize conversations so people feel they must ask about your work. It is not the time to compare your work with the artwork on display, corner the gallery owner about showing your pieces, or join interactions with the intention to draw attention away from the exhibiting artist.
Remember, personal branding is crucial to your future as a professional artist. When buying art, consumers today also consider the artist's reputation. You want to create a name for yourself as an artist based on your creative technique and style, not become infamous as the emerging artist who misbehaves at other artists' openings.
Do's and Don'ts for Everyone
Do dress appropriately – Fashion and style are touchy subjects for everyone, especially when limitations are placed. Artists and other creatives use their clothing as palettes for self-expression. But while revealing your intentions and attitude through your clothes is your prerogative, showing up to an art exhibit by defying a specific dress code is considered disrespectful. If there is no defined dress code, smart casual is your safest bet. If the venue is quite large and the event is expected to run longer hours, it would be wise to wear comfortable footwear.
Don't think you're only at a party – Art exhibits allow you to socialize with fellow artists, art enthusiasts, art collectors, and fans. And while there may be food and drink, don't forget why you're there. If you're a collector, you may be looking to purchase. If you're a fan, you're there to appreciate the collection. If you're an artist, you're there to grow professionally and emotionally. And if you know the artist or gallery owner, you're there to support their event. As an artist, attending an art exhibit helps build self-understanding, boosts your personal creativity, supports the art community, and allows you to network. So don't attend an art exhibit if you're only there for the free booze or to hoard the hors d'oeuvres.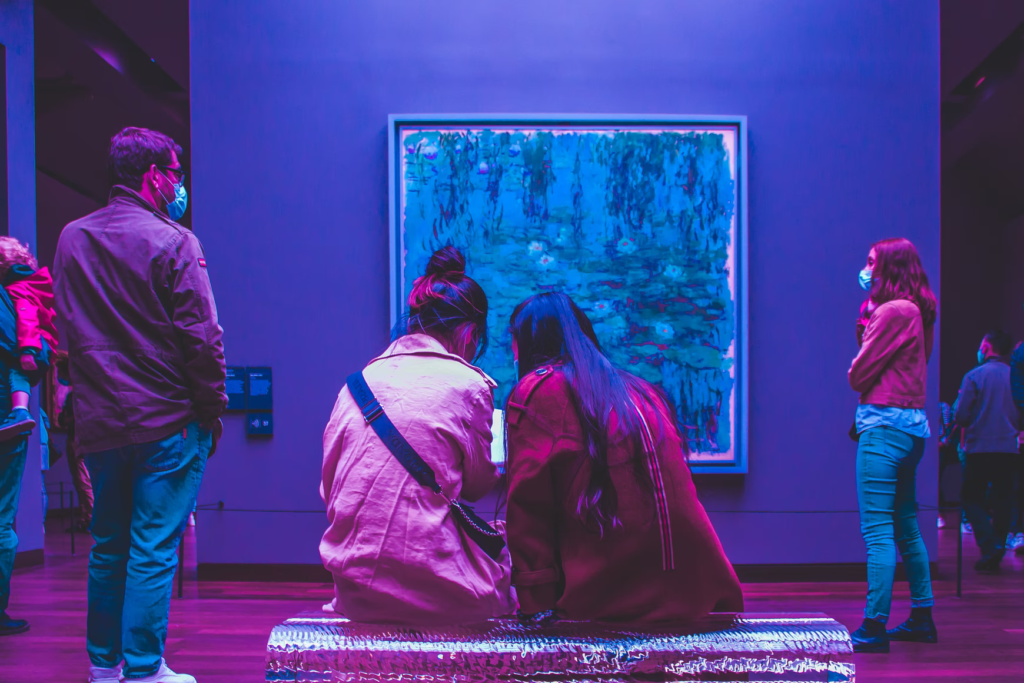 Don't use flash photography – While art exhibits aren't as strict as museums when it comes to flash photography, respect all artwork as if it were already a coveted and protected piece. Not only does flash photography potentially hurt the artwork, particularly paintings, but camera flashes can ruin the experience for everyone – especially if the event is using intentional lighting for the venue to create a certain ambiance.
Do save social media for later – By all means, take photos and videos. But don't get caught up in posting to your social media in real-time. It's been a long time since you were at a real-life social event, and immediately going online to share your experience defeats the reason why you're there in the first place. And when "later" comes, show the artist and the gallery your support by tagging the right people and using the event's custom hashtag if they have one.
Do keep your voice low and phone on silent mode – While art exhibits are social events, many people come to art exhibits looking for solitude. Therefore, be respectful by using your indoor voice and turning off your phone's ringer. And if you must take a call, step outside.
Don't disrespect the artwork, artist, or gallery – Artists are other artists' greatest critics. So mind your manners and think twice before bad mouthing someone else's work, even if you're speaking in a hushed tone. Reserve your discontent for personal conversations in a private setting. No one wants to hear you complaining about the artist, their artwork, or the gallery.
Keep your distance – If there's one thing we've mastered in the last year, it's the art of social and physical distancing. Use what you've learned when appreciating the artwork. Don't touch it, no matter how intrigued you are by its textures. Don't stand too close either; not only will breathing on the artwork make others nervous, but it's the best way to avoid a potential accident. Also, being inches away from the artwork means you're probably blocking others' views and ruining the collective experience.
Yes, you're meant to enjoy yourself at an art exhibit, whether that means having fun meeting new people or reveling in solitude as you take in the art at your own pace. But remember, we're all looking forward to the world reopening and returning to normal. So as we kick off the season with art exhibition openings, let's do so with purpose so as not to ruin the experience for everyone.