I am not what I am, I am what I do with my hands. – Louise Bourgeois
It is a fact that, historically speaking, women did not enjoy the same rights as men. Male artists were mostly free to experiment and express their creativity to their heart's desire, while female artists were often not taken seriously or afforded the same education, opportunities and exposure in spite of their talent.
However, even in the face of the challenges and obstacles, the world was gifted with remarkable female artists throughout history. These women in art belonged to different social eras and various art movements and had vastly different working conditions and points of views from the public and the progenitors. Each of them had to overcome her own set of adversities to succeed, whether these obstacles were imposed by the society they live in or by the artist's own life path.
Even though we cannot possibly hope to mention every single female artist who has left remarkable permanent markings on the history of art, we will highlight ten that inspired the world with both their extraordinary craft and their unyielding courage.
Sofonisba Anguissola (C. 1532 – 1625)
Before Sofonisba Anguissola, there was no precedent for women attending art schools or becoming art apprentices. Anguissola envisioned herself as a successful painter, and she did not let the constraints of her time period hold her back.
She traveled across Europe, studying from famous painters in Rome, Milan, Sicily, Pisa, and Genova. In Madrid, King Philip II appointed her the official court painter, making Anguissola one of the most accomplished artists of her generation.
She was primarily a portrait painter in the late Italian Renaissance. Her style is described as charming and delicate, and her self-portraits are a sight to behold, like this example from around the year 1560. Aside from painting various dignitaries and royals, Anguissola would also paint her family, like in The Chess Game (1555), where she depicted three of her sisters, as well as in the Family Portrait, Minerva, Amilcare and Asdrubale Anguissola (1557).
Even though Sofonisba Anguissola may not have offered anything extraordinary in terms of style or art innovation, her determination and perseverance showed the world that female artists could keep up with their male peers, especially if they were provided with the same level of art education.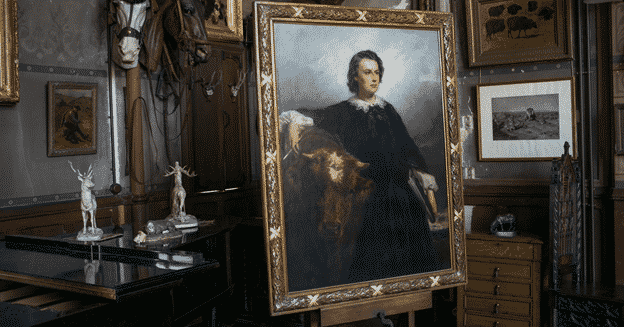 Rosa Bonheur (1822 – 1899)
Moving on from Renaissance art into academic Realism, we introduce a woman who defied traditional gender norms. Rosa Bonheur went to great lengths to break out of the stereotypical female role, even so far as to get police permission to wear trousers and men's clothing instead of skirts and dresses.
Even though she mostly enjoyed activities reserved for men (such as hunting), Bonheur still preferred the company of women. She had spent years living with female partners, and in the end, she was buried alongside her lifelong companion, Nathalie Micas.
Bonheur was a pivotal figure in Realism, with animals being her subject of choice. One of her paintings was exhibited at the Paris Salon when she was only 19 years old, and for the painting Ploughing in the Nevers (1849), she received a medal at the age of 27 — commissioned and exhibited by the French government. Her best work is widely considered to be The Horse Fair (1852 – 55), a painting that granted her worldwide acclaim is monumental in scale, eight by sixteen feet. Capturing the beauty and raw power of the horses in motion, Bonheur referred to The Horse Fair as her own "Parthenon frieze."
With her tendency to paint outside of the studio, Bonheur unwittingly aided the birth of a new art movement — Impressionism. Led by her example, artists slowly replaced painting in their studios with painting out in nature, en plein air, shifting the focus to looser brushstrokes, and a more spontaneous style of painting.
Berthe Morisot (1841 – 1895)
This list of influential women in the arts would not be complete without two great ladies of Impressionism, Berthe Morisot and Mary Cassatt.
Morisot came from a wealthy family and was fortunate to receive a prestigious art education when she was young. Though her artistic skill was exceptional in itself, her entrance into the world of French Impressionism came through her meeting Édouard Manet and ultimately marrying his younger brother, Eugène Manet.
Offering a female perspective of late 19th century France, Morisot did not make a distinction between aristocratic women and those who worked as house servants. She focused on painting women and children in their intimate moments not often seen on the canvases of her male counterparts, as evident in Reading (1873) and The Cradle (1872), both of which feature her older sister. The Little Maid Servant (1886) shows a house maid performing her regular duties at the center, providing the maid with the same dignity as any other wealthier woman in her paintings.
Throughout her career, Morisot sought equality as a painter of her own right and produced more than 860 paintings. She desired to be treated equally as the male artists of her era and believed she was just as worthy of success and recognition as they were.
Mary Cassatt (1844 – 1926)
Morisot's contemporary, an American painter Mary Cassatt was far more outspoken in her feminist principles. Her journey brought her from the United States to France, from the Pennsylvania Academy of Fine Arts to private French tutors. She spent most of her adult life in France and exhibited with the Impressionists.
The subjects of her paintings were similar to those of Morisot. Mary Cassatt's work also featured women and children and genre paintings, although she was often more experimental than Morisot. The Child's Bath (1863) and Louise Nursing Her Child (1898) represent her classic Impressionist style. Though she also became influenced by Japonisme and the Japanese Ukiyo-e art and often tried out a flattened dimensionality style in her print work, like in Woman Bathing (La Toilette) (1890-91). Edgar Degas, Cassatt's frequent collaborator and a known misogynist, said of her paintings, "I do not admit that a woman can draw like that."
When her deteriorating eyesight prevented her from creating art anymore, Cassatt remained an ardent supporter of women's rights and the women's suffrage movement. She granted her female painting subjects a sense of value and respect that the male Impressionists often lacked in their work. And she wholeheartedly believed, just like her peer Berthe Morisot, that women should be awarded the same opportunities and treatment as men.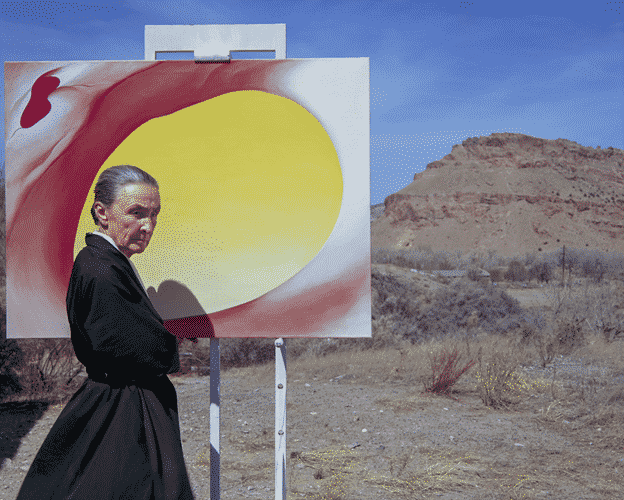 Georgia O'keeffe (1887-1986)
In stark contrast to the Renaissance artists, Realists, and Impressionists we've had up until now, Georgia O'Keeffe was the epitome of modernity. Her paintings have a uniqueness about them that cannot be sorted into a single art movement, though they include features of Abstract Modernism, Surrealism, and Precisionism.
O'Keeffe's primary painting subject was flowers. She would enlarge their petals to proportions considered 'audacious,' almost forcing the public to stop and take notice. "I'll paint what I see," she said. "What the flower is to me but I'll paint it big and they will be surprised into taking time to look at it. I will make even busy New Yorkers take time to see what I see of flowers." Grey Lines with Black, Blue, and Yellow (1923) and Abstraction White Rose (1927) give a glimpse of her captivating style.
Aside from flowers, O'Keeffe's artistic language also included Southwestern and desert themes, like in Cow's Skull: Red, White, and Blue (1931) and From the Faraway, Nearby (1937). Even as Mrs. Alfred Stieglitz, a photographer and one of the most influential modern art promoters for early 20th century American art, she was a female artist unafraid of displaying what she was artistically capable of, and who did not let herself be defined by any one label. Georgia O'Keeffe remained simply herself, no matter what type of art she was creating.
Louise Nevelson (1899 – 1988)
At the crossroads of feminism and art is where Louise Nevelson and her unconventional sculptures stand, proudly in her monumental monochrome of materiality. Early in her career, Nevelson was faced with misogyny and constant disparaging comments on her work just because of the fact that she was a female artist. Deciding to plough on and pioneering her genre despite the challenges she faced, she would veer away from the typical metal materials used by her male contemporaries and opted for wood instead and painted in stark black.
Sky Cathedral (1982) and Sky Totem (1956) are examples of what her work consists of: dark, stout, totem-like structures that redefine the meanings of femininity against masculinity. Nevelson liked using black in her work because, in her own words, "black encompasses all colors. Black is the most aristocratic color of all." Though she would also experiment with plexiglass, like in Night Leaf (1969), and the color white in Dawn's Presence (1972-75).
Louise Nevelson's goal in her career was to move away from the term 'female artist.' As did her predecessors, she sought equal representation in art exhibitions and meaningful gender discourses in visual arts all together.
"I am not a feminist," Nevelson declared. "I am an artist who happens to be a woman."
Frida Kahlo (1907 – 1954)
Arguably one of the most famous names on this list, Frida Kahlo's body of work is well-known across the continents and throughout different cultures. This is a female painter who suffered tremendous adversities in life, both from her physical ailments and emotional turmoil, and used those extreme challenges to create iconic art that is unique only to her.
Kahlo's art helped her express her views on gender, identity, and death. Having lived with Diego Rivera in her tumultuous marriage, an internationally acclaimed Mexican muralist painter and outspoken member of the Mexican communist party, there was also an underlying layer of her insights on politics, the sufferings of the poor, and even Mexico's relationship with the United States. Her self-portraits — 55 out of 143 paintings of hers — often reflected her state of emotional and physical being at the moment of painting them. The Broken Column (1944) is a representation of her chronic pain and spine problems originating from a bus accident when she was only 18 years old. The Self Portrait with Cropped Hair (1940) presents her in an androgynous form, with scissors in her lap and her braids on the floor. Some consider this to be a representation of Kahlo's bisexuality.
Frida Kahlo is an icon of not only the feminist movement, but also of LGBTQ+ movements, as well as a figure of Mexican and indigenous traditions, to which her naïve folk style contributed. Her art and her powerful views on gender issues have reached the far corners of the Earth, and she can easily be considered as one of the most famous female painters that ever lived.
Kahlo was the first Latin American woman artist to have her painting hanging in the Louvre.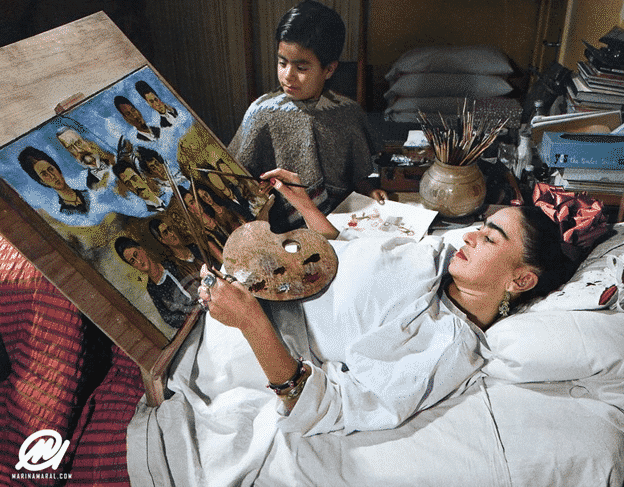 Louise Bourgeois (1911 – 2010)
"Art is a guarantee of sanity," Louise Bourgeois' artwork from 2000 states. Bourgeois was a painter, sculptor, as well as a prolific printmaker. She had profound interest in expressing the human psyche and utilized art as a way to cope with her traumatic past and emotions of loneliness, fear, anger, and jealousy.
Each painting in Bourgeois' series titled Femme Maison (1946-47) features nude female body with a house or building instead of the head, for exploring female identity. It was a way for the artist to represent how women might feel like they're safe at home, hidden from the world, or trapped within the house, and how they are at the same time exposing the most vulnerable parts of themselves.
Through her sculptures, such as Cells (1989-93) — a series of enclosures that invite the viewer to look inside and contemplate the notion of voyeurism — Bourgeois encouraged the audience to think, to engage, and to make conclusions based on what they see. The grand Maman (1999) sculpture expresses Bourgeois' fondness for spiders. Instead of seeing them as frightening creatures, she stated that this 30-foot high structure was in honor of her mother, who weaved a web of protection over her family, like a spider protected its eggs.
Rather than offering her thoughts on external circumstances, such as society, culture, or politics, Bourgeois used art to work through her internal struggles. Her paintings and sculptures contain bits and pieces of herself, on display to invite the viewers and the world to study and participate in the journey.
Yayoi Kusama (1929 – )
Stepping into the world of modern artists, we shall take a look at the eccentric, polka-dot-filled wonderland of Yayoi Kusama. Throughout her career, this nonagenarian Japanese artist created a vast oeuvre of art installations and sculptures, paintings, film, fashion, and poetry throughout her long and prolific artistic career. She doesn't label herself with any specific movement, though her conceptual artworks have characteristics of Minimalism, Surrealism, Feminist art, Pop Art, and Abstract Expressionism.
Having been suffering from a long history of neurosis and voluntarily lived at a mental hospital for over four decades, Yayoi Kusama is a master of the polka dot, one of her best known trademark expressions. This pattern is a highlight in most of her work, such as in Dots Obsession (1997) and All the Eternal Love I Have for the Pumpkins (2016) and many more. When asked about the reason behind this pattern, Kusama said that this was her way of connecting herself and her work to the universe.
One of her most popular installations are the Infinity Mirror Rooms that completely immerse the audience in a reflective experience, giving them an impression they are standing in the vastness of the cosmos.
In her vibrant, bordering on hallucinogenic way, Yayoi Kusama took on the topics of sexuality, mental health, and even the inequitable gender politics of women in her home country of Japan. She is one of the most prominent Japanese artists of today, and her versatile work proved to be a groundbreaking contribution in the modern art movement.
Barbara Kruger (1945 – )
Our final artist for this list is Barbara Kruger, a one-time designer and photo editor who uses her skills to critique the mass media and consumerist culture, and to boldly express her political and social commentaries.
Even though Kruger's beginnings were rooted in painting, she quickly adopted a style that felt comfortable for someone with her level of graphic design knowledge. Her works consist of a blank background or a striking photograph as a backdrop, over which a headline-like text is overlaid. This text is conceived in a way to awaken the public, bring them out of their apathy, and inspire them into action.
Kruger talks about the female identity in You are not yourself (1981), where a woman is seemingly unsure of her purpose or who she even is when she sees herself in a shattered mirror. You want it. You buy it. You forget it. (2012) is a jab at the consumerist culture and how the public is easily persuaded into purchasing material things they do not need. With her Your body is a battleground (1989) piece, Kruger stood firmly in support of legal abortion.
One of her most recent works was a 2016 cover of the New York Magazine, where Barbara Kruger labeled Donald Trump as a loser.
Shedding conceptualism and abstraction, Kruger's text-based artwork is direct and to the point. She knows what she wants to say, and she chooses impactful methods to get her poignant messages across. The power of words should not be underestimated, especially when combined with visual arts' ingenious language of creativity.
Conclusion
Through the lives and artworks of these ten formidable women artists in visual art, we can clearly see a pattern emerging.
From the 16th to the beginning of the 20th century, the struggle was to be accepted into a male-dominated field of painting. Sofonisba Anguissola, Rosa Bonheur, Berthe Morisot, and Mary Cassatt fought for their places in the art world, at the same time empowering other women to follow in their footsteps.
From the 20th century onwards, the narrative shifted to a combination of demanding gender parity and fair representations of women in the arts, as well as exploring what it means to be a woman. Female artists like Georgia O'Keeffe, Louise Nevelson, Frida Kahlo, and Louise Bourgeois had more freedom to dive into their emotions, explore their psyche, and transfer their experiences and thoughts on canvas and sculpture. They also expressed their political views and commented on the state of the world and society at large, without caring or worrying about the condemnation of their peers.
Finally, modern and contemporary female artists, such as Yayoi Kusama, Barbara Kruger, Marina Abramovic, Cindy Sherman, Kara Walker, and others, have liberty and creative freedom to be exactly who they are and express themselves through their art.
The journey of the female artist was a long and arduous one. It still continues even now, as women are taking up more space and adding their voices to this vibrant, diverse, and ever expanding community that is for and by women in the world of visual art. We can only say that we are excited to see advancing more women artists for the mainstream art world of the future, as well as witnessing the influential work they will present and impress the world.