How can we describe David Bowie? Musician? Muse? Radical? Legend? Starman? The only word that even comes close is simply "artist." From his music and lyrics to his sets and costumes to his personas, Bowie treated everything as an act of creation.
His fascination with the aesthetic extended beyond creating art to collecting it. "Art," he told the New York Times in 1998, "was, seriously, the only think I ever wanted to own."
The Man Who Bought The Art
David Bowie started his music career at the age of 16 and made the top 5 of the UK's Singles Chart by the age of 22 with "Space Oddity." All told, he released 27 studio albums, 9 live albums, 121 singles, and 59 music videos—his final album dropped just 2 days before his passing. He's won Grammy and Brit awards for his music, is a member of the Rock and Roll Hall of Fame and has 5 albums in Rolling Stone's list of the 500 Greatest Albums Of All Time.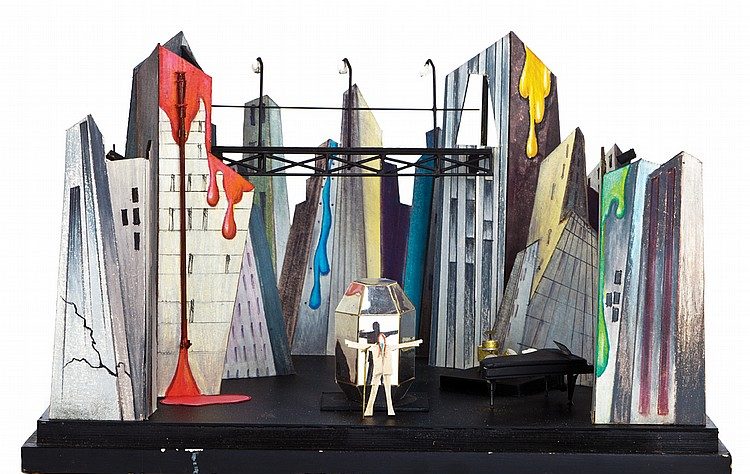 Bowie didn't just revolutionize pop music—he was also an actor. He has appeared in a number of movies and won a Saturn Award for Best Actor for his performance in The Man Who Fell To Earth. He was Jareth the Goblin King, and if you don't know who that is then you need to get your butt to Netflix and educate yourself.
And still, that's not enough to describe him. He was offered a British knighthood and turned it down. He has a spider and an asteroid named after him. In the wake of his death, fans are seeking to name an asterism shaped like the iconic lightning bolt from the cover of his Aladdin Sane album after him as well.
In short, he was larger-than-life in every way. Of course, it's easy to lose sight of the person behind the costumes and the glitter and the magic. His art collection gives us a subtler glimpse into the mind of Ziggy Stardust.
Modern Love, Modern Brits
Bowie's collection reportedly includes several old masters, including a Tintoretto and a Rubens. However, the bulk of his collection was built on 20th century British artists—Leon Kossoff, William Tillyer, and Graham Sutherland, for example. He had a close relationship with art dealer Bernard Jacobson, who remembers:
"He had a fabulous eye, and he was passionate. He read a lot and learned fast. He bought examples by major British artists such as Ben Nicholson, Stanley Spencer, David Bomberg, Leon Kossoff and Frank Auerbach as well as some of the lesser known—Euan Uglow, Victor Willing and William Tillyer."

It seems that Bowie was as good at collecting art as he was at everything else he did.
As in music and in life, Bowie's taste in art tended toward those artists who were breaking down the norms and conventions of the day. He became friends with controversial artist Damien Hirst, and even worked with him on a piece entitled Beautiful Hallo Space-boy Painting. He purchased Peter Howson's Croatian and Muslim after London's Imperial War Museum (which had commissioned the piece) declined to buy it because it was too violent.
Is There Art On Mars?
Bowie didn't just collect art—he also created it. He drew, painted, took photographs, and made sculptures. Some of his works have made it to travelling collections, but many have been acquired up by private collectors. Artist Beezy Bailey worked with Bowie to create part of the Cork Street Exhibition, "New Afro/Pagan and Work: 1975-1995," and Bailey recalls:
It was all about the act of creation. The painting fed the music and vice versa: It was a creative energy machine.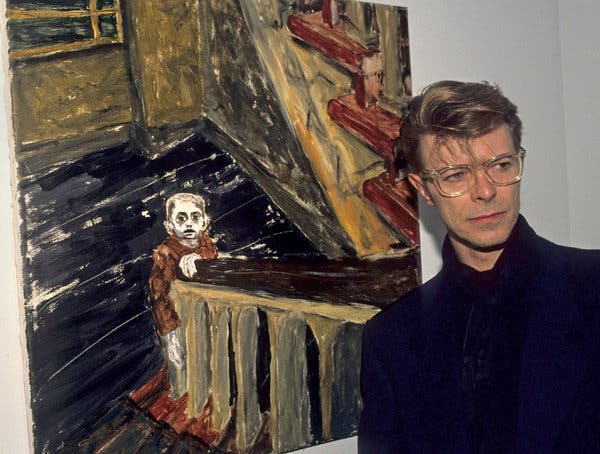 It seems the Starman needed more than just one medium with which to express himself—there was simply too much of him to put it all onto an album.
This Rebel Never Gets Old
The news of David Bowie's death is heartbreaking to his many fans (ourselves included) and to all the people whose lives he touched. He is an inspiration to the art world—a reminder that everything you do can be art if you're willing to let it be.
We'll miss you, Starman.